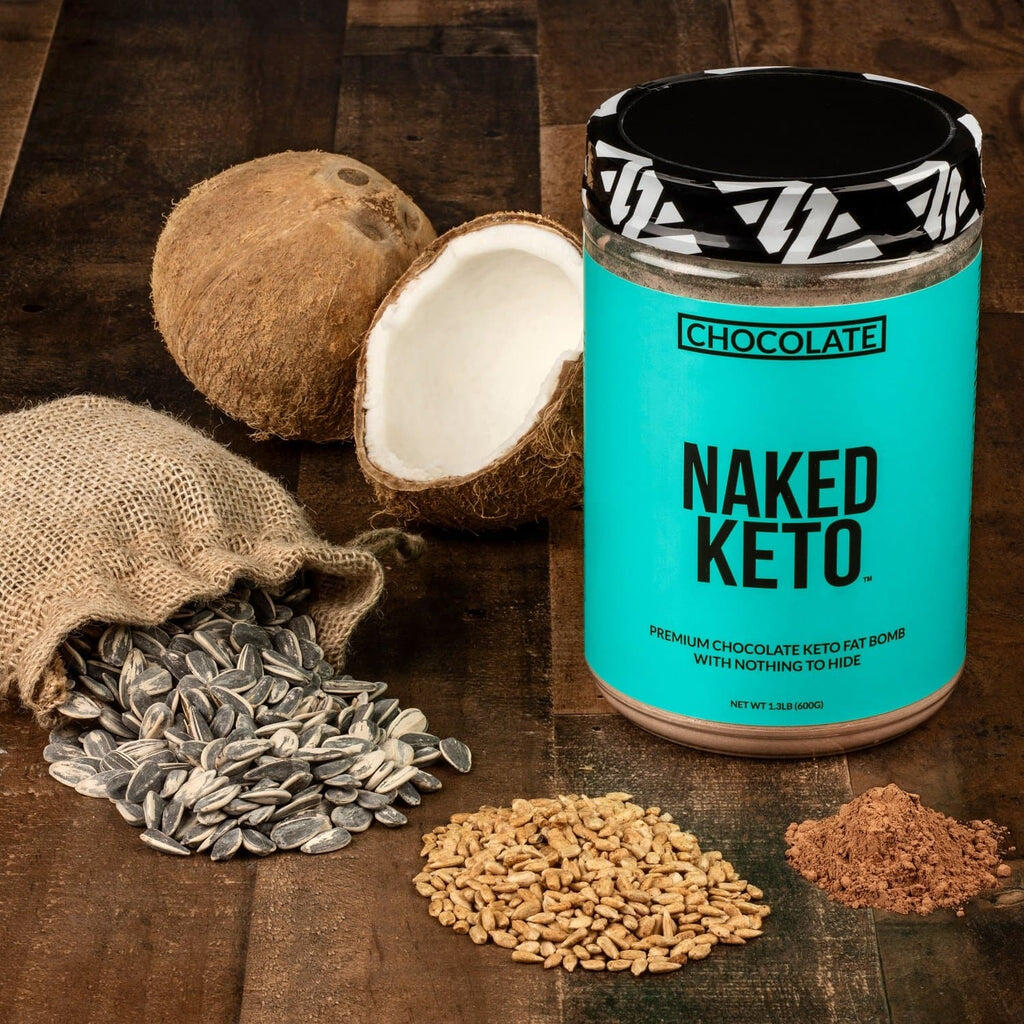 Chocolate Keto Fat Bomb
Chocolate Naked Keto is a premium keto fat bomb designed for a ketogenic or low carb diet. We've combined high oleic powdered sunflower oil and powdered MCT oil for two specific reasons. High oleic sunflower oil powder supports muscle growth, preserving lean muscle mass, and reducing body fat. MCT oil powder promotes better metabolism to aid weight loss.

No additives or artificial sweeteners. Don't let the supplement industry fool you; additives are for their bottom line, not your health.
Estimated Delivery: Jan 28 - 30
Free Shipping over $49
Quality
GMO Free

Keto Friendly

Soy Free
Benefits
High-Oleic Powdered Sunflower Oil
High-oleic sunflower oils have high levels of oleic acid, which is considered an omega-9 fatty acid. This is the healthiest form of sunflower oil, high in monounsaturated fats and low in polyunsaturated fats. It supports muscle growth and preservation. In fact, many of the benefits of a Mediterranean diet are in part attributed to the high oleic acid content found in olive oil¹.
Powdered MCT Oil
MCT Oil is extremely beneficial for those on a keto or low carb diet. It increases satiety to reduce cravings and support your weight loss goals. MCT oil also helps you stay on track with your fat consumption targets on a ketogenic diet. Other benefits include improved cognitive function, and better energy levels throughout the day².
Keto-Friendly Snacks
Naked Keto can be a healthy, keto-friendly alternative to sugary snacks. High-quality fat bombs with natural ingredients and no added sugars can satisfy your mid-day cravings without spiking your blood sugar levels³.
Nutrition Info
Serving Size
2 Scoops (40g)
Number of Servings
Approx. 15
The Naked Difference
Only 7: High-oleic sunflower oil, MCT oil, cacao, sea salt, vanilla extract, stevia and monk fruit. Nothing artificial.
10+: unnatural additives to aid mixing, color and artificial sweeteners
How To Use
When: Add our chocolate keto fat bomb powder to coffee, smoothies, and baking. Best used as a snack between meals, before a workout or after a workout.
Blend: Mix two scoops into 16-24oz of water or your preferred flavored beverage. Add your preferred flavorings to enhance the taste.
Pair With: Combine with Naked Collagen for extra nutrition to support lean muscle building, reduce recovery time, and to support overall health.
Frequently Asked Questions
Chocolate Naked Keto does not contain exogenous ketones that are claimed to put your body into ketosis. Instead, our keto fat bomb supplement has been designed to support a low-carb or ketogenic diet by being high in healthy fats. The high-oleic powdered sunflower oil and powdered MCT oil support lean muscle building and aid excess calorie burning.
High-oleic sunflower oil is considered the healthiest type of sunflower oil as it is high in monounsaturated fat. This is a healthy type of fat that offers a range of health benefits, such as aiding weight loss and reducing the risk of inflammation.
Caffeine is naturally found in cocoa powder, which is one of the few ingredients used to flavor Chocolate Naked Keto. Since the product is only lightly flavored, the only caffeine in this product would be a minimal amount found in the cacao powder.
Chocolate Naked Keto is ideal for anybody who is following a low-carb or keto diet. Our keto fat bomb supplement provides the necessary healthy fats to aid weight loss and support lean muscle gain. When used alongside a maintained low-carb diet, Chocolate Naked Keto can also help the body maintain ketosis.
See All Faq
Great Flavor!!
I really love the taste, just shaking this up with water. There is no gross after-taste!
Chocolate Keto Fat Bomb | Naked Keto
Great shake substitute!
I love this powder! I do the half serving - 1 scoop and it fills me up- 2 scoops give me an upset stomach, probably because Im not used to eating large amounts. I use it a couple times a week mixed with heavy cream and water and ice to make a shake. Ive lost 43+ pounds in a month and a half! If you get a baby powder formula container you can fill it and take it with you for those times you need something but there are no Keto foods around.
So GOOD!
I bought this to add fat to my keto diet. I'm NOT a shake/powder type of person. I usually loathe them. After reading the reviews I thought I'd give it a try. Reviews were SPOT ON. The taste is so good. No aftertaste whatsoever. Mixes smooth using a shaker bottle. I mix it with unsweetened almond milk and can't wait to try this as a hot chocolate in the winter. I've rearranged my meals and macros so I can drink a little bit of this every day as my fat bomb treat. I highly recommend it.
Taste
It tastes great and helps to get my fats in