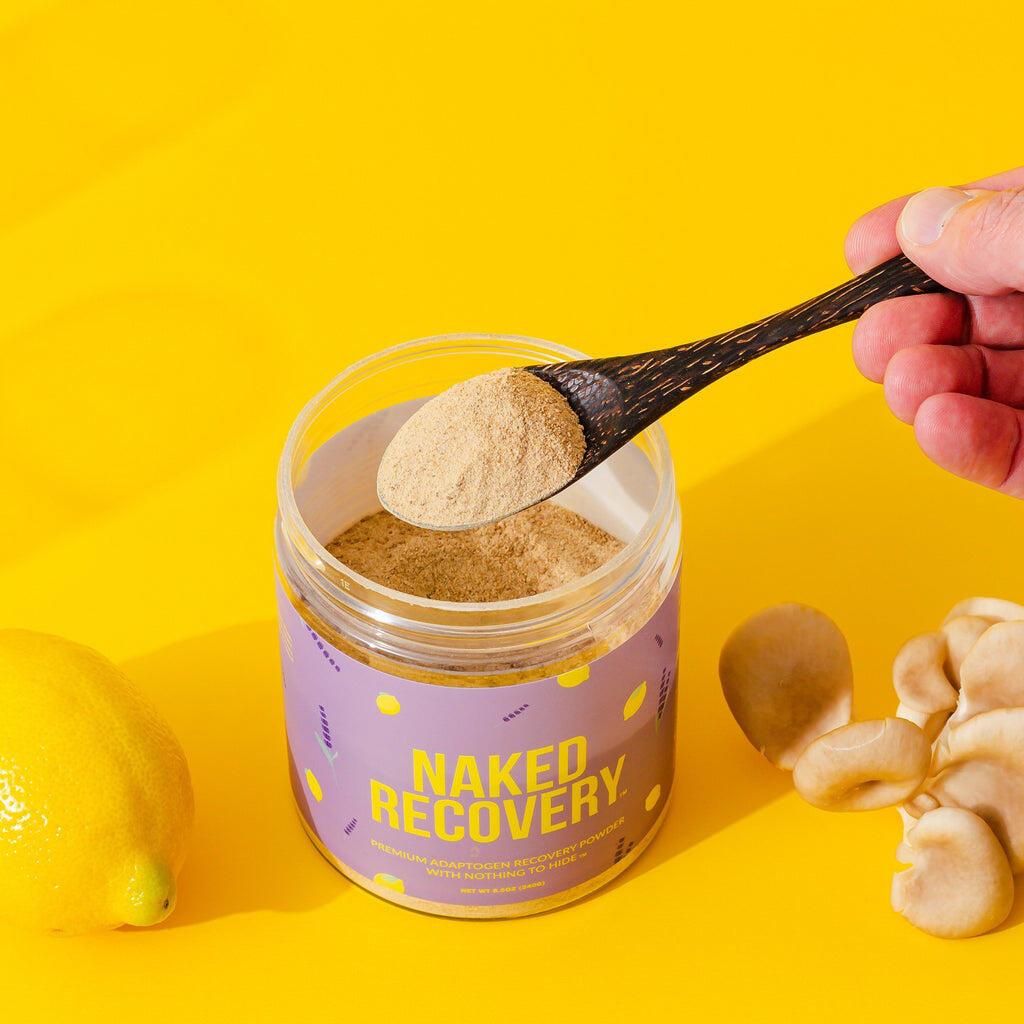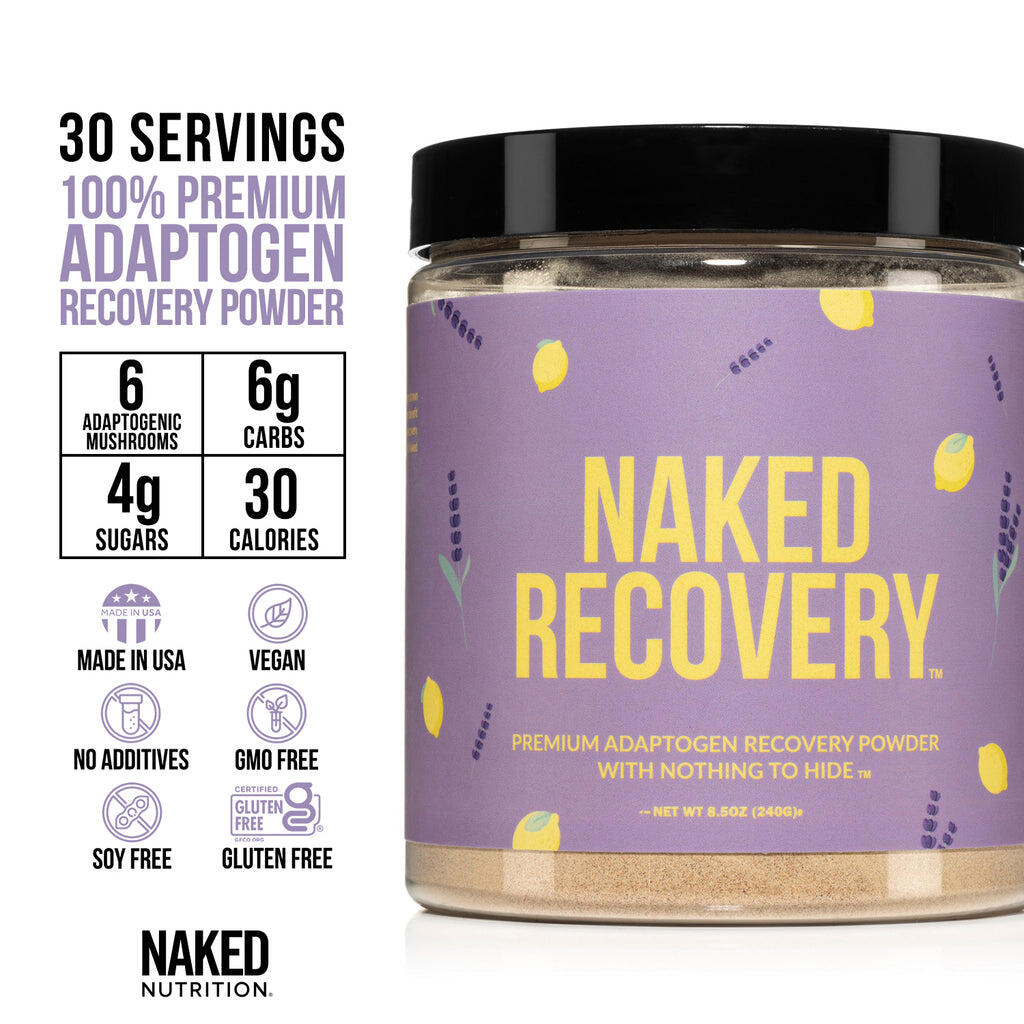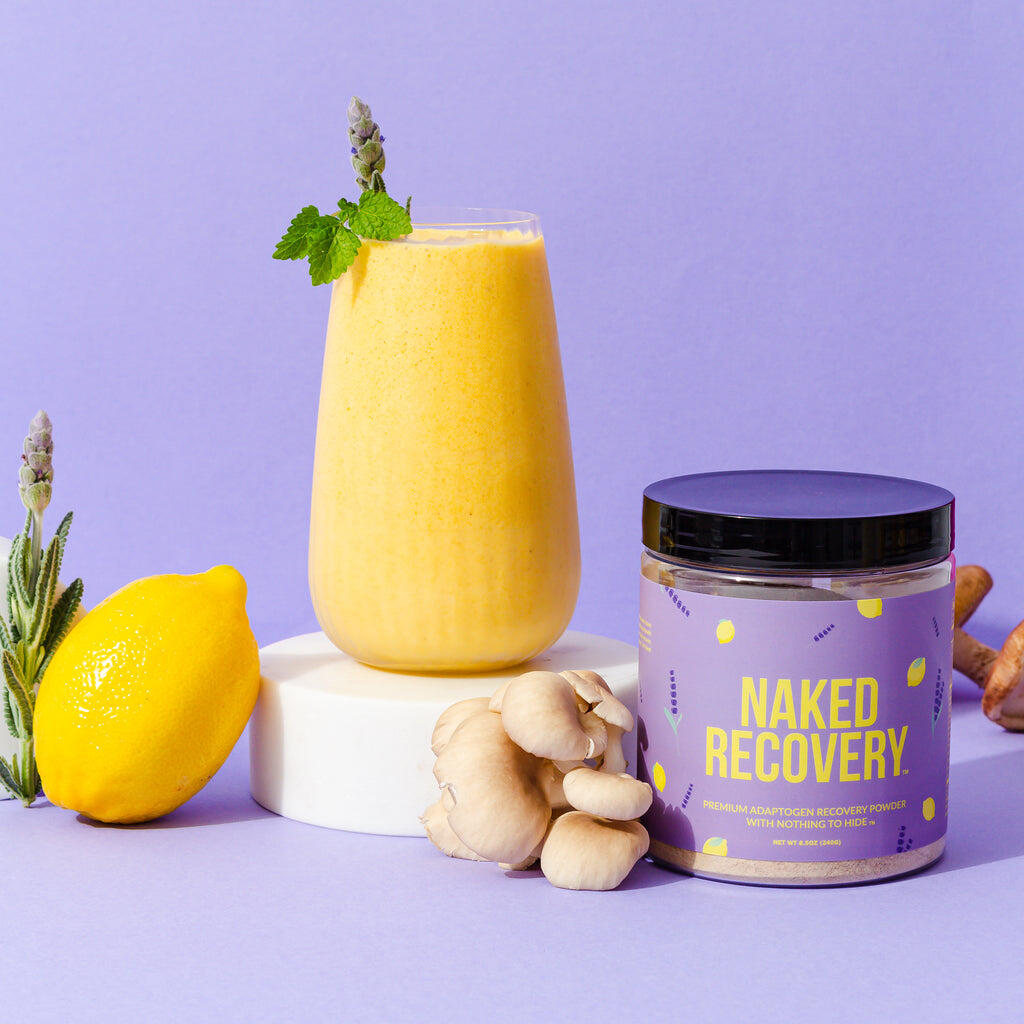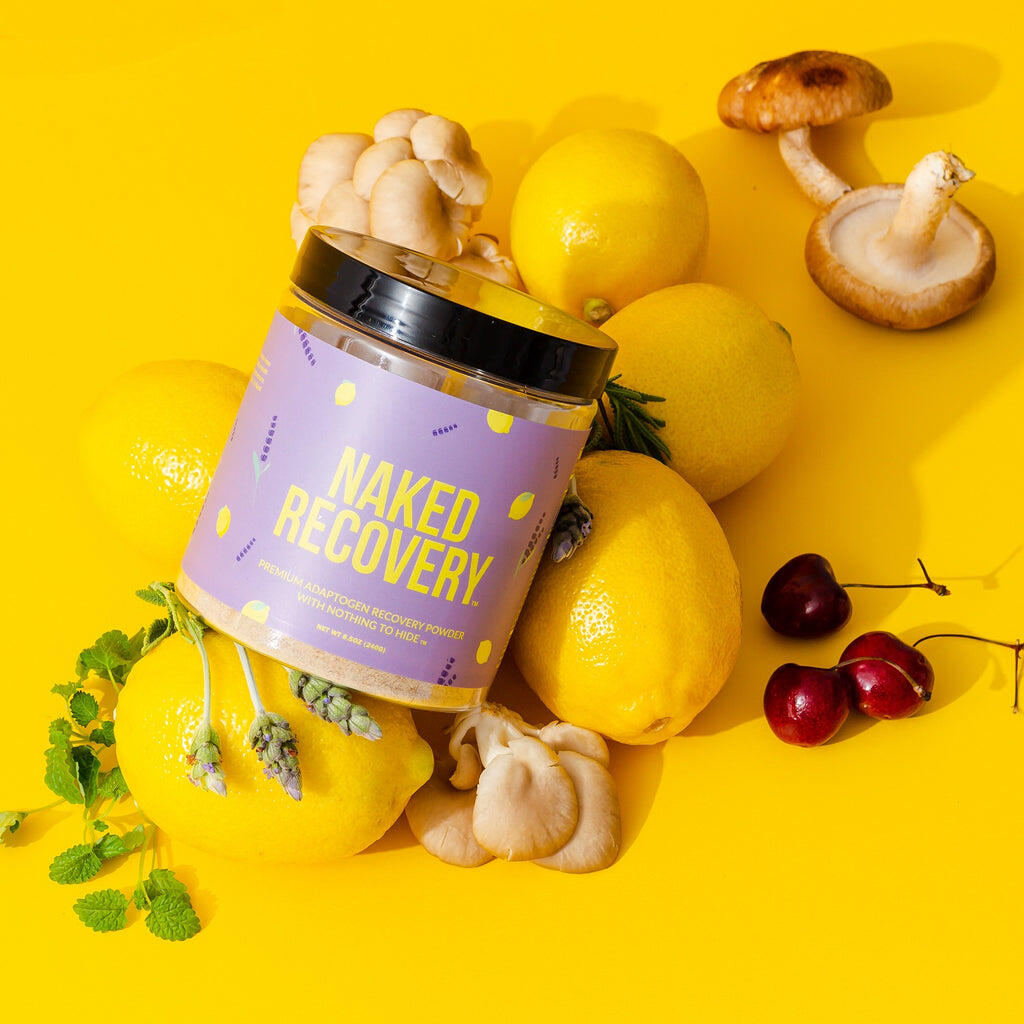 Recovery Mushroom Supplement
Optimize your energy levels, mood, and performance with Naked Recovery. An all-in-one supplement that helps reduce post-exercise soreness, balance physical and cognitive stress, and to promote quality rest and rejuvenation. Six US-grown adaptogenic mushrooms, tart cherry juice, and lemon balm extract work together to support physical and mental wellbeing so you can perform at your best, whether it's at the gym or work.
We are committed to shortening the steps between our farms and you.
The Naked Difference
Regular Recovery Supplements
US-grown adaptogenic mushrooms.
6 adaptogenic mushrooms, tart cherry, and lemon balm for complete recovery
Only 2-3 ingredients for partial recovery
Only natural plant-based flavors. No additives or artificial sweeteners.
Contains additives and sweeteners for texture and consistency.
Quality
Dairy Free

GMO Free

Soy Free

Vegan
Benefits
Six US-Grown Adaptogenic Mushrooms
Naked Recovery contains six US-grown adaptogenic mushrooms - cordyceps, reishi, lion's mane, turkey tail, shiitake, and king trumpet. Adaptogenic mushrooms support holistic recovery by improving how your body responds to physical and mental stress. They aid performance by increasing your resistance to stress-inducing activities like intense exercise. Lion's mane and reishi mushrooms have been shown to improve cognitive wellbeing by promoting balanced mood and brain function.
Tart Cherry for Reduced Soreness
Tart cherries in Naked Recovery are rich in a compound called anthocyanins, which have been shown to protect against post-exercise muscle soreness and loss of strength¹. They also help minimize inflammation and cellular damage after strenuous exercise. By reducing soreness, pain, and fatigue, you recover quicker and make faster progress towards your goals.
Lemon Balm Extract for Cognitive Wellbeing
A herb traditionally used to improve mood and brain function, lemon balm extract in Naked Recovery supports quality sleep, which is one of the most vital aspects of the recovery process. Along with adaptogenic mushrooms, lemon balm extract supports mental function to improve alertness and focus. It also helps reduce the effects of stress for a more balanced mood². During the day, lemon balm extract helps you stay sharp at work. At night, it helps you achieve a calmer state so you can fall asleep easier and recover better for the next day.
Nutrition Info
Serving Size
1 Scoop (8g)
Number of Servings
Approx. 30
How To Use
When: Add our adaptogen recovery powder to smoothies, juice blends, or other beverages. Best used before or after a workout or throughout the day.
Blend: Mix one to two scoops into 8oz of water or a beverage of your preference. Though Naked Recovery is already flavored, dress up the taste with citrus fruits or tasty superfoods.
Pair With: Pair with Naked Fiber for further gut health support, or use alongside Naked C to optimize immune system function and promote overall health.
Frequently Asked Questions
Naked Energy and Naked Creatine are supplements that focus on improving workout performance, increasing muscle gain, and providing a clean boost of energy for high intensity exercise. While Naked Recovery also helps to improve endurance and performance, this supplement has been specially formulated to promote quicker exercise recovery while also supporting your mental and physical health.
No, we have not added any direct sources of caffeine to Naked Recovery. Instead, our recovery supplement contains premium, natural ingredients that work to optimize your general wellbeing.
You can take Naked Recovery at any time during the day. Though some may prefer to use the supplement before or after a workout, this is personal preference. We generally recommend that you consume one serving of Naked Recovery per day to ensure that your body always has the correct nutrition to keep you functioning at your best.
Whether you're always at the gym or you just need a boost after exercise, Naked Recovery is perfect for anybody who is looking to optimize post-workout recovery and support their overall health. Our recovery powder has been formulated with premium, natural ingredients which work together to reduce muscle soreness, aid muscle recovery, decrease stress, boost performance, and improve sleep quality. Naked Recovery is soy-free, GMO-free, certified gluten-free, and is vegan. If you're looking for a product to pair with Naked Recovery, have a look at our range of workout supplements.
See All Faq
Recovery Mushroom Supplement | Naked Recovery
Great recovery supplement for leg day
It does a great job of refueling me after a hard leg day! Love it!
Loved the product, wanting more
I really enjoy the product, but when I opened it the container was not full. Like when you buy chips and the bag is not even half way full.
Recovery mushroom supplement
I just add this supplement in with my post work out shake. I can't really say that I feel any different from taking it, but I can say that mushrooms in general are extremely healthy across the board. All in all, I feel great, I'm eating clean, have a well maintained schedule, and get plenty of sleep and workout time. If you can do those things you'll see a lot more quicker results than any supplements are going to offer in the short term.
I would recommend taking this supplement regardless though for health benefits in general. Mushroom tinctures are more preferable, but this is a lot less time consuming and quality ingredients also.
Recovery Mushroom Supplement | Naked Recovery