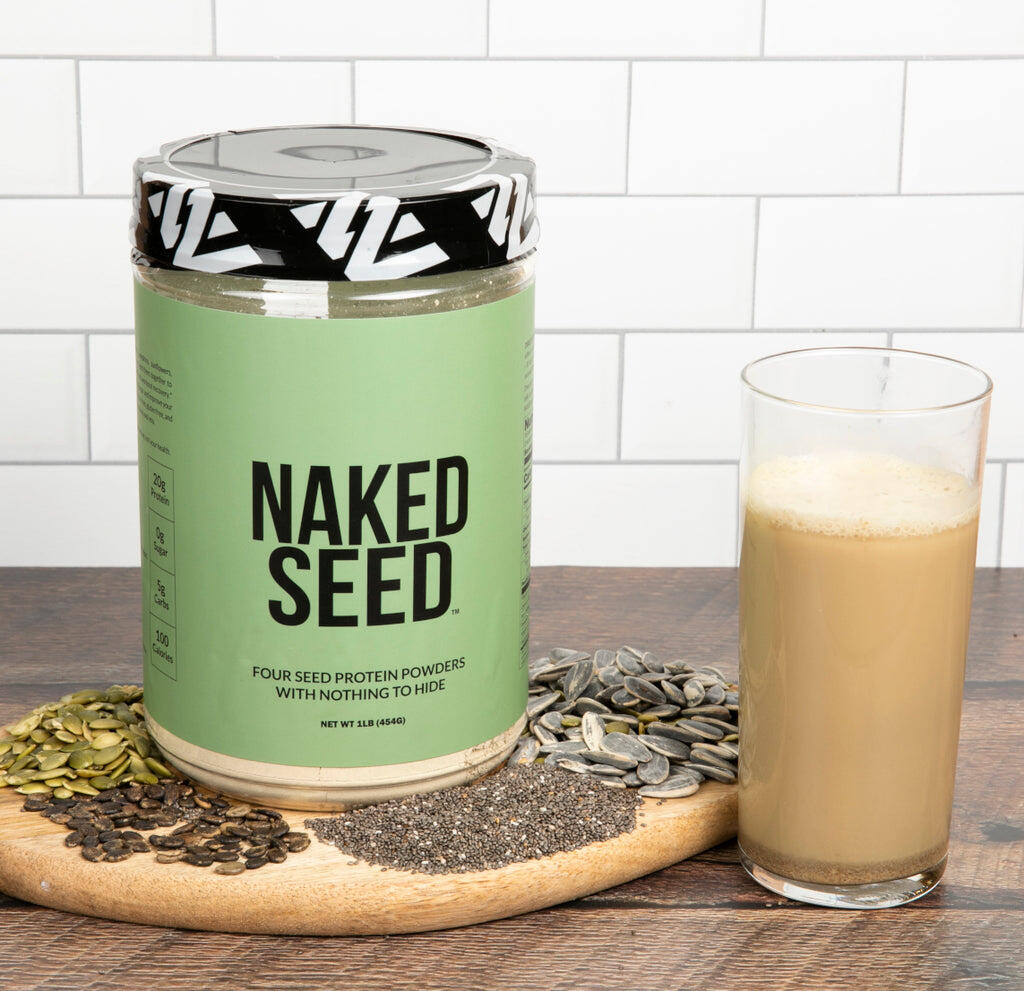 Seed Protein Powder
Naked Seed is derived from four nutritional powerhouses: the seeds of watermelon, sunflower, pumpkin, and chia plants. Finely milled and easy-to-digest, our seed-only protein powder has a superior amino acid profile that supports muscle growth and workout recovery on a plant-based diet.
Antioxidant-rich seed protein powder can promote heart and bladder health, better immunity, cardiovascular health, and optimal blood sugar levels.
We are committed to shortening the steps between our farms and you.
Estimated Delivery: Dec 07 - 09
Free Shipping over $49
Quality
Dairy Free

GMO Free

Soy Free

Vegan
Benefits
Health-Boosting Antioxidants
Seeds from chia, watermelon, pumpkin, and sunflower are all rich in antioxidants that fight free radicals within your body. Too many free radicals in your body can be harmful and they've been linked with a variety of diseases. Consuming plenty of antioxidants can keep your free radical levels under control and reduce the risk of illnesses.
Plant-Based Muscle Growth
Naked Seed has a superior amino acid profile because it combines plant proteins from four different sources. Amino acids, including branched-chain amino acids (BCAAs), play a key role in muscle growth and recovery after exercise. Naked seed is finely milled and easily digested, making it easier for your body to absorb the amino acids and recover better after a workout.
Easily Boost Protein Intake
Adequate protein intake is vital to boost metabolism, promote fat burning, and overall health. Each serving of Naked Seed contains 20 grams of protein and only 100 calories. Adding seed protein to your diet is an excellent way to boost protein intake on a plant-based diet.
Nutrition Info
Serving Size
2 Scoops (30g)
Number of Servings
Approx. 15
The Naked Difference
4 different protein sources for a superior amino acid profile
Only one or two seed protein sources
No additives or artificial sweeteners
Loaded with added sugars and additives for color and texture
Usually around 10g per serving
How To Use
When: Add our seed protein to protein shakes, smoothie bowls and baking. Best used in the morning, before or after a workout, or throughout the day.
Blend: Mix two scoops into 6-10oz of water, non-dairy milk, or your favorite beverage. Mix with fruits, vegetables, or superfoods for taste as Naked Seed is unflavored.
Pair With: Add a scoop of Naked PB for added flavor and extra nutrition to maintain muscle mass and promote workout recovery.
Frequently Asked Questions
Raw seeds are packed full of nutrition and are commonly hailed as superfoods due to their impressive health benefits. The selection of seeds that make up Naked Seed (chia, watermelon, pumpkin, and sunflower) are rich in antioxidants which work to prevent internal damage caused by free radicals and oxidation. As a result, antioxidants help to reduce the risk of certain diseases, boost immunity, and improve blood sugar control. These four types of seeds are also rich in vitamins and minerals to support your overall health, as well as being rich in high quality protein to promote muscle gain.
The different types of seeds are individually milled into a fine powder. All of the seeds are then blended together to create Naked Seed - our premium seed-only protein powder. We do not use chemicals during the processing of our products.
We recommend using Naked Seed to create highly nutritious protein shakes and smoothies. Since it is a plant-based protein, we suggest adding it to non-dairy milk, but the choice is yours! Additionally, Naked Seed is safe to use in baking or cooking recipes, and works nicely as an extra nutrition boost.
Naked Seed is a great protein powder option for vegans, vegetarians, or for those who just prefer plant-based proteins. Since Naked Seed also offers a superior amino acid profile, it's also ideal for those who are looking to gain muscle, lose weight, or support their overall health. Naked Seed is non-GMO, dairy-free, soy-free, and certified gluten-free. For alternative plant-based proteins, check out Naked Pea or Naked Rice.
See All Faq
Chalky taste?
Not sure what it is -- has a chalky grainy texture to it (not as smooth as naked whey unflavored) still I like that it's vegan and has 20g protein per serving. It is what it is! :-)
Vegan protein
I have tried some plant protein in the past that I could not drink because it was slimy, this is not. Tastes good, I mix it in a blender and take it to the gym in a shaker bottle.
4 seeds - what's not to love?
Great vegan product. The amino acids come from seeds not a lab. It really does keep me full and powered up for my long days of back-to-back Personal Training sessions. The price is good too.
It's good!
Honestly, I had some conflicting thoughts about getting this because I really didn't like the egg white protein powder but this is great. A bit pricy compared to other brands out there with similar protein content but I like that it doesn't have any added sweetners. It tastes just like pumpkin seeds do so if you like those you're getting 20g of protein for 100 cal that's a win in my book. I do recommend adding something like vanilla to it though.
Great For Baking Or Smoothies
This plant protein power is coarse but blendable. I found it very useful for fortifying homemade energy bars to give a carb alternative. The powder bakes well and evenly. I tried it in some smoothies for bulk, and it comes across as a fairly tasteless powder which dilutes berries and such. I would happily recommend it for both uses as a protein addition to many recipes.