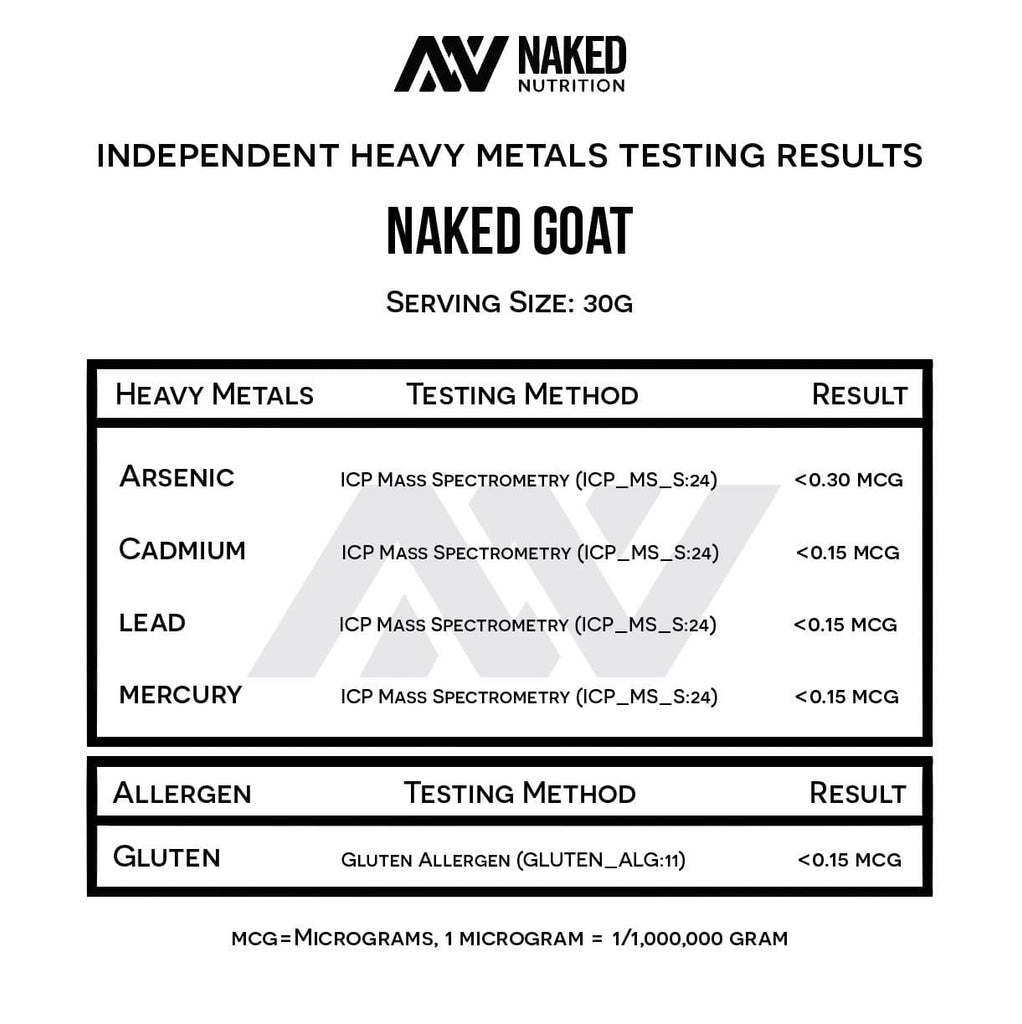 Goat Whey Protein Powder
Naked Goat has only one ingredient: Goat whey protein sourced from pasture-raised goats on small-herd Wisconsin dairies. We use cold processing to create non-denatured goat whey so you get clean protein loaded with essential amino acids and other beneficial nutrients.

Naked Goat is free of additives and artificial sweeteners. We are committed to shortening the steps between our farms and you. Don't let the supplement industry fool you; additives are for their bottom line, not your health.
Estimated Delivery: Dec 07 - 09
Free Shipping over $49
Quality
GMO Free

Only 1 Ingredient

Soy Free
Benefits
Nutrition Info
Serving Size
3 Scoops (30g)
Number of Servings
Approx. 30
The Naked Difference
Small-herd Wisconsin dairies
Only pasture-raised goat whey. Nothing artificial
Additives and artificial sweeteners
Cold processed, acid and bleach free processing to retain nutrients
Acid and bleach used during processing. Nutrients lost
How To Use
When: Add our goat whey protein powder to protein shakes, smoothie bowls, or baking. Best used in the morning, before exercise or after a workout.
Blend: Mix three scoops into 6-10oz of milk, water, or your preferred beverage. Add fruits and vegetables for taste as Naked Goat is unflavored.
Pair With: Use with Naked PB to add some extra protein and achieve a tasty peanut flavor.
Frequently Asked Questions
The goat whey used to make Naked Goat is sourced from pasture-fed goats from small dairy farms in the state of Wisconsin. The goat milk is then sent to a processing facility in the US where the milk is separated to produce the whey.
Our goats are not injected with any type of hormones. We focus on ensuring that our products and our protein are as pure as possible and that they do not contain any hidden extras, artificial ingredients, or harmful chemicals.
When the weather allows, our goats are on pasture and completely grass-fed. They are only fed non-GMO grain when the weather prevents them from being able to graze on pasture. Our farms also do not use any herbicides or pesticides.
During processing, we use a fungal rennet to separate the milk. Apart from this rennet, only water and heat are used during the cold processing of the product.
Naked Goat is a great protein powder option for those who are looking for a source of high-quality, clean protein. While it is derived from goat milk, goat whey contains less lactose which means it's more easily tolerated by the digestive system. The quality nutrition provided by Naked Goat is also going to enhance muscle gains and support the immune system. If you're looking for a protein powder made using cow whey, we also offer Naked Whey.
See All Faq
Excellent if you're a Planner
I follow Lyn-Genet Recitas's PLAN to manage inflammation. Once I changed from cow's milk yogurts, cheeses, and whey protein to goat's milk yogurt, cheese, and protein powder, the pain from my osteoarthritis decreased and,
although this was not my purpose, I lost a few pounds. In addition, the vanilla Naked Goat is delicious.
Goat Tasting Proteting
I actually enjoyed this protein powder, it's great tasting, so much so that I bought more. I love it!
Great product.
Great product and customer service.
Goat whey shakes rock
I like the taste, it reminds me of goat cheese (which I am fond of), the powder mixes well and its not sugary. Will buy again.
Digestion
Goat protein is the best. Very fast digestion. Good for inflammation.