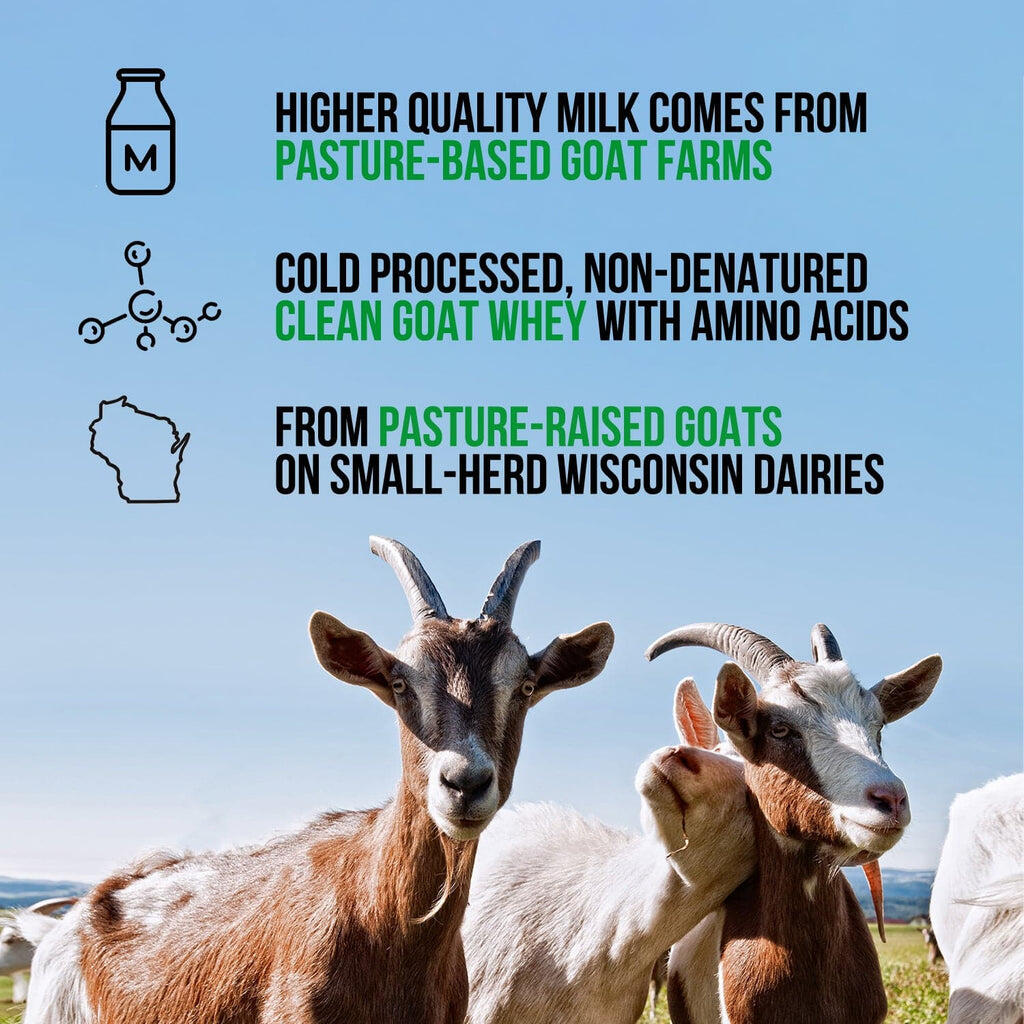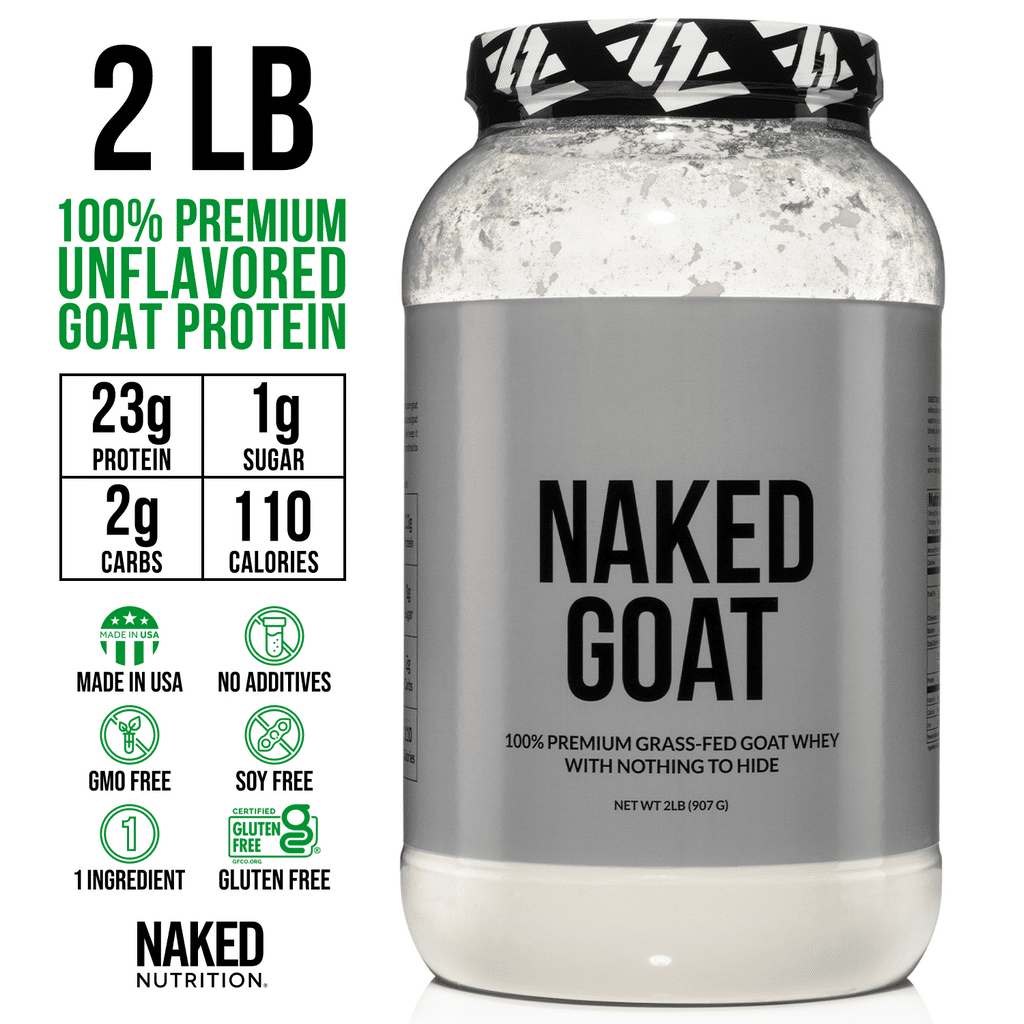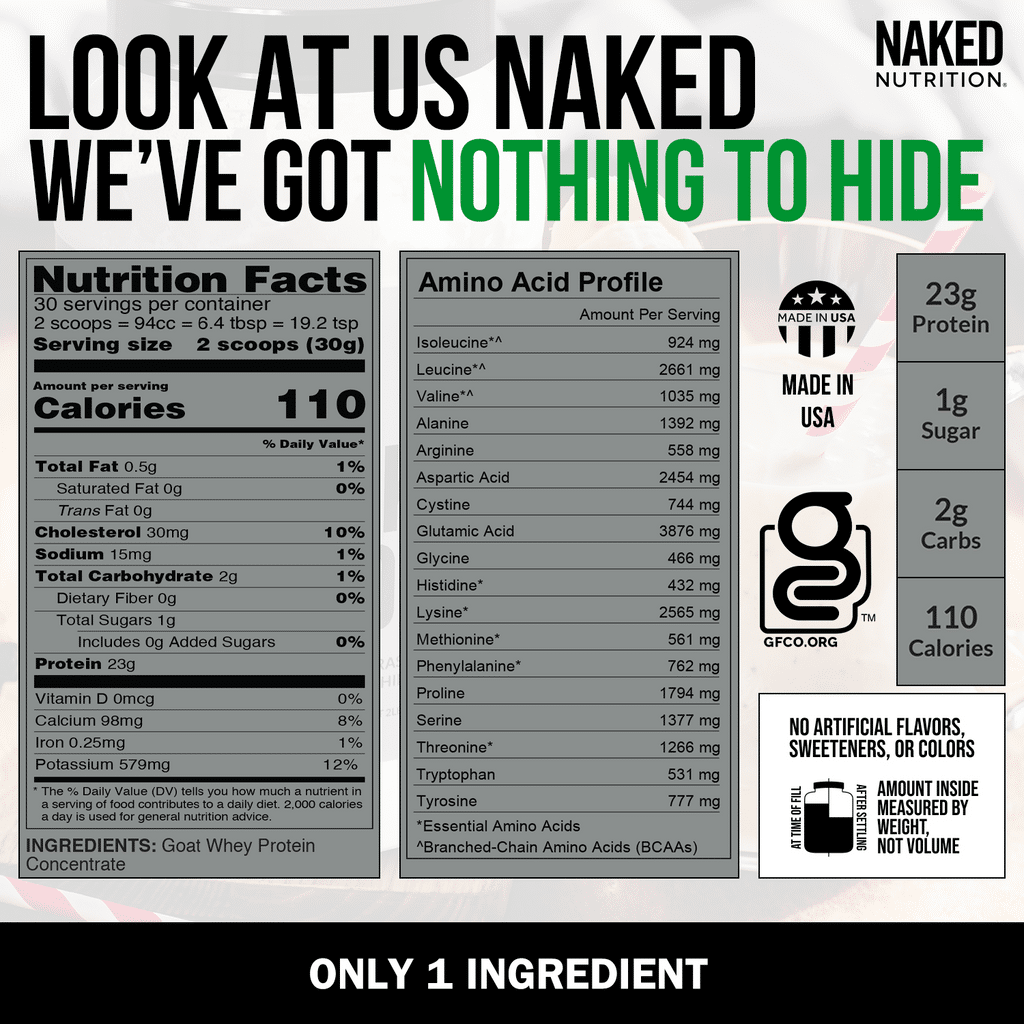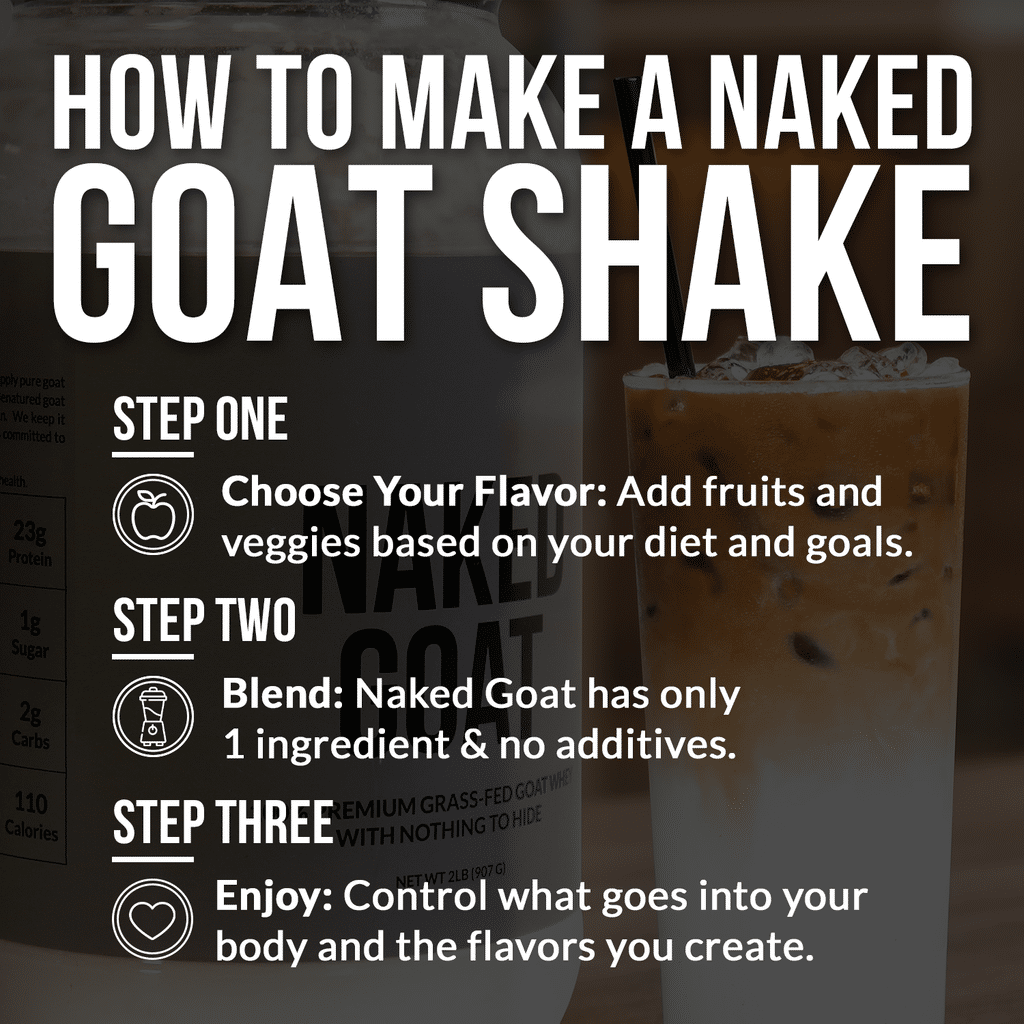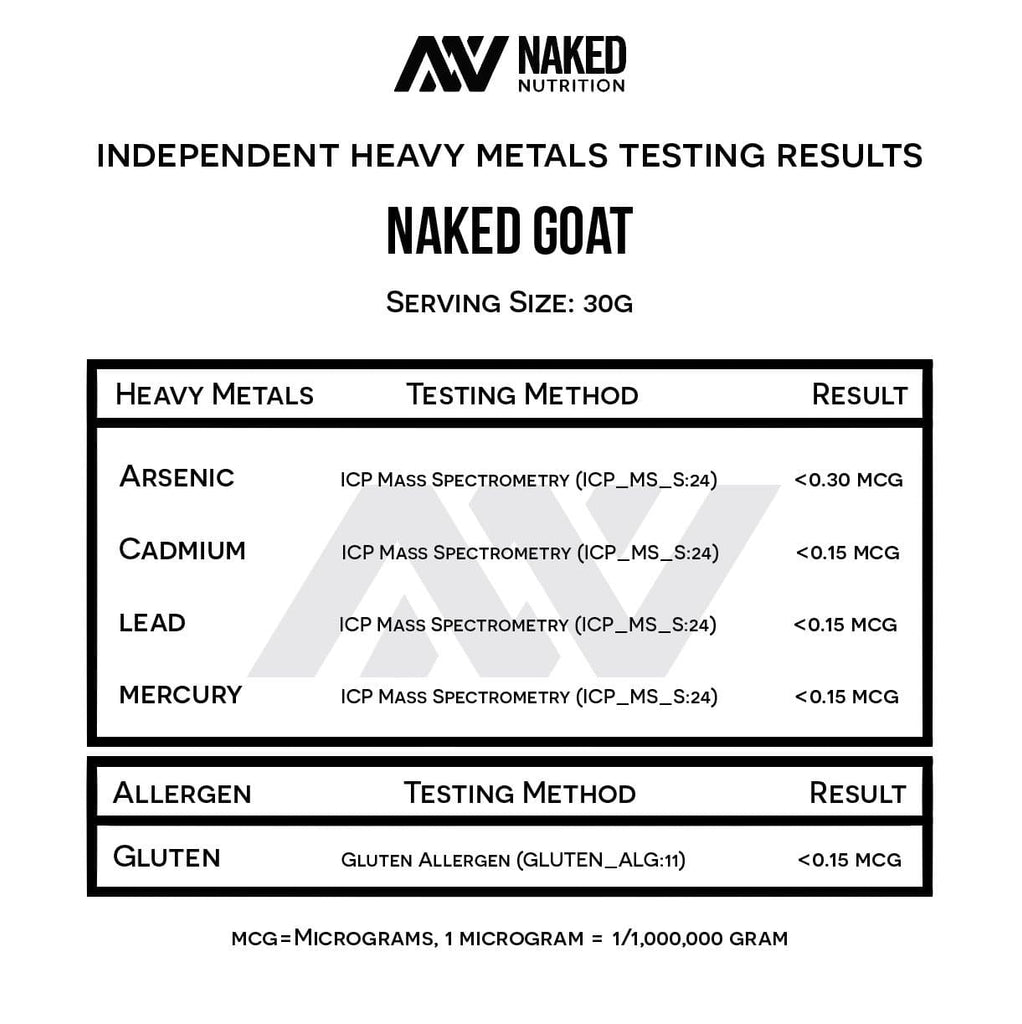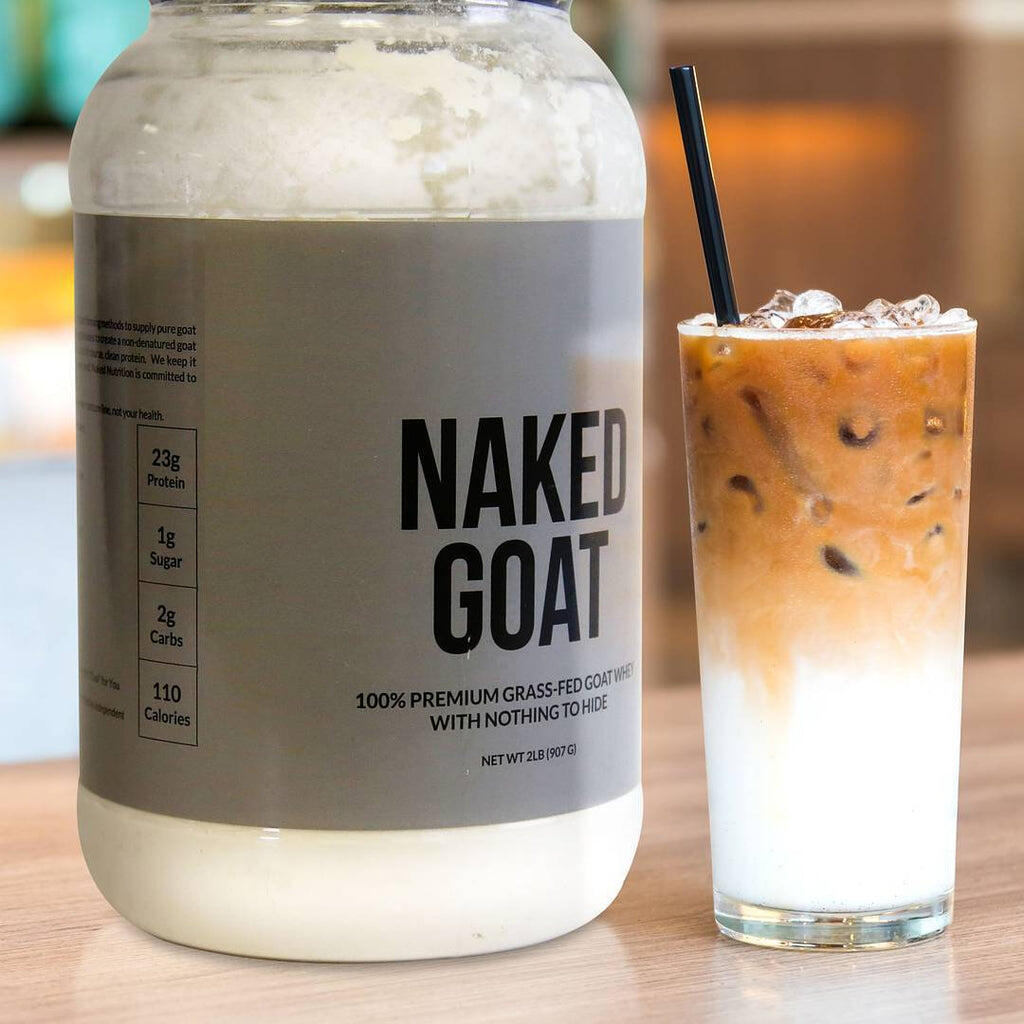 Goat Whey Protein Powder
Naked Goat has only one ingredient: Goat whey protein sourced from pasture-raised goats on small-herd Wisconsin dairies. We... Read More
Free Shipping over $99. Estimated Delivery: Oct 06 - 08
The Naked Difference
Small-herd Wisconsin dairies
Only pasture-raised goat whey. Nothing artificial
Additives and artificial sweeteners
Cold processed, acid and bleach free processing to retain nutrients
Acid and bleach used during processing. Nutrients lost
Quality
GMO Free

Only 1 Ingredient

Soy Free
Benefits
Nutrition Info
Serving Size
2 Scoops (30g)
Number of Servings
Approx. 30

How To Use
When: Add our goat whey protein powder to protein shakes, smoothie bowls, or baking. Best used in the morning, before exercise or after a workout.
Blend: Mix three scoops into 6-10oz of milk, water, or your preferred beverage. Add fruits and vegetables for taste as Naked Goat is unflavored.
Pair With: Use with Naked PB to add some extra protein and achieve a tasty peanut flavor.
Frequently Asked Questions
The goat whey used to make Naked Goat is sourced from pasture-fed goats from small dairy farms in the state of Wisconsin. The goat milk is then sent to a processing facility in the US where the milk is separated to produce the whey.
Our goats are not injected with any type of hormones. We focus on ensuring that our products and our protein are as pure as possible and that they do not contain any hidden extras, artificial ingredients, or harmful chemicals.
When the weather allows, our goats are on pasture and completely grass-fed. They are only fed non-GMO grain when the weather prevents them from being able to graze on pasture. Our farms also do not use any herbicides or pesticides.
During processing, we use a fungal rennet to separate the milk. Apart from this rennet, only water and heat are used during the cold processing of the product.
Naked Goat is a great protein powder option for those who are looking for a source of high-quality, clean protein. While it is derived from goat milk, goat whey contains less lactose which means it's more easily tolerated by the digestive system. The quality nutrition provided by Naked Goat is also going to enhance muscle gains and support the immune system. If you're looking for a protein powder made using cow whey, we also offer Naked Whey.
See All Faq
Yummy!
If you are someone who prefers to have no added sugar to their protein shakes (like myself), this is the one for you. It has a different taste than the cows whey but in my opinion it's a nice flavor. If you like goats milk or cheese you will like this product. The price comparison to others is about the same but this brand is a one ingredient product so it's worth the purchase. Also, they offer it in 2lbs and some other brands only offer 1 or 5 lbs. Great product overall!
Not For Me
I had high hopes for this product, but it doesn't agree with my body. I tried it three times and felt inflamed afterwards. I reached out to customer service over a week ago and haven't heard anything back. Seems like a quality product for those that tolerate Goat Whey, but customer service could use improvement.
Best Protein Powder Available!
We love it. Finally a protein powder that isn't filled with artificial ingredients. Great in any kind of smoothie.
Great Option
Switched to this protein powder due to food sensitivities and not being able to have many different things found in most protein options. Very happy with this protein, it blends really well in my shakes and does not upset my stomach. Great quality!
Creamy!
I LOVE the texture and creaminess of this stuff, and I don't get bloated afterward. A tiny bit of goatiness can be obviated by using strong flavors to mix with it. Delicious as hell.