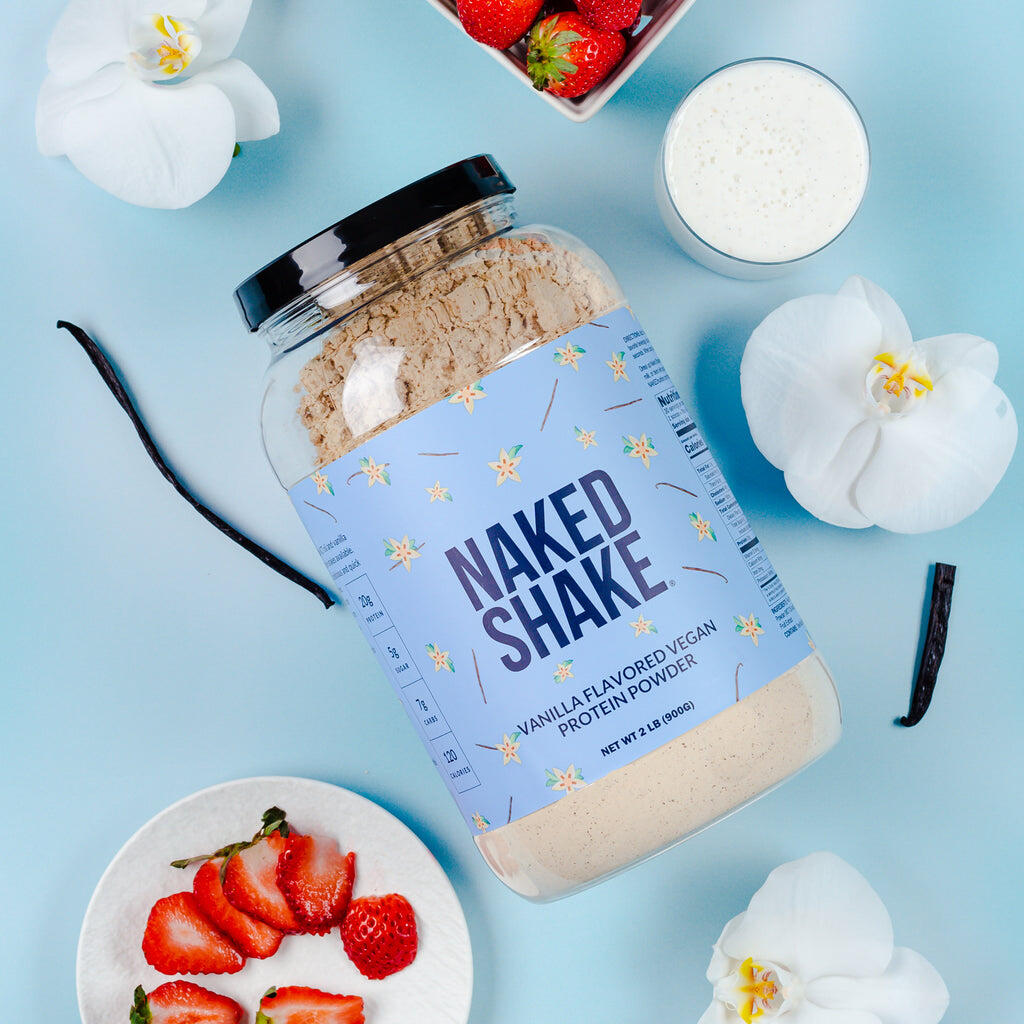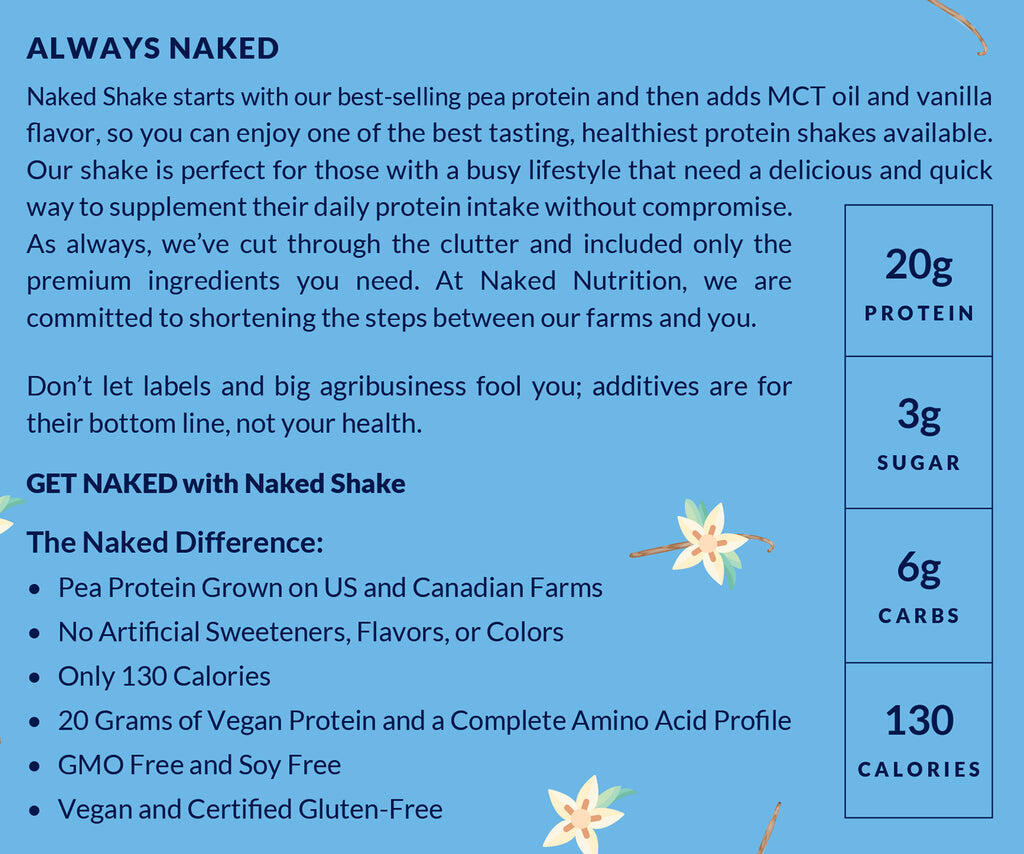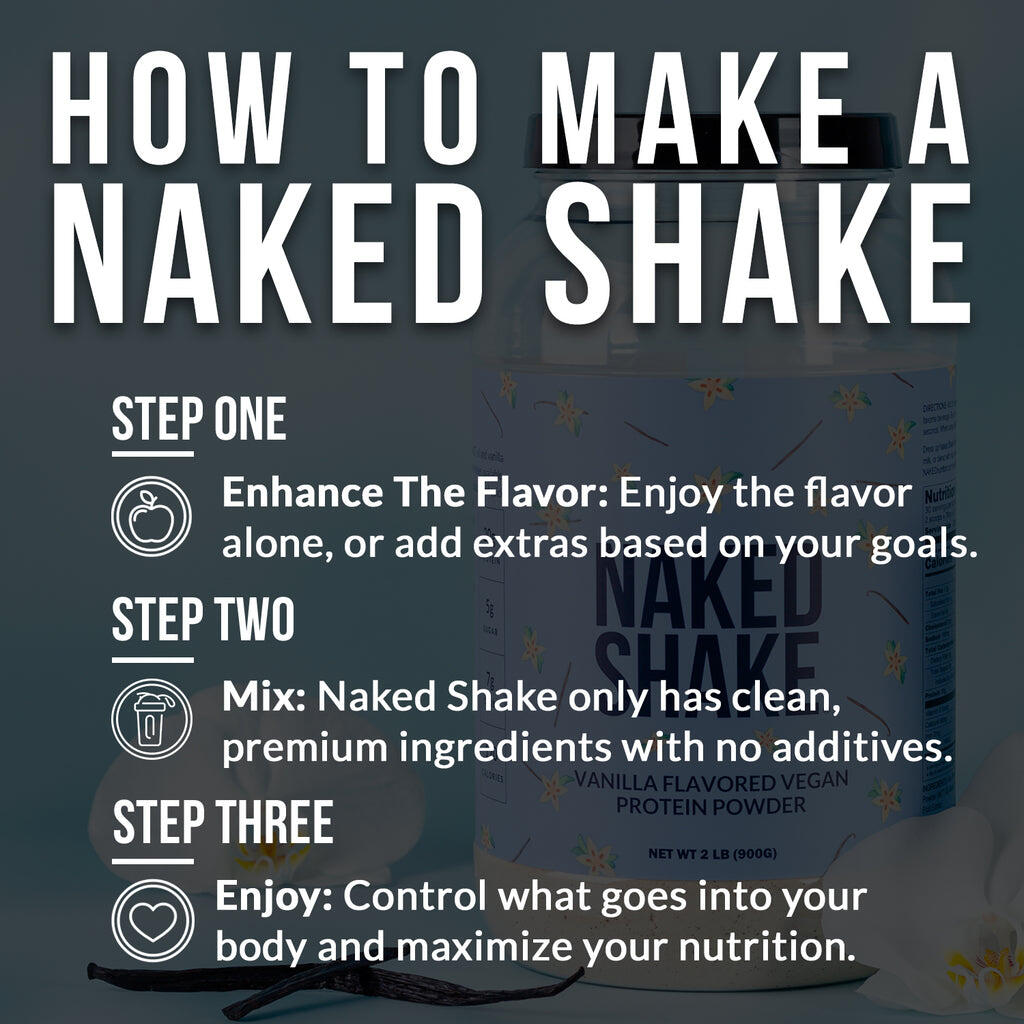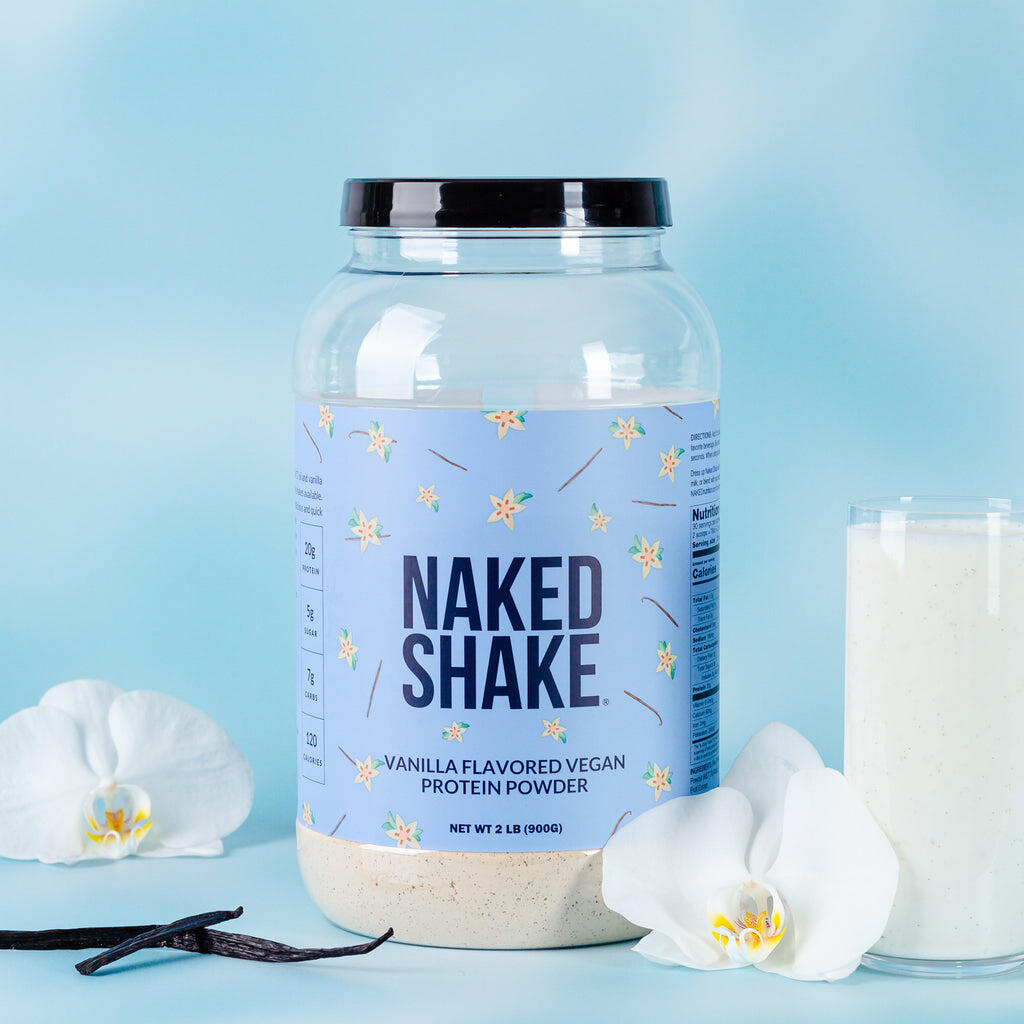 Vanilla Protein Shake
Enjoy a rich vanilla flavor and increase daily protein intake on a busy schedule. Vanilla Naked Shake starts with our best-selling pea protein, adds MCT oil, and natural plant-based flavors. The result is a crave-worthy shake that delivers 20g of protein and only 3g of sugar. Naked Shake only contains the premium ingredients you need to maintain optimal energy levels and manage a healthy weight.

At Naked Nutrition, we are committed to shortening the steps between our farms and you.
Free Shipping over $99. Estimated Delivery: Feb 01 - 03
Quality
Dairy Free

GMO Free

Soy Free

Vegan
Benefits
Increase Protein Intake On A Busy Schedule
Protein boosts your metabolism, helps preserve muscle mass, and aids muscle recovery after exercise. Naked Shake is the perfect way to boost your protein intake even on a busy day. Just add two scoops to water or your favorite drink, and in a matter of seconds, you have a nutritious protein shake that's bursting with flavor.
Only The Purest Ingredients
Juice bar smoothies are tasty and convenient, but they're usually loaded with added sugars. With Naked Shake, you get a similar great taste, but you can be confident that you're not compromising when it comes to your health. As always, we've cut through the clutter and included only the purest ingredients you need.
Preserve Muscle With Pea Protein
Pea protein is one of the best plant protein sources when it comes to maintaining or building lean muscle. The reason is that pea protein contains a wide range of essential amino acids which are critical for muscle growth and repair. Pea protein is also easily digested, making it an excellent alternative to whey protein on a plant-based diet.
Support Weight Loss Goals
Each serving of Naked Shake delivers 20 grams of protein and healthy fats in the form of MCT oil. Both protein and MCT oil help support a healthy weight by keeping you satiated for longer and preventing you from reaching for unhealthy snacks.
Nutrition Info
Serving Size
2 Scoops (32g)
Number of Servings
Approx. 30
The Naked Difference
Premium pea protein from US/Canada farms
Pure ingredients. No additives or artificial sweeteners
Packed with additives for taste, consistency
Doesn't absorb well leading to GI discomfort
MCT oil, organic coconut sugar, sea salt, and monk fruit extract
Flavored with processed sugars and other unnatural ingredients
Tested by independent third party
No third-party testing for heavy metals
How To Use
When: Add our flavored protein shake powder to water, smoothie milks, and baking recipes. Best used in the morning, before or after a workout, or when you're on the go.
Blend: Mix two scoops into 6-12oz of milk, water or your preferred beverage. No need to dress up the taste yourself - Naked Shake is delicious on its own.
Pair With: Incorporate Naked Greens into your daily diet to promote toxin detox, aid stress reduction, and improve gut health and immune function.
Frequently Asked Questions
Naked Shake is a flavored protein powder which also contains a complete amino acid profile. Our shake powder makes it easy to supplement your protein intake while enjoying one of the healthiest shakes available.
No. Just like all Naked products, Naked Shake does not include any artificial sweeteners, flavors, additives, or colors. Naked Shake only contains three natural sweetening agents: organic coconut sugar, fermented cane sugar (Reb-M), and monk fruit extract. Naked Shake is also flavored with natural fruit juice.
Our protein shake powder contains the same pea protein that is used for our Naked Pea. Certain metals, such as lead, are naturally occurring in soil. However, Naked Shake undergoes independent testing to ensure that the product adheres to the safety standards set by the FDA.
Naked Shake is the ideal protein powder option for anyone with a busy lifestyle or for those looking for a quick, no-fuss way of supplementing their daily protein. Formulated with natural ingredients, Naked Shake is one of the healthiest and tastiest protein shakes available. This product's nutritional profile also works to support your overall health, promote muscle gain, and aid fat loss. For other vegan protein powders, check out our plant-based range which includes Naked Pea, Naked Rice, and Naked Seed.
See All Faq
Love except isdues with one
Love all your products but cannot open the seed protein tub. :( have tried everything tempted to take a drill to it
Amazing!
I use Naked Protein Shakes to break my fast. I mix it with
frozen berries and almond milk. The shakes are amazing. The mct gives me a boost to workout and get through my evening. The Vanilla is so good just the right amount of sweetness.
Love it !
Love this vegan vanilla protein powder , it doesn't have a chalky after taste and it mixes well with my berry shakes and protein pancakes . Highly recommend
Gritty
I don't like the texture or taste. Would not order again. I liked the whey so thought I'd give this one a try, but no dice for me.
Insufficient Quantity or Inaccurate Label
I am still waiting for a response from my most recent email to Naked Nutrition about this issue:
Hello there,
I am following up on the conversation I had about the quantity of product/proper labelling on your Naked Shake - Chocolate and Vanilla. Below is the conversation I had a couple months ago after completing my first two containers.
I kept even more exact records of the use of my second two containers, logging every dose used, and leveling off the scoop with a straight edge every dose. In doing this, I obtained 49 scoops (24.5 servings) out of the chocolate container (Instead of 60 scoops/30 servings) and 56 scoops (28 servings) out of the vanilla container (Instead of 60 scoops/30 servings).
This is the second time in a row where I have been shorted doses compared to the package label, and in both situations, I was shorter with the chocolate than the vanilla, which is interesting as they use the exact same size scoop and the chocolate container is 2.2 pounds (1000 grams) while the vanilla is 2 pounds (900 grams). Evidently the chocolate is denser than the vanilla.
In addition, due to being short, I have had to supplement with Orgain Organic Protein, chocolate and vanilla. Of note, the scoops they use are the EXACT same size as the scoops you use, their pack sizes are LARGER at 2.74 pounds (1200 grams) yet their label states you get 54 scoops (27 servings) per bottle.
So...either you need to increase your package sizes to ensure they provide the labelled number of scoops/servings, or you need to redo your labelling to accurately reflect the number of scoops/servings your products contain. And in the second case, I would suggest a price decrease to ensure the same price per serving.
Please let me know your response as it will determine my next steps - whether I continue my auto-refills of your product or not, and whether I need to follow up with the appropriate regulatory bodies.
Thank you,
Chris
----- Forwarded Message -----
From: Pam & Chris Klink
To: Questions at Naked Nutrition
Sent: Wednesday, August 10, 2022 at 09:21:31 PM CDT
Subject: Re: Follow Up
PJ,
I ordered the product on 6/12, and while I can't say the exact first day I started using it, it was at least 6/14 or 6/15. I ran out of the Chocolate on 8/5 and the Vanilla on 8/8. Additionally, there were 2 days in this period that I did not use any. Based on this the chocolate was 9-10 days short and the vanilla was 6-7 days late.
To be clear, I use the protein powder at lunch and at supper each day. I use 1 scoop (1/2 dose) of the protein shake along with 1 scoop (1/2 dose) of the Naked Pea, so each day I use 1 scoop each of Vanilla and Chocolate shake and 2 scoops of Naked Pea. Additionally, I have a 3rd scoop of Naked Pea three days a week after my workouts. So, in 2 months (60 days) I use the following:
60 scoops of Chocolate Shake (30 servings - 1 can)
60 scoops of Vanilla Shake (30 servings - 1 can)
144 scoops of Naked Pea (72 servings - just shy of 1 can which is 76 servings)
Chris
On Wednesday, August 10, 2022 at 10:11:35 AM CDT, Questions at Naked Nutrition wrote:
Hi Chris,
Sorry for the delay. I have been researching your questions. Each canister is weighed before shipping to ensure it contains the correct amount. You described your usage in detail, but it's a little unclear to me from your first message how short the canisters seem to be to you. Can you please clarify?
--
Thank you,
PJ
Chris Klink wrote:
Hello,
I am following up on the message I sent you on Friday, 8/5, and still have not received a response to. Without repeating my entire email, I was questioning why my chocolate and vanilla Naked Shakes ran out 1 week before my every 2-month shipment when I used them exactly as directed and I should have had 60 servings out of the two bottles (and there were even 2 days that I did not have any).
Please explain, as I do not plan to continue my every two-month shipments if I am continually shorted.
Thank you,
Chris