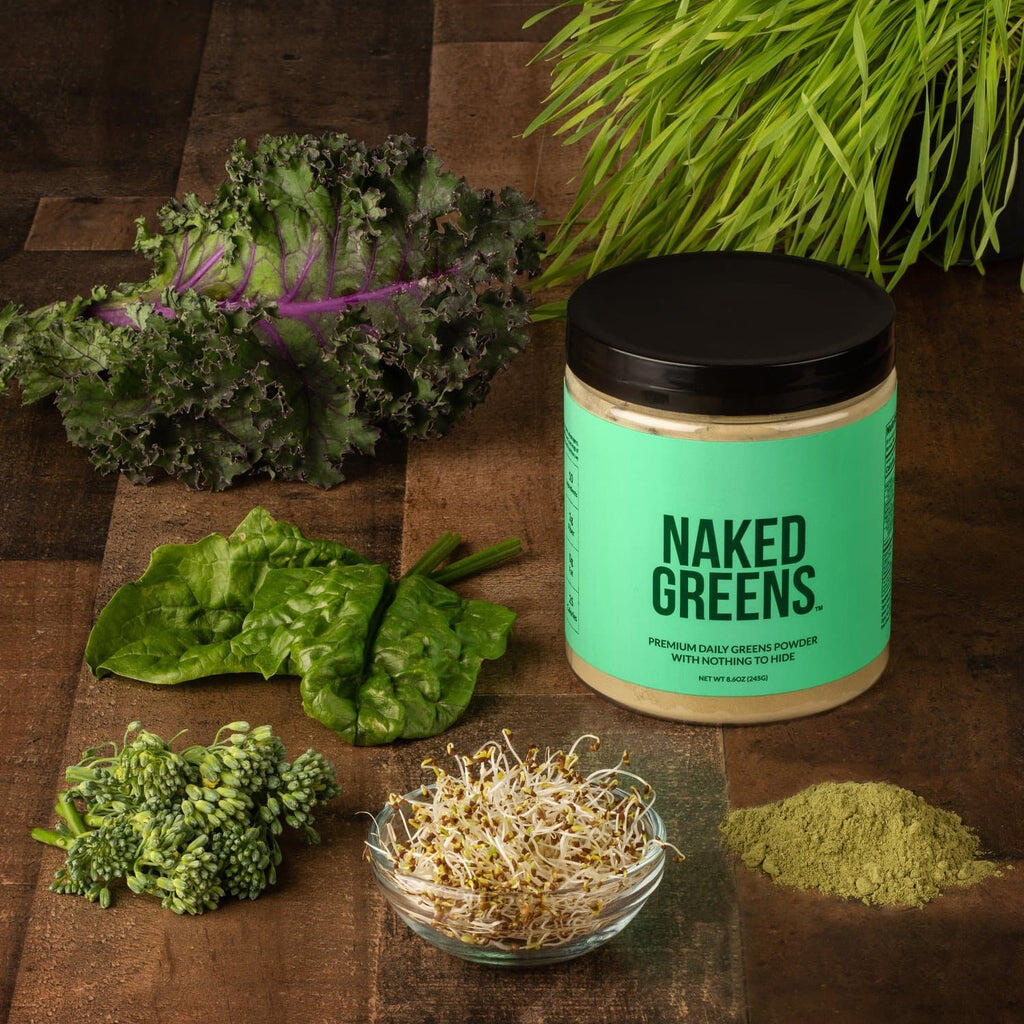 Green Superfood Powder
Naked Super Greens Powder
Naked Greens is a premium daily greens powder. Our green superfood powder blend contains six different organic vegetables and grasses along with organic prebiotics, probiotics, and adaptogens. Take Naked Greens daily to promote detox, stress reduction, and to support gut health and immune function.

No additives or artificial sweeteners. Don't let the supplement industry fool you; additives are for their bottom line, not your health.
Estimated Delivery: Dec 07 - 09
Free Shipping over $49
Quality
Dairy Free

GMO Free

Keto Friendly

Soy Free

Vegan
Benefits
Nutrition Info
Serving Size
1 Scoop (7g)
Number of Servings
Approx. 35
The Naked Difference
Only 10 high-quality ingredients. No artificial additives.
Contains artificial additives.
Includes adaptogens to reduce stress
How To Use
When: Add our greens powder to smoothies and baking recipes. Best used first thing in the morning, before lunch, or between meals.
Blend: Mix one scoop into 8oz of water or a flavored beverage. Add fruits, vegetables or your preferred flavorings for taste as Naked Greens is unflavored.
Pair With: Pair with Naked Whey to achieve a nutrition packed protein shake that will enhance muscle gain, promote protein synthesis, and support overall health.
Frequently Asked Questions
While Naked Greens is a supplement that provides an impressive amount of nutrition, we do not recommend completely cutting vegetables out of your diet. Consuming real vegetables is still an important part of your diet, but you can use Naked Greens to increase your daily nutrition and gain even more health benefits.
Absolutely! By combining Naked Greens with one of our premium protein powders, such as Naked Whey, you're adding even more nutrition to your daily protein shake. We recommended dressing up your shake with your preferred flavored beverage, such as almond milk, or by adding some fruit.
You can take Naked Greens at any time during the day. However, it is common for people to prefer to take greens powder first thing in the morning as it provides your body with a variety of nutrients at the start of the day. We do not recommend taking a greens supplement right after a workout as it can slow muscle recovery by disrupting oxidation.
Naked Greens is ideal for anybody who is looking to increase their daily nutrition and consume more green vegetables. Our greens blend has been designed to contain only ten premium ingredients, including a variety of organic vegetables and grasses that offer many health benefits. Naked Greens is soy-free, gluten-free, GMO-free, and is certified vegan. If you're looking for a product to pair with Naked Greens, have a look at our range of premium protein powders.
See All Faq
Excellent supplements
I have been using all the protein supplements from Naked Nutrition for almost a year. I am quite satisfied with all of them.
I am a 76 year old, and I was hospitalized for about 3 months with covid. I suffered significant muscle wasting. I was so weak I needed a walker to get around. I was trying to exercise, but could not do very much, and showed no improvement.
Finally I turned to all plant-based protein from naked nutrition. I also used NN BCAAs. In a few days I began to improve, both in physical abilities, and in restoring of lost muscle tissue, something usually very difficult for a person of my age.
I have found that mixing some supplements together is a superb way to maximize protein intake - brown rice with pea, for example. I also add a bit of peanut butter protein for taste, which is great for covering the taste of BCAAs.
Bottom line - my doctors are amazed at my recovery process! All due to NN pure supplements! NN supplements are easy to digest, and quite absorbable. Again, for a man my age to be able to add lean after so much sarcopenia is nothing short of astonishing.
I will continue to use NN supplements every day of my life!
Effective but horrible taste
Love that its a pure greens powder and doesn't have added ingredients, but the taste is definitely not the best.
Green superfood powder review
This stuff is great! Can't even taste it when I blend it in my morning smoothie. Great way to add some micro nutrients!
Blueberry Juice!
Drink one scoop with 6-8 oz. of blueberry juice and it is almost delicious. I am a bit lazy about getting my greens, so this addition has rounded out my nutrition.
Naked Green Superfood Powder
Mixes easily, vegetable taste is non-combative when mixed with protein. It's hard to know how much difference it makes and it would be good to see a head to head comparison with other brands. But this is a generally trusted label. You don't reach for this for the veggie flavor...but I don't mind having this every day for the benefits.