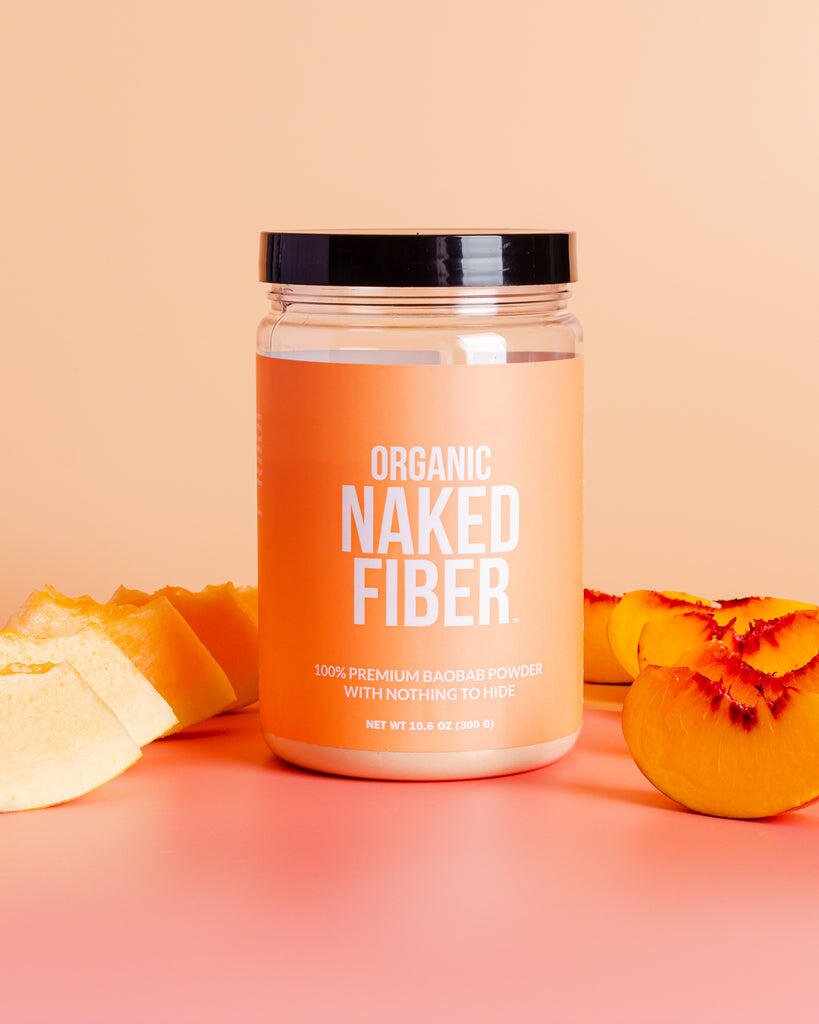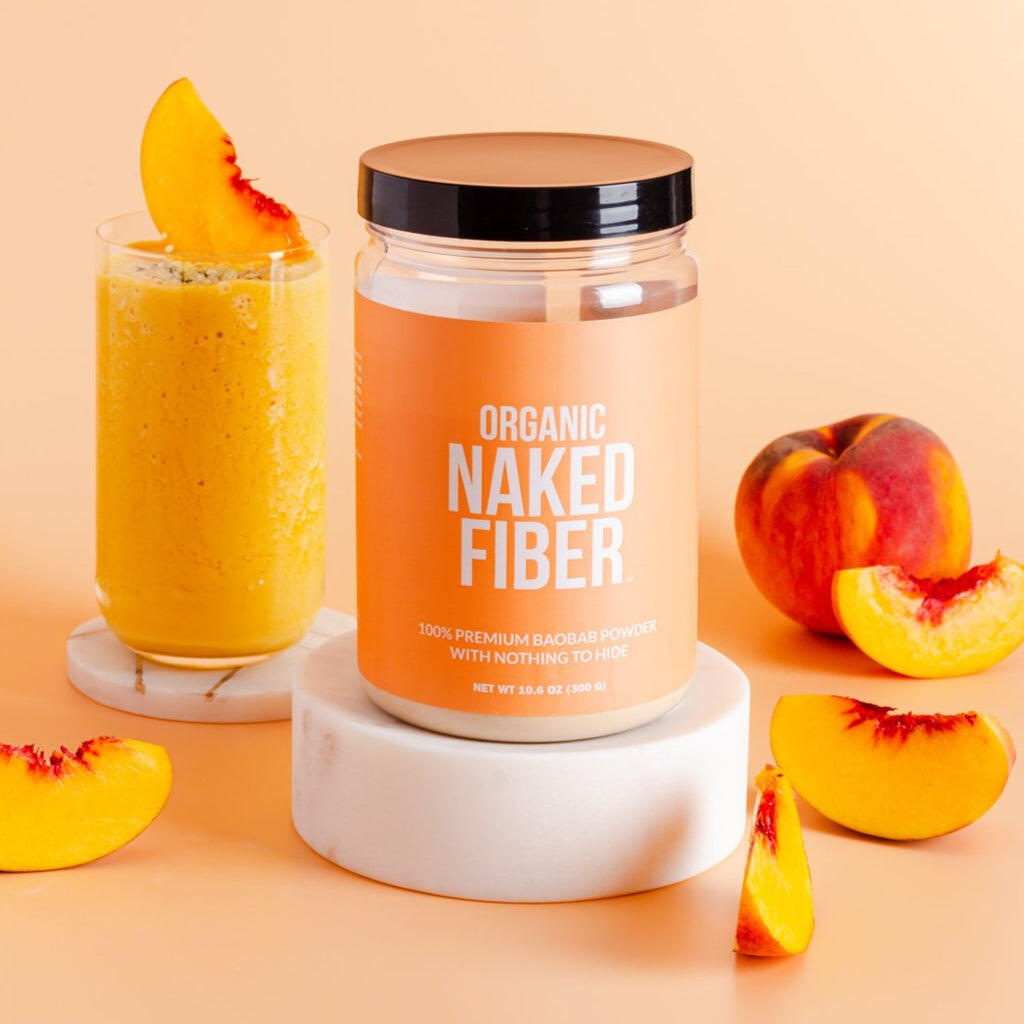 Fiber Supplement
Organic Naked Fiber only contains one ingredient: naturally dehydrated pulp of baobab, a fiber-rich fruit from Southern Africa. We separate the dehydrated pulp from mature baobab fruit, which is then ground down to a powder form. The result is a naturally sweet and citrusy treat that provides a whopping 18% of your daily fiber needs with each serving.

Just add a scoop of Organic Naked Fiber to water up to 3 times a day to support gut health, maintain stable energy, and regulate cravings.

At Naked Nutrition, we are committed to shortening the steps between our farms and you.
Free Shipping over $99. Estimated Delivery: Jun 02 - 04
Quality
Dairy Free

GMO Free

Only 1 Ingredient

Soy Free

Vegan
Benefits
Fiber on a Busy Schedule
We all know that we should eat more fresh fruits and vegetables. But if you're already busy with work, family, etc., it can be a challenge to prepare healthy meals multiple times a day, and most Americans are falling short of the daily recommended fiber intake. With Organic Naked Fiber, you can meet your daily fiber needs even on a busy schedule. Each serving provides 18% of your daily needs. Just add one scoop to water up to 3 times a day for a low-calorie, fiber-rich, naturally sweet, and citrusy treat.
Support Digestive Health
Fiber helps you better absorb vitamins and minerals from food. That means your brain and body can function better, and you have the energy to get more done. A diet rich in fiber also supports better gut motility and regular bowel habits, which is vital for your wellbeing and quality of life.
Feed the Good Bacteria in Your Gut
The health of your gut influences several other aspects of your wellbeing, including your mood, sleep, energy levels, and immune function. And the balance of your gut microbiome is one of the most critical aspects of your gut health. Baobab fruit in Organic Naked Fiber is rich in prebiotics. The good bacteria in your gut, probiotics, feed on prebiotics to thrive. So, the more prebiotics you eat, the more you promote the growth of the beneficial bacteria in your gut.
Regulate Your Cravings
Fiber helps maintain stable blood sugar and it increases your satiety, meaning you won't get hungry as often. You will also feel more energetic after a fiber-rich meal. Take Organic Naked Fiber daily to regulate your cravings and make it easier to maintain, or reach your optimal weight.
Nutrition Info
Serving Size
1 Scoop (10g)
Number of Servings
Approx. 30
The Naked Difference
Regular Fiber Supplements
Only one ingredient - dehydrated baobab fruit pulp
Industrial food thickeners and other non-whole-food ingredients
No additives, colors, or sweeteners
Contains additives for taste, texture, etc.
18% of RDA in each serving
Around 10-12% per serving
How To Use
When: Add our fiber supplement powder to water or your preferred beverage. Best used before a meal and at any time throughout the day.
Blend: Mix one rounded scoop into 8 fl oz of water or your favorite beverage. Naked Fiber has a naturally sweet, citrus-like flavor.
Pair With: For an additional health boost, use alongside Naked C for extra immune system support to keep you feeling healthy and well.
Frequently Asked Questions
Dietary fiber plays a major role in keeping your body functioning as it should, though many of us fall short of the daily recommended intake. Fiber promotes healthy digestion, supports optimal gut motility, and also helps you to better absorb vitamins and minerals from food, which keeps your brain and body functioning well. Fiber-rich diets have even been shown to reduce the risk of suffering from certain health conditions, such as heart disease. By using a daily fiber supplement, you can make sure that your body has the right dietary fiber to support your overall health.
Sourced from baobab trees found in Southern Africa, the baobab fruit is a famed superfruit known for it's health benefits and it's refreshing citrus-like flavor. Along with being high in dietary fiber, baobab fruit is rich in important vitamins, antioxidants, and natural prebiotics. These prebiotics support the good bacteria in your gut, contributing to a balanced gut microbiome. As a result, maintaining a healthy gut directly improves other areas of your wellbeing - such as your mood, energy levels, sleep, and immune function.
With Organic Naked Fiber, you can customize your fiber intake to suit your own dietary needs. This means that you can decide how many servings you need each day. Just one serving of Naked Fiber will work to improve your digestive health, but you can take up to three servings a day for optimal gut support.
Organic Naked Fiber is ideal for anybody who wants to improve their digestive health or simply wants to boost their dietary fiber intake. Our daily fiber supplement provides the necessary nutrition to promote thriving gut flora and achieve a balanced gut-biome for overall health support. Naked Fiber is suitable for those on a plant-based diet and is soy-free, GMO-free, certified gluten-free, and USDA organic. If you're looking for more dietary supplements, check out Naked Collagen or Naked C.
See All Faq
Mixed?
I love the contents but I wouldn't say this is flavorless. You definitely cannot drink it on it's own, and be sure the flavor profiles in your smoothie are strong. Perhaps this was mentioned somewhere and I was just too birdbrained to notice.
Good fiber
I found that it tastes better mixed with something, so I use powdered Gatorade. It gives it a nice flavor. It's a great drink and not hard on your system.
Works well!
Wonderful fiber but definitely has a different taste to it. I can chug it down but wouldn't want to sip it.
As described, but not worth it
The product is good in regards to it's description, but I don't find it worthwhile. The taste is tolerable and it doesn't mix that well, but that doesn't bother me much because it's expected with any fiber product. The reason I say it's not worth it is the quantity. If you use this 3x a day, the max recommended use, it will only last you 10 days. Of course you don't need to use this 3x a day and get your fiber from other sources, but then why bother using this in the first place? I'll finish what I have, but probably won't order it again.
Fiber
Seems good. I am very used to a high fiber diet so it was seamless to swap over. Happy to have found this product. Very neutral flavor which is a huge bonus.