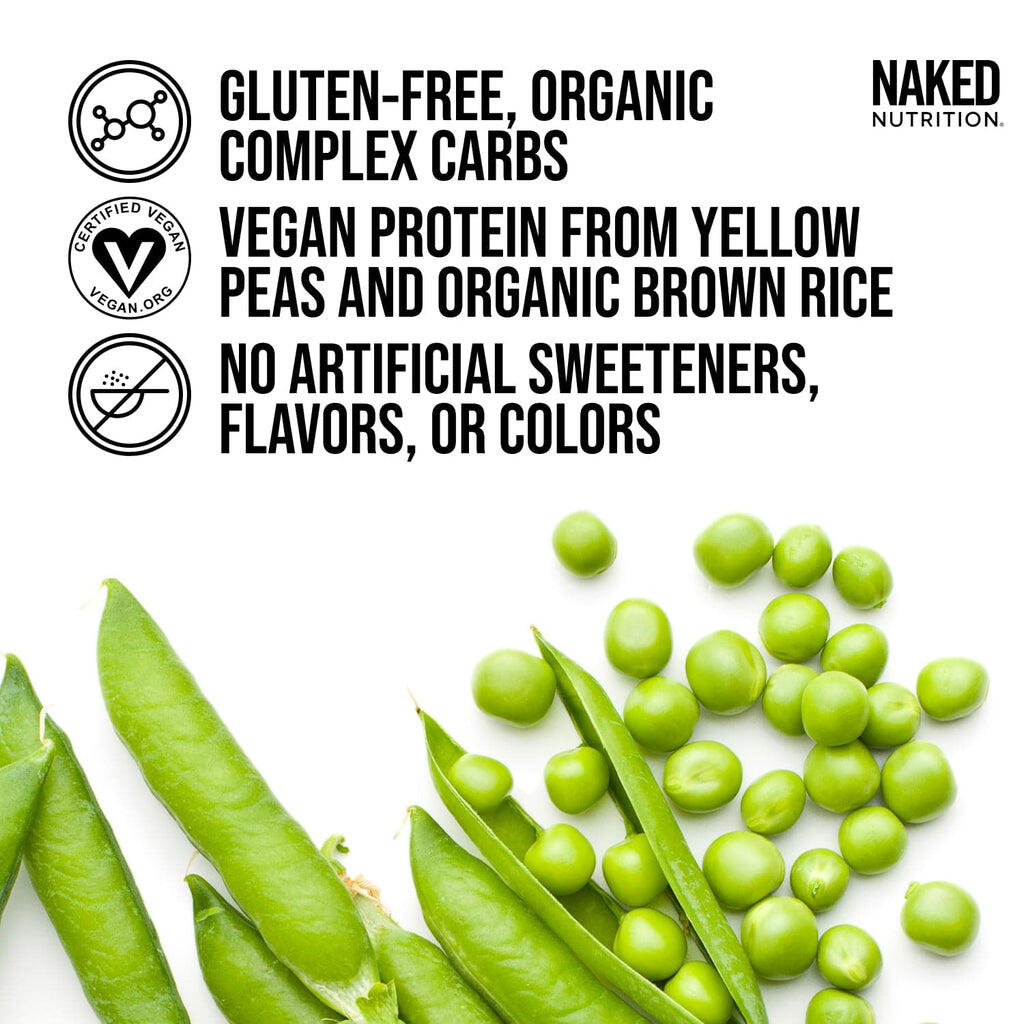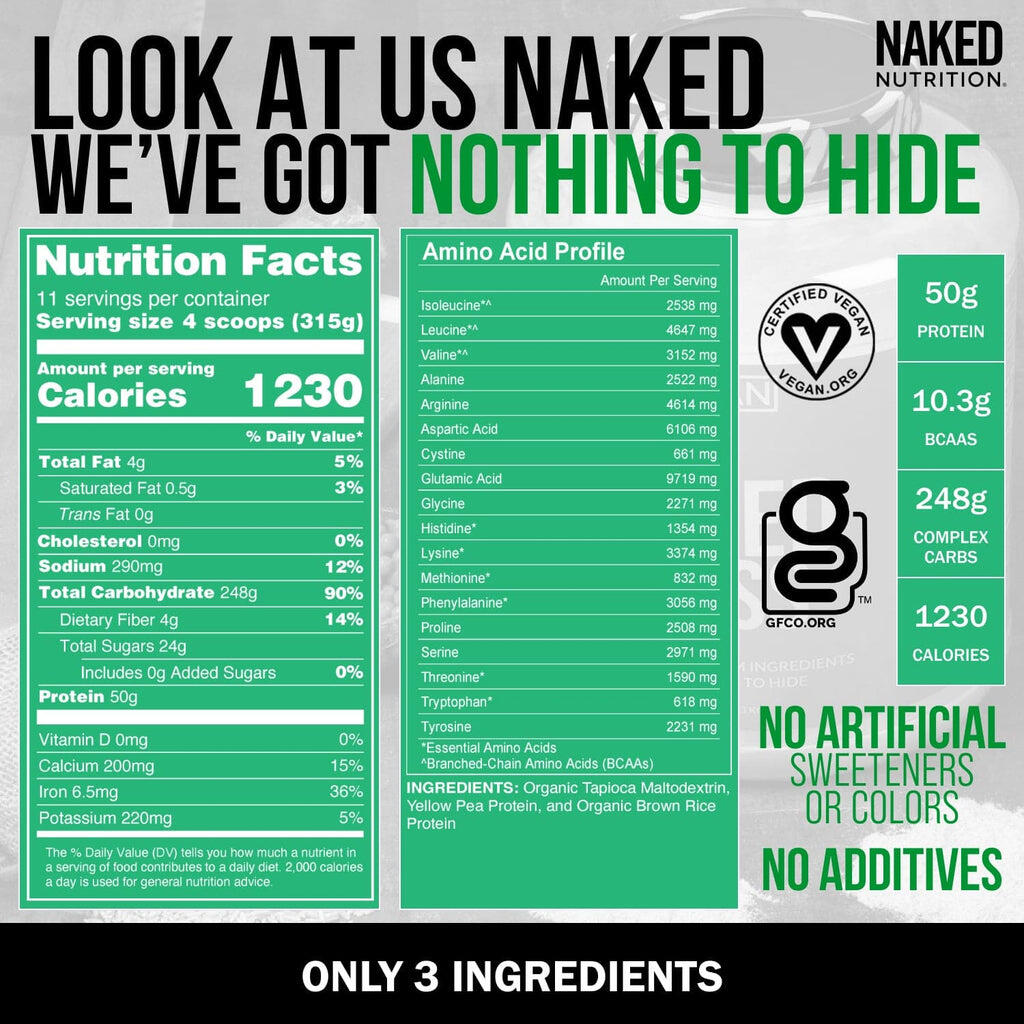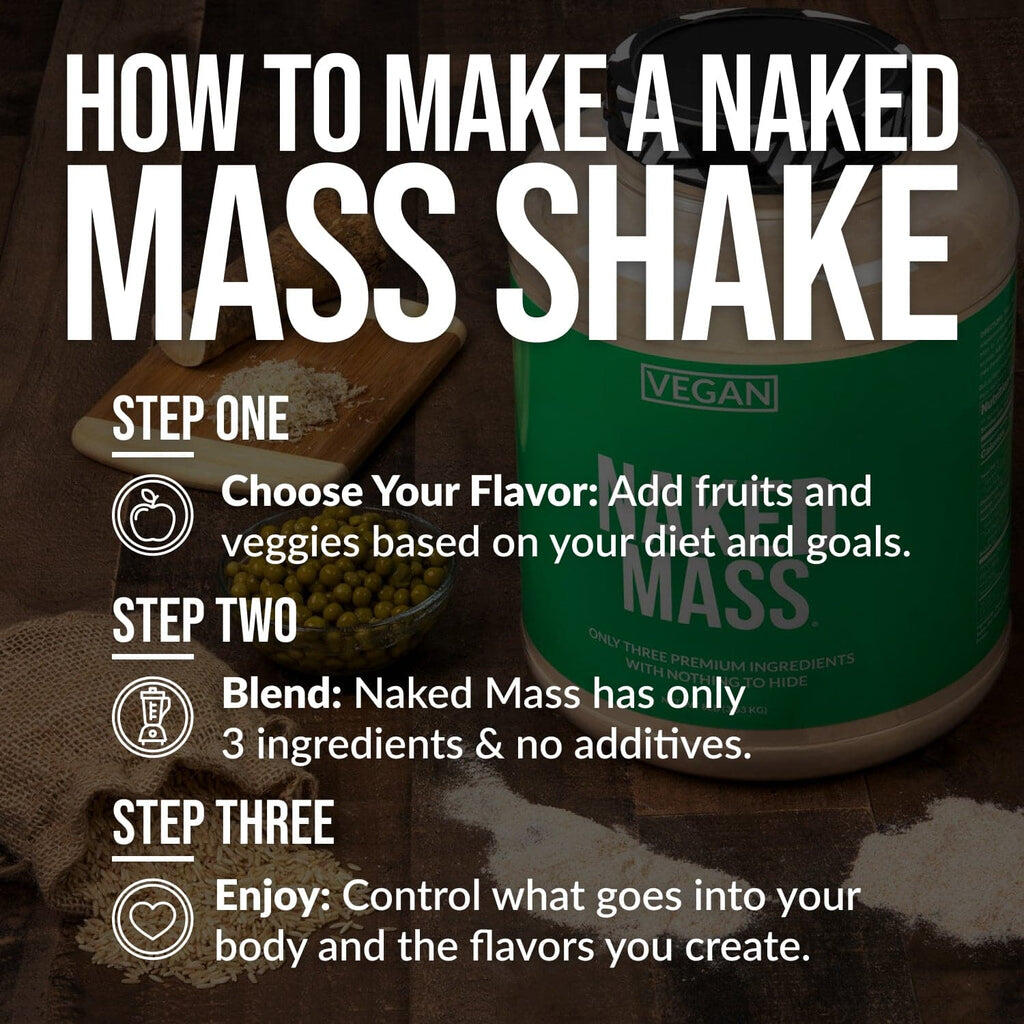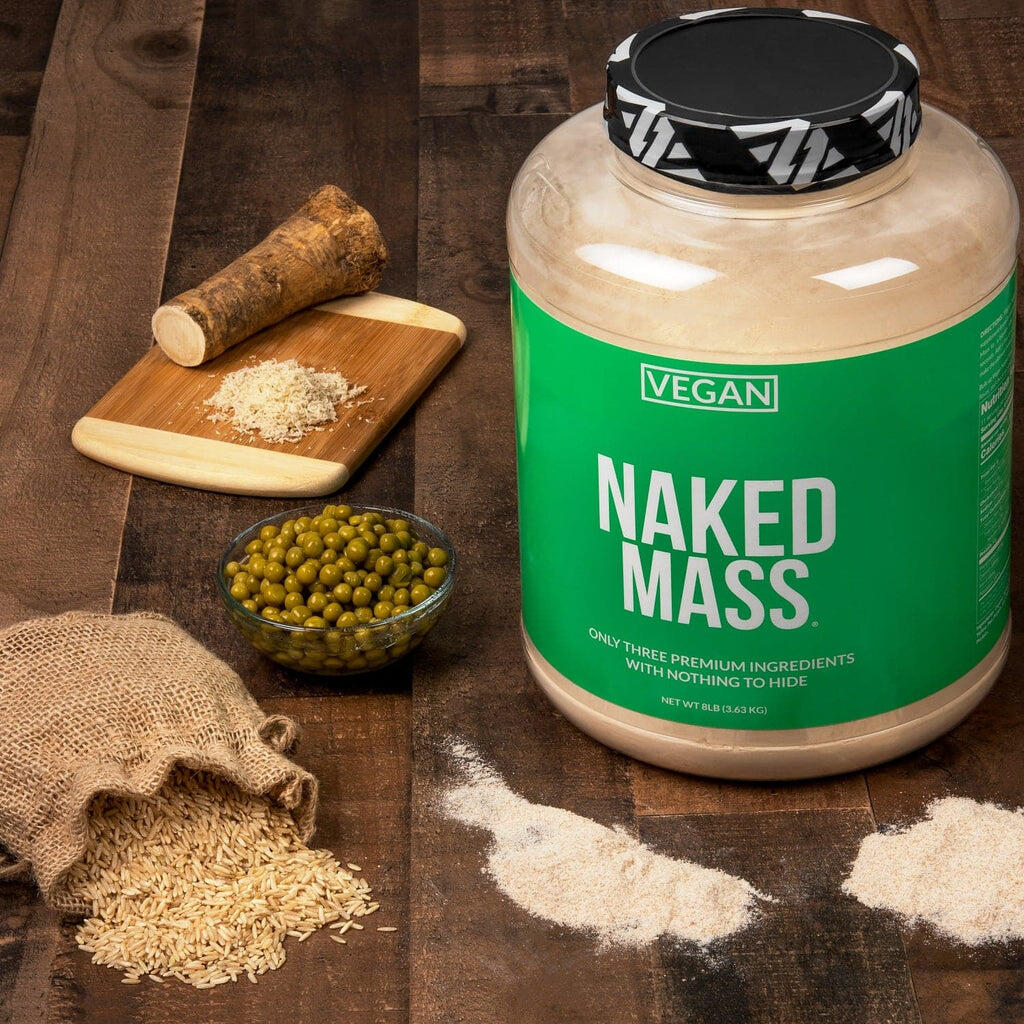 Vegan Weight Gainer Supplement
Vegan Naked Mass is the ultimate plant-based weight gainer supplement. Combining our premium pea protein and brown rice protein, it is the perfect blend of complete plant-based proteins and complex carbohydrates to aid muscle growth and weight gain. 1230 calories and 50 grams of protein in each serving.

No artificial additives or sweeteners. Don't let the supplement industry fool you; additives are for their bottom line, not your health.
Free Shipping over $99. Estimated Delivery: Mar 29 - 31
Quality
Dairy Free

GMO Free

Soy Free

Vegan
Benefits
Fuel Your Workouts
Each serving of Vegan Naked Mass contains 252 grams of complex carbohydrates to give you a boost in energy and calories so you can power through an intense workout¹. Organic maltodextrin, one of the ingredients in Vegan Naked Mass, has been shown to help maintain anaerobic power to promote strength and exercise performance².
Meet Daily Calorie Requirements to Gain Weight
If you're someone that's considered a "hard-gainer", it can be quite a challenge for you to eat a surplus of calories to gain weight. Vegan Naked Mass contains 1250 calories in each serving, making it much easier for you to get the additional calories you need.
Plant-Based Proteins to Build Muscle
If you want to gain muscle mass, then it's not just about a calorie surplus. You also need to eat enough protein to build muscle. Vegan Naked Mass combines Naked Pea and Naked Rice to provide all nine essential amino acids to promote muscle growth and recovery. It is the perfect alternative to whey for those looking to pack on muscle on a plant-based diet³.
WARNING: This product can expose you to chemicals including lead, which is known to the State of California to cause cancer and birth defects or other reproductive harm. For more information go to www.P65Warnings.ca.gov.
Nutrition Info
Serving Size
4 Scoops (315g)
Number of Servings
Approx. 11
Total Carbohydrates:
248g
The Naked Difference
Regular Vegan Mass Gainers
Only 3 ingredients: rice protein, pea protein, and organic maltodextrin
10+: unnatural additives to aid mixing, color and artificial sweeteners
Complete protein with all nine essential amino acids for muscle growth
Missing essential amino acids for muscle growth
Ideal blend of carbs and protein to promote growth
Not optimized for muscle growth
Natural and complex carbohydrates
Unhealthy processed carbohydrates
How To Use
When: Add our vegan mass gainer to protein shakes and smoothie bowls. Best used between meals, after a workout, or before bed.
Blend: Mix four scoops into 24oz of non-dairy milk or your favorite beverage. Add fruits and vegetables for taste as Vegan Naked Mass is unflavored.
Pair With: Add a scoop of Naked PB into your Vegan Naked Mass shakes for extra protein and a delicious peanut flavor.
Frequently Asked Questions
Maltodextrin helps thicken the product and bind the ingredients together. Most manufacturers will choose to use wheat-derived maltodextrin which may pose health concerns due to containing gluten. Vegan Naked Mass only includes Organic Tapioca Maltodextrin that is gluten-free and does not pose the same concerns. We also ensure that our ingredients are never treated with pesticides.
The sugar contained in Vegan Naked Mass is due to the organic tapioca maltodextrin. To make maltodextrin, the tapioca starch needs to undergo hydrolysis, which results in the maltodextrin ingredient that contains less than 20 percent sugar.
The peas are exclusively sourced from environmentally friendly farms in the USA and Canada. The peas are GMO-free and undergo mechanical water-extraction for processing to maintain a superior amino acid profile.
Our vegan mass gainer can be taken at any time of the day. We do recommend consuming Vegan Naked Mass between meals or before bed to add more calories to your daily intake, but it can also be taken at different times. For a post-workout protein shake, we recommend a fast absorbing whey like Naked Whey.
Vegan Naked Mass is the ideal vegan weight gainer for anybody who's looking to gain weight or needs help in maintaining their weight, even if you don't have an exercise routine. However, strength training a couple of times a week will aid muscle protein synthesis which promotes muscle gain, rather than just body fat gain.
Vegan Naked Mass is recommended for those who are either plant-based or suffer sensitivities to dairy and are looking to gain weight or maintain their weight. This weight gainer provides a heaping of protein and offers a full amino acid profile, providing nutrition to aid healthy weight gain and also support your overall health. If you're interested in exploring our other plant-based proteins, have a look at our vegan-friendly range.
See All Faq
Best tasting protein powder
I've only recently started using protein, subsequently only tried a couple brands. But this vegan unflavored whatever it is, is the dogs bollocks! I split my serving in 2. Get it in the blender with almond milk, frozen Strawberries, squirt abit of honey to top it off. Bobs your uncle. Do not get anything else. 10/10👍🏼
Love it!
I've been using this vegan weight gainer for a few months now & it's the only protein I'll ever use. It's real clean & I've noticed I've gained 10 pounds of muscle so far! I always recommend it to my fellow active friends.
Love the Naked Vegan Mass!
Have been using the Naked Vegan Mass - unflavored for a couple of months. I switched to WFPB diet a few months ago and found I wasn't getting enough calories and lost weight that I didn't want to lose. I found this product and glad that I did. I have only been supplementing 2 scoops in a smoothie in the morning. This has been enough calories and protein to help me gain my weight back. Also, I have added significant muscle where I had plateaued on my meat based diet. I believe my body is absorbing and using the plant based protein more efficiently than the whey protein I used to take.
This product mixes well, has no bad taste, isn't chalky at all. As I said I have it with a smoothie with oat milk and add fruit. Makes for a great post workout drink or breakfast.
I know this review is on the unflavored - but just to add I tried the vanilla flavor and did not like it at all. It didn't mix well (taste wise) with anything and had a weird aftertaste.
Highly recommend this product. It is pricy but worth it.
Disappointed
I haven't even gotten it yet… 0 stars
Awesome Stuff!!!
My husband has cancer and was loosing weight like crazy, in 3 weeks he's put 8 pounds on HALLELUJAH!!!! TY Naked Mass