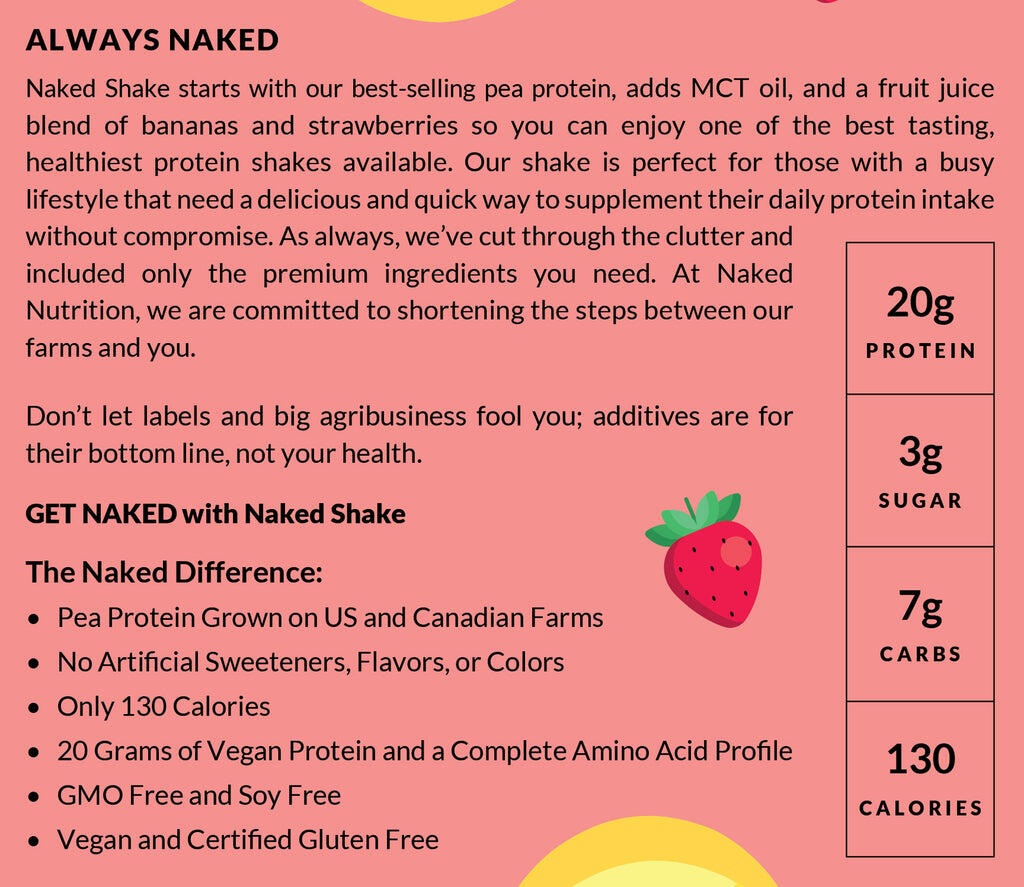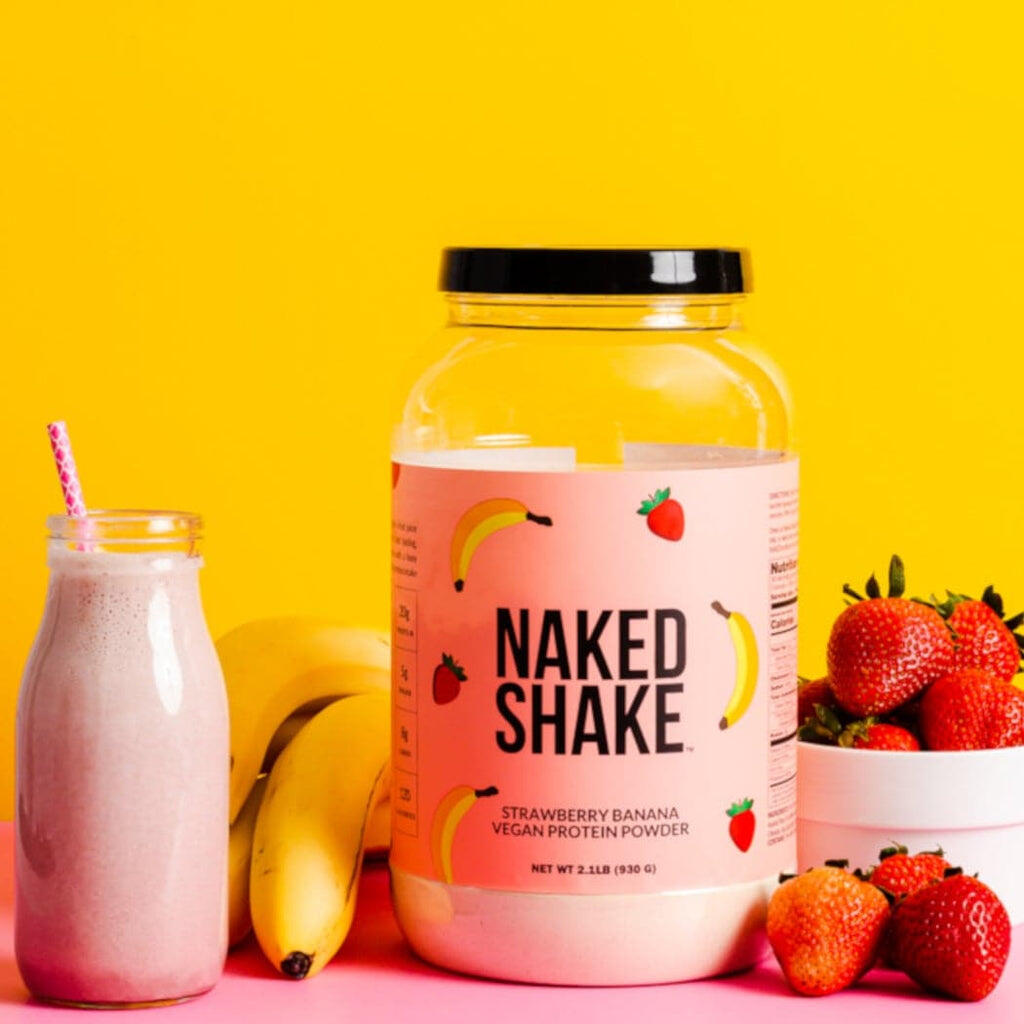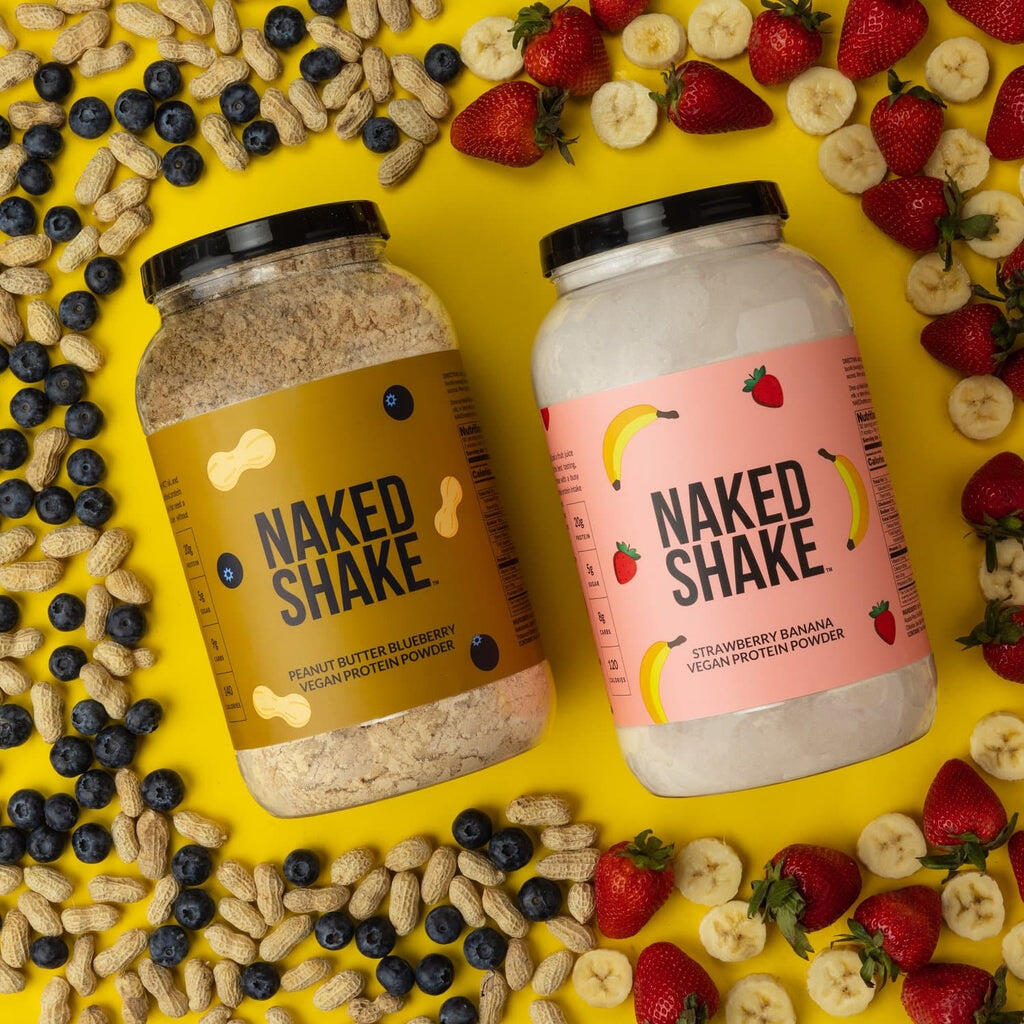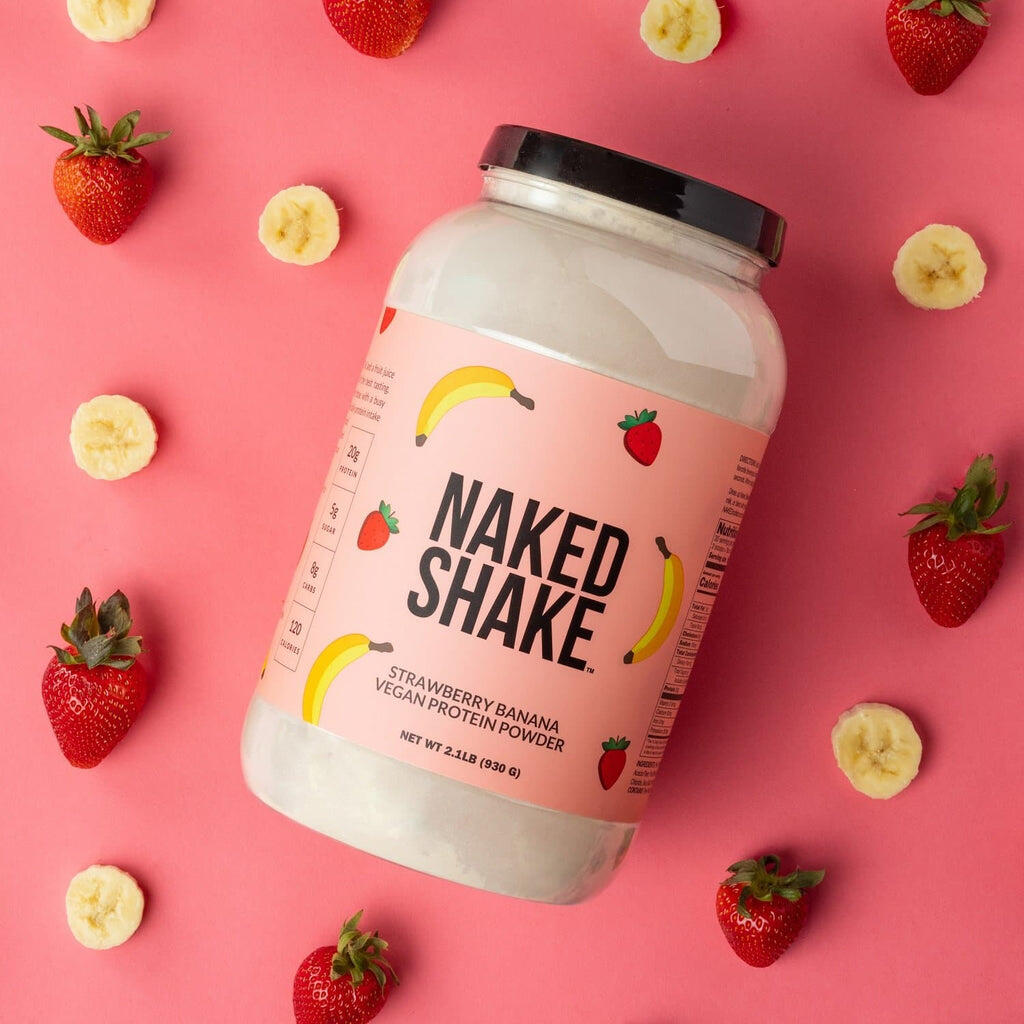 Strawberry Banana Protein Shake
Naked Shake is the tastiest way to increase your daily protein intake on a busy schedule. It starts with our best-selling pea protein, adds MCT oil, and a strawberry banana juice blend. The result is a crave-worthy shake that delivers 20g of protein and only 5g of sugar. Naked Shake only contains the premium ingredients you need to preserve lean muscle and support your weight loss goals.
At Naked Nutrition, we are committed to shortening the steps between our farms and you.
Free Shipping over $99. Estimated Delivery: Jul 11 - 13
Quality
Dairy Free

GMO Free

Soy Free

Vegan
Benefits
Increase Protein Intake On A Busy Schedule
Protein boosts your metabolism, helps preserve muscle mass, and aids muscle recovery after exercise. Naked Shake is the perfect way to boost your protein intake even on a busy day. Just add two scoops to water or your favorite drink, and in a matter of seconds, you have a nutritious protein shake that's bursting with flavor.
Only The Purest Ingredients
Juice bar smoothies are tasty and convenient, but they're usually loaded with added sugars. With Naked Shake, you get a similar great taste, but you can be confident that you're not compromising when it comes to your health. As always, we've cut through the clutter and included only the purest ingredients you need.
Preserve Muscle With Pea Protein
Pea protein is one of the best plant protein sources when it comes to maintaining or building lean muscle. The reason is that pea protein contains a wide range of essential amino acids which are critical for muscle growth and repair. Pea protein is also easily digested, making it an excellent alternative to whey protein on a plant-based diet.
Support Weight Loss Goals
Each serving of Naked Shake delivers 20 grams of protein and healthy fats in the form of MCT oil. Both protein and MCT oil help support your weight loss goals by keeping you satisfied for longer and preventing you from reaching for unhealthy snacks.
Nutrition Info
Serving Size
2 Scoops (31g)
Number of Servings
Approx. 30
The Naked Difference
Premium pea protein from US/Canada farms
Pure ingredients. No additives or artificial sweeteners
Packed with additives for taste, consistency
Doesn't absorb well leading to GI discomfort
MCT oil, organic coconut sugar, sea salt, and monk fruit extract
Flavored with processed sugars and other unnatural ingredients
Tested by independent third party
No third-party testing for heavy metals
How To Use
When: Add our flavored protein shake powder to water, smoothie milks, and baking recipes. Best used in the morning, before or after a workout, or when you're on the go.
Blend: Mix two scoops into 6-12oz of milk, water or your preferred beverage. No need to dress up the taste yourself - Naked Shake is delicious on its own.
Pair With: Incorporate Naked Greens into your daily diet to promote toxin detox, aid stress reduction, and improve gut health and immune function.
Frequently Asked Questions
Naked Shake is a flavored protein powder which also contains a complete amino acid profile. Our shake powder makes it easy to supplement your protein intake while enjoying one of the healthiest shakes available.
No. Just like all Naked products, Naked Shake does not include any artificial sweeteners, flavors, additives, or colors. Naked Shake only contains two natural sweetening agents: organic coconut sugar and monk fruit extract. Naked Shake is also flavored with natural fruit juice.
Our protein shake powder contains the same pea protein that is used for our Naked Pea. Certain metals, such as lead, are naturally occurring in soil. However, Naked Shake undergoes independent testing to ensure that the product adheres to the safety standards set by the FDA.
Naked Shake is the ideal protein powder option for anyone with a busy lifestyle or for those looking for a quick, no-fuss way of supplementing their daily protein. Formulated with natural ingredients, Naked Shake is one of the healthiest and tastiest protein shakes available. This product's nutritional profile also works to support your overall health, promote muscle gain, and aid fat loss. For other vegan protein powders, check out our plant-based range which includes Naked Pea, Naked Rice, and Naked Seed
See All Faq
One of my faves!
The flavor is top tier! It's insane how this shake can be so nutritious and taste so great at the same time. Usually great taste = a ton of additives, but not this one! Love it!
Strawberry Banana Protein Shake
Never received my product
I keep asking for my product but have not received it nor do I get any response for what's the problem
Very Banana
The shake tasted very heavy on banana, I wish it was heavier on the strawberry taste.