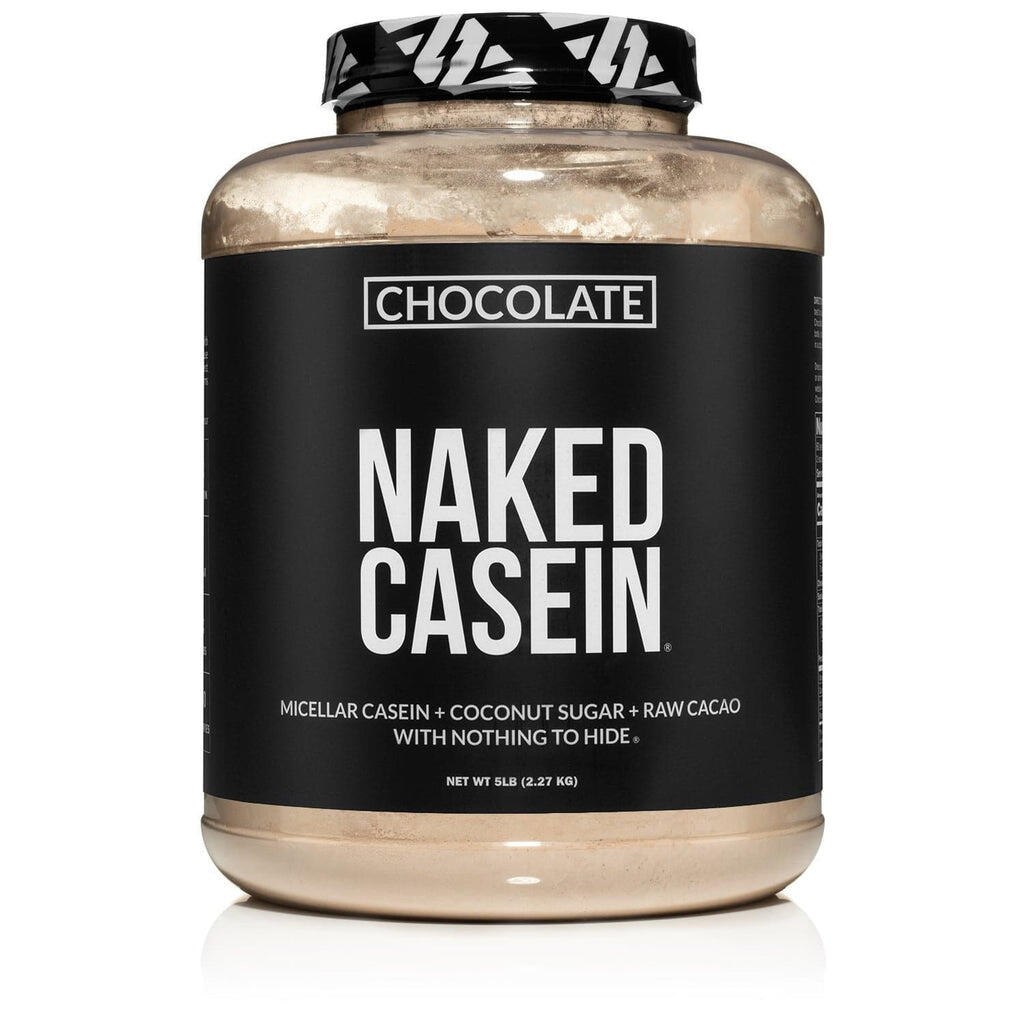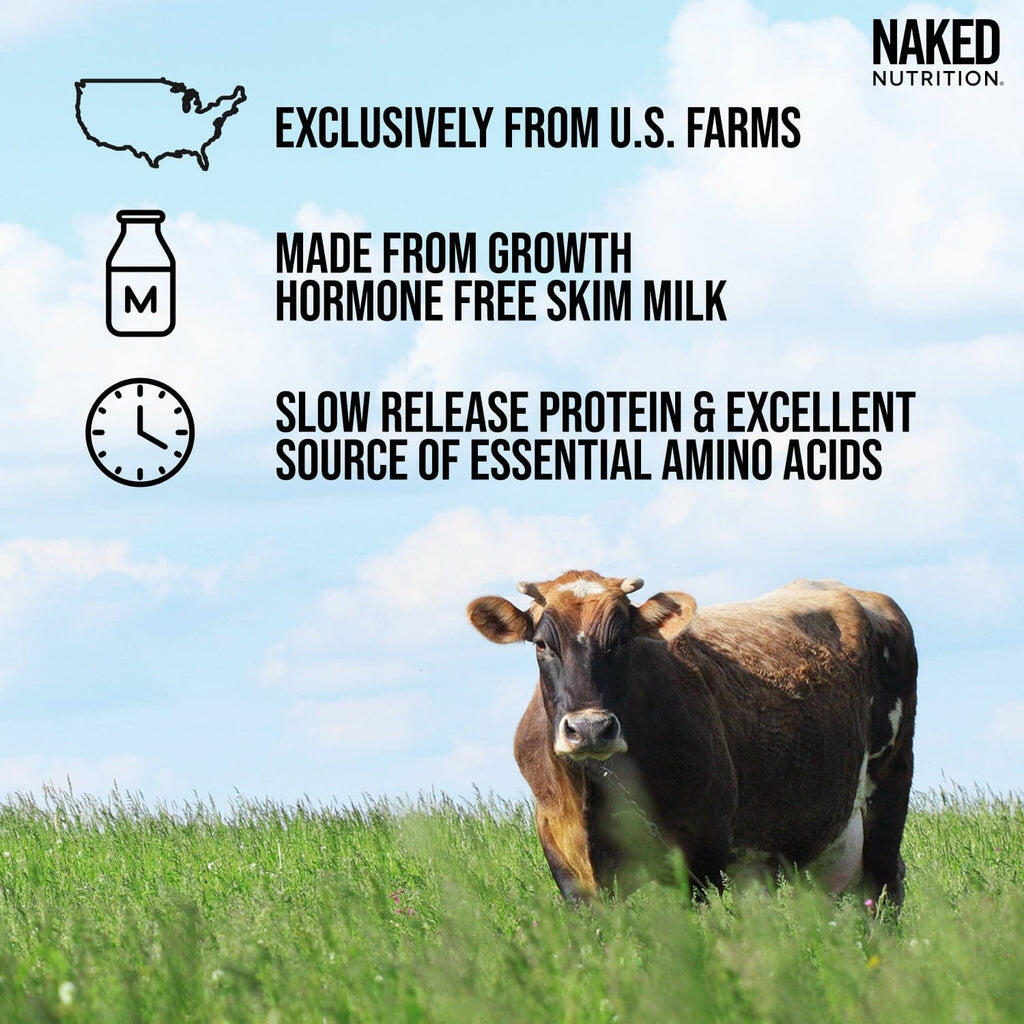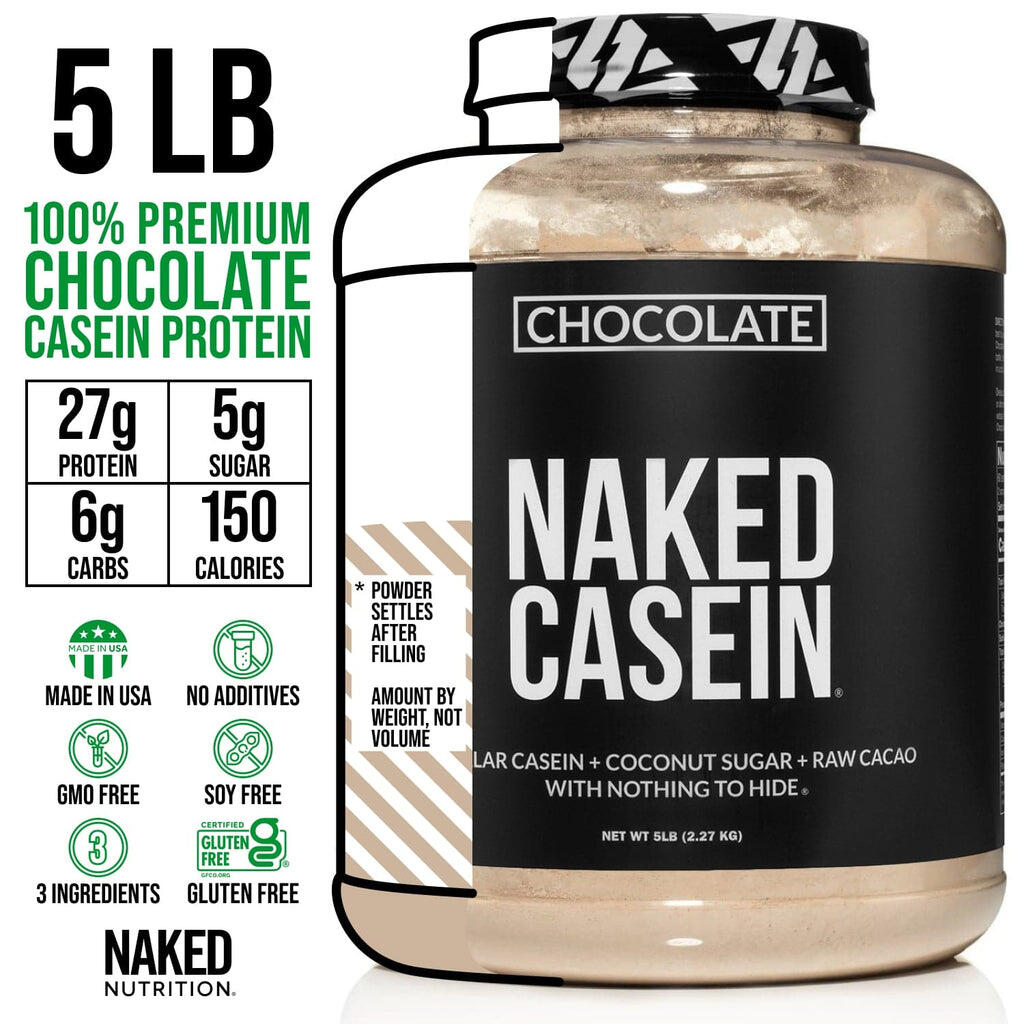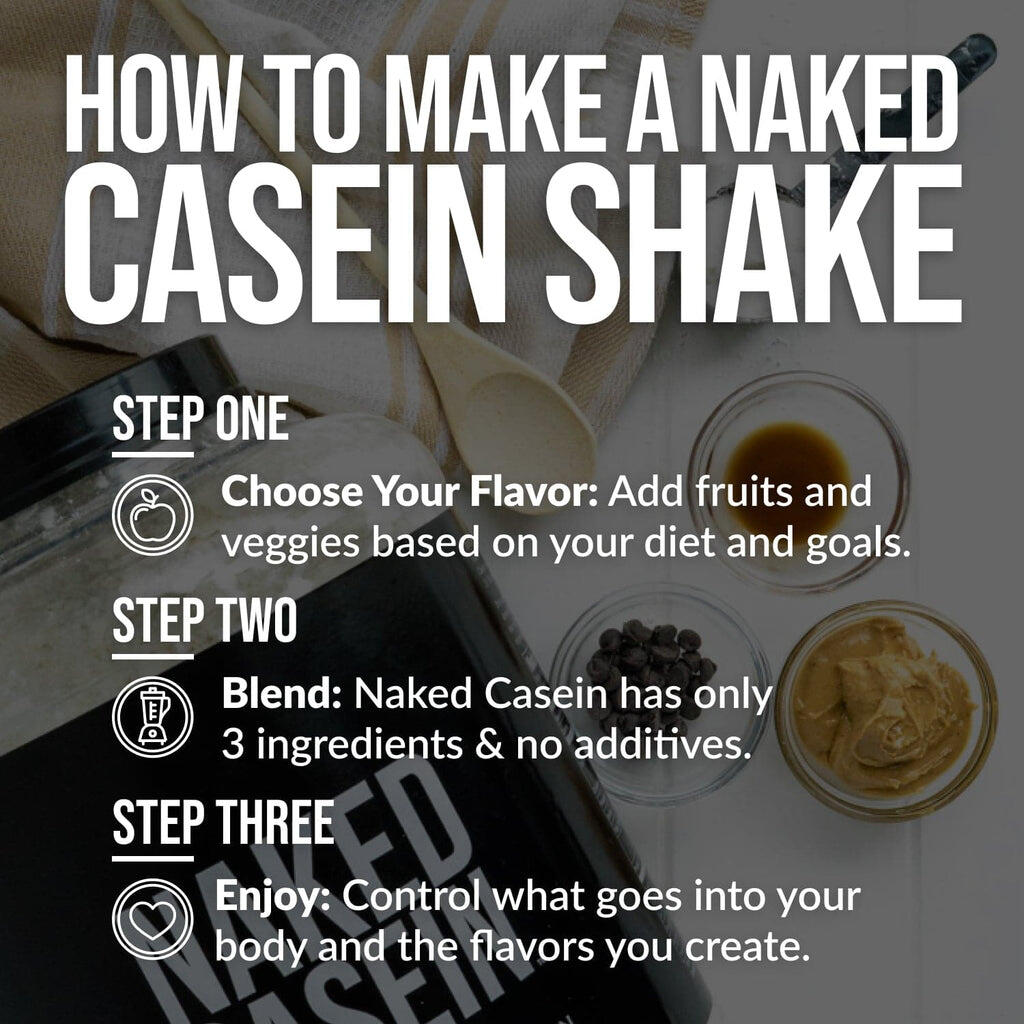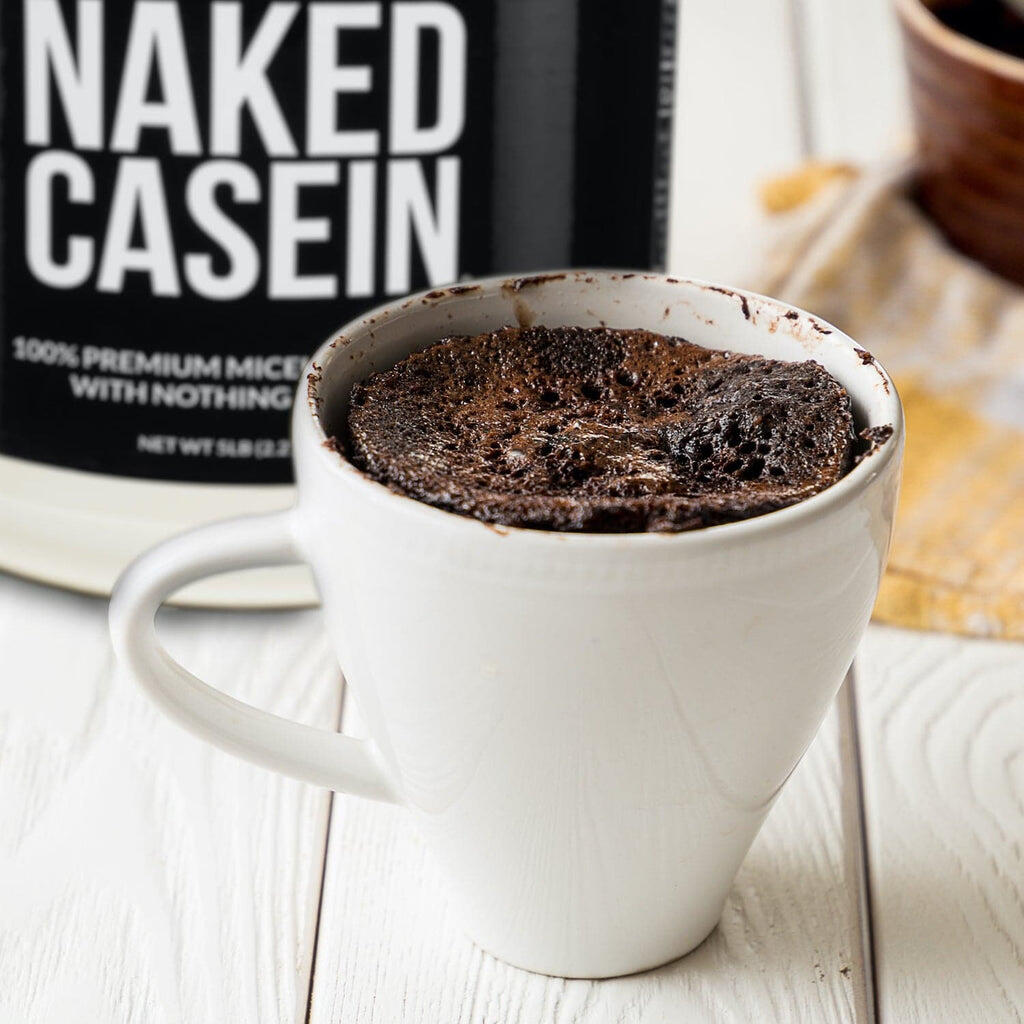 Chocolate Casein Protein Powder
Chocolate Naked Casein has only three ingredients: cacao powder, coconut sugar, and micellar casein sourced from US farms. Casein is a slow-digesting protein that helps you stay full for longer. When taken before bed, casein protein supports the muscle recovery process throughout the night.

Chocolate Naked Casein is free of additives and artificial sweeteners. We are committed to shortening the steps between our farms and you. Don't let the supplement industry fool you; additives are for their bottom line, not your health.
Free Shipping over $99. Estimated Delivery: Dec 12 - 14
Benefits
Why Micellar Casein Protein
Like whey protein, casein protein comes from cow's milk. Both are high quality proteins with all the essential amino acids necessary to support muscle growth and recovery. The difference is in how your body digests them¹. Whey protein is fast-digesting and promotes muscle recovery immediately after a workout. Micellar casein is slow-digesting. It increases satiety and keeps your muscles nourished for several hours².
Promote Muscle Growth While You Sleep
Because it is slow-releasing, athletes and gym-goers often take casein protein at night. The slow digestion process provides your muscles with a steady supply of amino acids to promote repair and growth as you sleep³.
Improve Body Composition
Micellar casein also increases satiety and keeps you full longer while at the same time promoting muscle growth⁴. A Naked Casein protein shake in the morning or during the day can reduce cravings and support your body composition goals.
Nutrition Info
Serving Size
2 Scoops (38g)
Number of Servings
Approx. 60
The Naked Difference
Less than 20 grams per serving
100% pure slow-digesting micellar casein
Less effective forms of casein
Cold processed, acid and bleach free processing
Acid and bleach used during processing
Additives and artificial sweeteners
How To Use
When: Add our chocolate casein protein to protein shakes, smoothie bowls, and baking. Best used during the day, after a workout, or before bed.
Blend: Mix two scoops into 6-10oz of milk or your favorite beverage. Add fruits, vegetables, or other flavors to enhance the taste.
Pair With: Add a scoop of Naked PB for more protein and a tasty peanut flavor or combine with Chocolate Naked Whey for improved protein synthesis.
Frequently Asked Questions
While most other casein products will include a lecithin to aid solubility, Chocolate Naked Casein does not contain any type of lecithin. This does mean that it will not gel as easily, so the best way to mix the protein is to use a blender.
Casein and whey are both by-products of cheese production, but they offer different benefits. Whey is a fast-absorbing protein which is ideal to consume just after a workout to fuel your body with quick protein. Casein is a slow-absorbing protein which is better for consuming before bed to gradually provide your body with amino acids.
Caffeine is naturally found in cacao powder. As Chocolate Naked Casein is only lightly flavored, the only caffeine in this product would be a minimal amount found in the cacao powder.
We generally recommend taking Chocolate Naked Casein before bed or after a workout if you need a slow release of protein to fuel your body. Chocolate Naked Casein is slow absorbing protein, so taking it before bed provides your body with a steady stream of protein and amino acids to aid muscle recovery.
Chocolate Naked Casein is great for those who are looking to build muscle and prevent muscle breakdown, or for those who are looking for a steady source of energy throughout the day. As it's a slow absorbing protein, Chocolate Naked Casein is also a good addition for meal replacement shakes as it provides long-term satiation. If you're looking for a fast absorbing protein to fuel your body quickly, check out Naked Whey.
See All Faq
An Honest Review
This review is as honest as it gets and goes for the strawberry whey and the chocolate casein proteins. A little bit about me:
-M/38 and workout/lift/condition 5-6 days a week
-I eat clean/healthy and focus on simplicity and keep sugars and additives low in my diet
Now for my review. The proteins are a 5-star suck-fest. Simple as that. The strawberry (which is real, dried strawberries, so that's awesome) is super faint and the chocolate is like drinking straight Cacao (which it is). Not much flavor to these.
But before you dismiss them let me explain a little more. The taste takes some getting used to in the best way possible and I encourage everyone to switch from their other proteins to these. I have grown up drinking my cookies and cream/chocolate/cinnamon roll/etc protein shakes and totally looked forward to drinking them. They rock on flavor. But when you turn the tub around, you see a list of ingredients that are a mile long. While they all taste great, they are adding a bunch of stuff I don't want, or need, and that doesn't sit well with me anymore. Naked Nutrition is doing things differently and I appreciate that. Turn their tubs over and you see 3 ingredients; protein, chocolate/strawberry, and coconut sugar. That's awesome. They get my 5-star approval and will continue to get my business. And for those people out there who can't handle the transition from the artificially flavored ones to this stuff, I like to add the Peanut Butter powder to the mix. It adds some fun.
Naked Nutrition, don't change a thing. Great stuff all around and thank you for caring. Don't sell out (online or to global elitists).
Naked Caseing Protein Powder review
Tasted is good, but was a little powdery or dry. Didn't go down as smoothly as other protein drinks I've had. I added some almond milk and a banana to make it taste better. Otherwise, it would get 5 stars.
Great Clean Protein
I've looked a long time for a clean protein like this. The only thing keeping it from a 5 start review is the understandable bland taste. Even given the taste, I'll keep ordering Naked protein for a long time.
Chocolate Casein Protein Powder | 5LB
Simple and effective
Great product - taste is better than most, very effective for any health goals, and allergen friendly.