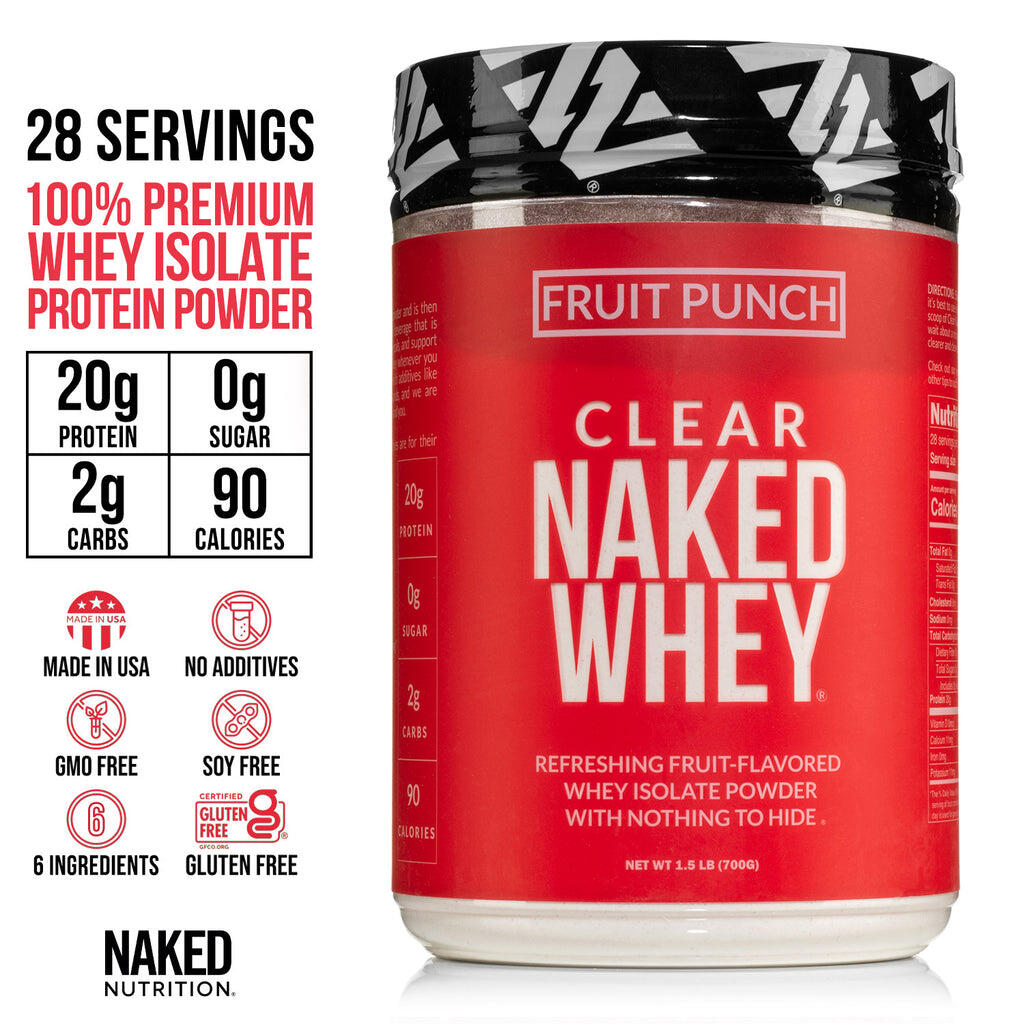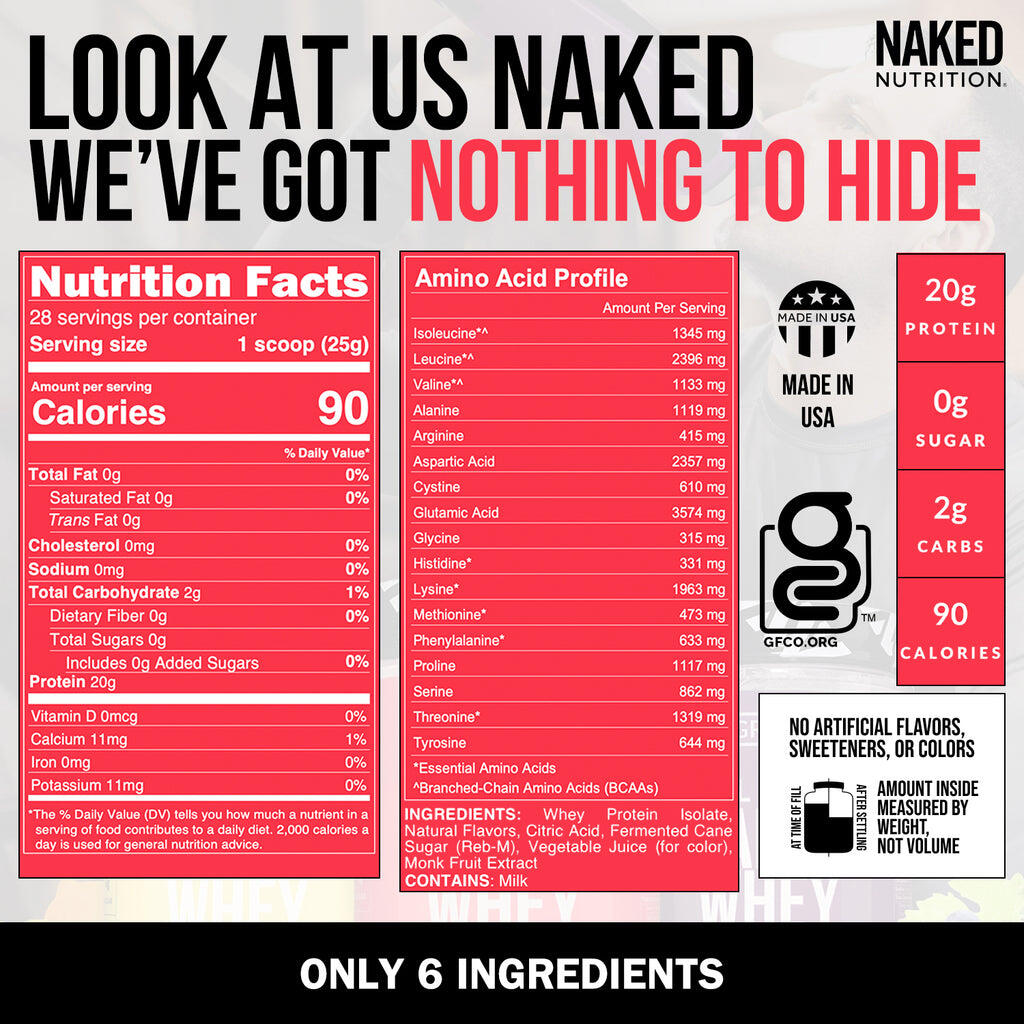 Fruit Punch Whey Protein Isolate
Clear Naked Whey starts with 100% whey isolate powder and is then lightly flavored to create a refreshing... Read More
The Naked Difference
Regular Whey Protein Isolate
100% whey protein isolate
Around 90% whey protein isolate
Artificial additives for flavor and texture
Only 90 calories and zero sugar
Higher in calories and sugar
No growth hormones rBGH or rBST
Often comes from cows raised with growth hormones
Benefits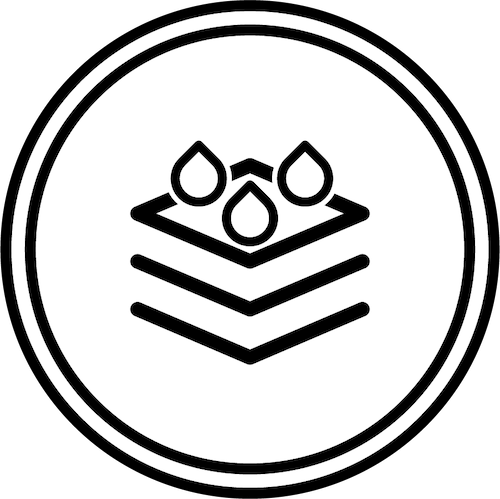 Lactose-Free Whey Protein Isolate
Each serving of Clear Naked Whey has 20g of premium, lactose-free, 100% whey protein isolate. It is a fast-absorbing protein, making it ideal for a post-workout shake to jumpstart the muscle recovery process. Because whey protein isolate is lactose-free, it is also an excellent option for those trying to reduce or avoid lactose.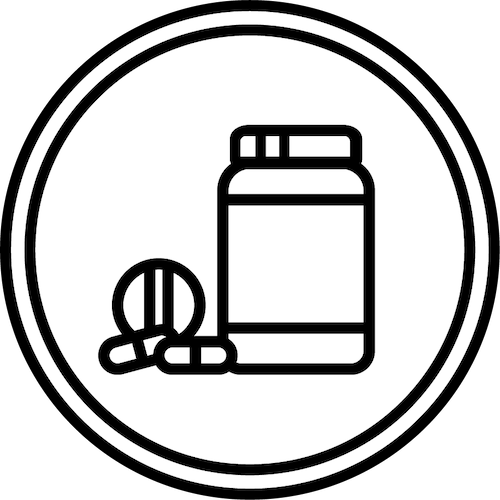 Take Your Protein Shaken, Not Stirred
Increasing your daily protein intake has never been simpler. Add 1 scoop of Clear Naked Whey to 10-16 oz of cold water and shake well. Give it about a minute till the foam settles and enjoy a clear, refreshing protein drink with a mild fruity flavor that supports optimal muscle growth and post-workout recovery.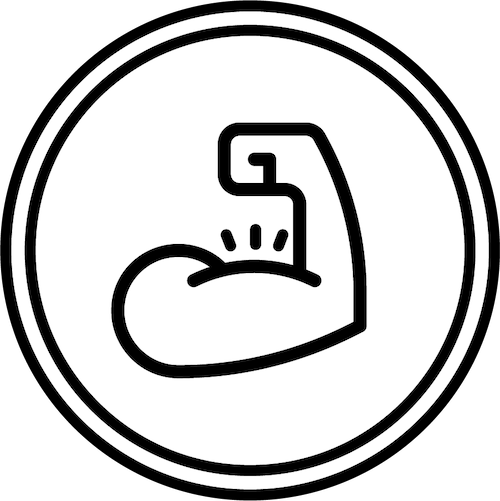 High-Protein, Low-Calorie, Zero Sugar
Each serving has 20g of protein, only 90 calories, and zero sugar. With Clear Naked Whey, you can increase protein intake to support muscle and strength gains without adding too many calories to your daily diet.
Nutrition Info
Serving Size
1 Scoop (25g)
Number of Servings
Approx. 28

How To Use
When: Add our fruit punch flavored whey isolate powder to cold water, electrolyte water, or similarly flavored sports drinks. Perfect for any time of the day, we recommend using it before a workout, after a workout, or for a protein boost.
Blend: Mix one scoop into 10-16oz of cold water and use a shaker bottle to mix. Wait for natural foaming to settle, and then enjoy a refreshing, flavored protein drink. Remember to shake (don't stir!)
Pair With: Use alongside Naked Energy to take your workouts to the next level, or add Naked Recovery into your post-workout routine to boost exercise recovery, aid stress reduction, and support physical and mental wellness.
Frequently Asked Questions
Our original Naked Whey is a premium, grass-fed whey concentrate protein powder which only contains 1 ingredient (unflavored) or 3 ingredients (for the lightly flavored options). Clear Naked Whey is a refreshing, fruit flavored whey isolate protein powder that includes only contains six ingredients. Both are available in a set of different flavors.
Yes! Slight foaming is a natural part of the mixing process. Once blended, let it sit for about a minute to allow the foaming to settle. The protein drink will remain mixed after the foam subsides.
No. Just like all Naked products, Clear Naked Whey does not include any artificial sweeteners, flavors, additives, or colors. The only natural sweetener included in Clear Naked Whey is fermented cane sugar (Reb-M).
All of our products undergo independent testing to ensure that they adhere to the safety standards set by the FDA. Naked Nutrition products are kept as pure as possible and are well under these limitations.
Fruit Punch Clear Naked Whey is perfect for those who are looking for a high-protein, flavorful beverage that is both refreshing and works to support your body composition goals. Whether you're looking to put on lean muscle or lose weight, Clear Naked Whey provides the necessary nutrition to support your health and is perfect for any time of the day. It is also a great supplement for people with busy schedules who find it difficult to get in enough protein, even if they don't go to the gym. 

If you prefer whey concentrate, check out our Naked Whey line - or if you're looking for a plant-based protein, take a look at Naked Shake.
See All Faq
Inaccurate Label
I like the product due to minimal ingredients. HOWEVER, they continue to send out containers mislabeled as using 2 scoops. Their customer service is useless as they do not care. They do not refund you or send you a new bottle if you went through it obnoxiously fast due to errors on their part. I only stick with the product because of the ingredients. Wish I was warned prior about the scoop issue.
Wrong label again
Third container and still wrong label directions.
Tastes like a cup of children's cough syrup
It's not good. It's just not.
Not a good protein powder
Well to start it doesn't dissolve in water. It leaves a bunch of balls of powder at the top. It especially doesn't work in a shaker cup. Then if you try it in a blender then it will finally mix it but you are then left with a cup of nothing but foam. Then you will have to wait at least 15 mins for the foam to go down just to find that it still doesn't even taste good.
It's so sweet
Ugh, I wanted to love this so much. But it is weirdly sweet for something with no sugar and no artificial sweeteners?