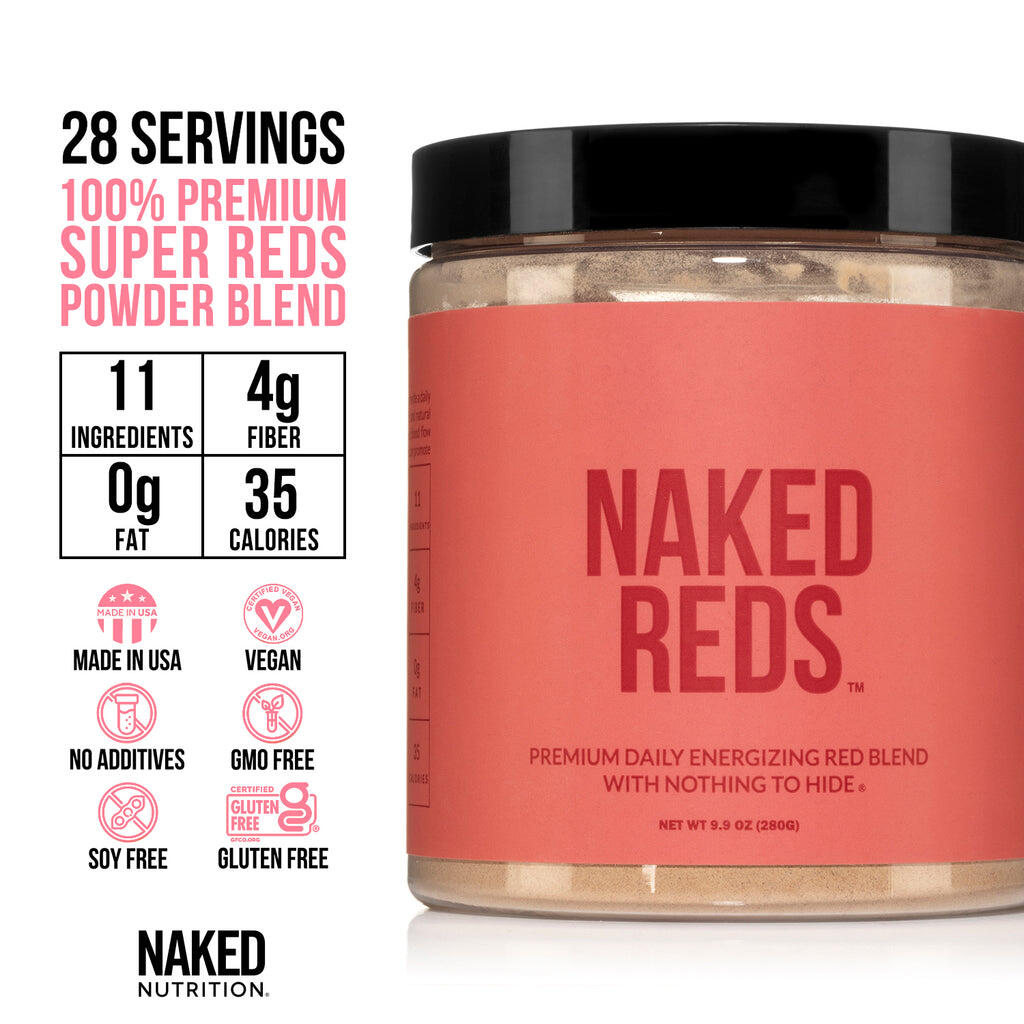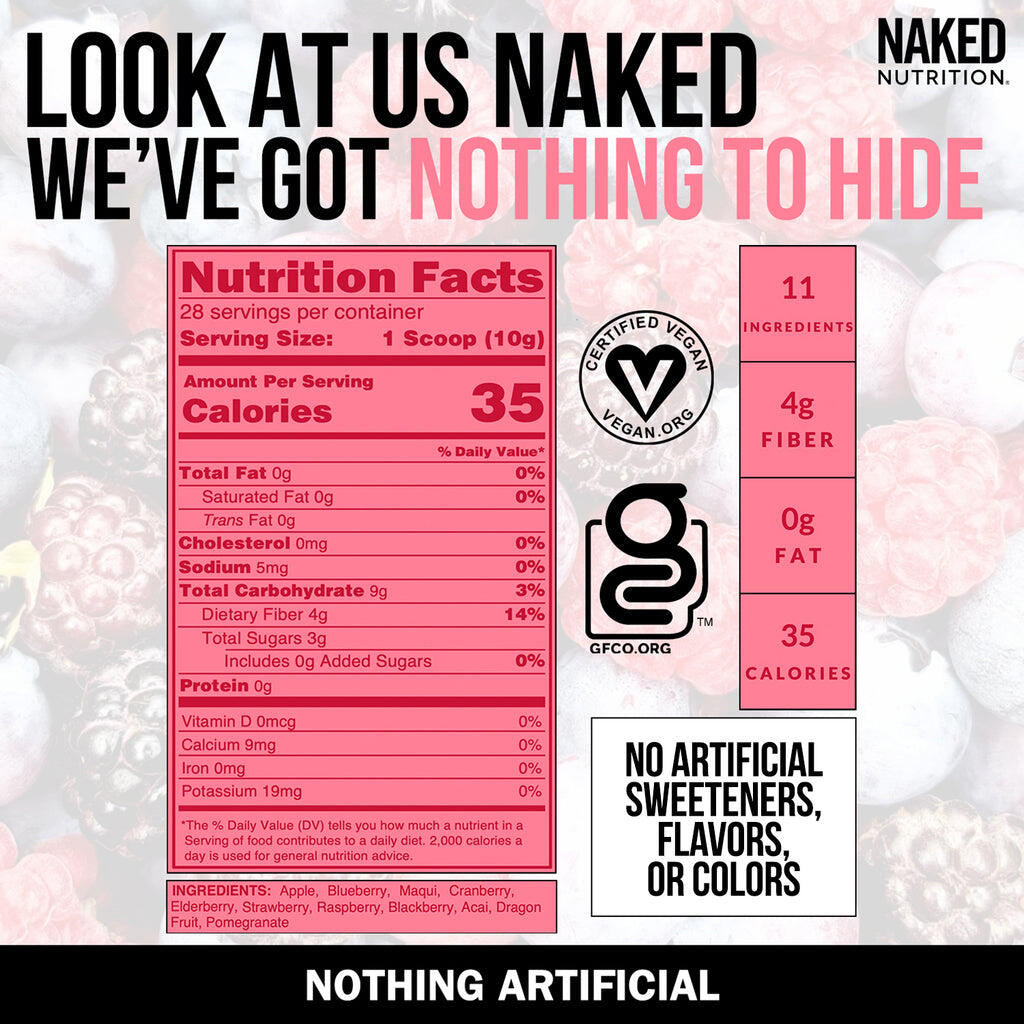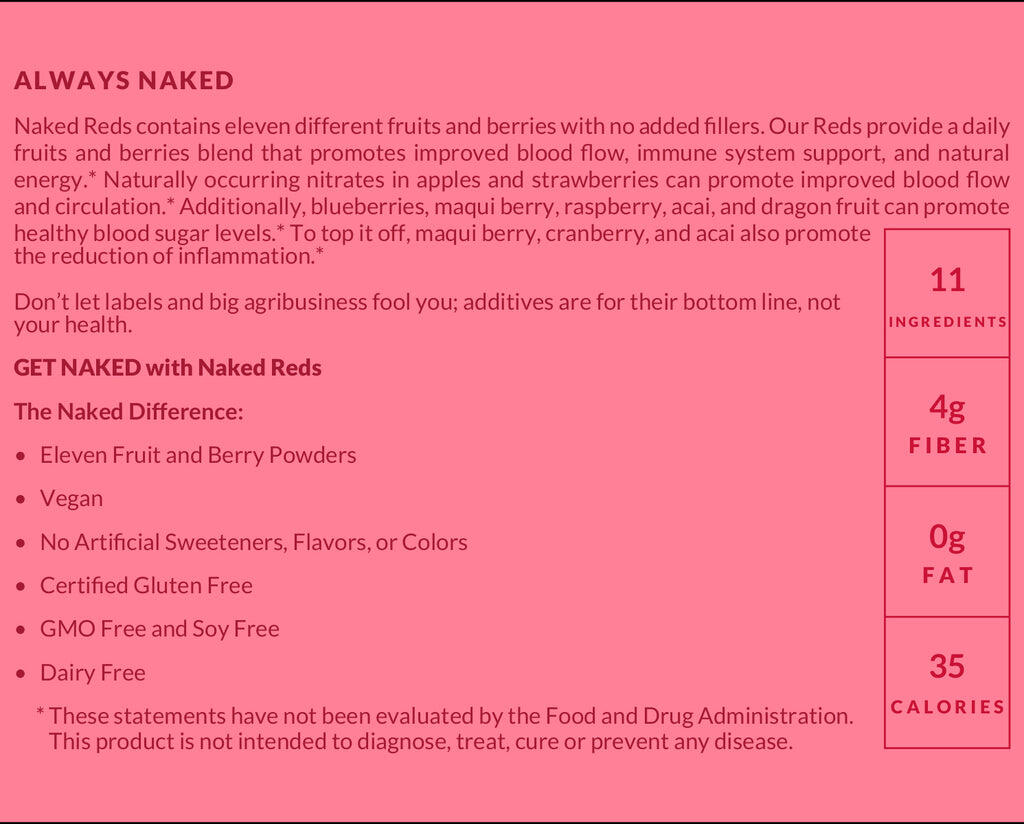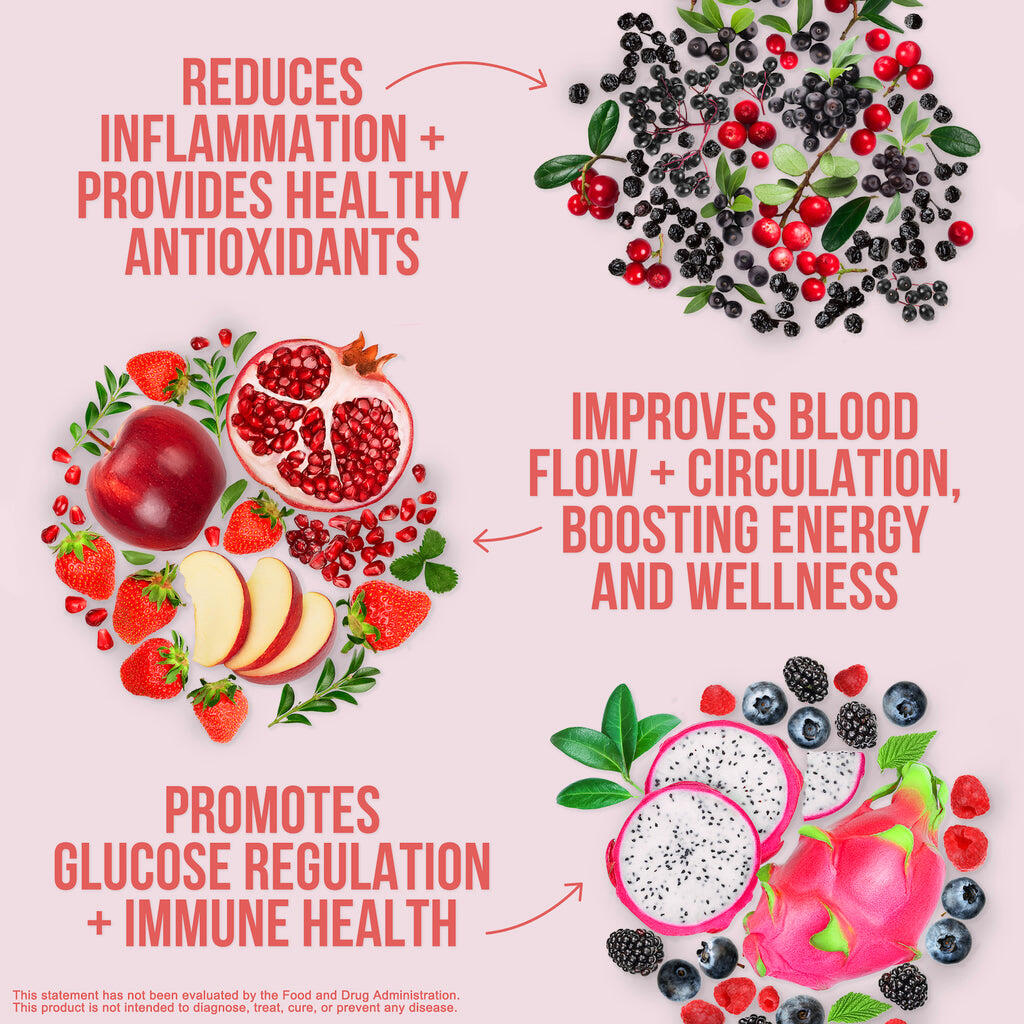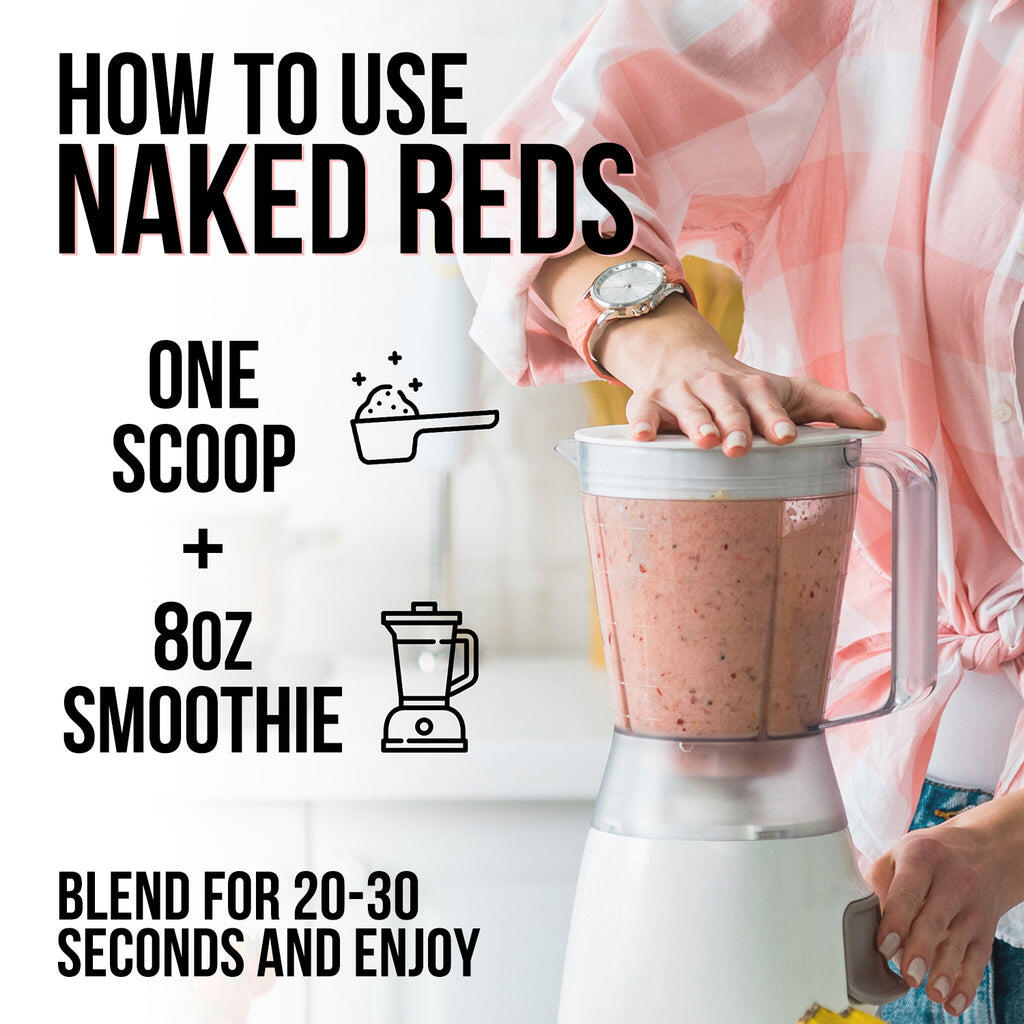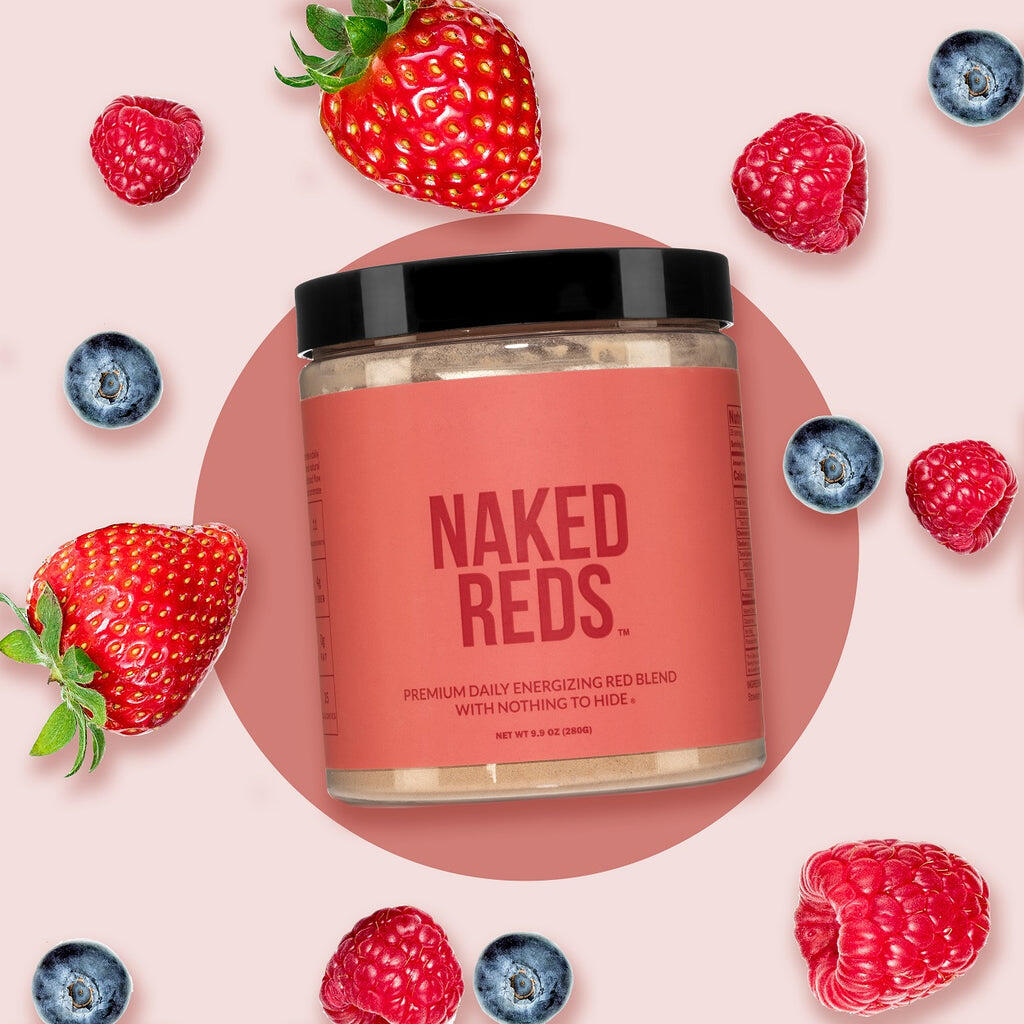 Super Reds Fruit Powder
Naked Reds is a premium superfood blend of eleven berries and fruits including apple, raspberry, strawberry, acai, blueberry... Read More
Free Shipping over $99. Estimated Delivery: Oct 01 - 03
The Naked Difference
Eleven superfood red fruits including berries, pomegranate, and acai
Only 3 grams of natural sugar
Often contain artificial additives and flavor for taste and texture
Quality
Dairy Free

GMO Free

Soy Free

Vegan
Benefits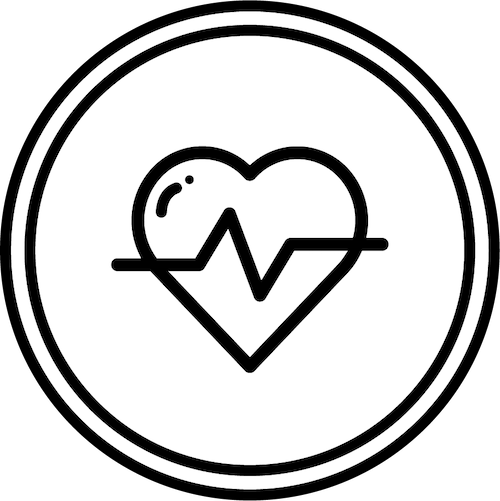 Improve Blood Flow*
Flavonoids in apple, tannins in pomegranates, and other polyphenols in berries and red fruits in Naked Reds support nitric oxide synthase (eNOS)¹ to promote nitric oxide production*. Nitric oxide helps with vasodilation, which means it relaxes and widens blood vessels to improve blood flow.*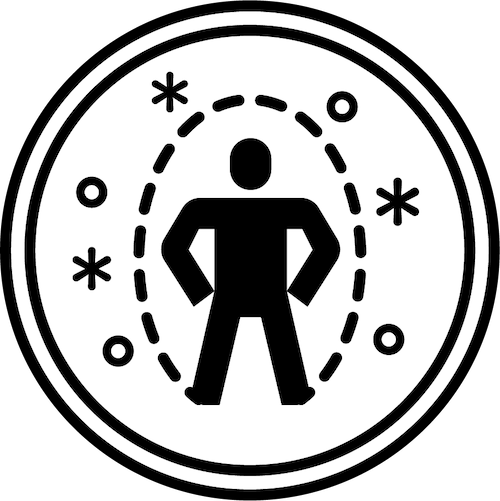 Look and Feel Healthier
Better blood flow means more oxygen and nutrients can travel to vital organs throughout the body including the brain, lungs, heart, and skin. You will feel more energetic, improve cognitive function, and enjoy healthier skin for a more radiant appearance*. The red superfoods in Naked Reds also contain potent antioxidants for daily detox and improved immune function to keep you feeling well*.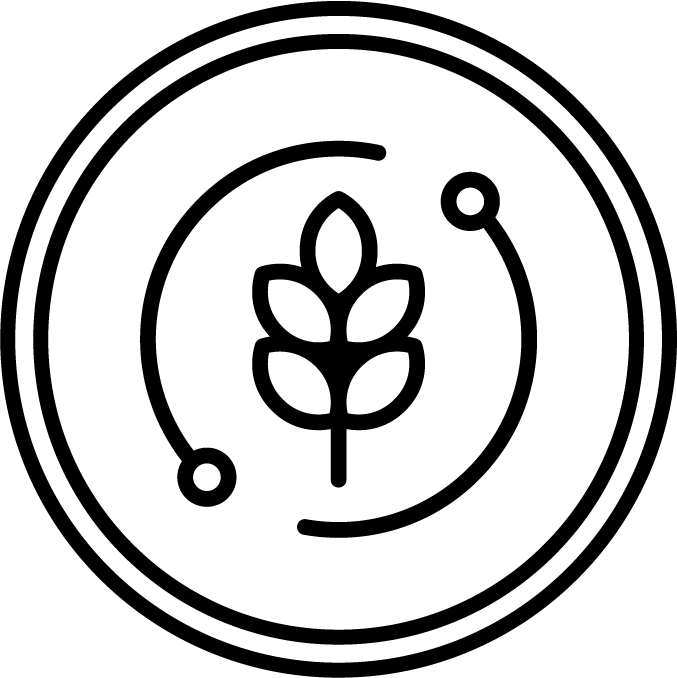 Your Daily Dose of Reds
For most of us, it is challenging and inconvenient to buy and consume fresh superfood red fruits on a consistent basis. This is why you can benefit from a premium daily reds supplement like Naked Reds. Mix one rounded scoop with water or your favorite drink to get a daily dose of pomegranates, berries, acai, apples, and more to improve natural energy, heart health, and revitalize your appearance*.
Nutrition Info
Serving Size
1 Scoop (10g)
Number of Servings
Approx. 28
How To Use
When: Add our reds powder to water or smoothies. Best used first thing in the morning, after lunch, or between meals.
Mix: Add one rounded scoop to water or your favorite drink to boost natural energy, promote healthy aging, and manage inflammation.*
Pair With: Pair with Naked Whey or Naked Shake to achieve a nutrition packed protein shake that will enhance muscle gain, promote protein synthesis, and support overall wellbeing.
Frequently Asked Questions
Naked Greens is a daily greens powder that contains six different organic vegetables and grasses. Naked Reds, on the other hand, is a super reds powder that has been designed with fruits and berries. Both products are packed full of nutrition, so feel free to take a look at both and decide which benefits best suit your needs.
Absolutely! By combining Naked Reds with one of our premium protein powders, such as Naked Whey or Naked Shake, you're adding even more nutrition to your daily protein shake. We recommended dressing up your shake with your preferred flavored beverage, such as almond milk, or by adding some extra fruit for a more powerful taste.
No, Naked Reds does not contain any fake or added sugars. The only sugars in Naked Reds are naturally occurring from the fruits and berries.
Naked Reds is ideal for anybody who is looking to increase their daily nutrition and consume more fruits and berries. Our super reds blend has been formulated with nutrient-rich ingredients that offer many health benefits, such as improved blood flow and supported immunity. Naked Reds is soy-free, gluten-free, GMO-free, and vegan. If you're looking for a product to pair with Naked Reds, have a look at our range of premium protein powders.
See All Faq
Great Super Red Powder
Your Super Reds Powder is great. I plan to use it every month. I hope it stays available .
Thank you so much,
Dennis
Good stuff
Tastes fine and mixes in well with my protein shakes
so delicious
i add it to my protein shake. It's great
AMAZING
The taste is neutral, with a slight flavor of berry. My whole family has been sick more than once since taking these and I have avoided their colds and flu! Some of it is the mom immune system but the biggest change seems to be the reds!
Wanted to love, but doesn't dissolve well
My first time trying Reds Powder and I have to say I don't love this product (which is unusual because I love everything else from Naked Nutrition!) Nutritionally, I think this is good stuff, but it just doesn't dissolve well at all in water, even with a small handheld mixer, there's still a grittiness to it. It mixes okay in smoothie. I've resorted to using just a 1/3 or 1/2 scoop and then mixing into water because a whole scoop is too much.