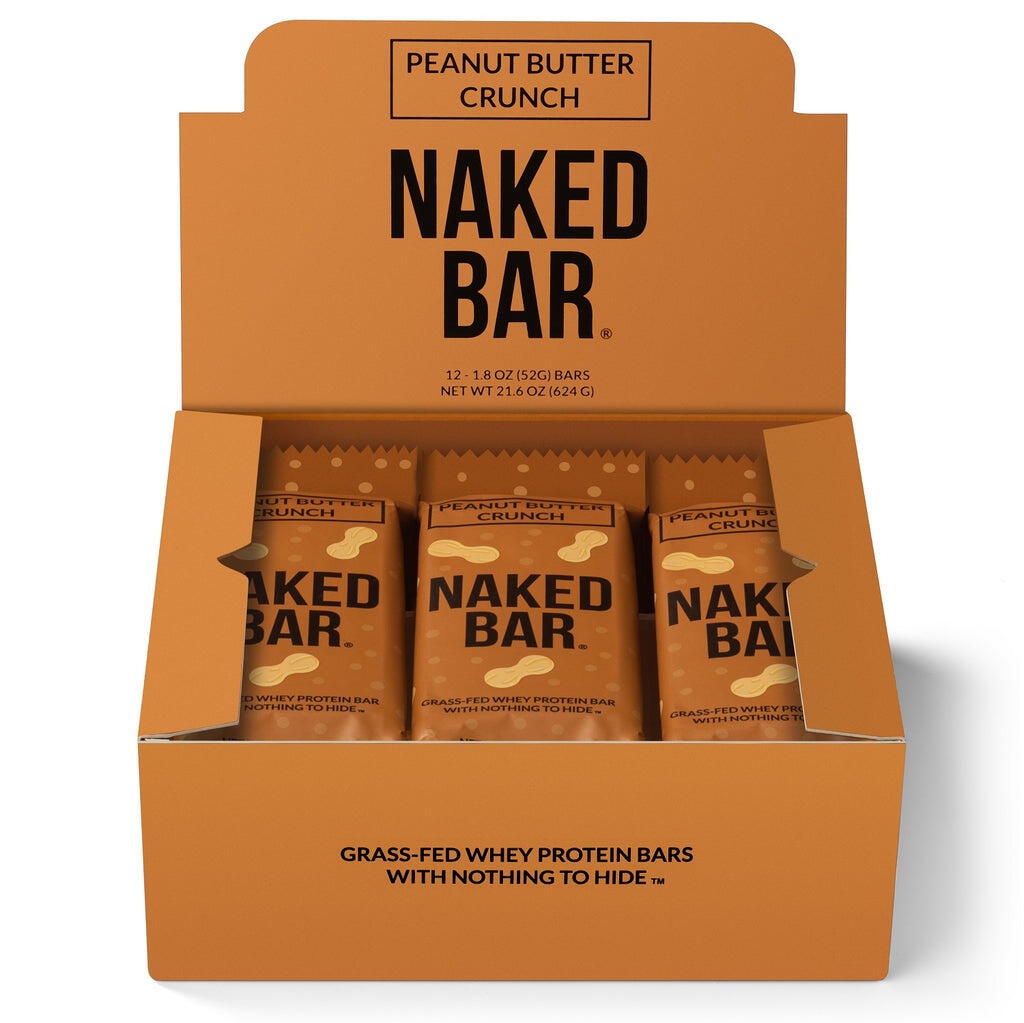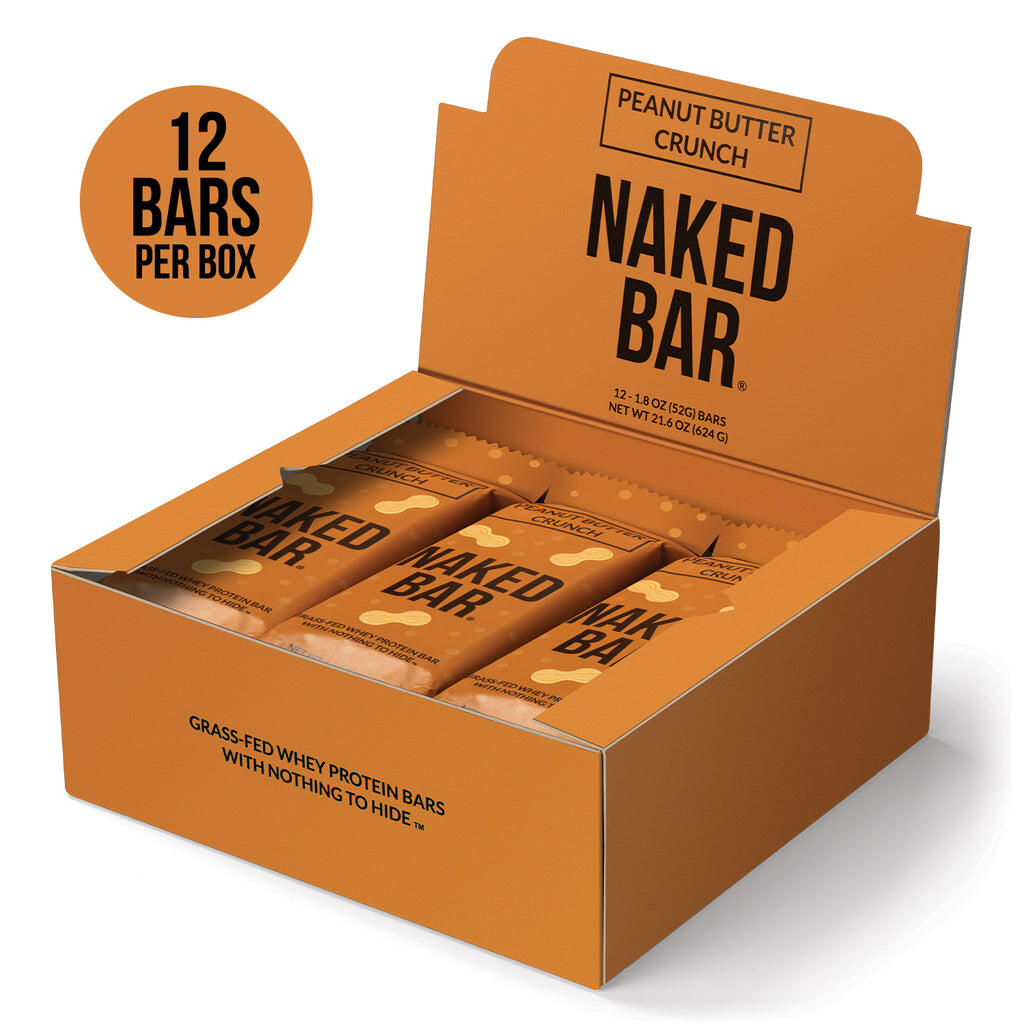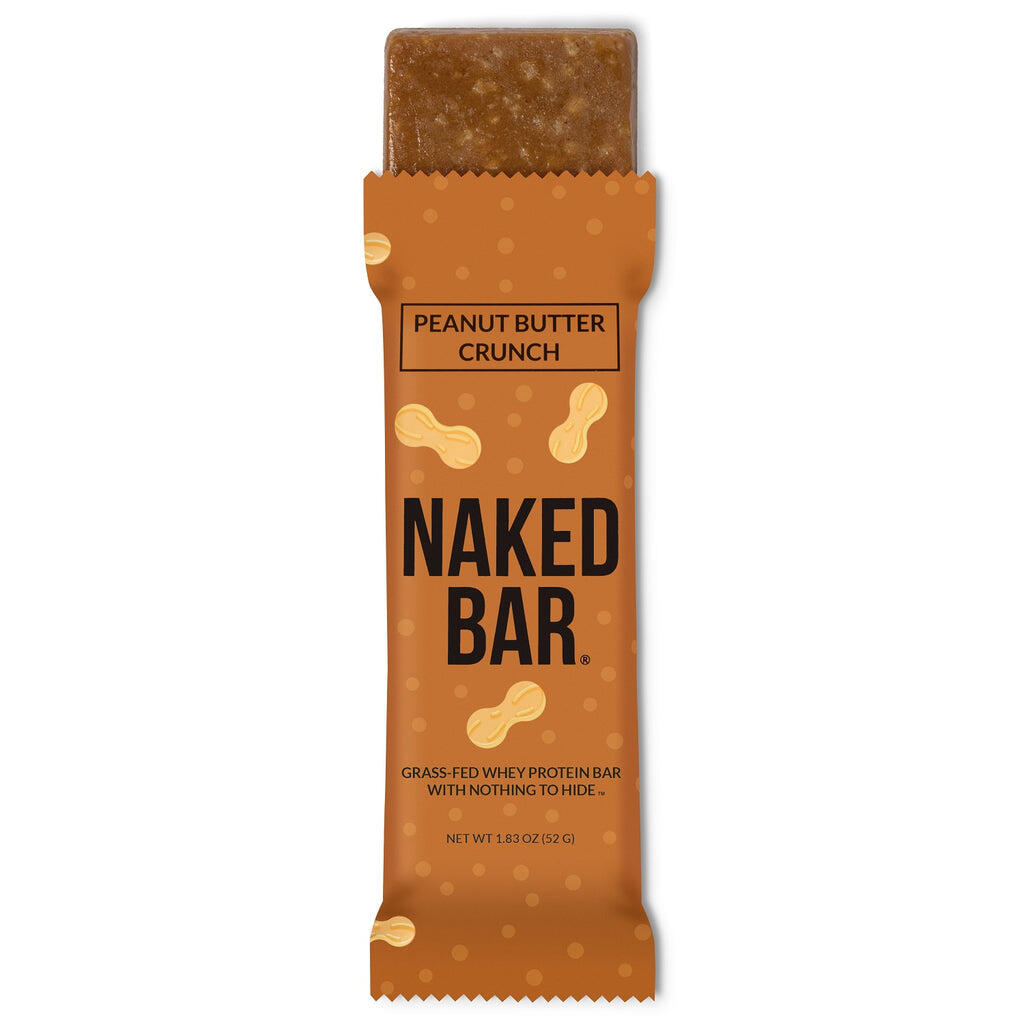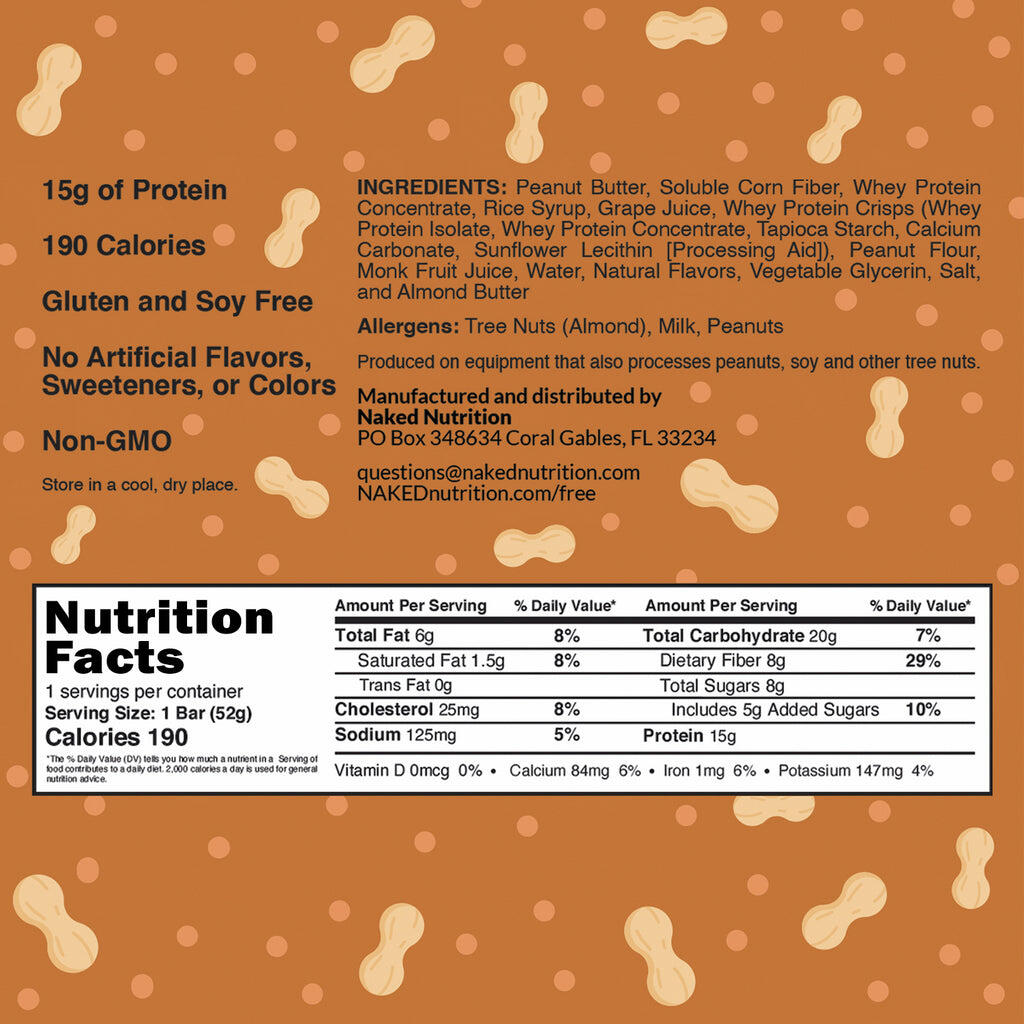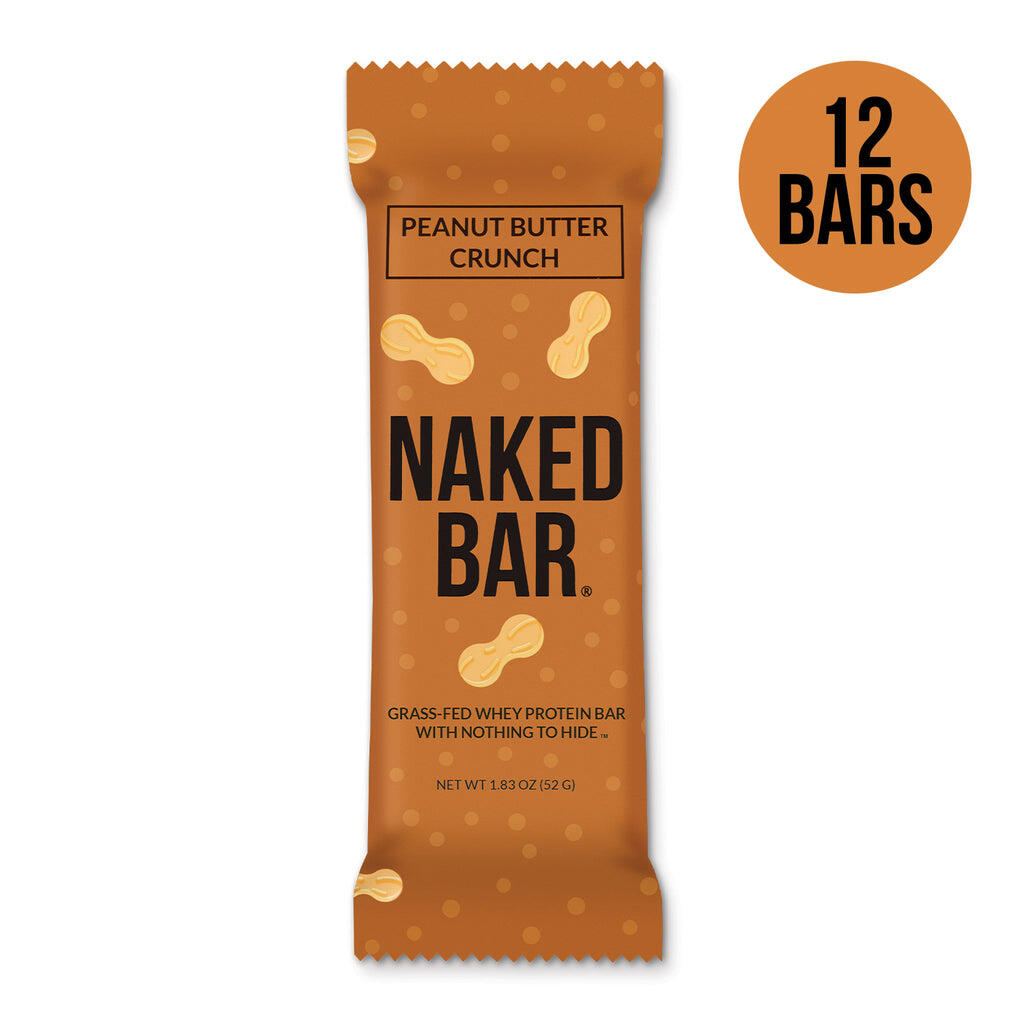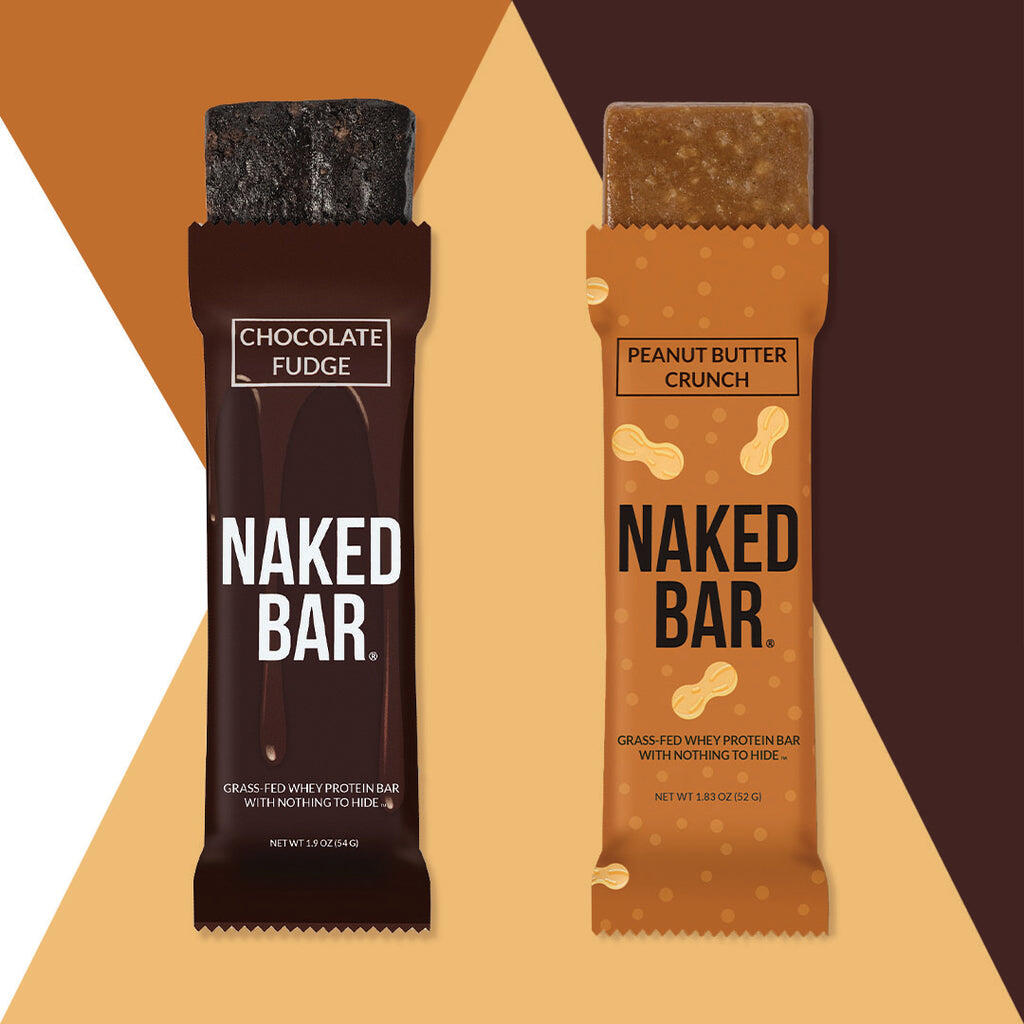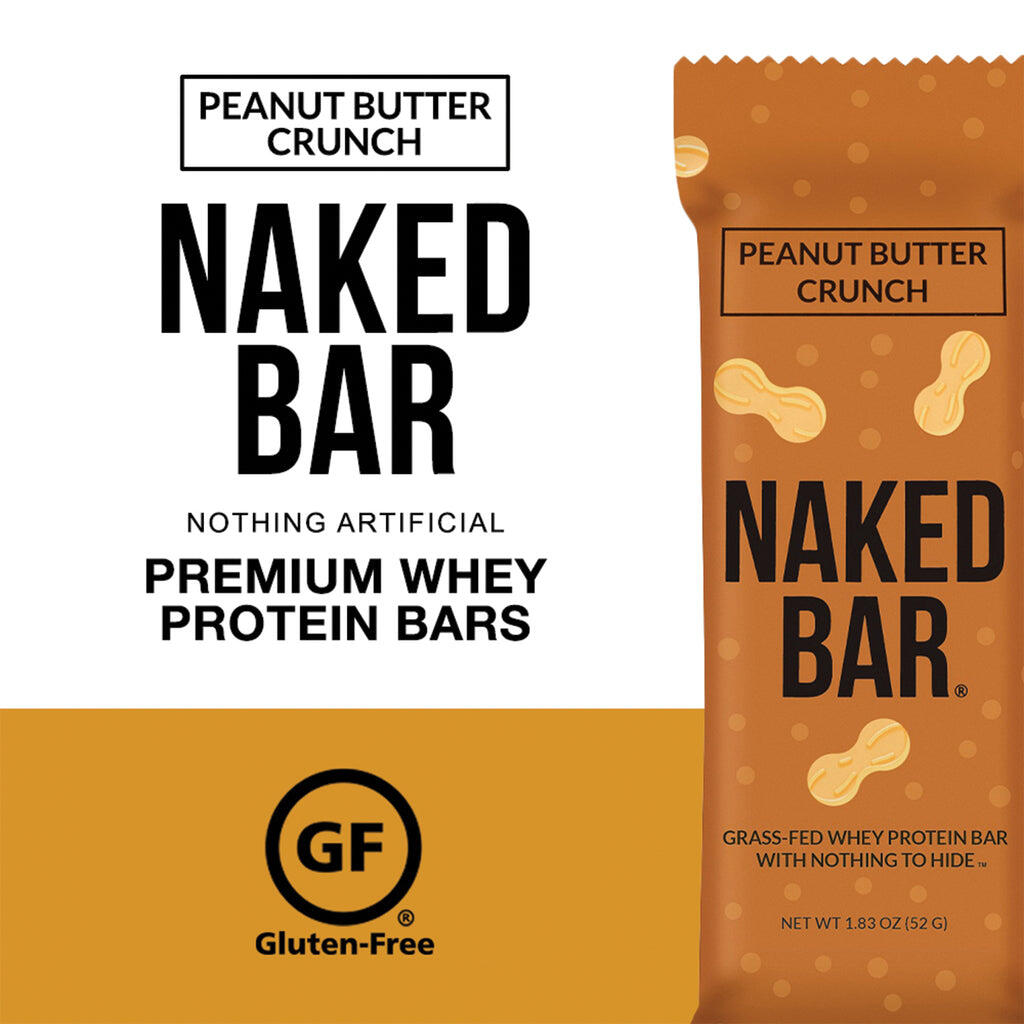 Peanut Butter Protein Bars
Peanut Butter Crunch Naked Bar starts with premium grass-fed whey protein, and we add other natural ingredients like almond butter, peanut butter, and monk fruit juice. Enjoy the delicious, satisfying, and crunchy Naked Bar without compromising on the quality of nutrition. Each bar contains 15g of protein, only 8g of sugar, and only 190 calories. At Naked Nutrition, we are committed to shortening the steps between our farms and you.
Benefits
Quality Nutrition - Anytime, Anywhere
When it comes to hitting your goals, one of the biggest challenges can be staying consistent with your diet on days when you can't get to your kitchen or a healthy restaurant. Naked Bars help you eat right even on the busiest of days. Keep a few in your office or gym bag so you can access quality nutrition - anytime, anywhere.
A Healthy Snack You'll Actually Crave
Let's face it - taste matters. If you enjoy your healthy snacks, you're more likely to continue eating them and make faster progress towards your health goals. You'll never get tired of the crunchy goodness that is Peanut Butter Crunch Naked Bar, and with only 190 calories, and only 8g of sugar, there's none of the guilt.
Stay on Top of Your Macros
With Naked Bars, you get a snack with an ideal balance of protein, fiber, and healthy fats to keep your energy levels up, both at the gym and throughout the day. Eating an optimal macro ratio also supports your body composition goals.
Manage a Healthy Weight
Each Peanut Butter Crunch Naked Bar packs 15g of protein and 8g of fiber (29% of your daily needs!). Both protein and fiber increase satiety to keep you full, prevent cravings for junk foods and help you manage a healthy weight.
The Naked Difference
Unknown / Not Grass-Fed Protein
8g of fiber to support gut health, and optimal weight management
0-5g of fiber in each bar
Peanut butter, almond butter, monk fruit juice, and other natural flavors
Flavored with processed sugars and other unnatural ingredients
Artificial Sweeteners Flavors & Colors
Added sugars, fructose and more
How To Use
When: Enjoy our peanut butter crunch protein bar when you're on the go and need an energy boost, between meals as a snack, before a workout, or during a training session.
Enjoy: Simply enjoy it straight out of the wrapper, cut into slices and use as a topping for oatmeal, or microwave it for 10 seconds for a tasty treat.
Pair With: Use Naked Bars alongside using Naked Whey before or after your workouts to provide the needed nutrition to help you reach your fitness goals.
Frequently Asked Questions
We decided to take more time reformulating our original protein bars to create a delicious flavor while maintaining peak nutrition. After extensive research, development, and taste-testing, our new and improved Naked Bars only contain premium ingredients and provide impressive daily nutrition, leaving you energized for hours. You never knew a healthy protein bar could be so good!
Naked Bars do not contain any artificial flavors, sweeteners, or colors. Each ingredient has been carefully selected to ensure maximum nutrition while maintaining a crave-worthy taste. Therefore, the only sweeteners in our Peanut Butter Crunch Naked Bars are natural, safe ingredients - such as monk fruit juice - which work to support your health rather than damage it.
All of our Naked Bars are designed to be high-protein snacks that are perfect for getting in some extra nutrition throughout the day. While our Peanut Butter Crunch Naked Bars do provide premium nutrition that will leave you satisfied and energized for hours, they are intended as a not a meal replacement. However, we do offer other protein powders - including Naked Meal - if you're looking for a meal replacement shake.
Whether you're an athlete, a regular at your local gym, or you just have a busy schedule, Peanut Butter Crunch Naked Bars are the ideal go-to snack choice. Packed full of quality nutrition with no any hidden extras, our protein bars are convenient ways to boost your daily nutritional intake. The impressive amount of protein per bar provides the energy and satiation you need to keep performing at your best. We also offer a range of protein powders which are ideal for anybody looking to up their protein intake for muscle gain, weight loss, or general health.
See All Faq