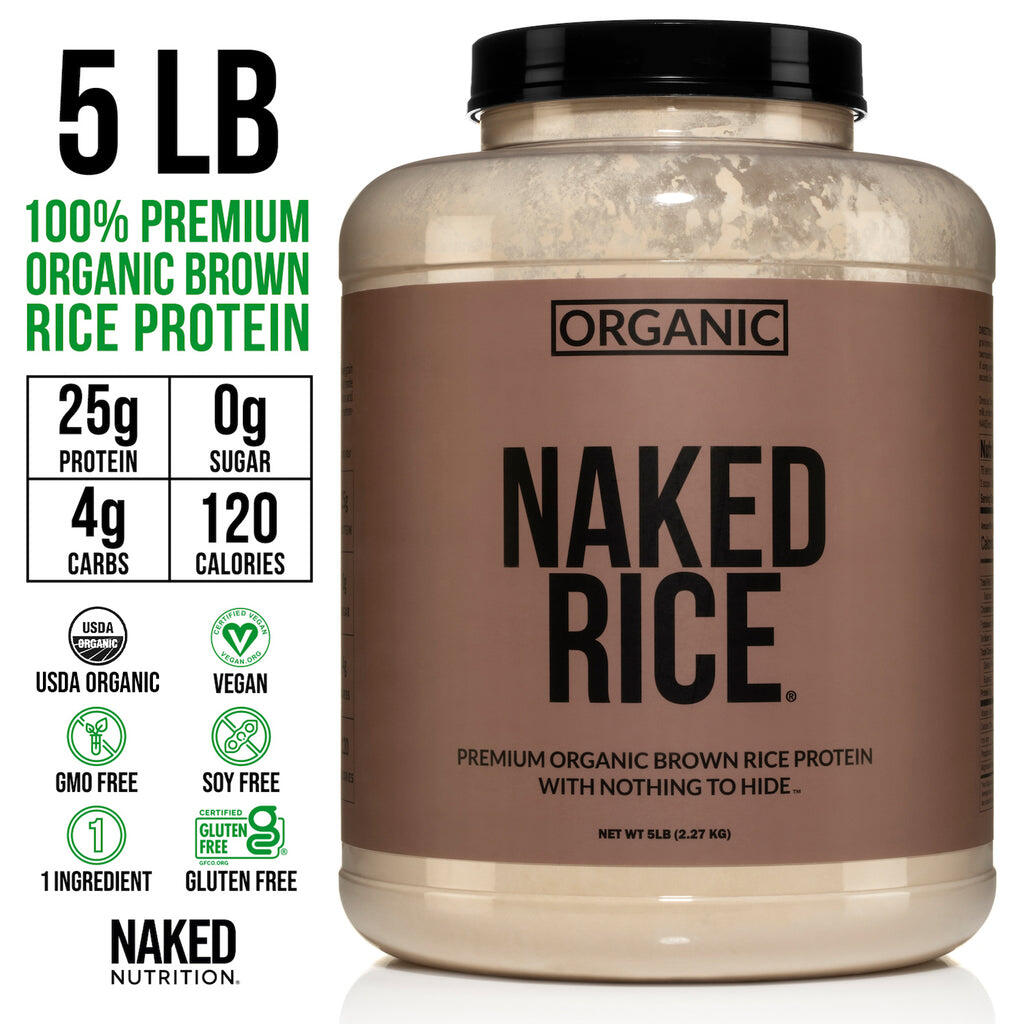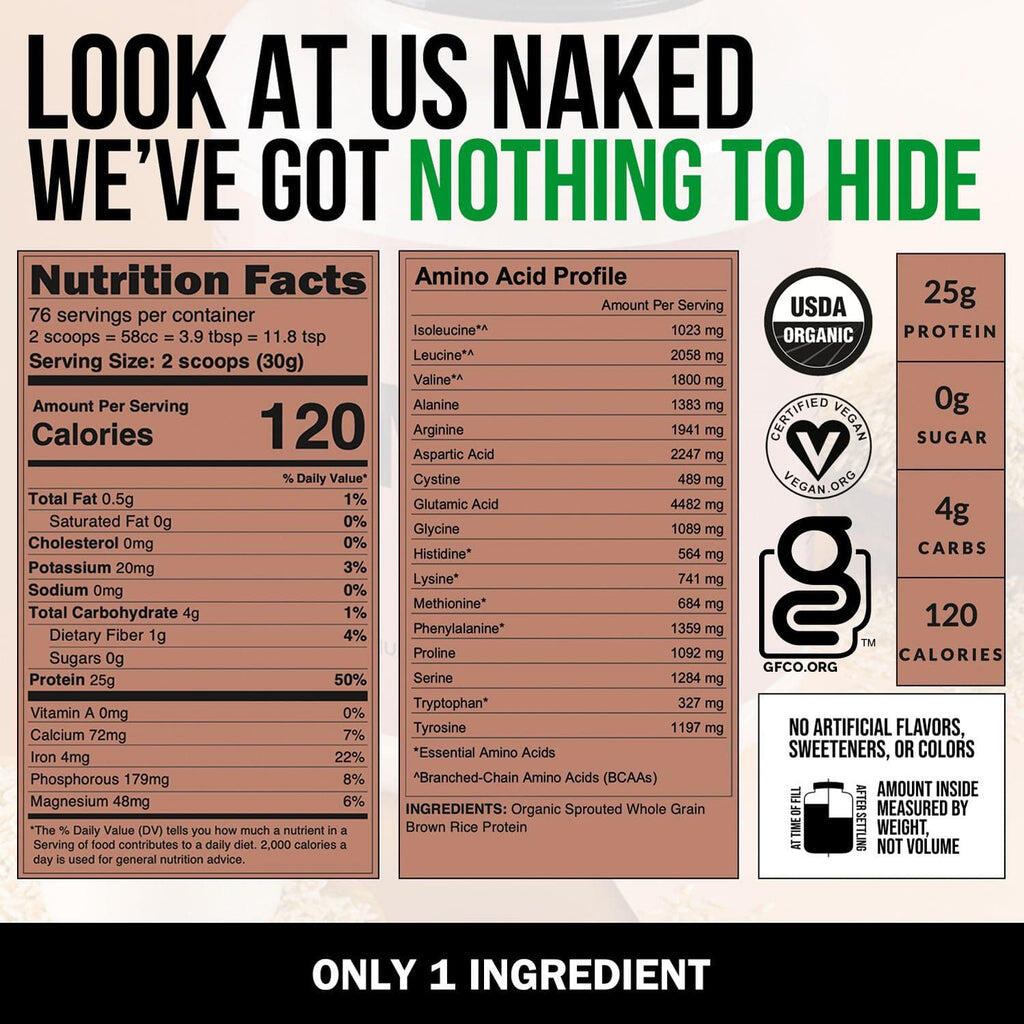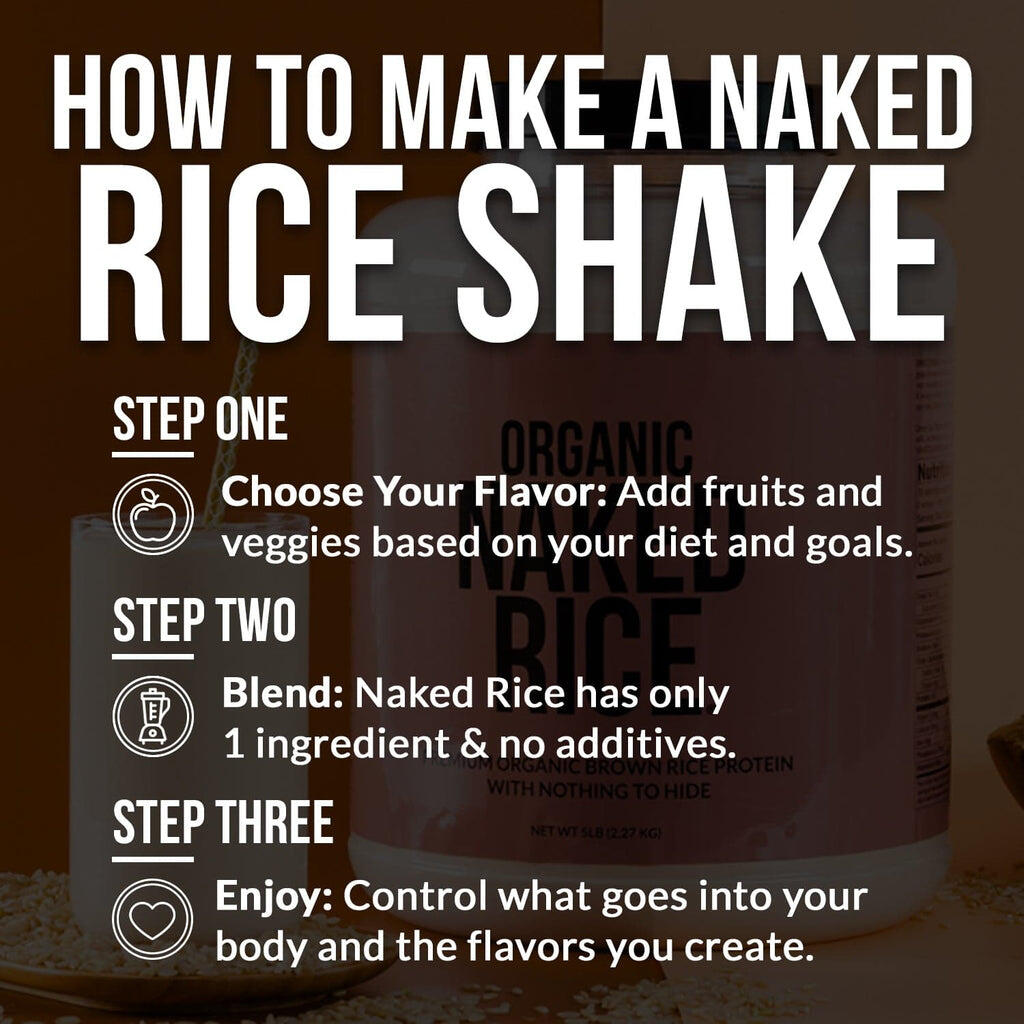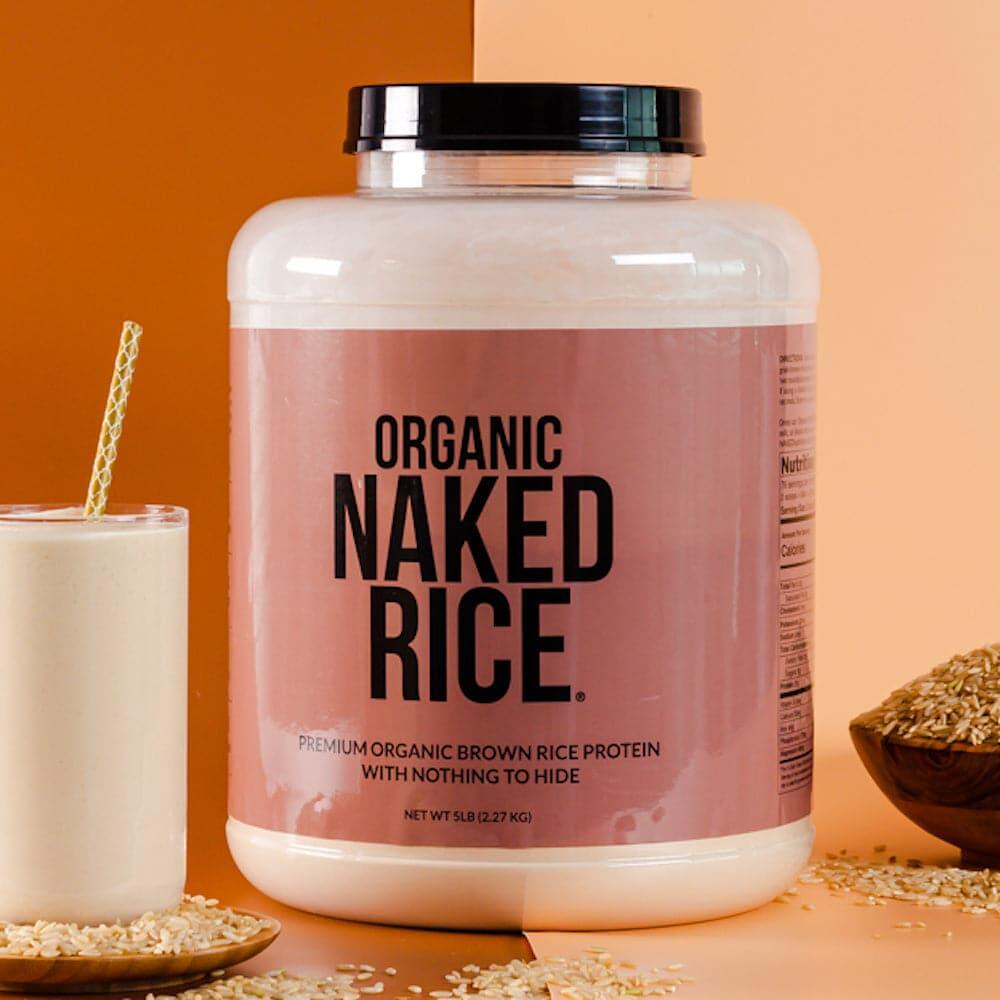 Organic Brown Rice Protein Powder
Naked Rice - 5lb
Naked Rice has only one ingredient: Organic sprouted brown rice protein. Naked Rice is made using a hexane-free... Read More
Free Shipping over $99. Estimated Delivery: Dec 06 - 08
The Naked Difference
Regular Rice Protein Powder
Only one ingredient: Organic sprouted brown rice protein. Nothing artificial.
Additives and artificial sweeteners added for color, flavor, and mixing.
Mechanical processing with no chemicals to retain superior amino acid profile
25 grams of high quality protein in each serving
Less than 20 grams of protein
Independent third-party tested for heavy metals and melamine
Quality
Dairy Free

GMO Free

Only 1 Ingredient

Soy Free

Vegan
Benefits
Nutrition Info
Serving Size
2 Scoops (30g)
Number of Servings
Approx. 76

How To Use
When: Add our rice protein powder to protein shakes, smoothies, or baking. Best used in the morning, before a workout, or after a workout.
Blend: Mix two scoops into 6-10oz of non-dairy milk or your preferred beverage. Add fruit, vegetables, or other ingredients for taste as Naked Rice is unflavored.
Pair With: Combine with Naked Pea for a protein shake that has a complete and diversified amino acid profile.
Frequently Asked Questions
Naked Rice is grown throughout Southeast Asia, which is also actually considered a safer place to grow rice crops due to the quality of the rice paddles. No pesticides are used, and Naked Rice is also tested numerous times for quality before being packaged.
Our rice protein powder is mechanically extracted to maintain a quality amino acid profile. Naked Rice is not cooked during processing, and the only solvent we use is water, we do not use hexane.
All of our products, including Naked Rice, undergo independent testing to ensure that they adhere to the safety standards set by the FDA. Naked Nutrition products are kept as pure as possible and are well under these limitations.
Naked Rice is a concentrate protein. Isolate proteins are processed more than concentrate proteins, which leads to altering the product further and causing the product to be more expensive. As we focus on keeping our products as pure as possible, we do not process them for unnecessarily long periods of time.
Naked Rice is an excellent vegan-friendly protein option for those who are looking to increase their protein intake to gain muscle or lose weight. When used alongside a regular weight-lifting regime, Naked Rice provides the necessary nutrition to help you gain muscle and lose body fat. You can also pair Naked Rice and Naked Pea together to form a complete protein. If you're looking for a milk-based protein powder, we also offer Naked Whey and Naked Casein.
See All Faq
Organic Brown Rice Protein Powder
I did a lot of research to find this gem! I wanted something that I my body could tolerate, be free of a lot of unnecessary additives, as well as be certain it was properly tested for heavy metals, etc. This is PERFECT! Thank you Naked Nutrition. I will continue to purchase from you and spread the word!!
High protein content. Awful taste
Flavor is expectedly bad. It's just so dusty. Naked pea I eventually got used to. Brown rice tastes so earthy in a bad way. It's also much more fine in terms of powder so it's way more messy than pea
Clean Dense Protein
Love the fact that it contains 25g per two scoops (one serving). The scooper is small. Perfect hypoallergenic protein source for my current eating plan since I'm avoiding pea and milk protein.
Seriously Awesome Product
This is modern health at irs finest...i am so glad that they have come up with this idea...tastes awesome because i mix it with my vanilla whey isolate...muscles are fed for at least 8hrs maybe longer...will be working on purchasing my second tub