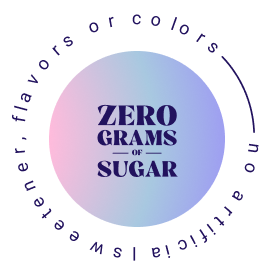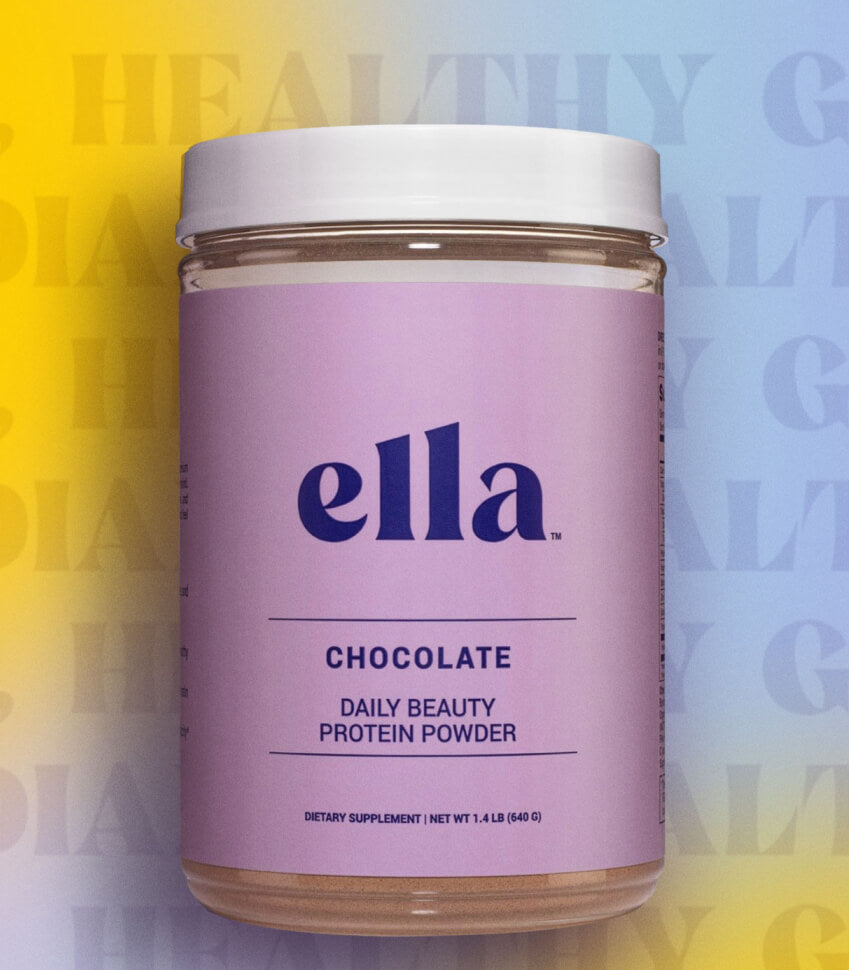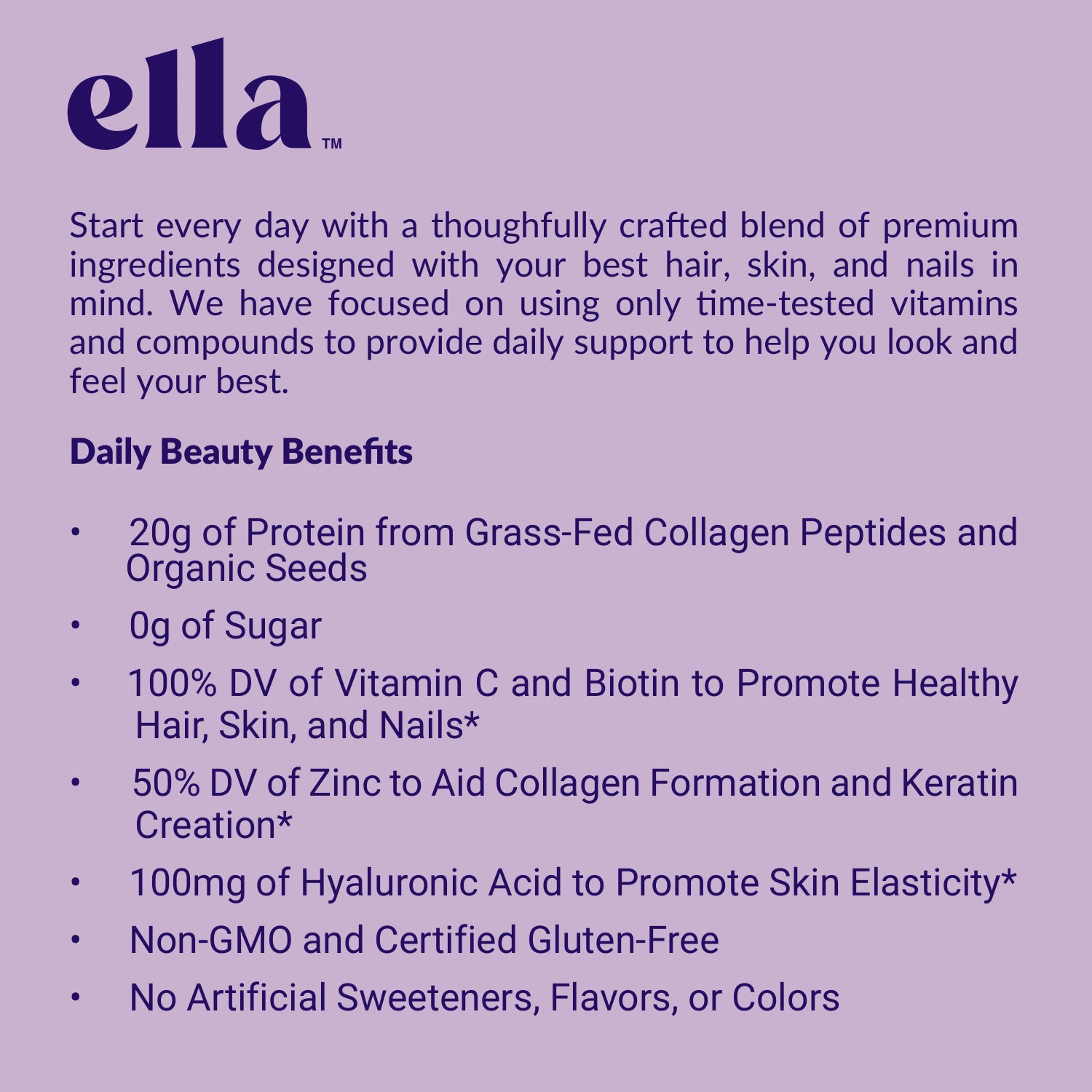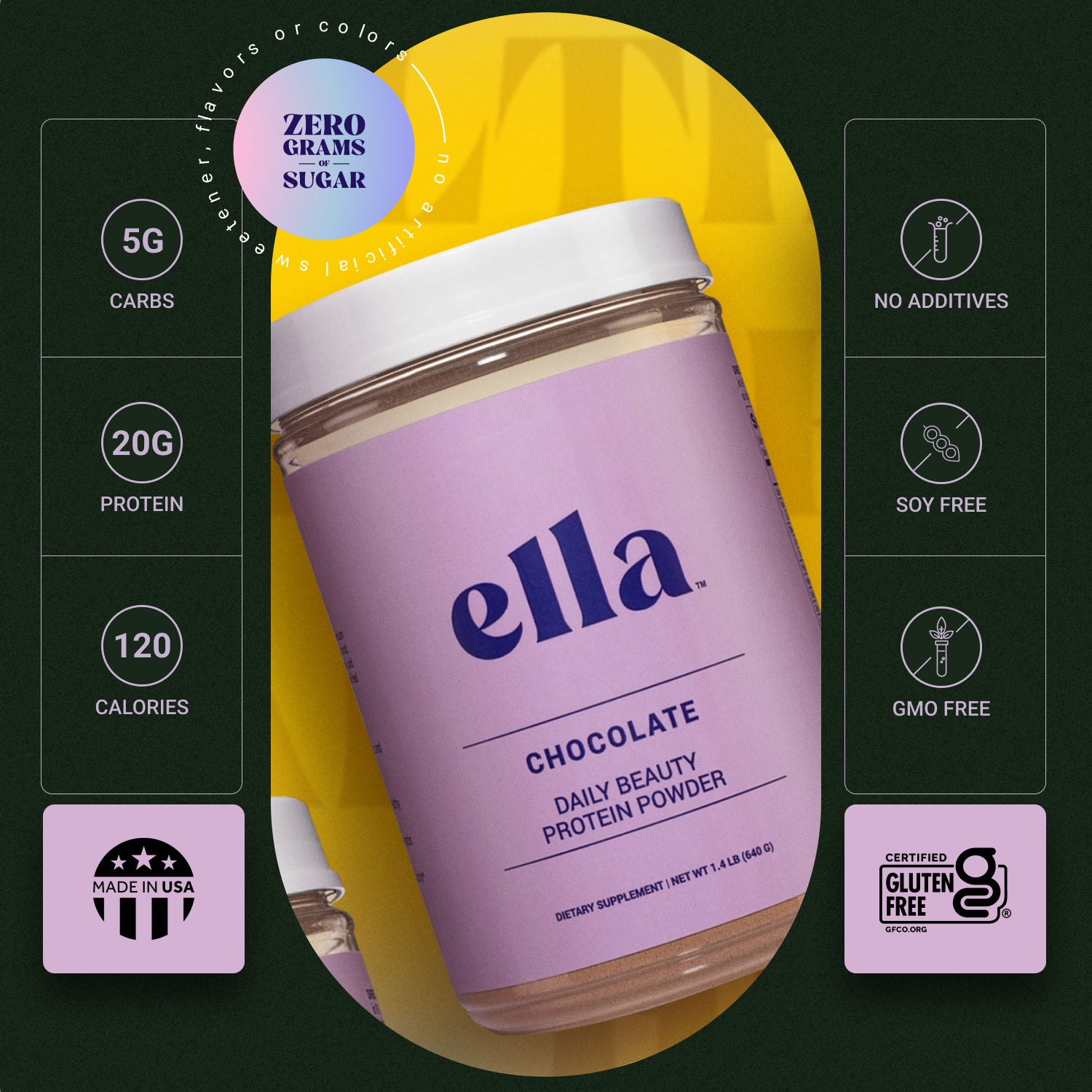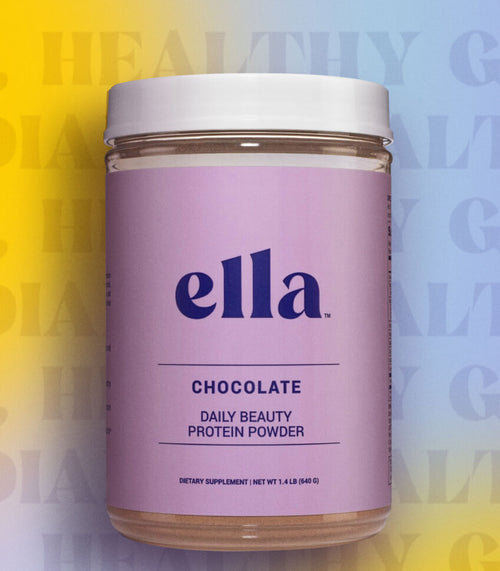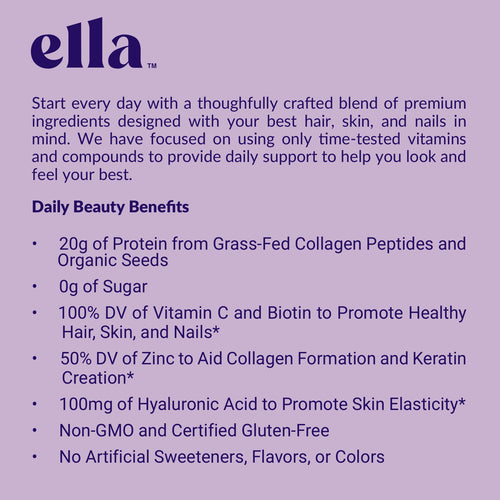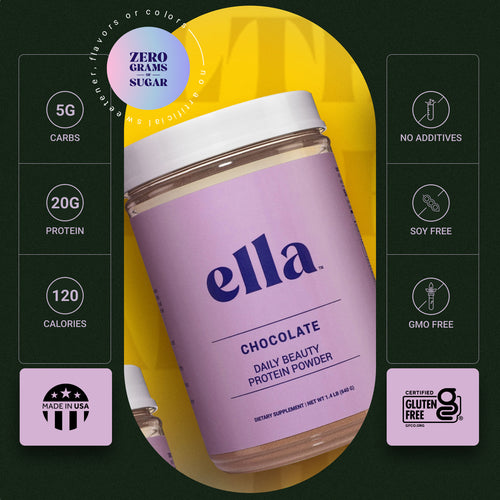 Chocolate Beauty Protein Powder
Start every day with a thoughtfully crafted blend of premium ingredients designed with your best skin, hair, and nails in mind. We include only time-tested vitamins and compounds to provide daily support to help you look and feel your best.
Collagen and organic seed protein combined with a powerful beauty blend of hyaluronic acid, zinc, vitamin C, biotin, and more improves skin elasticity, smoothness and gives a natural glow.*
Free Shipping over $99. Estimated Delivery: Sep 27 - 29
Benefits
Daily Boost for Your
Skin, Hair, and Nails
Scientist-formulated beauty blend with ingredients in the correct ratios to affect a noticeable boost in skin, hair, and nails.
Pumpkin seed protein
Alkalized cocoa
MCT powder
Potassium salt
Chia seed protein
Hydrolyzed collagen peptides
Biotin
Improve Skin Elasticity
Grass-fed collagen and organic seed protein provide strength and structure to your skin for improved elasticity and firmness in the right areas.
Reveal Your Natural Glow
100mg of hyaluronic acid, a natural molecule in your body that can hold up to 1000 times its weight in water, for more youthful plump, and supple skin.
Healthy, Strong Hair and Nails
Zinc, biotin, and vitamin C boost natural keratin and collagen production to promote healthy growth of thicker hair and stronger nails.
Supplement facts
Ella
rises


above the rest
Benefits
Ella
Other Brands
Formulated by Scientists

Ingredients that work together in the right amounts

Vitamin Antioxidant Blend

Zinc, vitamin C, and biotin to support collagen production

Premium Protein

From grass-fed collagen and organic seeds

Keratin for Hair

50% DV Zinc for natural keratin production

0g of Sugar

Plus no artificial sweeteners, flavors, or colors

Gluten-Free
non-GMO
The perfect nourishment from the inside out and it can be mixed into almost anything.
Frequently asked questions
What is the Different Between Naked Collagen and Ella Beauty Protein?
Naked Collagen only has one ingredient - collagen peptides to provide structural support to joints and skin, and improve gut health.* Ella Beauty Protein combines collagen with organic seed protein and other beauty-boosting ingredients like hyaluronic acid, biotin, zinc, and vitamin C to support healthy skin, hair, and nails.* Naked Collagen is unflavored collagen peptides, while Ella Beauty Protein comes in chocolate and vanilla flavors. Both Naked Collagen and Ella Beauty Protein are completely free of additives and artificial sweeteners.
Can I Take Ella Beauty Protein for Weight Loss?
Increasing protein intake with collagen and organic seed protein in Ella Beauty Protein may increase satiety and promote a healthy appetite. But this product is not meant to be used for weight loss. We recommend you consult a licensed nutritionist or a healthcare provider about your individual health goals.
Who Should Use Ella Beauty Protein?
Ella Beauty Protein is ideal for anyone who is looking to elevate their nutrition with beauty-boosting ingredients for their best skin, hair, and nails.
How Much Beauty Protein Should I Take Each Day?
One serving is 2 scoops of Ella Beauty Protein which provides 20g of protein, 120 calories, zero sugars, and your daily dosage of beauty ingredients including collagen, hyaluronic acid, zinc, vitamin C, and more. We recommend you consult a licensed nutritionist or a healthcare provider about your individual health goals and ideal daily protein intake.
What is the Best Way to Mix Ella Beauty Protein?
We recommend mixing 1 serving of Ella Beauty Protein (2 scoops) in 8-12oz of cold water or your beverage of choice. Blend or shake in a shaker cup.
Delicious
Not only is this protein powder delicious, it also provides me with gut heath. I drink it as a breakfast meal with flax seed and feel very satisfied. Plan on ordering again and often.
People are still sleeping
Bought Ella for my girlfriend to try out. She's been taking it daily for about two weeks and her nails, skin and hair all look amazing. She also told me she loves the chocolate but wouldn't mind trying the vanilla
Love it
Love the taste, consistency and I feel full. It's great for a meal replacement.
Love!
Mixes well with water and tastes so good! I tell my family and friends I workout just so that I can have this protein shake.
Chocolate Beauty Protein Powder | Ella