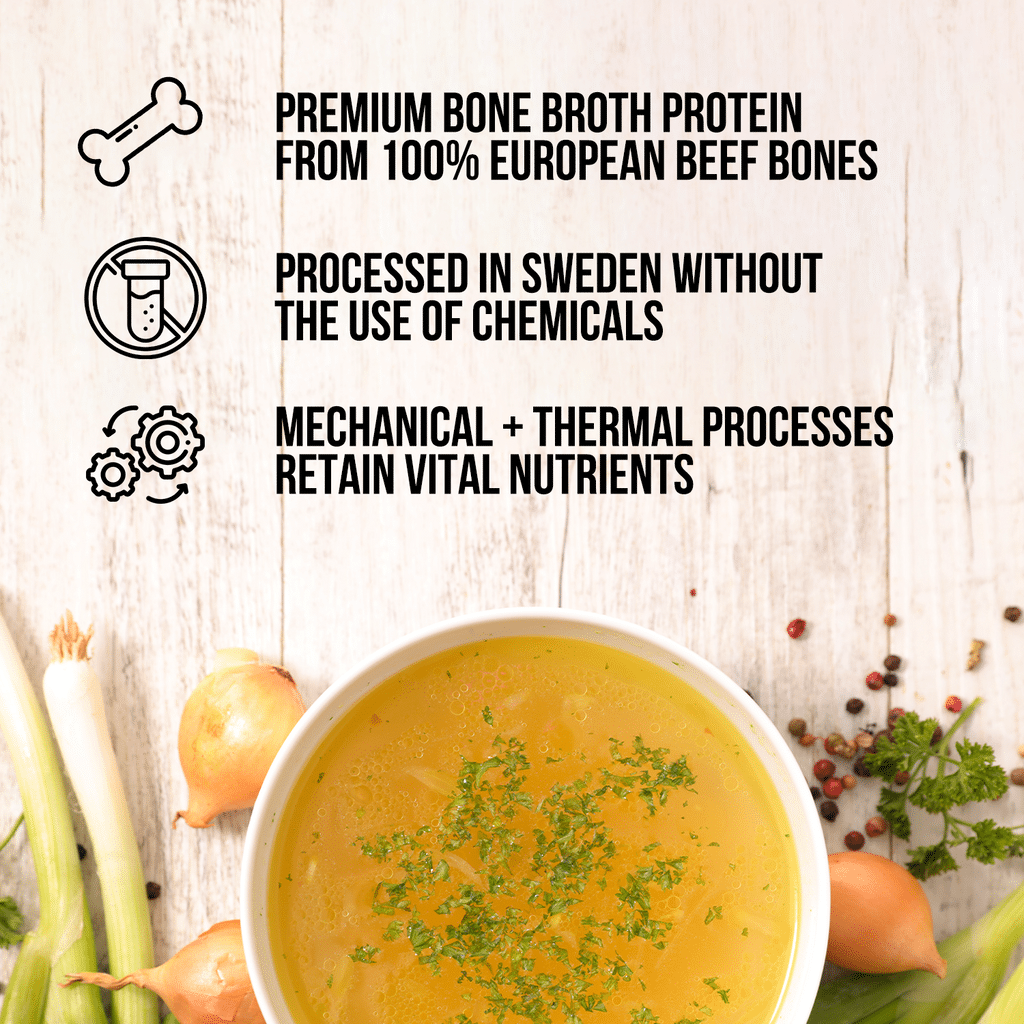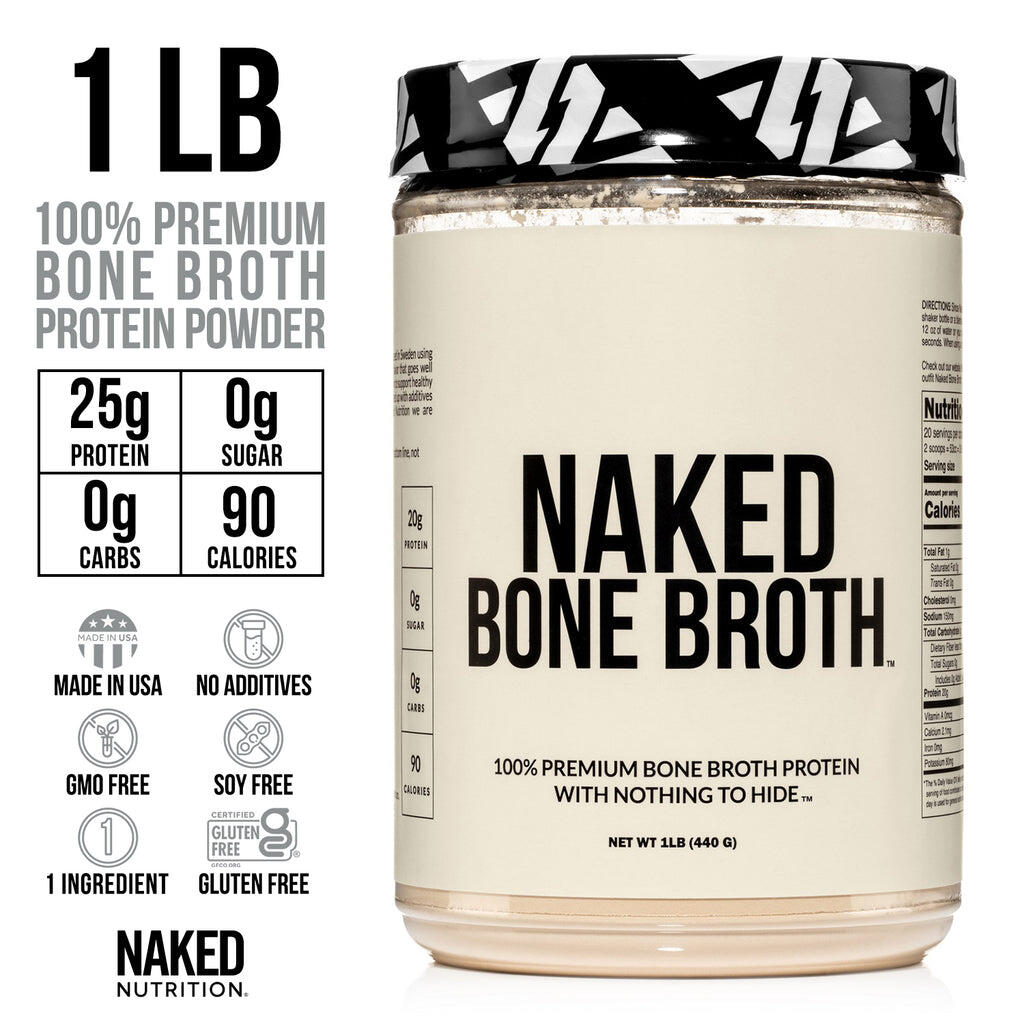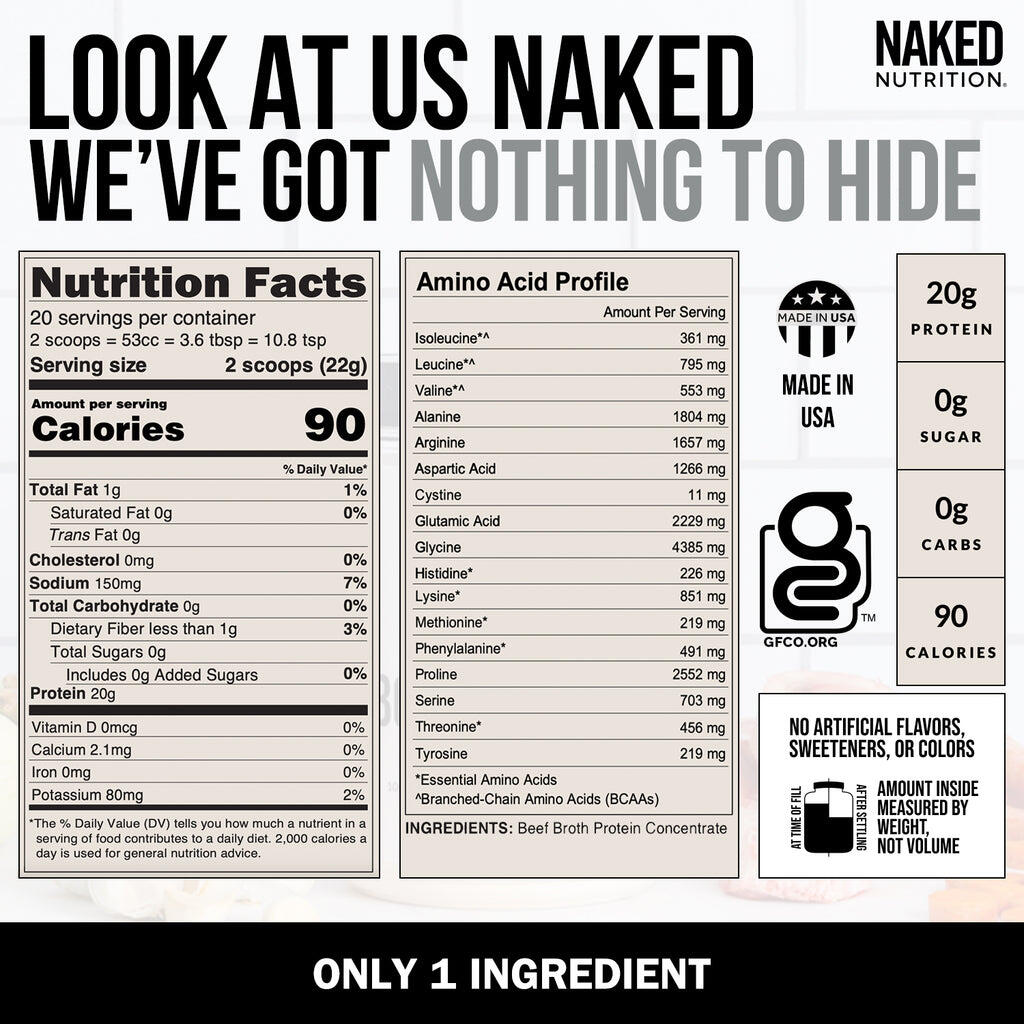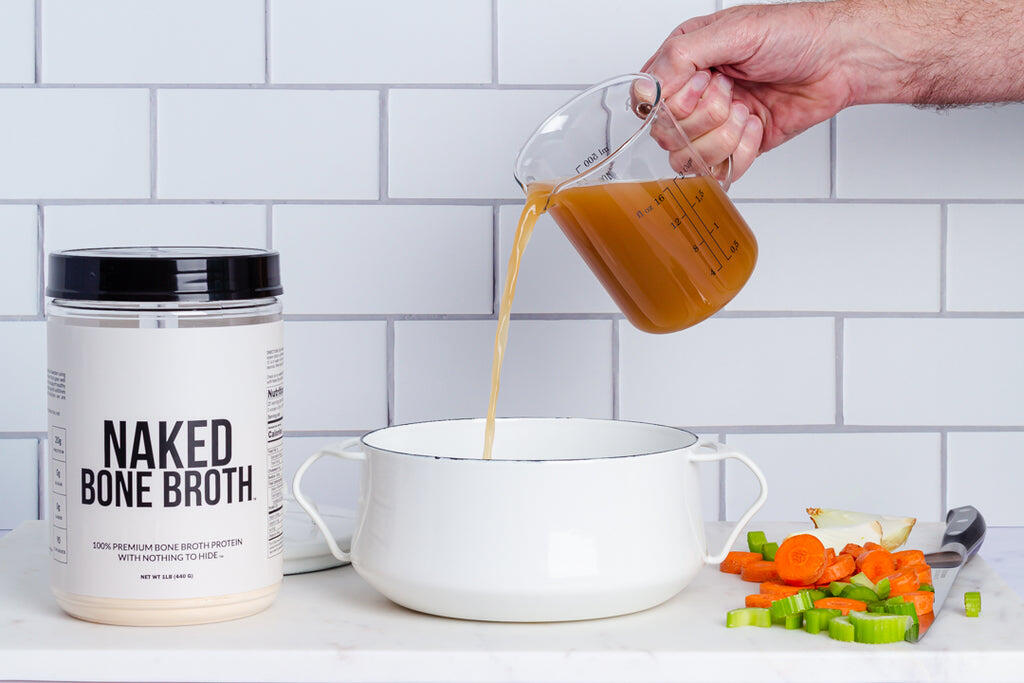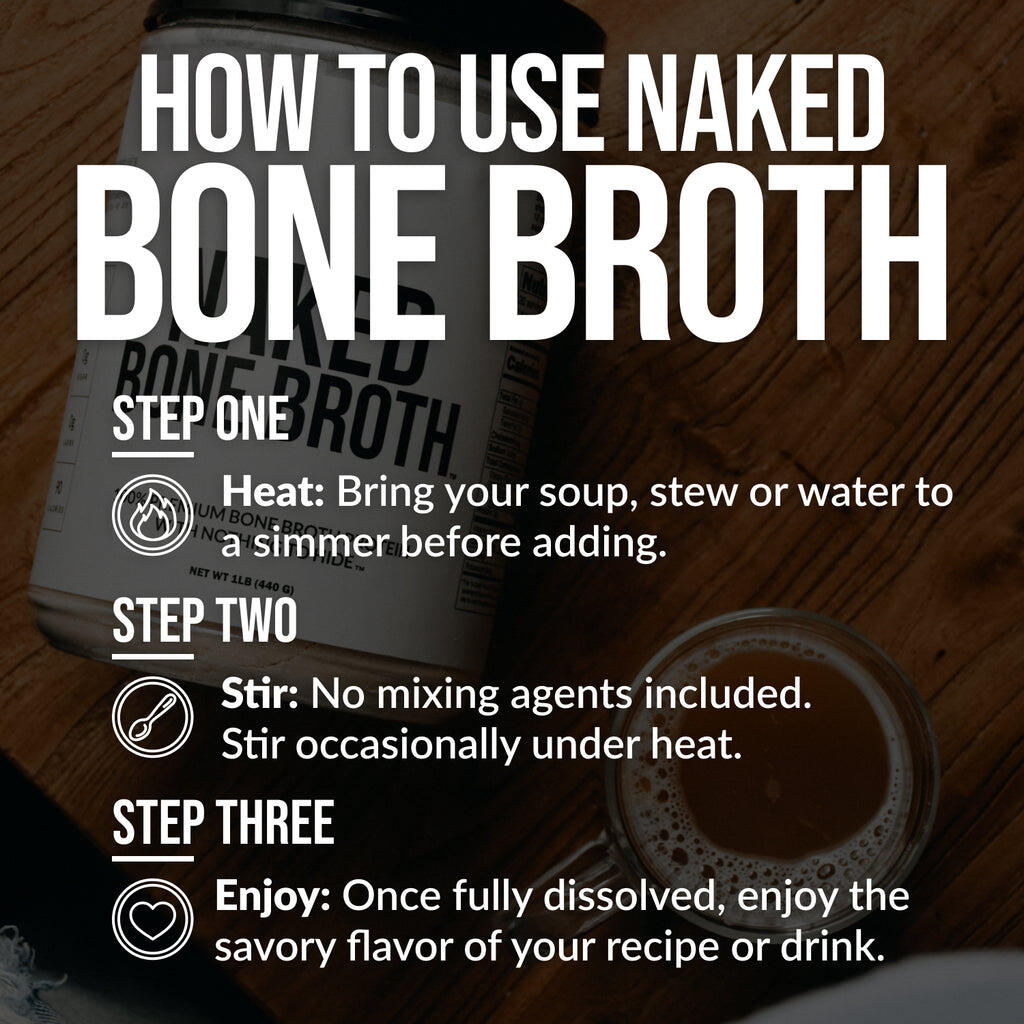 Bone Broth Protein Powder
Naked Bone Broth has one ingredient: protein powder sourced from premium European beef bones. The bones are processed in Sweden using mechanical and thermal processes to retain beneficial nutrients and to increase absorption in your body.

Bone broth protein nourishes your entire body and naturally increases collagen production with glycine and proline to support gut health, strong hair and nails, healthy joints, and radiant, supple skin.
Just add 2 scoops of the savory bone broth powder to hot water, soups, or stews for 20 grams of extra protein with a superior amino acid profile and all the BCAAs to support muscle recovery and growth.
At Naked Nutrition, we are committed to shortening the steps between our farms and you.
The Naked Difference
100% from European beef bones
Factory-farmed beef bones that may contain growth hormones
Only one ingredient: bone broth powder from EU beef bones
Includes additives and preservatives
Chemical-free processing to retain maximum nutrients and increase the bioavailability
Industrial processing for easier mass production
20g of protein per serving
8-10 grams of protein per serving
Quality
GMO Free

Only 1 Ingredient

Soy Free
Benefits
Bone Broth on a Busy Schedule
If you wanted to make bone broth at home, it would typically take around 16-20 hours of simmering the bones to extract the highest amount of nutrients. Instead, you can add 2 scoops of Naked Bone Broth to hot beverages for a savory treat that packs 20 grams of protein and improves overall health and wellness.
Increase Collagen Naturally
Bone broth is rich in the amino acids glycine and proline which are critical for your body to naturally produce collagen protein to support gut health and healthy skin, nails, and joints. As we age, our ability to produce collagen gradually slows down, which is often one of the factors behind joint health issues, digestive problems, and skin conditions. Drinking bone broth regularly will support your body with the nutrients it needs to increase collagen production at any age to improve health and appearance.
Support Muscle Growth and Recovery
Bone broth protein features a superior amino acid profile. It contains all the branched-chain amino acids (BCAAs) Leucine, Isoleucine, and Valine, that help muscle-protein synthesis to promote muscle growth and recovery after exercise.
Heal Your Gut
Increased intestinal permeability, also referred to as leaky gut, can allow toxins or partially digested food to penetrate through the gut barrier. This can trigger increased inflammation and cause a wide array of issues like digestive problems, loss of energy, along with a greater risk of chronic disease. Bone broth can improve the integrity of your intestinal lining which prevents any unwanted substances from entering your system during the digestion process.
Improve Sleep Quality
Bone broth is one of the best dietary sources of the amino acid glycine, which has been shown by research to reduce the time it takes to fall asleep when taken as a supplement. Glycine can also improve the quality of your rest. Regular bone broth consumption will increase your glycine levels to promote restful sleep which is critical for hormonal balance, muscle recovery, and energy levels throughout the day so you can get more done.
Nutrition Info
Serving Size
2 Scoops (22g)
Number of Servings
Approx. 20
How To Use
When: Add our bone broth powder to warm beverages, soups, or cooking recipes. Best used throughout the day or use between meals as a nutritious snack.
Blend: Mix two scoops into 8-12oz of water or your favorite hot beverage or recipe. Naked Bone Broth has a natural savory flavor.
Pair With: For an additional nutrition boost, use alongside Naked Collagen for extra joint health support, or use with Naked Fiber for improved digestive health.
Frequently Asked Questions
Beef bone broth is a nutrient-dense powerhouse which provides a variety of important health benefits. Bone broth supports joint health, promotes muscle growth, aids workout recovery, improves sleep quality, and also enhances gut health. Consuming bone broth on a daily basis has been linked to improved gut function, lean muscle gain, and extra joint protection. Boost your daily nutrition and support your general health by adding a bone broth supplement into your diet.
Naked Bone Broth only contains one ingredient - protein powder sourced from premium European beef bones. The bones are then processed in Sweden, where mechanical and thermal processes are used to maintain the nutritional profile.
You can enjoy bone broth at any time during the day and enjoy all the same health benefits. Taking bone broth in the morning can boost your mood and can help protect the lining of the stomach for the day ahead, whereas consuming bone broth before bed can promote better rest. However, there is no specific recommended time to consume bone broth - it is dependent on your own preferences.
Our bone broth powder has a natural savory flavor, so we recommend adding it to warm beverages or recipes. You can also add it to water or your other preferred beverages. Since Naked Bone Broth only contains one ingredient, we recommend using a shaker bottle or a blender to mix.
Naked Bone Broth is ideal for anybody who is looking to boost their protein intake or who simply wants to improve their dietary nutrition. Whether you're looking to improve joint and gut health, increase protein intake, or promote muscle growth, Naked Bone Broth provides the nutrition needed to maintain overall wellbeing. Naked Bone Broth is non-GMO, dairy-free, soy-free, and certified gluten-free. If you're looking for more dietary supplements, check out Naked Fiber or Naked Collagen.
See All Faq
Bone Broth Protein Powder | Naked Bone Broth - 1LB
Great! But, Hard To Mix.
This virtually tasteless bone broth protein could probably be mixed into anything and I'd bet you wouldn't taste it. I add Adobo seasoning to make it taste like chicken soup-ish and it's delicious. The one "drawback" is it gets sticky quick when mixing with plain water. I'm assuming it's all the collagen – which is awesome – but you get gluey globs. So mix quickly and vigorously. Easy way to get your protein without many calories or tasting it like candy.
Bone Broth Protein Powder | Naked Bone Broth - 1LB
Bone Broth Protein Powder | Naked Bone Broth - 1LB