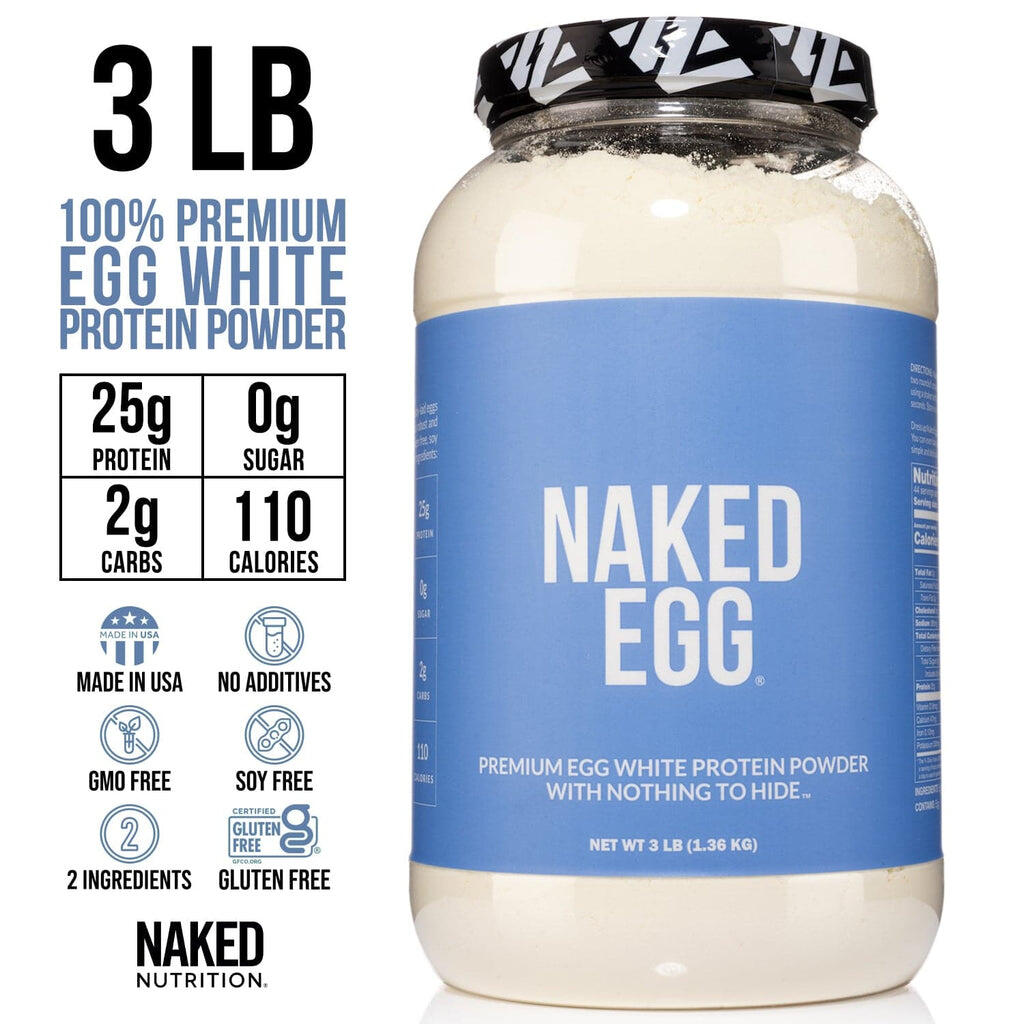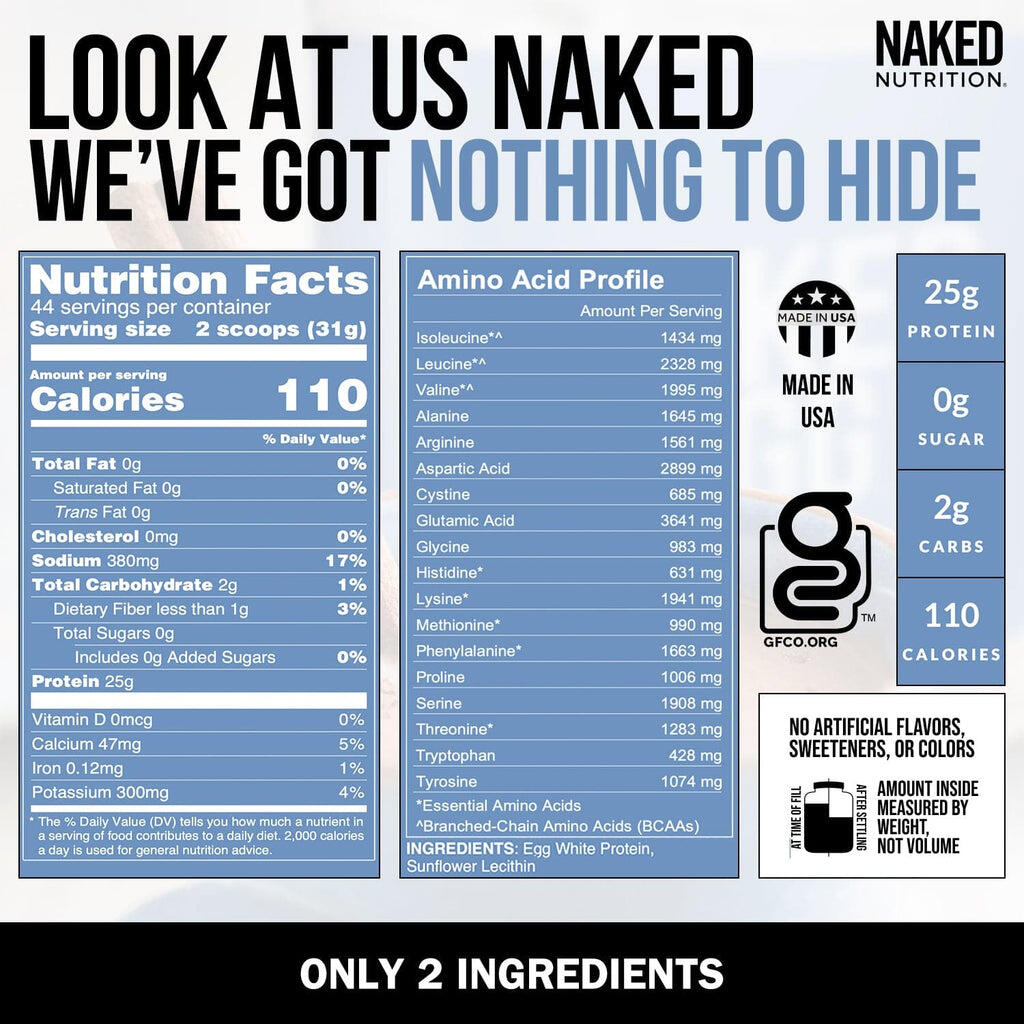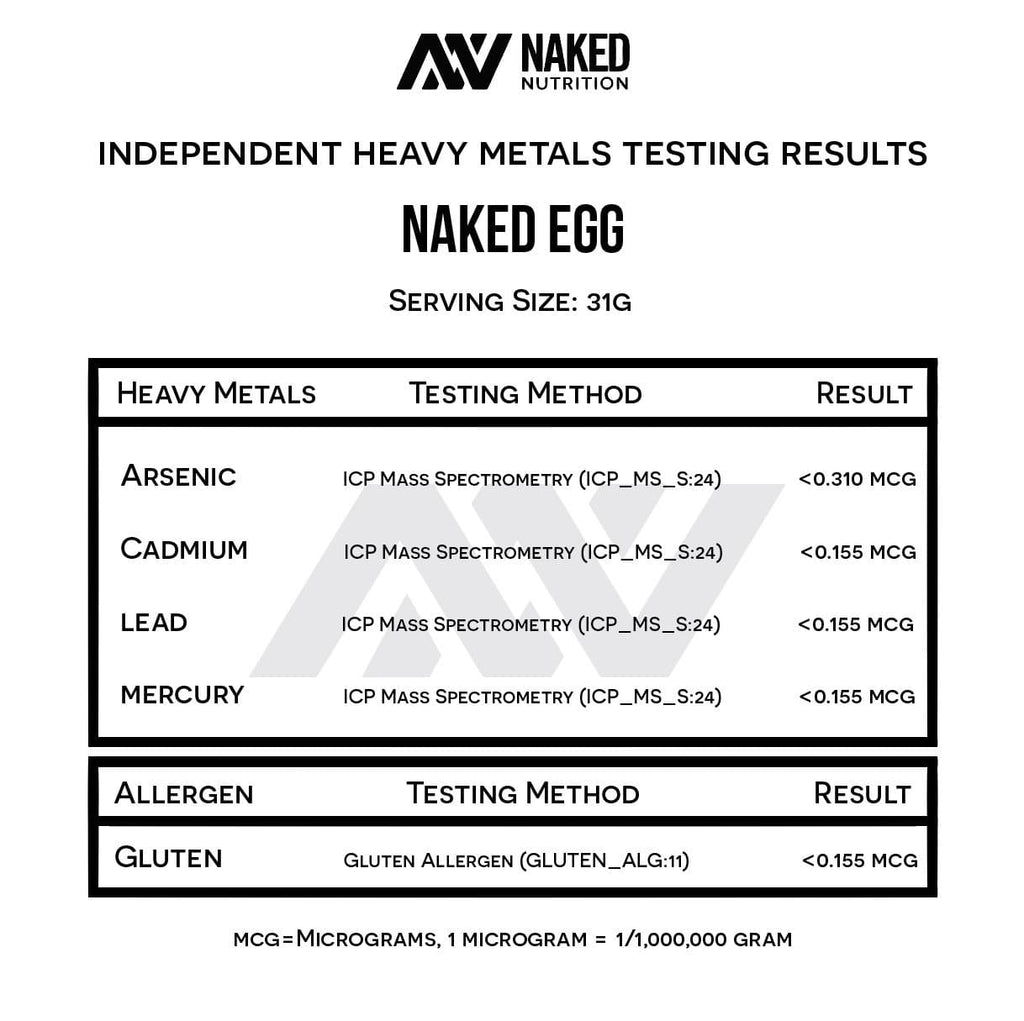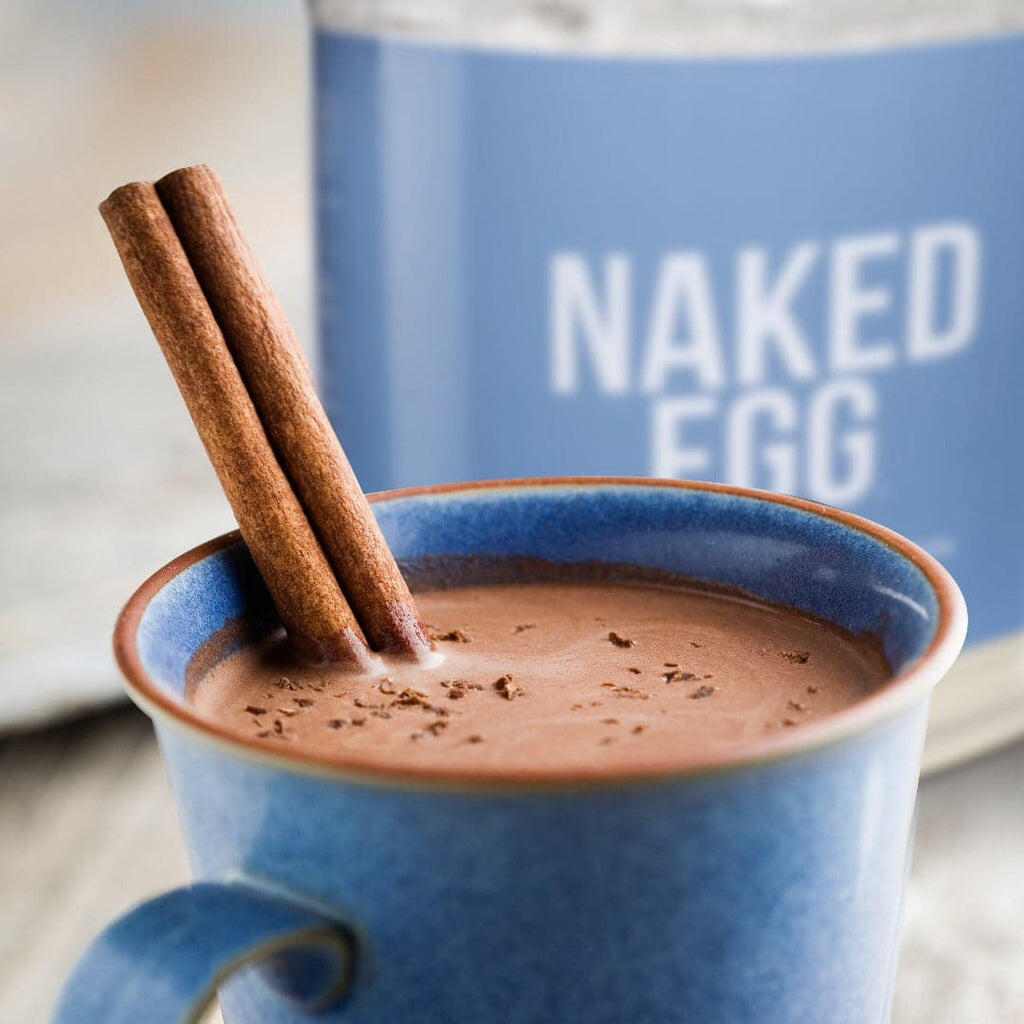 Egg White Protein Powder
Naked Egg contains egg white protein powder that comes from Non-GMO chicken eggs. Fresh eggs are processed into a powder in under one day to retain a complete amino acid profile to support lean muscle mass. Dairy-free.

No additives or artificial sweeteners. We are committed to shortening the steps between our farms and you. Don't let the supplement industry fool you; additives are for their bottom line, not your health.
The Naked Difference
Regular Egg White Protein
Non-GMO Eggs exclusively from US farms
No additives or artificial sweeteners
Additives present for mixing, color, and flavor
Quality
GMO Free

Keto Friendly

Soy Free
Benefits
Easy to Digest
Egg white protein powder is completely dairy free. If you're lactose intolerant, and you can't digest whey or casein protein, Naked Egg might be a suitable alternative for you¹.
Supports Lean Muscle Mass
Egg white protein in a complete protein, which means it contains all the essential amino acids necessary to build and preserve muscle mass². Naked Egg delivers 25 grams of protein and 5.8 grams of BCAAs in each serving. Fat-free and only 110 calories.
Nutrition Info
Serving Size
2 Scoops (31g)
Number of Servings
Approx. 44
Dietary Fiber:
Less Than 1g
How To Use
When: Add our egg protein to protein shakes and baking recipes. Best used before a workout, after a workout, or throughout the day.
Blend: Mix two scoops into 6-10oz of milk or another beverage. Add vegetables or other ingredients for taste as Naked Egg is unflavored.
Pair With: Add a scoop of Naked PB to your Naked Egg protein shakes for extra nutrition and a delicious peanut flavor.
Frequently Asked Questions
The eggs that we use to create our premium egg white powder are non-GMO and exclusively sourced from US farms. The eggs are then pasteurized and spray-dried, meaning the eggs are dried with hot air.
Our chickens are never given any growth hormones and are fed a non-GMO feed. Antibiotics are only used on the rare occasion when it's absolutely necessary to protect the health of the flock.
Naked Egg is an excellent egg substitute for baking recipes as the egg white protein powder reacts to heat in a similar manner to real eggs. Using Naked Egg in baking can also help reduce dietary cholesterol, as Naked Egg does not contain any cholesterol.
We add a very small amount of sunflower lecithin to Naked Egg to aid in solubility. However, the amount of sunflower lecithin in Naked Egg is less than 1%. We aim to keep our products as minimal as possible and maintain the highest amount of protein per serving, so the sunflower lecithin content is incredibly low.
Naked Egg is great for those without an egg allergy who are looking to gain muscle, maintain their weight, or lose weight. Our egg white protein powder is paleo-friendly and is a good alternative to traditional whey protein powder if you have a lactose or dairy sensitivity. This protein is also very versatile, so it can be used in traditional protein shakes or in baking. If you'd prefer a whey protein powder, take a look at our grass-fed Naked Whey.
See All Faq
Yup, winner
I love l their products, and I'm so happy I can get egg white powder unflavored. The ingredients couldn't be better. I add a scoop of the naked peanut butter and a couple teaspoons of monkfruit so it's not so plain, and yum!
I don't like it
It might be good for me but I don't care for it. It adds a bland taste to my smoothies and I don't want to order any more.
Use the product daily.
The company needs to allow costumers the ability to use their checking acct. for payments instead of making the credit/debit card companies rich.
Got sick
My body did not respond well to this protien but could just be me. Bloated and then very nauseous for about an hr or so after.
These eggs really work
i use this in my vanilla whey protein shake in the morning and i see the results...the taste is also good because it really doesnt have a taste to be honest...i will keep buying it ...has a good price