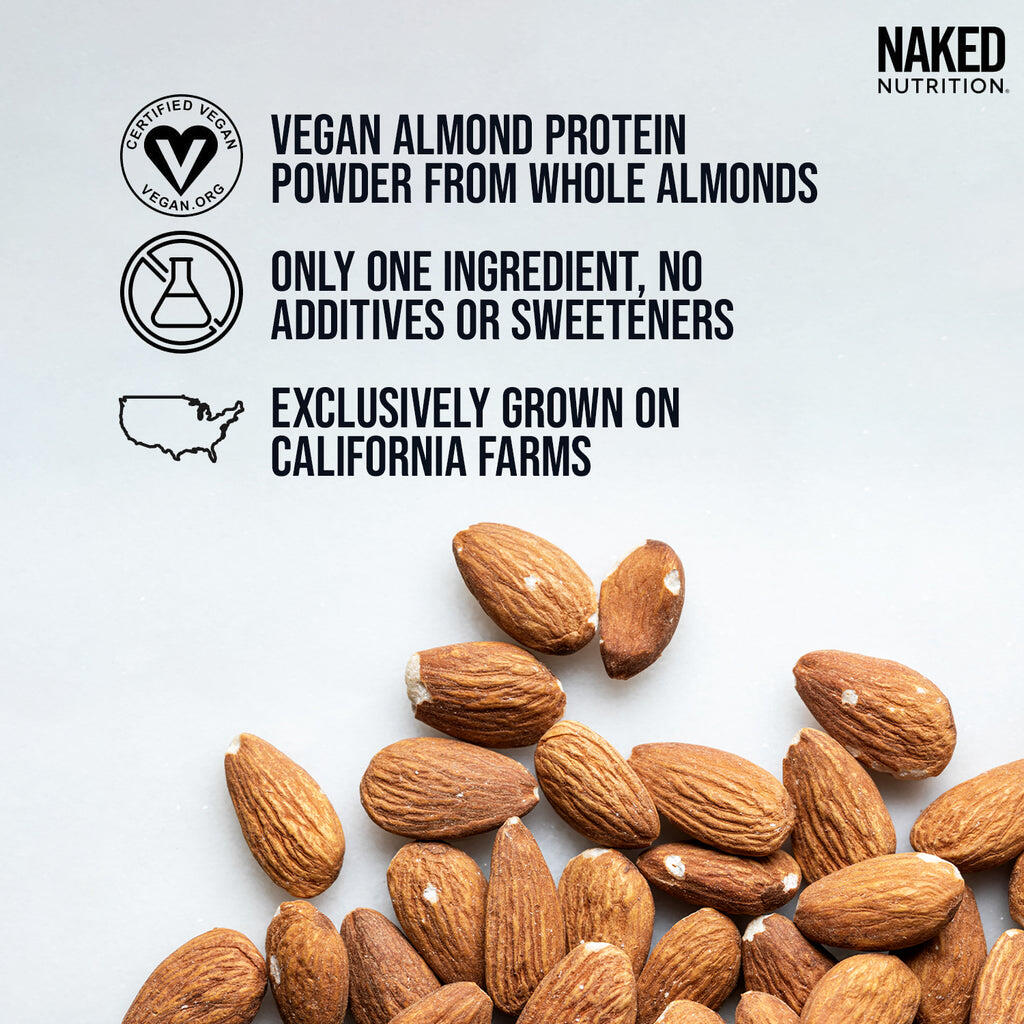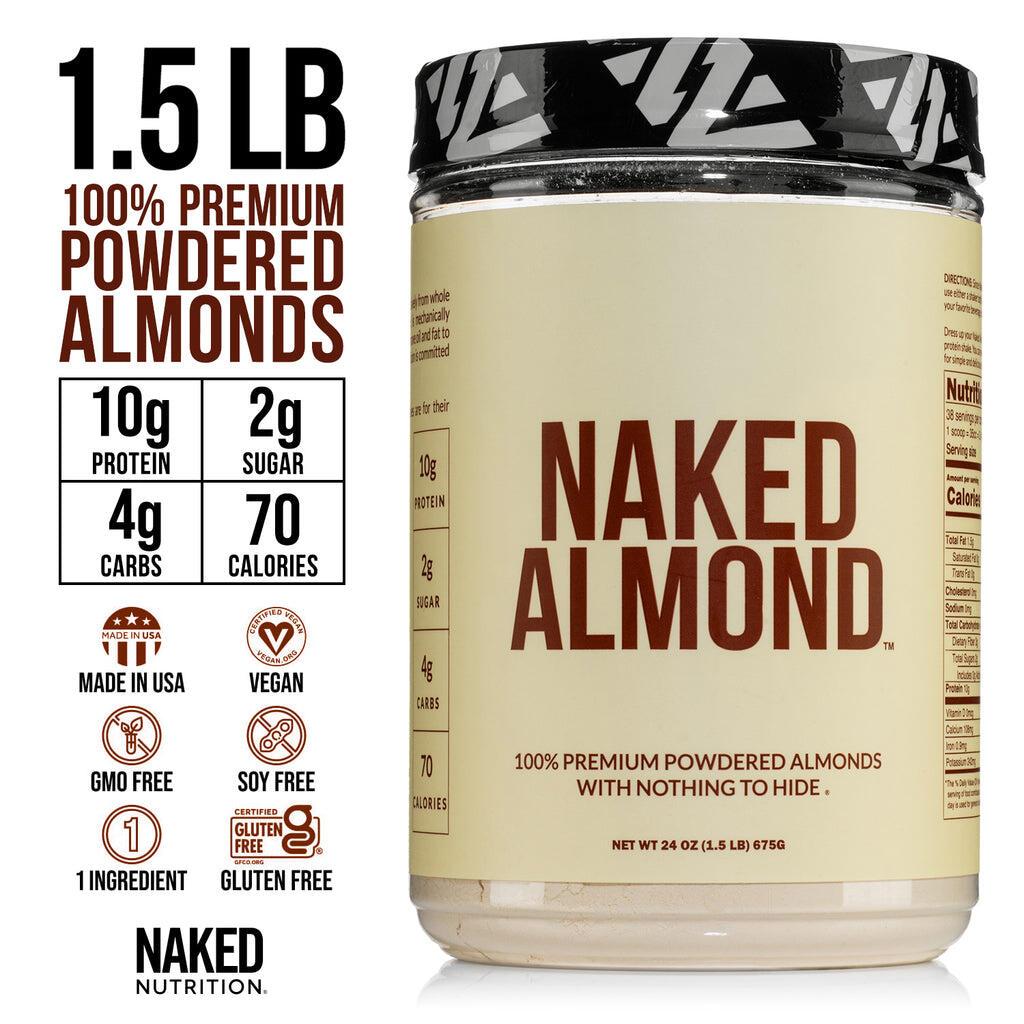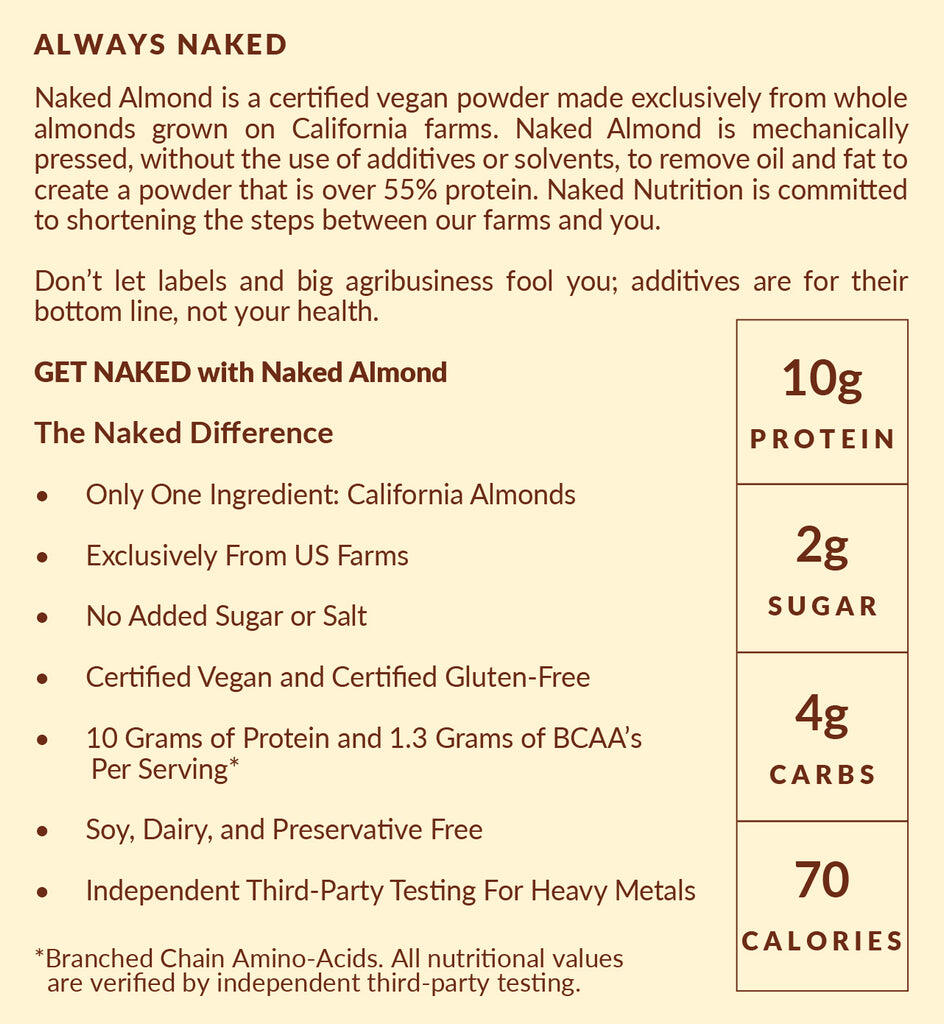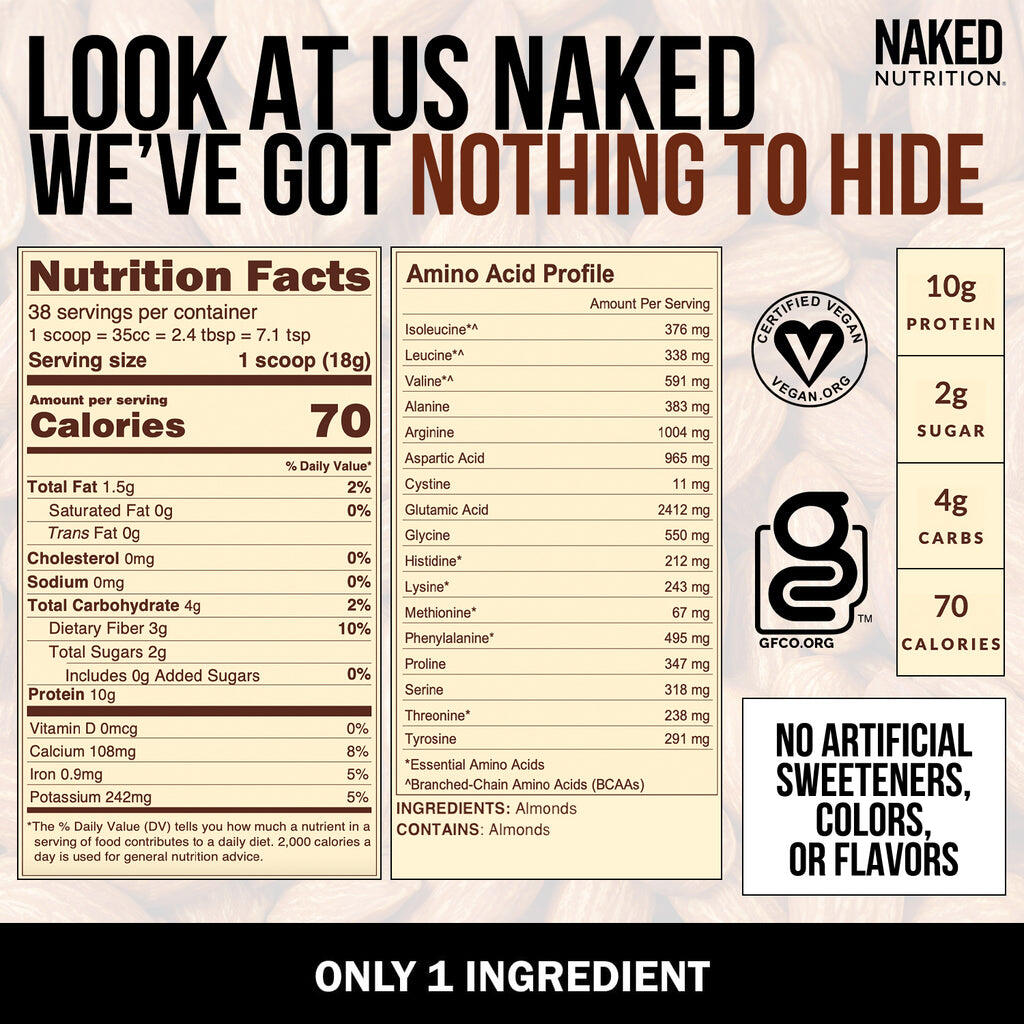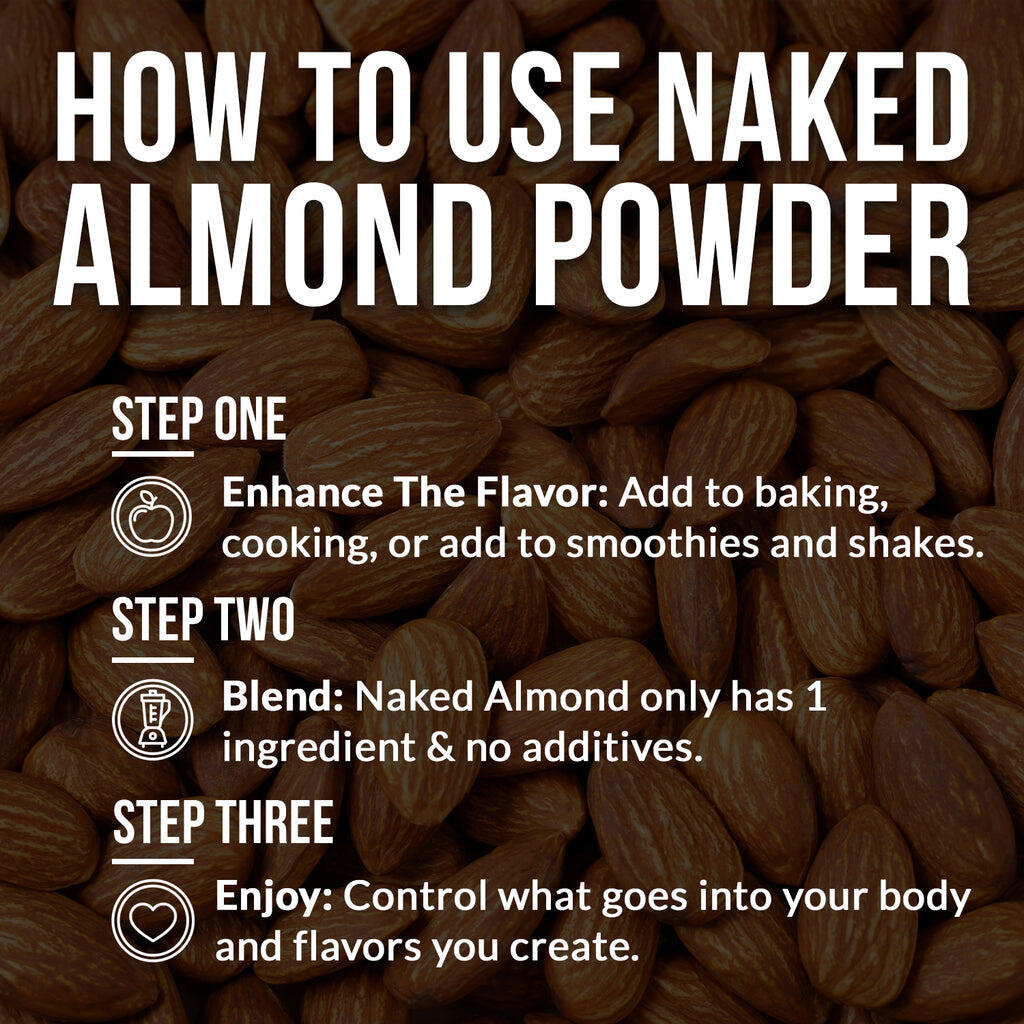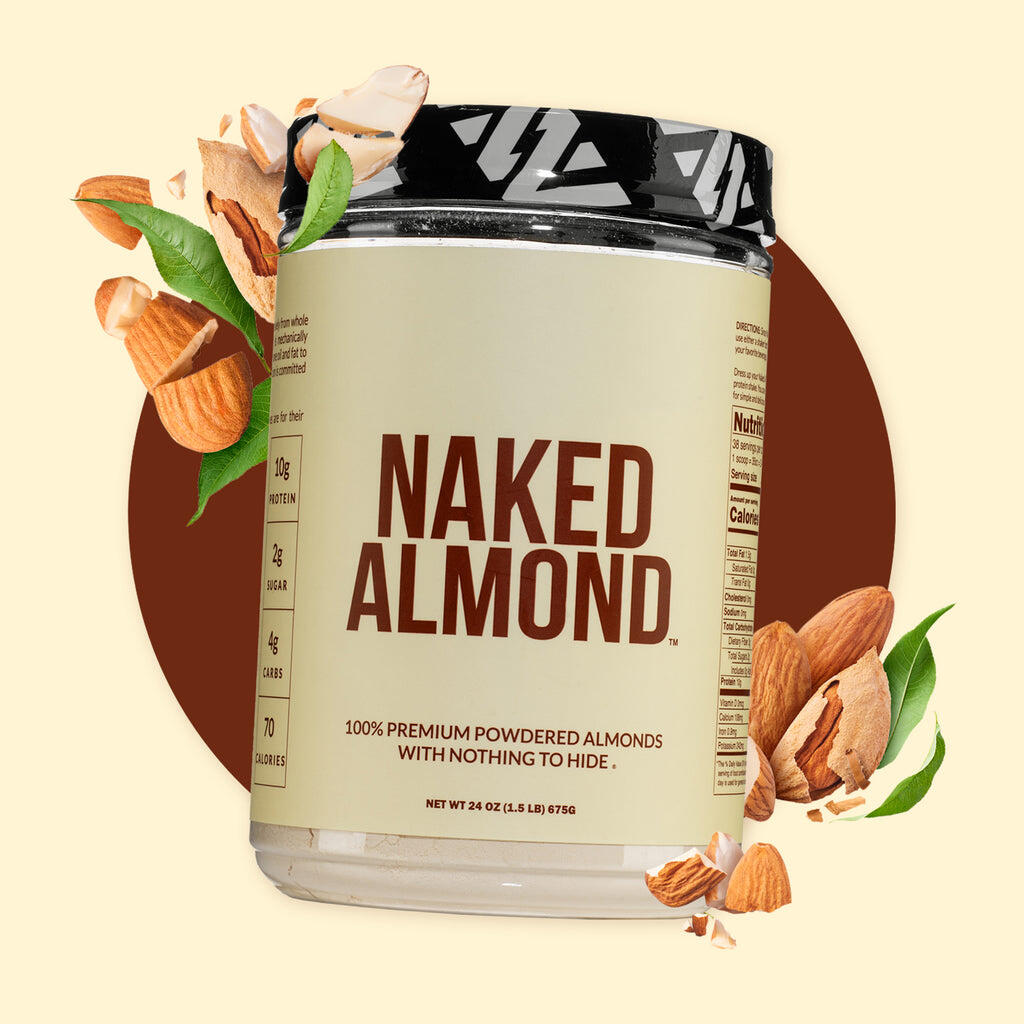 Powdered Almonds
Naked Almond - 1.5LB
Naked Almond has one ingredient: Certified vegan whole almonds exclusively from California farms. Naked Almond is over 55%... Read More
Download Free Guide
Free Shipping over $99. Estimated Delivery: Dec 09 - 11
The Naked Difference
Whole almonds from California farms
Added sugars and additives
Independent third-party tested
Claims not verified by third-party testing
Quality
Dairy Free

Only 1 Ingredient

Soy Free

Vegan
Benefits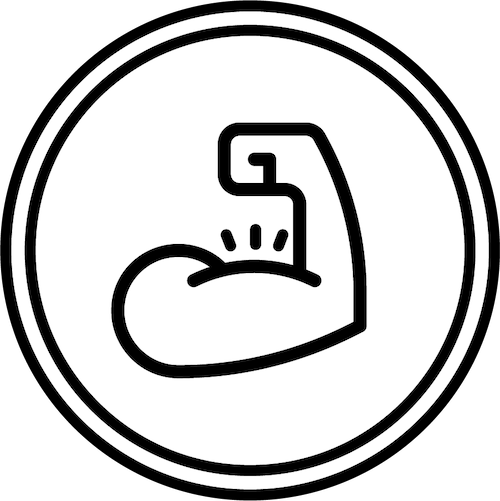 Active Lifestyle Support
Almond powder contains many of the nine essential amino acids, including all three branched chain amino acids (BCAAs), necessary for muscle growth and recovery. This makes almond powder an ideal ingredient to add to your daily diet to support performance, recovery, and an active lifestyle.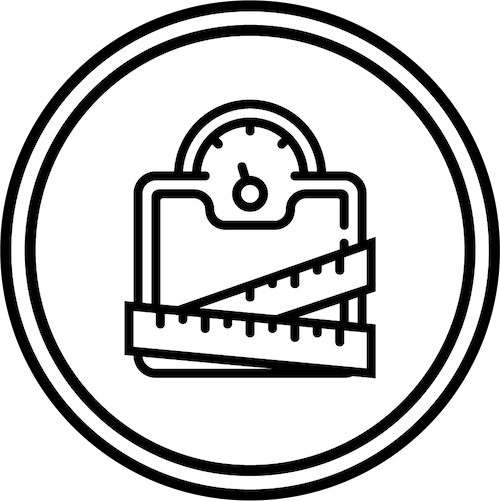 Manage a Healthy Weight
Naked Almond has only 70 calories and 2g of natural sugar in each serving. You also get more than 55% protein per serving to increase satiety, reduce cravings, and maintain steady energy levels. Increase protein intake and stay on track with your daily calorie goals.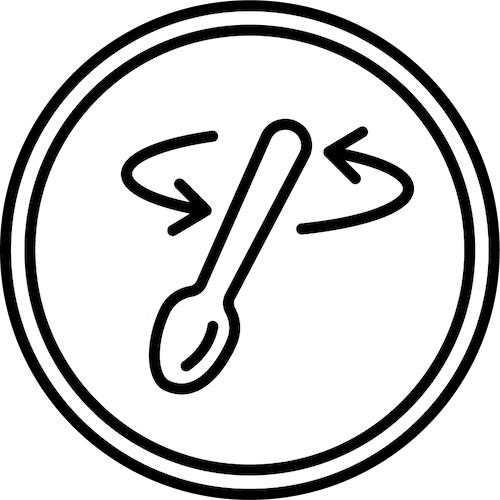 Boost Flavor and Texture
Mix Naked Almond easily with your favorite foods. Whether it's smoothies, protein shakes, or both sweet and savory baked dishes, Naked Almond can add a boost of flavor and texture to your snack. Enjoy the delicious and nutty flavor of almonds without the extra calories.
Nutrition Info
Serving Size
1 Scoop (18g)
Number of Servings
Approx. 38

How To Use
When: Add our almond powder to protein shakes, smoothies and baking recipes. Best used anytime throughout the day.
Blend: Mix one scoop into 6-10oz of a smoothie, shake or another beverage. Add other flavorful ingredients if you wish to create a specific taste.
Pair With: Combine with Naked Whey or Naked Pea to create the ideal, nutrition-packed protein shake to help you reach your goals.
Frequently Asked Questions
No! Naked Almond only contains one ingredient: whole almonds grown on California farms. That's it.
We do not use any additives or solvents in the processing of Naked Almond. Instead, the almonds are mechnically pressed to remove the fat and oil but maintain the protein content.
No, Naked Almond is designed as a high-protein, low-fat alternative to traditional almond butter. We recommend adding it to your favorite smoothies and shakes for a boost of protein and flavor!
Our almond powder undergoes independent third-party testing to ensure that it adheres to the safety standards set by the FDA. Naked Nutrition products are kept as pure as possible and are well under these limitations.
Naked Almond is ideal for anybody who is looking for a premium almond powder that is low-fat and high-protein. Naked Almond provides a true almond taste without all the additives and extras of commercial almond butter. We also offer Naked PB - a premium low-calorie, high-protein peanut butter powder.
See All Faq
Great product
No complaints. Great price and natural product
Not a fan
I wanted to like this powder but I just can't. Tried it in a protein shake and it just gave it a gritty texture and off taste. Tried it as a dip but there's an almost rancid flavor to it even after adding sweetener to it. Haven't tried baking with it yet but almost afraid to try.. Will not be buying this again