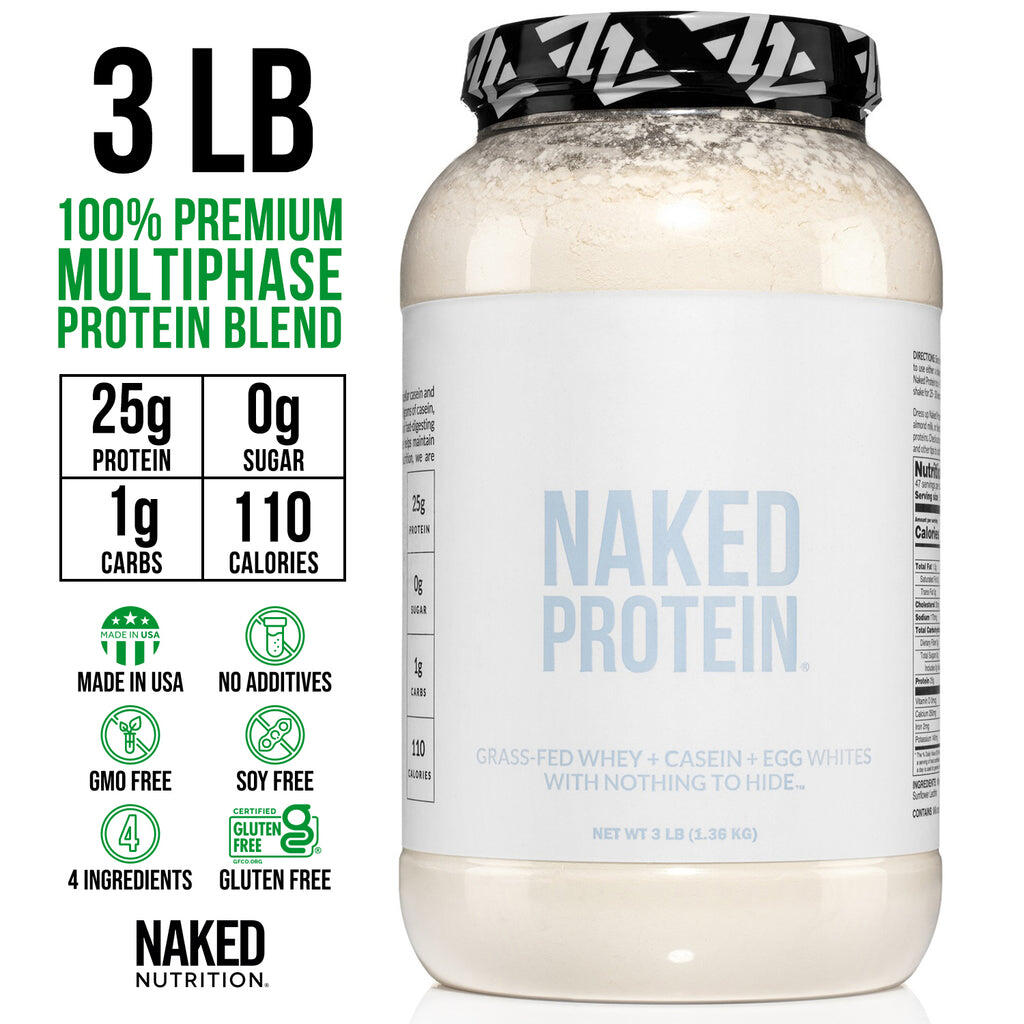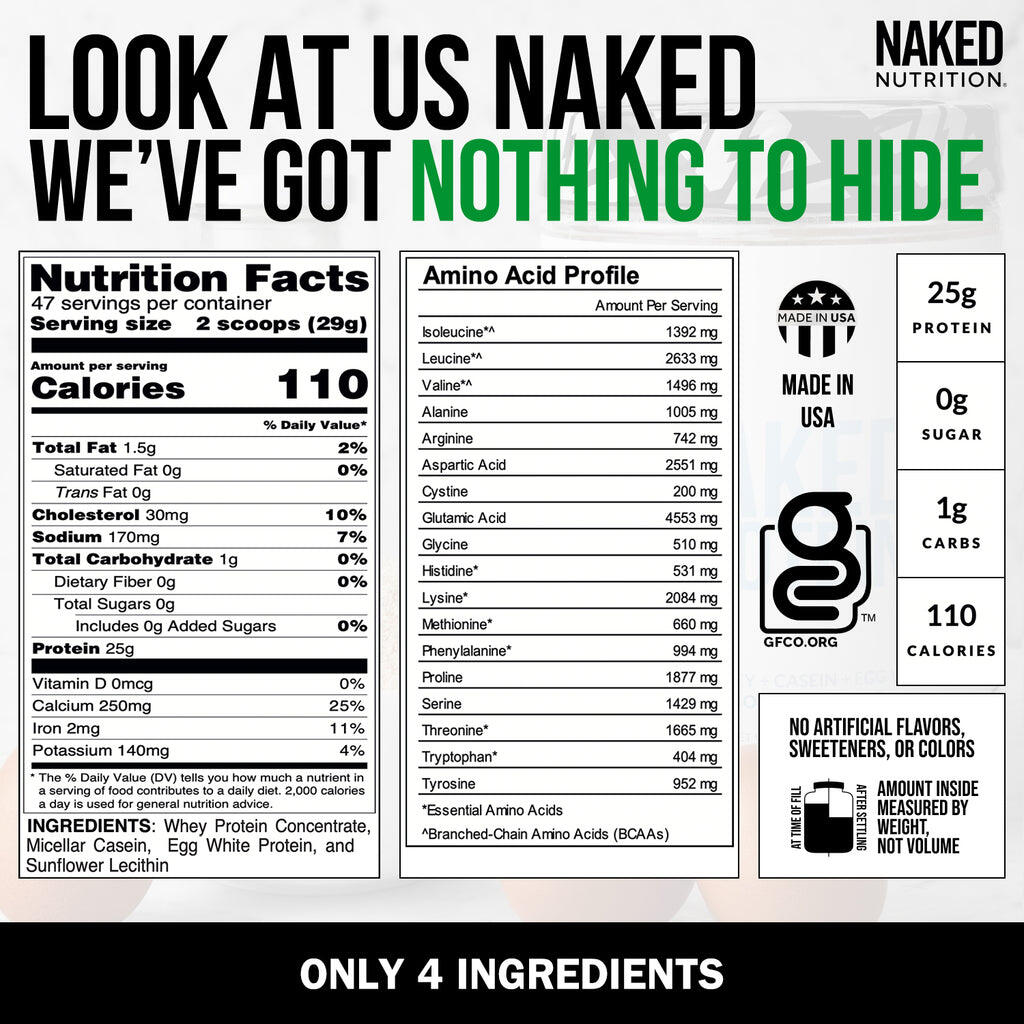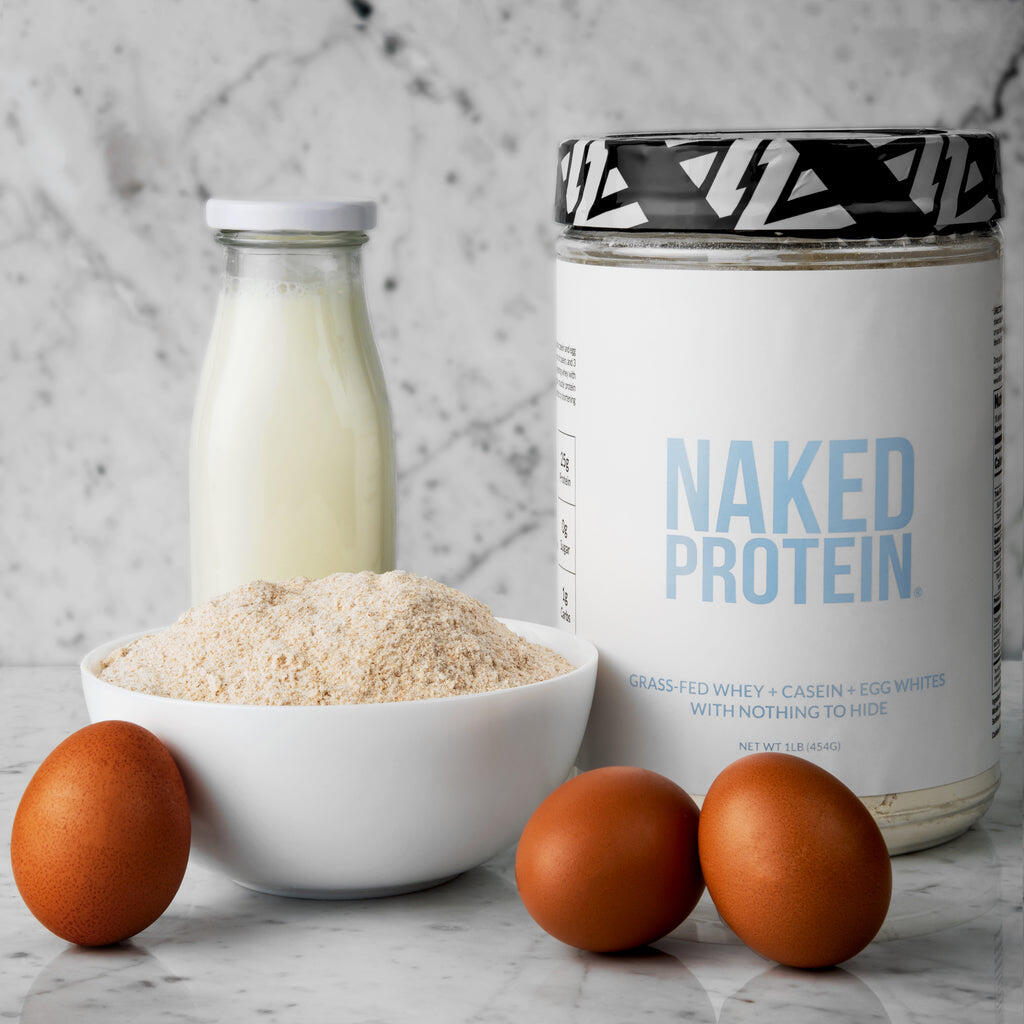 Protein Powder Blend - 3LB Egg, Whey & Casein Protein Blend
We have created the perfect blend of our grass-fed whey protein, micellar casein, and egg white protein powder. Each serving contains 18 grams of whey, 8 grams of casein, and 3 grams of egg whites. According to research, the combination of fast-digesting whey, slow-digesting casein, and medium-digesting egg whites helps maintain muscle protein synthesis longer than whey alone.

No additives or artificial sweeteners. Don't let the supplement industry fool you; additives are for their bottom line, not your health.
Free Shipping over $99. Estimated Delivery: Dec 08 - 10
Benefits
Multi-Phase Protein
Naked Protein Blend contains whey protein which is fast-digesting, egg-white protein which is medium-digesting, and casein protein which is slow-digesting. The result is that you get a sustained release of amino acids for several hours after a workout to support muscle growth and recovery.
Nutrition Info
Serving Size
2 Scoops (29g)
Number of Servings
Approx. 47
The Naked Difference
No additives or artificial sweeteners
Growth hormones in protein
How To Use
When: Add our protein blend protein powder to protein shakes, smoothies, and baking. Best used in the morning, before or after a workout, or before bed.
Blend: Mix two scoops into 6-10oz of water, milk, or your preferred beverage. Add fruits and vegetables for taste as Naked Protein is unflavored.
Pair With: Combine with Naked Creatine for a workout protein shake that will support muscle building, decrease recovery time, and promote protein synthesis.
Frequently Asked Questions
A complex protein powder is typically seen as a powder that has multiple protein sources or types. As Naked Protein contains whey protein, casein protein, and egg white protein, it is known as a complex protein. We have specifically chosen these protein types as this combination is shown to help maintain muscle protein synthesis for longer time periods.
As we focus on making sure that our products are as clean and as pure as possible, we only add a minimal amount of sunflower lecithin to aid solubility. By only adding a small amount, we're able to ensure that the protein per serving is as high as it can be.
Naked Protein has been designed to provide fast-digesting, medium-digesting, and slow-digesting protein which maintains protein synthesis for a longer amount of time. While this is great for working out and building muscle, Naked Protein is still an excellent source of quality protein if you don't workout. Our protein blend can help you reach your daily protein intake while also providing energy, satiation, and keeping you feeling your best.
This product is great for anybody without a lactose or dairy sensitivity who is looking to increase their protein intake. Naked Protein contains a combination of high-quality, premium proteins that digest at different rates so that your body is provided with a steady stream of nutrition. This aids lean muscle gain and protein synthesis while also keeping you satiated, energized, and feeling great. If you're looking for a vegan protein powder, we also offer Naked Pea and Naked Rice.
See All Faq
Blends easily and almost has no flavor
Blends easily and almost has no flavor
Nice Blend
I like the fact that three forms of protein are blended here to result in a one mix that balances the advantages of each into one unit! Tastes good also.
Just like me in the shower
Naked and clean. This product, so far to the best of my knowledge and expertise, is one of the cleanest, purest and simplest blends out there. There are some good Whey-Casein blends but very few include egg white. Being flavorless is another point. Still tastes fine, mixes very well and gives you peace of mind that you're not increasing your Sucralose, carrageenan or Acesulfame-k intake.
For folks like me, looking for just the bare essentials, this is as close to the Holy Grail as we can get.
Love this blend!
This blend works so well for short and long acting recovery. I love that I can blend in anything to make it sweet or savory. It's so challenging to find quality unflavored protein and this is the perfect product.