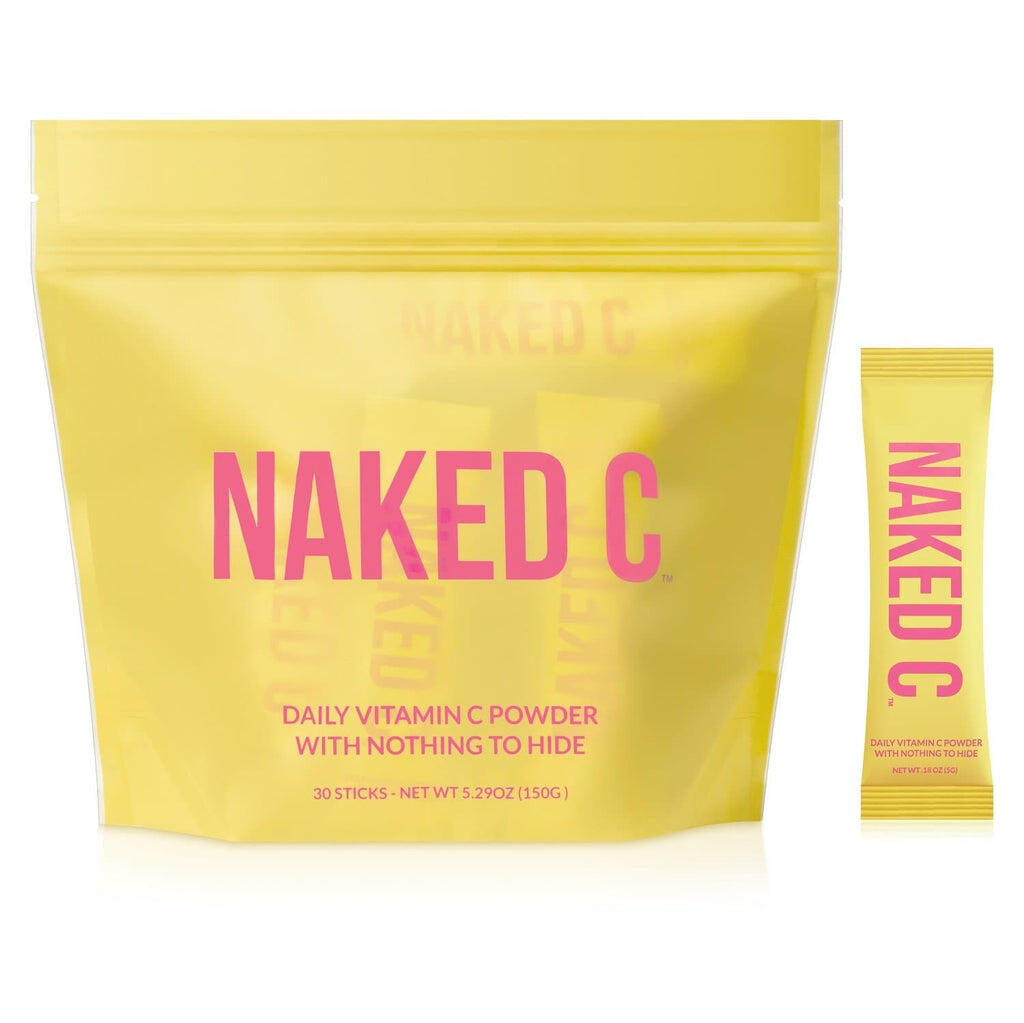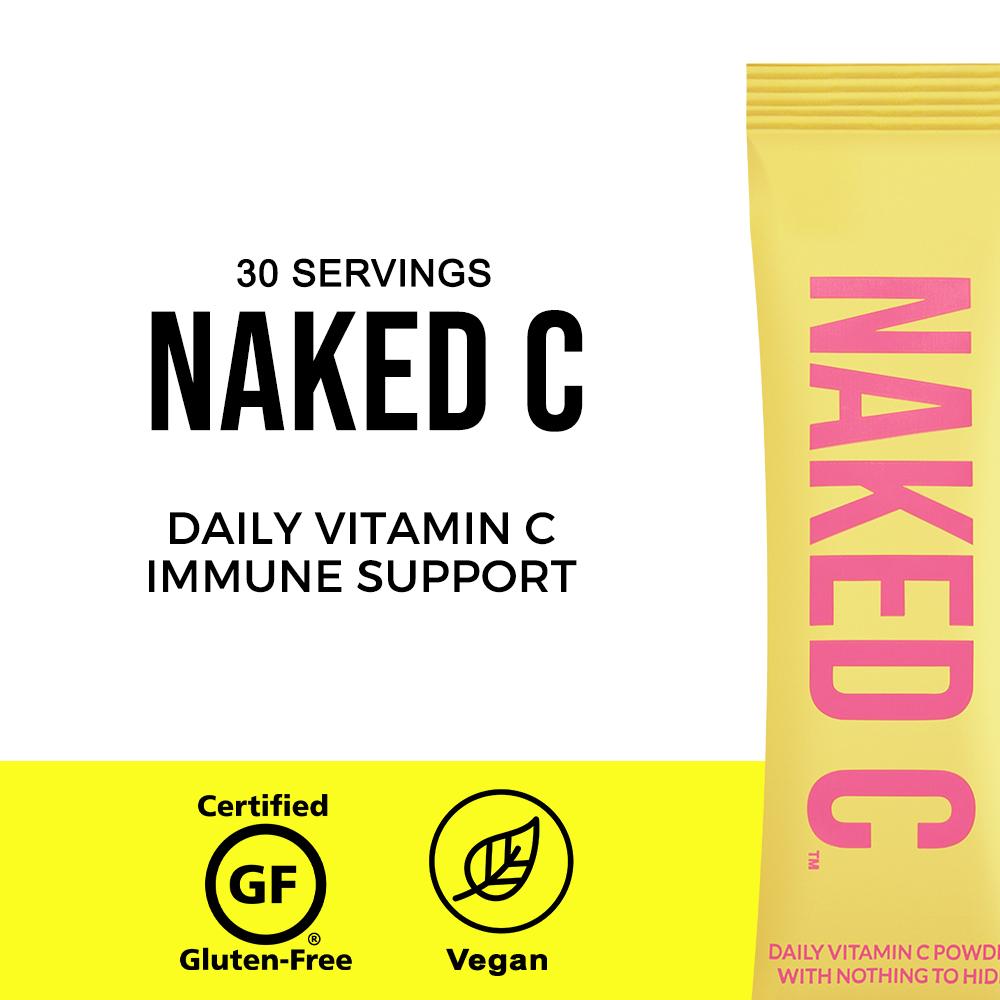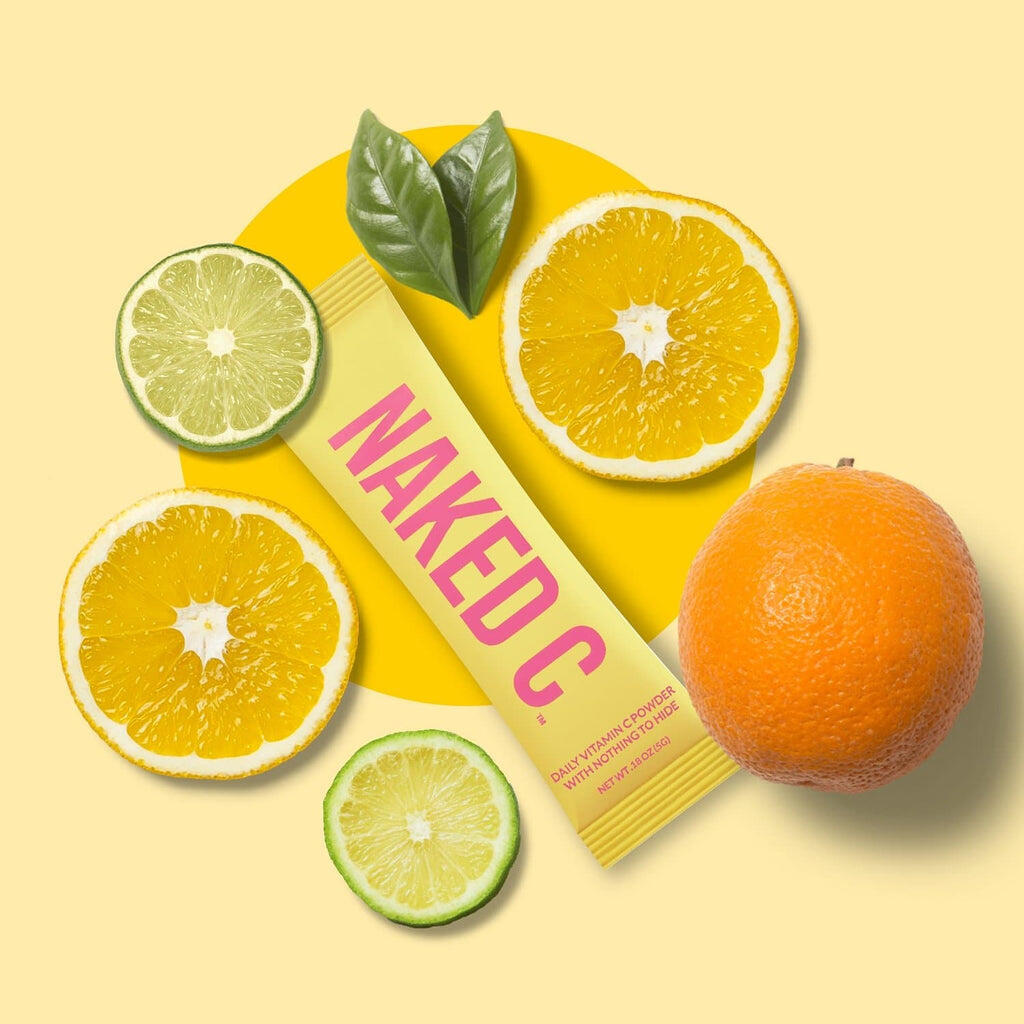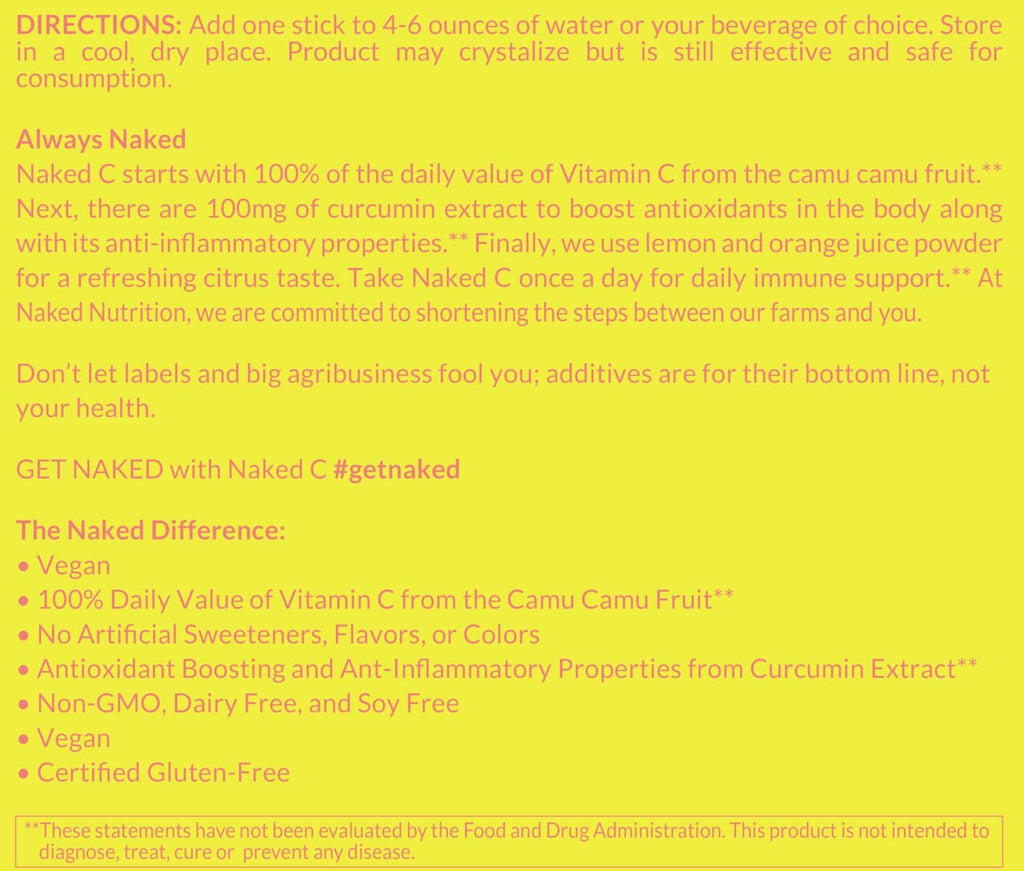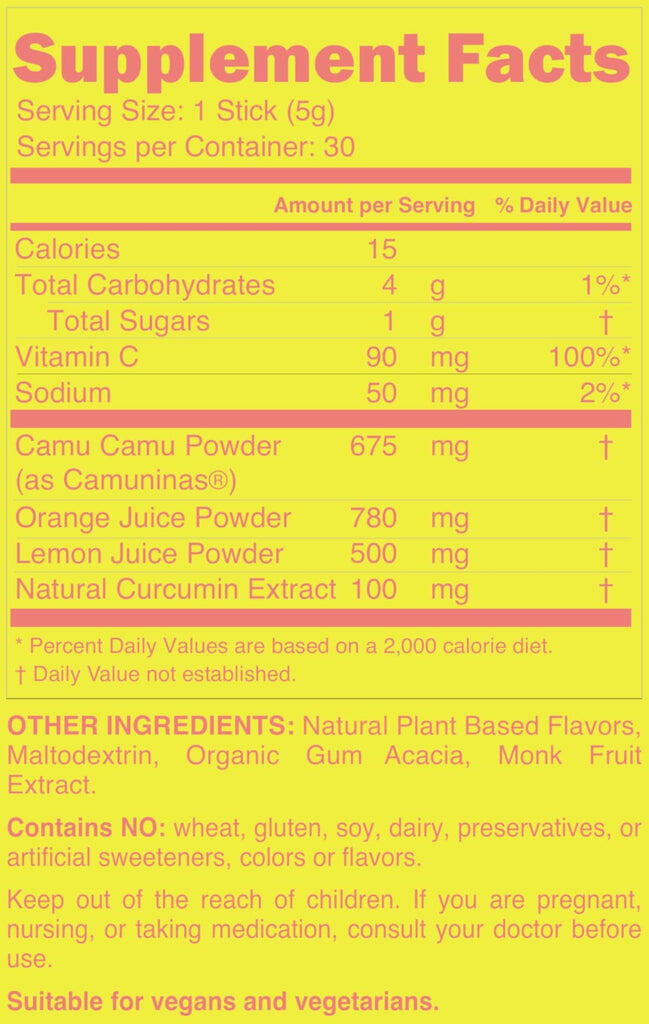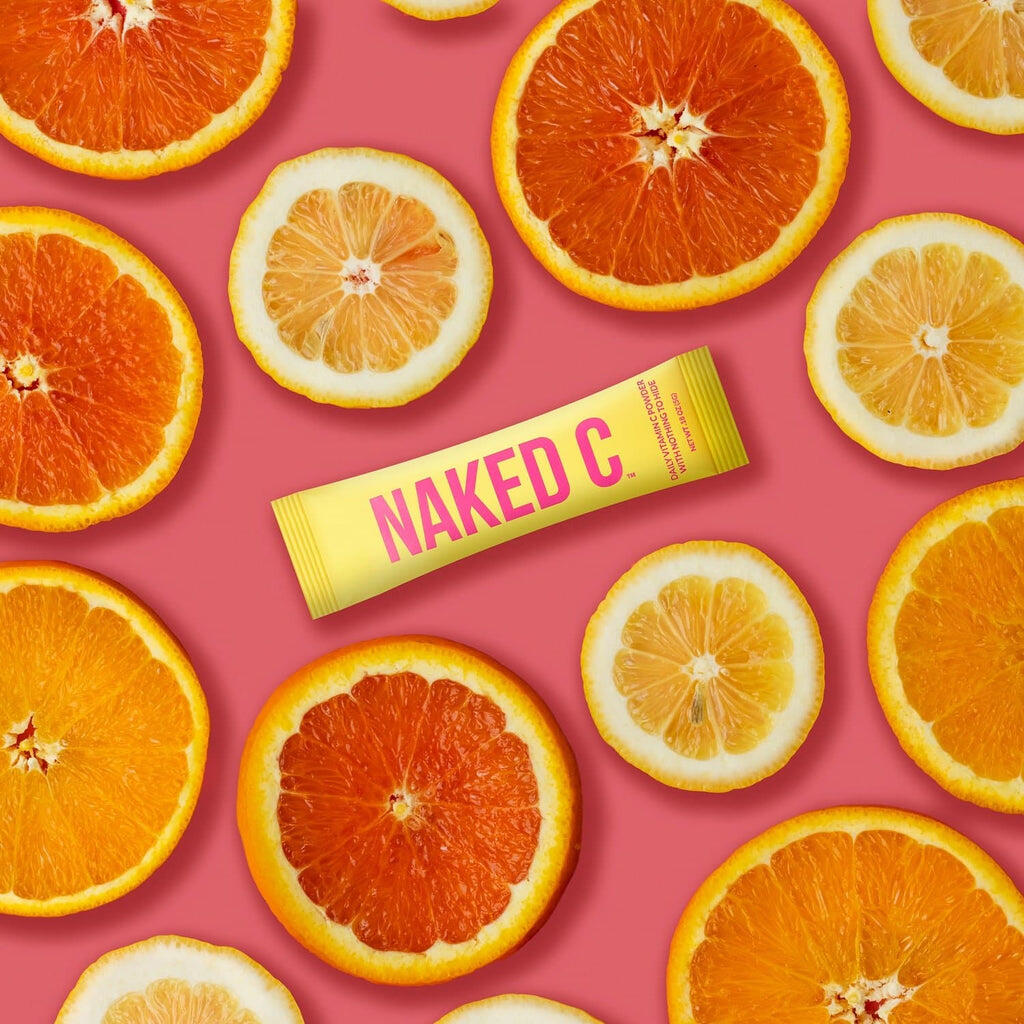 Vitamin C Packets
Naked C starts with 100% of the daily value of Vitamin C from the camu camu fruit. Next, there is 100mg of curcumin extract to boost antioxidants in the body along with its anti-inflammatory properties. Finally, we use lemon and orange juice powder for a refreshing citrus taste. Take Naked C once a day for daily immune support.
At Naked Nutrition, we are committed to shortening the steps between our farms and you. Don't let labels and big agribusiness fool you; additives are for their bottom line, not your health.
Quality
Dairy Free

GMO Free

Soy Free

Vegan
Benefits
Anti-Inflammatory Superfoods
Inflammation is a natural immune system function that is a part of the healing process after infection or injury. But chronic inflammation due to an overactive immune system can contribute to a variety of health conditions. Naked C contains camu camu fruit, a superfood from the Amazon rainforest, and curcumin extract, both of which are packed with anti-inflammatory properties that help maintain a balanced immune function to keep you feeling well and healthy.
100% Daily Vitamin C
When your system is under attack from viruses and free radicals, they damage healthy cells in your body, and that's why you feel run down. Vitamin C is one of the most potent antioxidants that crush harmful free radicals and support cellular integrity. With each serving of Naked C, you get 100% of your daily vitamin C to boost immunity and help fight off the bad stuff.
All-Natural Citrus Taste
Contains ONLY the premium ingredients you need to support your health. Only 1 gram of sugar from natural plant sources. No artificial sweeteners, additives, or colors. Real lemon and orange juice powder for a refreshing citrus taste.
Nutrition Info
Serving Size
1 Stick (5g)
Number of Servings
30 Sticks
Orange Juice Powder:
780mg
Lemon Juice Powder:
500mg
Natural Curcumin Extract:
100mg
The Naked Difference
Vitamin C from superfood camu camu fruit
Generic vitamin C supplement
Curcumin, natural plant-based flavors. No artificial additives
Loaded with artificial additives, colors, and sweeteners
How To Use
When: Add our vitamin C powder to water, sports drinks, and smoothies. Best used in the morning before breakfast for maximum absorption.
Blend: Mix one stick into 4-6oz of water, your favorite sports drink, or another preferred beverage.
Pair With: Use with Naked BCAAs for a nutrition-packed drink that will help reduce muscle fatigue, support your health, and maintain lean muscle mass.
Frequently Asked Questions
Naked C contains both vitamin C and curcumin extract. Vitamin C aids immune defense by supporting cellular functions within the immune system, which is why it's known as an immune system booster. Curcumin is a potent antioxidant which supports overall health with its anti-inflammatory properties. Taking Naked C on a daily basis provides the nutrition your body needs to maintain the health of your immune system.
We recommend only taking one serving of Naked C per day. One serving of Naked C contains 90mg of vitamin C, which is the recommended daily intake for a healthy adult. Your daily intake of vitamin C should not exceed the upper limit of 2,000mg.
This is dependent on the products, and we always recommend talking to your physician. Before taking Naked C with other dietary or workout supplements, check that the total vitamin C content does not exceed 2,000mg. Generally, you can take Naked C with other supplements as long as your vitamin C intake stays below the upper limit (2,000mg). Consult with your physician beforehand as certain antacids, nitrate medications, and blood thinners may interact with supplemental vitamin C.
We recommend storing Naked C in a cool, dry place where it is not exposed to direct sunlight. In certain conditions, the product may crystalize but it is still effective and safe for use.
Naked C is ideal for anybody looking to manage and prioritize their vitamin C intake. Our daily vitamin C powder is formulated with only the purest ingredients, making it easy to add more quality nutrition into your diet. Naked C is GMO-free, gluten-free, soy-free, and vegan, so it's suitable for nearly all diets. If you're looking for more dietary supplements, check out Naked Greens.
See All Faq