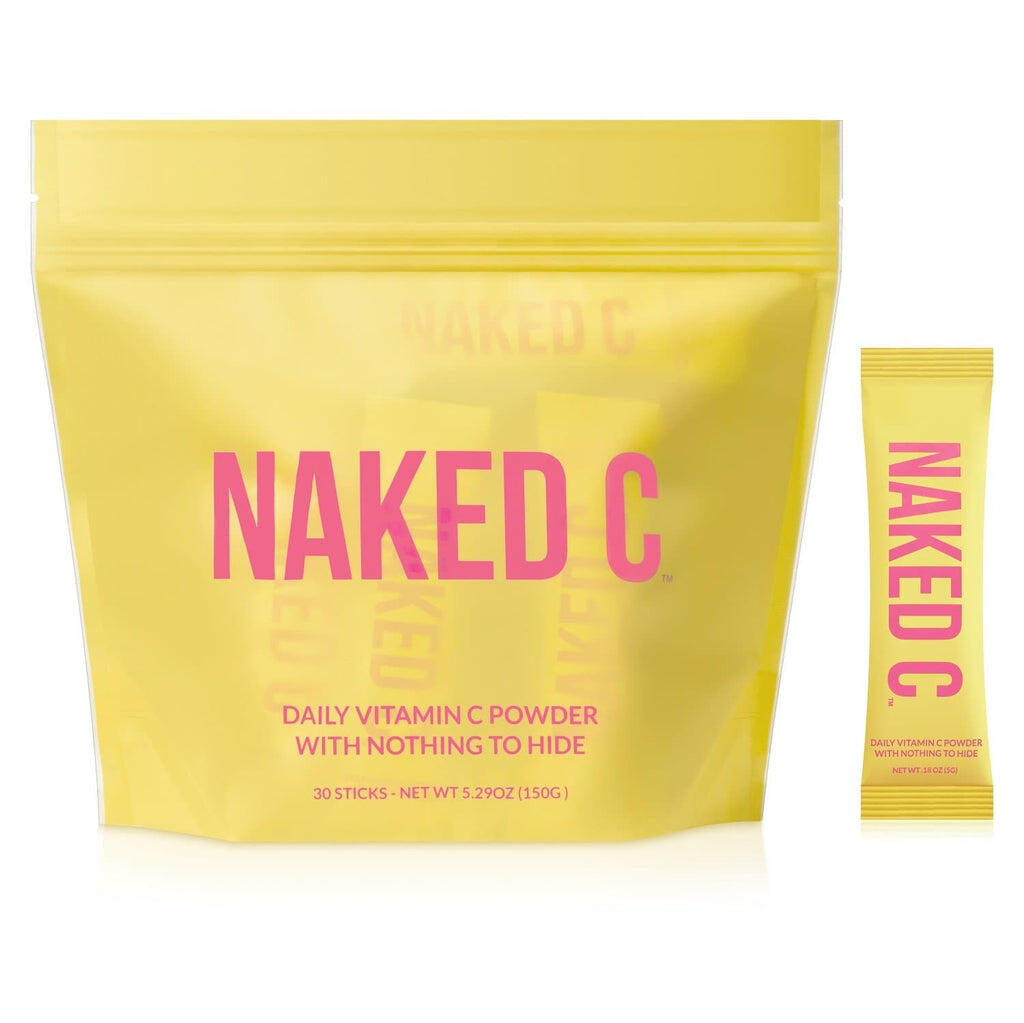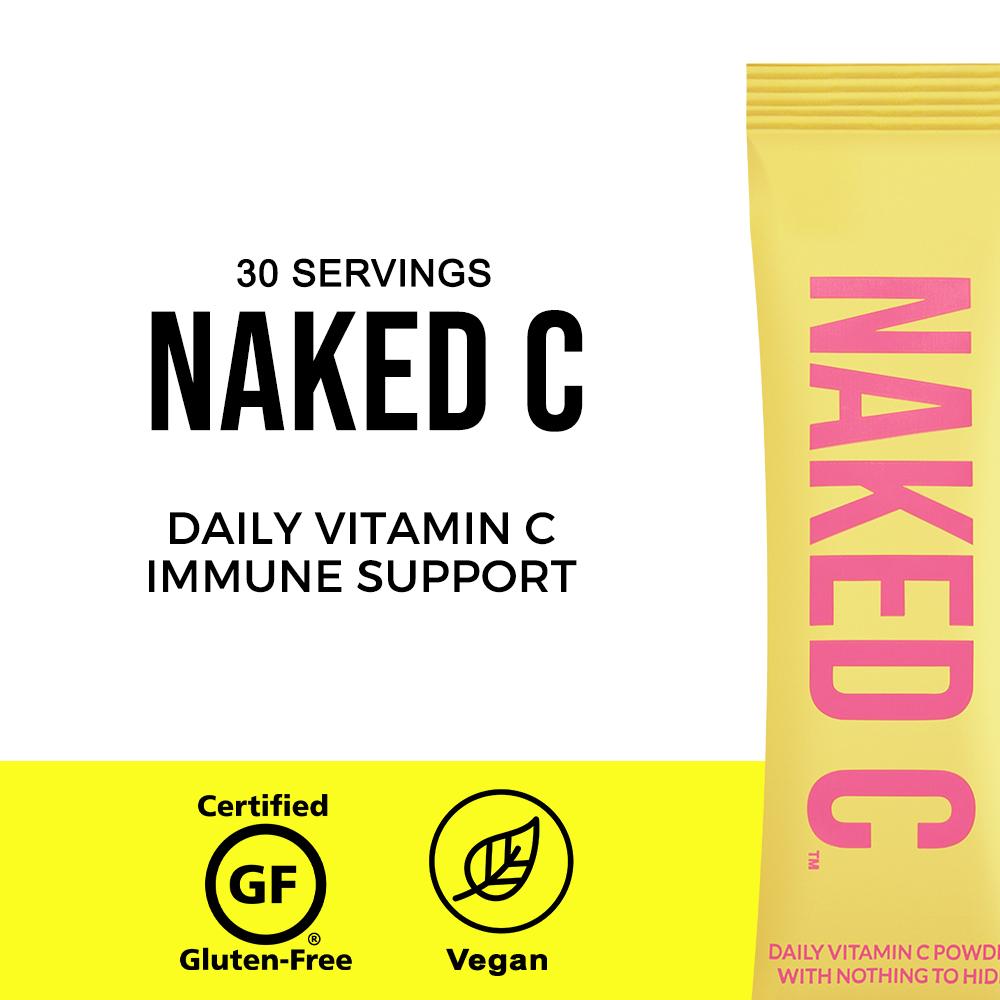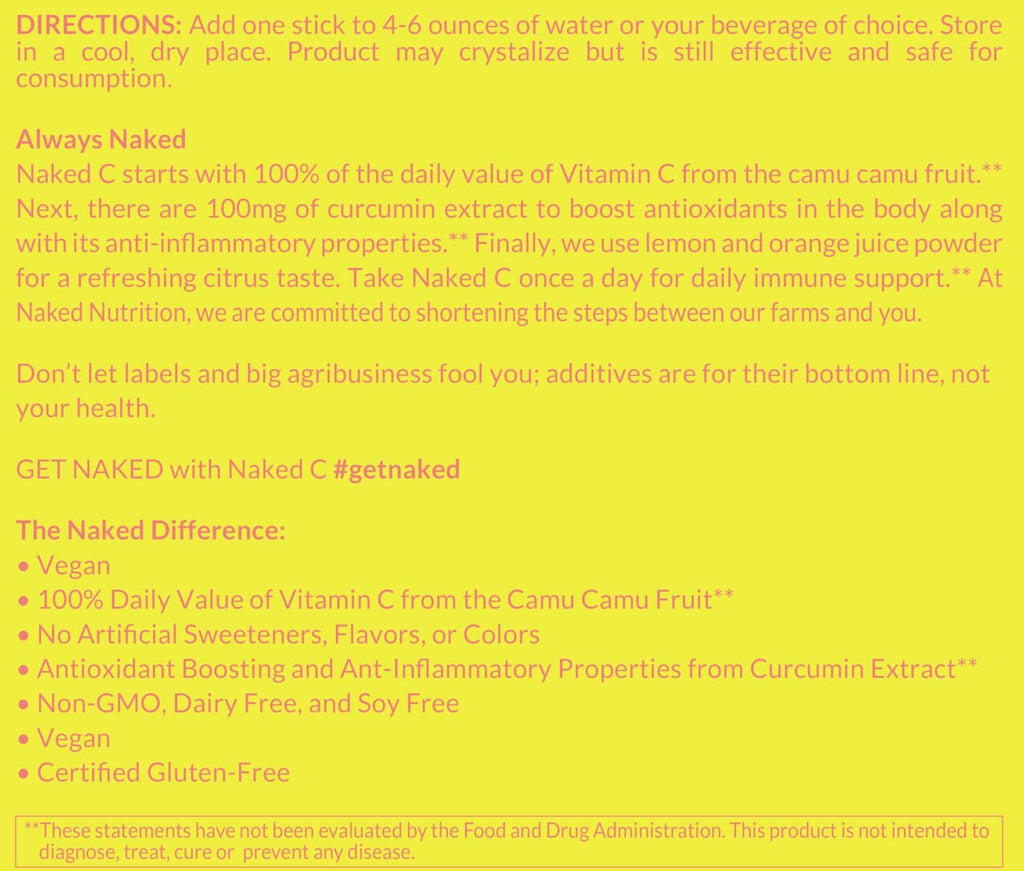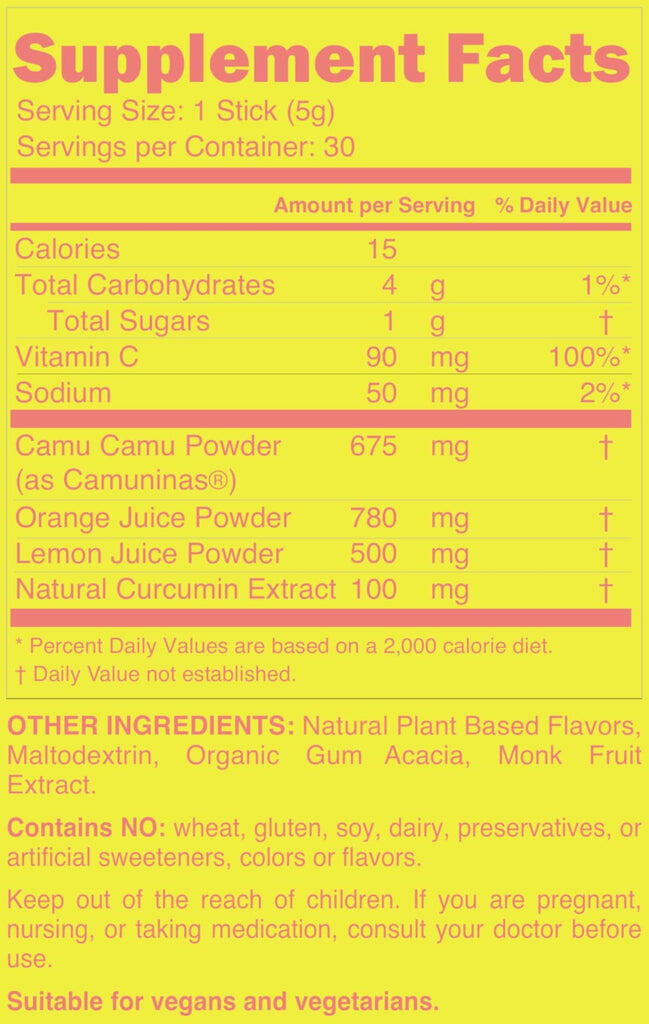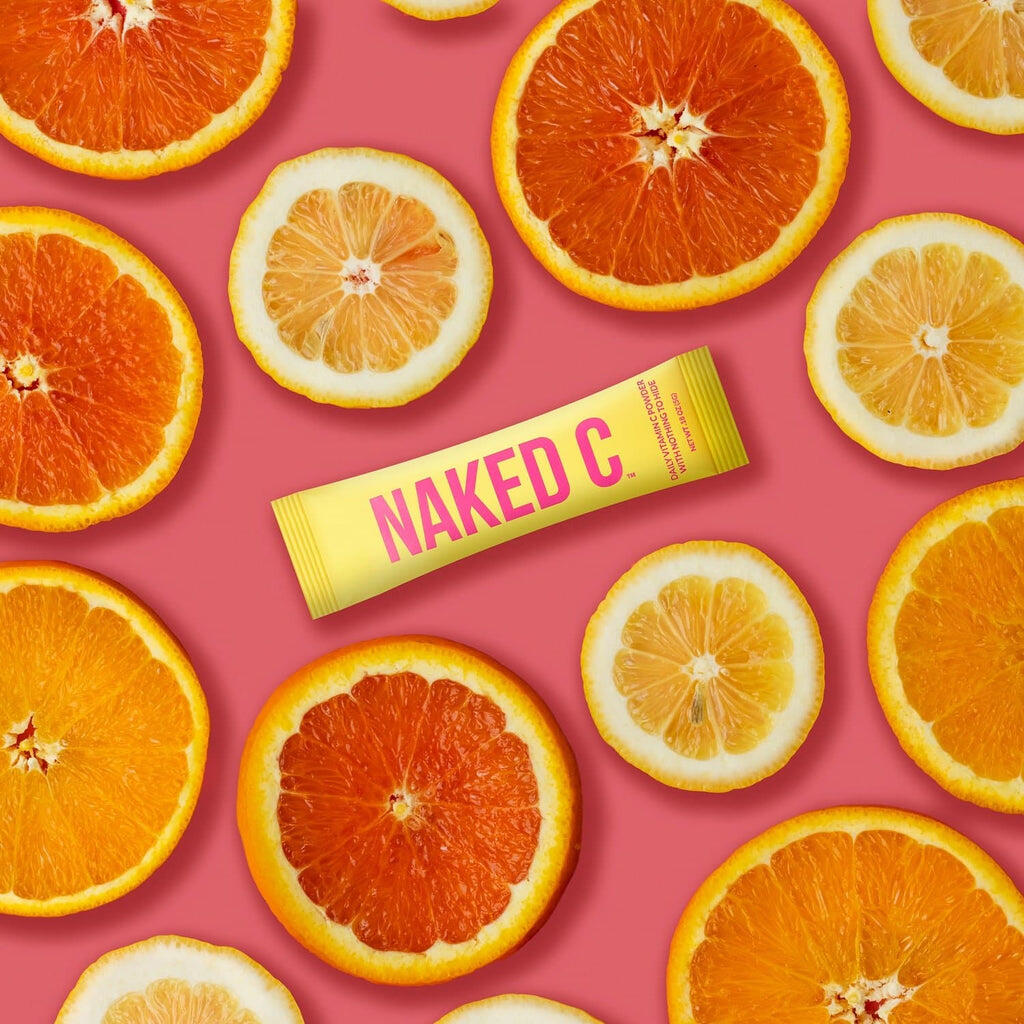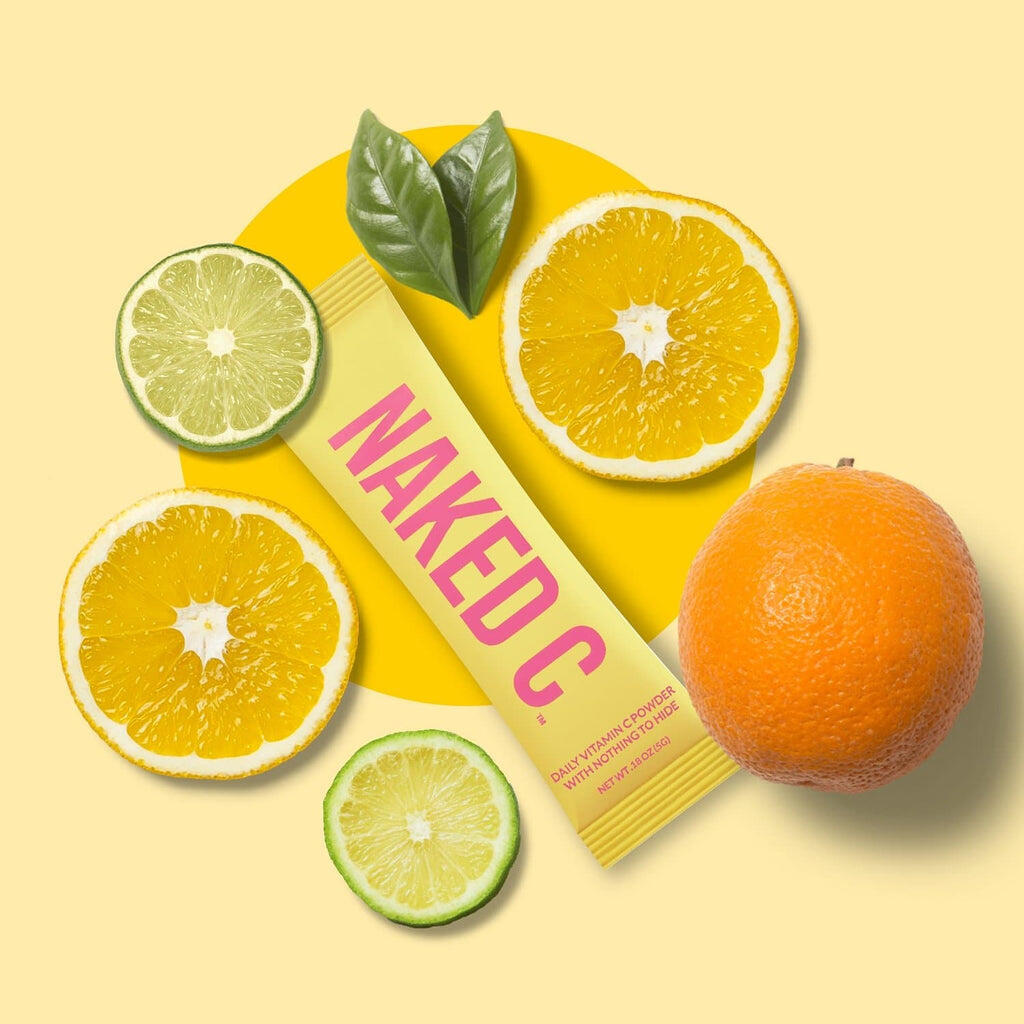 Vitamin C Packets
Naked C starts with 100% of the daily value of Vitamin C from the camu camu fruit. Next, there is 100mg of curcumin extract to boost antioxidants in the body along with its anti-inflammatory properties. Finally, we use lemon and orange juice powder for a refreshing citrus taste. Take Naked C once a day for daily immune support.
At Naked Nutrition, we are committed to shortening the steps between our farms and you. Don't let labels and big agribusiness fool you; additives are for their bottom line, not your health.
Estimated Delivery: Dec 07 - 09
Free Shipping over $49
Quality
Dairy Free

GMO Free

Soy Free

Vegan
Benefits
Anti-Inflammatory Superfoods
Inflammation is a natural immune system function that is a part of the healing process after infection or injury. But chronic inflammation due to an overactive immune system can contribute to a variety of health conditions. Naked C contains camu camu fruit, a superfood from the Amazon rainforest, and curcumin extract, both of which are packed with anti-inflammatory properties that help maintain a balanced immune function to keep you feeling well and healthy.
100% Daily Vitamin C
When your system is under attack from viruses and free radicals, they damage healthy cells in your body, and that's why you feel run down. Vitamin C is one of the most potent antioxidants that crush harmful free radicals and support cellular integrity. With each serving of Naked C, you get 100% of your daily vitamin C to boost immunity and help fight off the bad stuff.
All-Natural Citrus Taste
Contains ONLY the premium ingredients you need to support your health. Only 1 gram of sugar from natural plant sources. No artificial sweeteners, additives, or colors. Real lemon and orange juice powder for a refreshing citrus taste.
Nutrition Info
Serving Size
1 Stick (5g)
Number of Servings
30 Sticks
Orange Juice Powder:
780mg
Lemon Juice Powder:
500mg
Natural Curcumin Extract:
100mg
The Naked Difference
Vitamin C from superfood camu camu fruit
Generic vitamin C supplement
Curcumin, natural plant-based flavors. No artificial additives
Loaded with artificial additives, colors, and sweeteners
How To Use
When: Add our vitamin C powder to water, sports drinks, and smoothies. Best used in the morning before breakfast for maximum absorption.
Blend: Mix one stick into 4-6oz of water, your favorite sports drink, or another preferred beverage.
Pair With: Use with Naked BCAAs for a nutrition-packed drink that will help reduce muscle fatigue, support your health, and maintain lean muscle mass.
Frequently Asked Questions
Naked C contains both vitamin C and curcumin extract. Vitamin C aids immune defense by supporting cellular functions within the immune system, which is why it's known as an immune system booster. Curcumin is a potent antioxidant which supports overall health with its anti-inflammatory properties. Taking Naked C on a daily basis provides the nutrition your body needs to maintain the health of your immune system.
We recommend only taking one serving of Naked C per day. One serving of Naked C contains 90mg of vitamin C, which is the recommended daily intake for a healthy adult. Your daily intake of vitamin C should not exceed the upper limit of 2,000mg.
This is dependent on the products, and we always recommend talking to your physician. Before taking Naked C with other dietary or workout supplements, check that the total vitamin C content does not exceed 2,000mg. Generally, you can take Naked C with other supplements as long as your vitamin C intake stays below the upper limit (2,000mg). Consult with your physician beforehand as certain antacids, nitrate medications, and blood thinners may interact with supplemental vitamin C.
We recommend storing Naked C in a cool, dry place where it is not exposed to direct sunlight. In certain conditions, the product may crystalize but it is still effective and safe for use.
Naked C is ideal for anybody looking to manage and prioritize their vitamin C intake. Our daily vitamin C powder is formulated with only the purest ingredients, making it easy to add more quality nutrition into your diet. Naked C is GMO-free, gluten-free, soy-free, and vegan, so it's suitable for nearly all diets. If you're looking for more dietary supplements, check out Naked Greens.
See All Faq
Pricey but decent flavor
Tastes like most of the other types of vitamin C powder I've used. Packages are sturdy, nothing was spilled during shipping. My complaint is that I prefer ones with pre-cut edges for easy tearing. These have no such thing and so I had to grab a scissors to open it up. Price seems a bit steep for what you get, there are much cheaper ways to provide yourself with vitamin C, although these ARE convenient.
Full of Nutrients However the Taste!
We know how great Vitamin C helps support our Immune Support. I have been taking Vitamin C for years, 500mg twice a day gel caps, and sometimes powders. First, let's talk about the taste. First, I smelled it and I could smell the vitamin C. However, the taste and the look of it was strange once I mixed it water. It was brownish and just did not taste good to me personally. I just could not get past the taste. However, I am still rating high because of all the great nutrition, immune support, and anti-inflammatory properties. It is vegan-friendly, gluten-free, and has no artificial sweeteners.
Delicious and Convenient Way to Get Your Vitamin C!
This Naked C natural vitamin C powder is delicious! It is not too sweet, not too tart! But the best thing is that it is natural! The Camu Camu is a super fruit, the fruit with the highest concentration of Vitamin C! It helps us fight fatigue and helps build up our immune systems. And that is the source of vitamin C in this refreshing drink. The refreshing taste comes from powdered orange and lemon juices. This drink also contains curcumin, a natural anti-inflammatory. This supplement is a very convenient way to get your dose of vitamin C. Each packet contains 90 mg of vitamin C. It comes in a premeasured packet that is the perfect size to make the water in your water bottle a delicious and healthy beverage. Just tear open the packet, pour and shake to mix. Each delicious packet is only 15 calories. I love that it contains no chemicals or artificial flavors, coloring, or sweeteners and is non-GMO. This resealable bag contains 30 servings.
Under $1 - Decent Drink
A very good flavored drink in my opinion, for under $1? OK, actually it's 67 cents per drink. I found it a bit strong when mixed with the recommended 4-6 oz of water and went directly to a full 12 oz bottle instead. I found the flavor to be really good and very 'citrusy' with a back flavor saltiness to with that. All in all, I like the flavor of this drink. This definitely beats having a soda, which I no longer drink, and I don't need to drink a full pot of coffee anymore, so... this works. Add ice, a table outside in the shade with a good book and I'm set to relax until I go back to work after lunch.