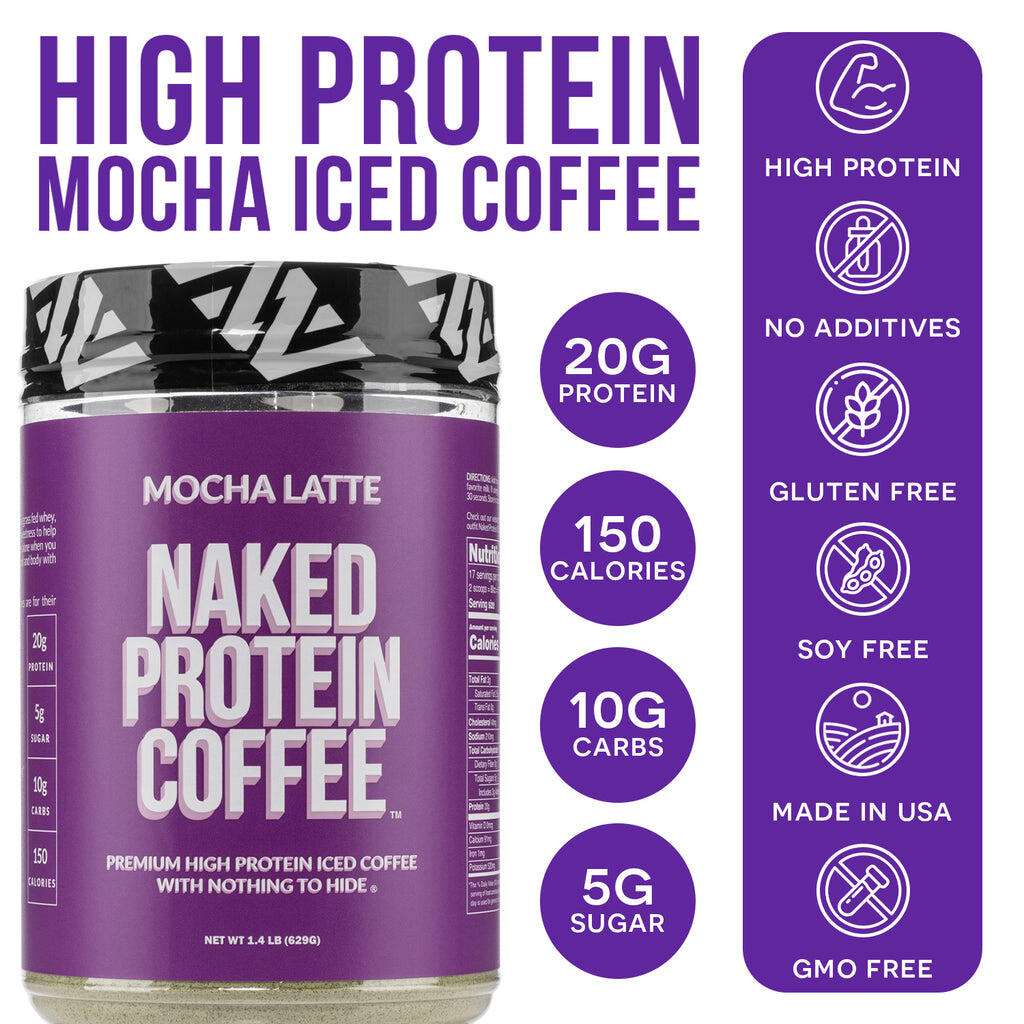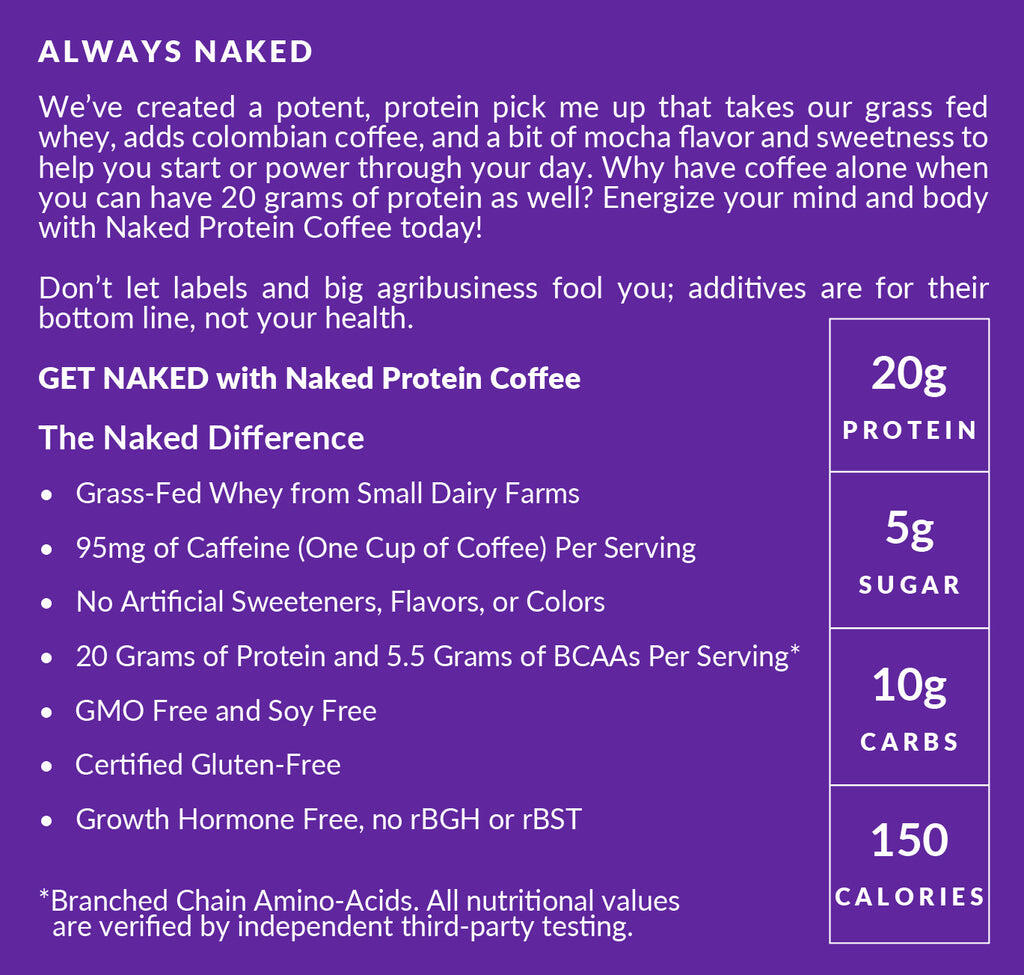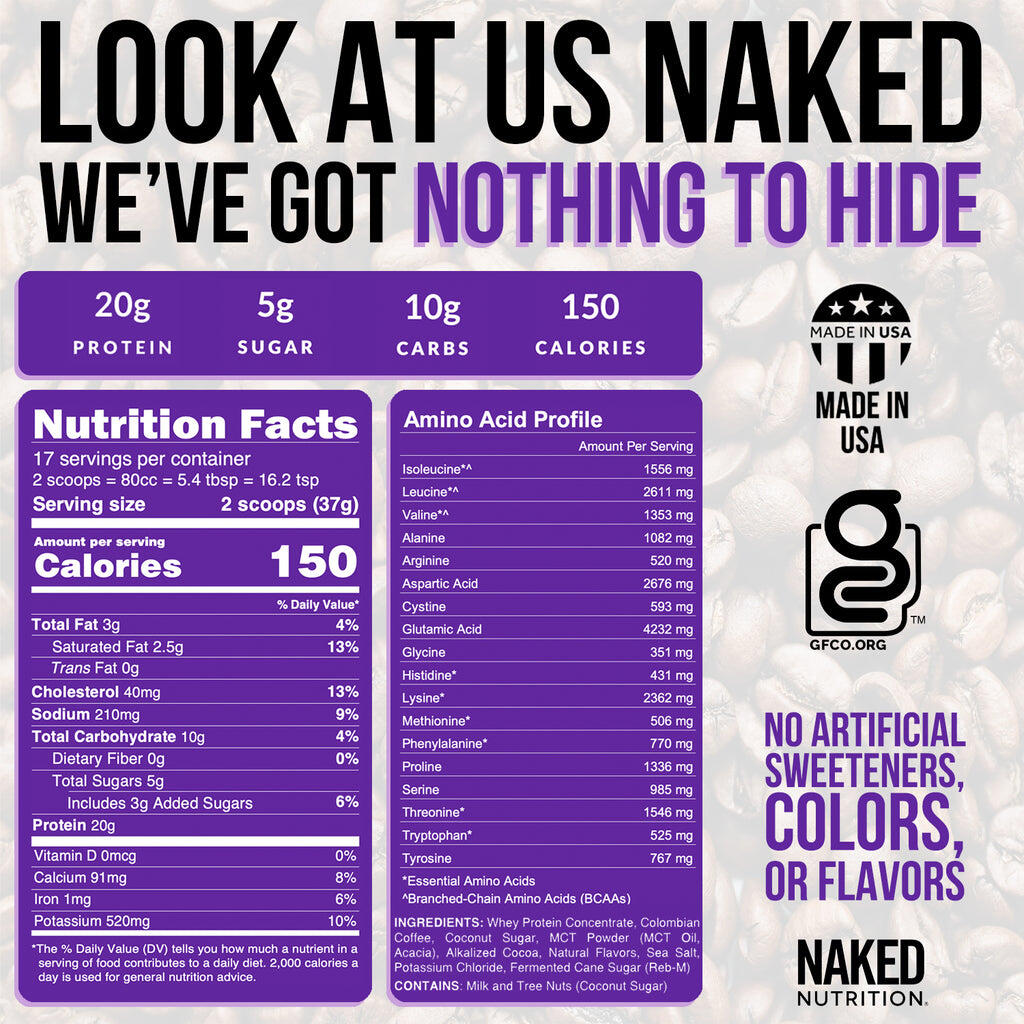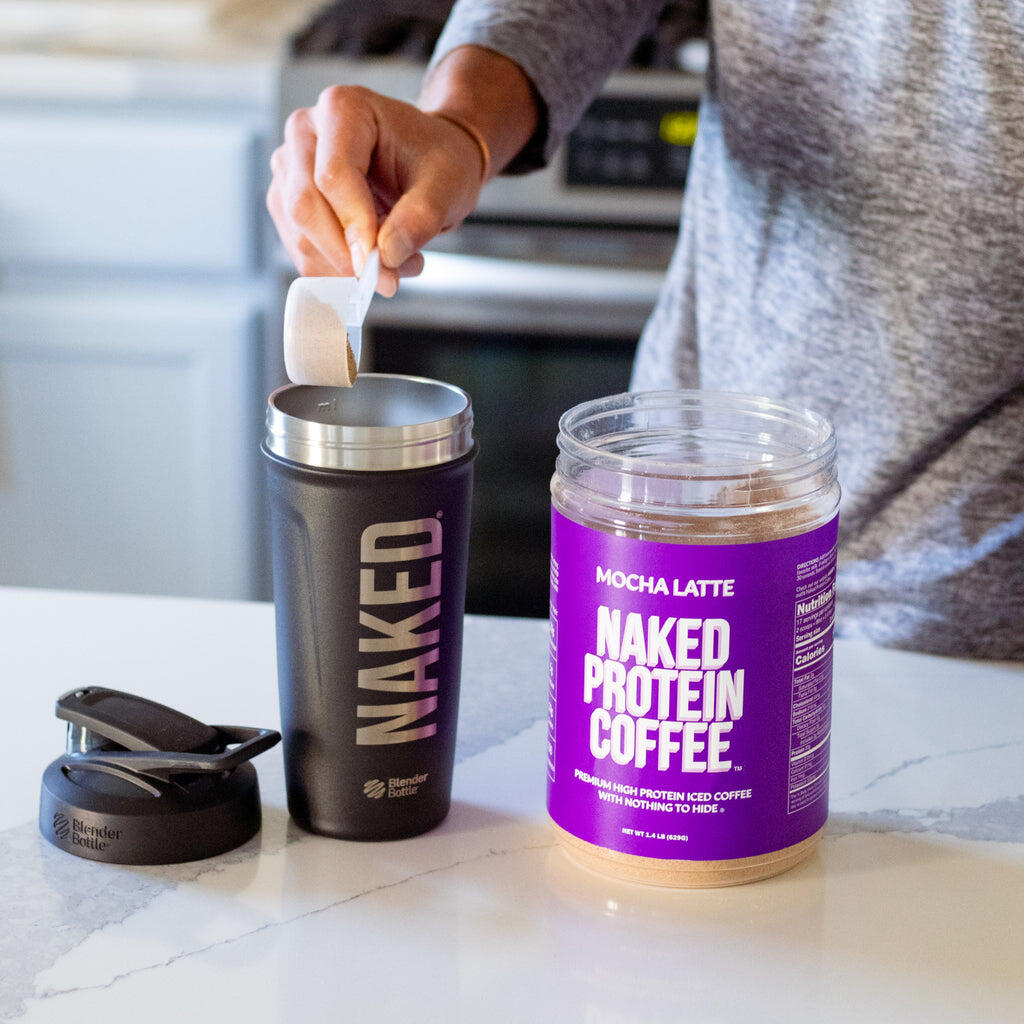 Mocha Latte Protein Iced Coffee
Naked Protein Coffee - 17 Servings
Naked Protein Coffee combines a potent blend of 20g of grass-fed whey from small dairy farms and 95... Read More
Free Shipping over $99. Estimated Delivery: Dec 09 - 11
The Naked Difference
95 mg of premium Colombian coffee
Instant coffee with full of unnatural ingredients
Grass-fed whey from small dairy farms
Overseas sources with minimal quality control
Only natural ingredients like cocoa, coconut sugar, sea salt, etc.
Artificial sweeteners and fillers for flavor and texture
No growth hormones like rBST or rBGH
Whey protein from cows with growth hormones in inhumane conditions
Benefits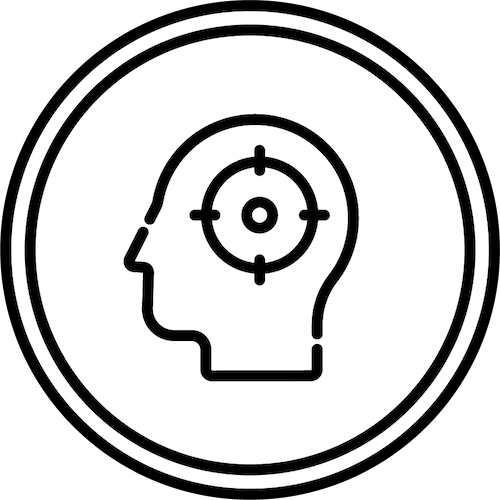 Mind and Body Boost
Get a double boost in physical and mental energy with Naked Protein Coffee. Protein helps regulate appetite and supports stable energy levels. Combine that with more alertness and focus from coffee, and you'll increase productivity like never before. It's also the ideal protein drink earlier in the day to power through intense morning workouts.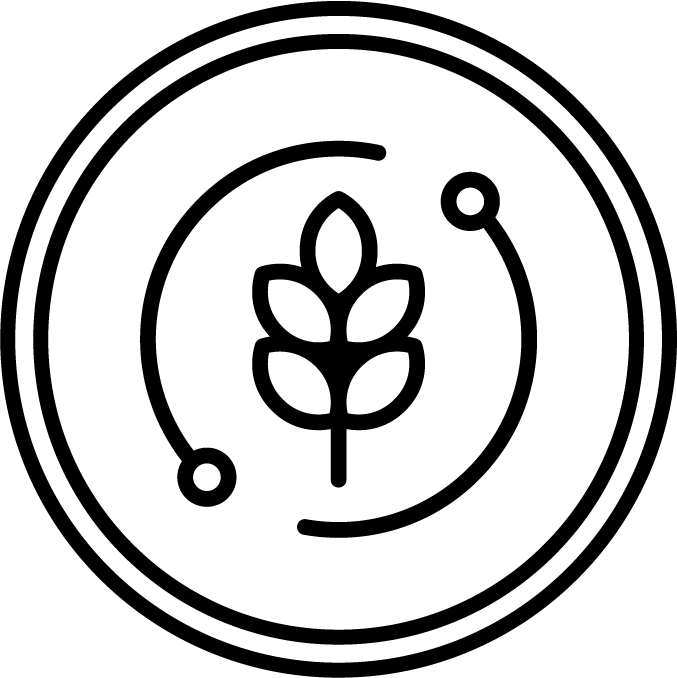 Premium Ingredients Only
We've sourced the highest quality Colombian coffee, and premium grass-fed whey protein from small dairy farms, without any growth hormones like rBST or rBGH. Made only with natural ingredients like cocoa, sea salt, and coconut sugar. You can feel confident that you're getting a clean boost in energy without the use of any artificial sweeteners, flavors, or colors.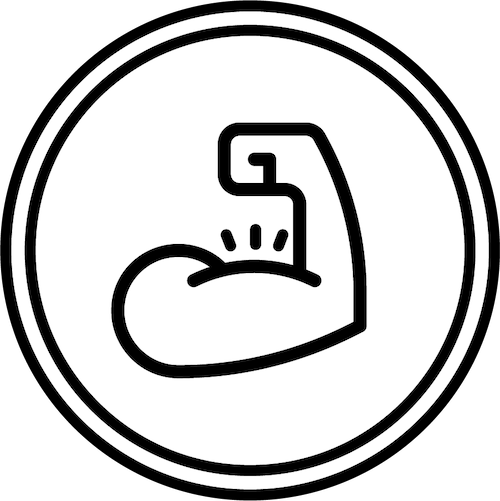 Support Nutrition Goals
Protein and coffee are both known to boost metabolism and regulate appetite, which means you're less likely to overeat and go beyond your daily calories. With Naked Protein Coffee, you get 20g of protein in each serving and only 150 calories. Increase daily protein, stay within your daily target calories, and make faster progress toward your body composition goals.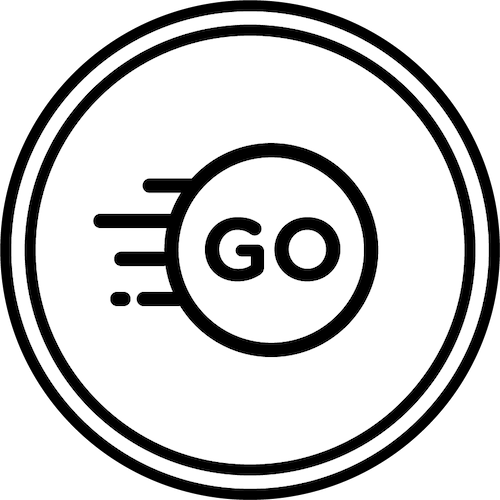 Extra Convenience
You already drink both coffee and protein shakes every day. Now with Naked Protein Coffee, you can combine the two and enjoy a healthy and energizing mocha coffee drink. Save time and hassle, and optimize your morning routine by avoiding long lines at the coffee shop or having to prepare two separate drinks at home.
Nutrition Info
Serving Size
2 Scoops (37g)
Number of Servings
Approx. 17

How To Use
When: Kickstart your day or enjoy a boost of energy with our premium protein coffee. Best used when you need a pick me up or before or after workouts.
Blend: Mix two rounded scoops into 10-12oz of water or milk. Mix using a shaker bottle or blend for 20-30 seconds.
Pair With: Enjoy a tasty on-the-go protein snack with Naked Cookies, or pair with Naked PB for a pure peanut butter flavor.
Frequently Asked Questions
No. Just like all Naked products, Mocha Latte Naked Protein Coffee does not contain any artificial sweeteners, flavors, or colors.
Yes! Enjoy Naked Protein Coffee before or after a workout to support lean muscle growth and post-exercise recovery.
Each serving of Mocha Latte Naked Protein Coffee contains 95mg of caffeine from colombian coffee. This is the equivalent to one standard cup of coffee.
No - Naked Protein Coffee is designed as a high-protein iced coffee drink mix. We recommend mixing it into cold water or milk of your choice.
Naked Protein Coffee is perfect for anybody who is looking for a delicious boost of daily energy. It's ideal for those with busy lifestyles, coffee lovers, or anybody who's looking for a quick, no-fuss way of energizing their mind and body. Naked Protein Coffee has been made with premium ingredients to enhance your everyday energy while also supporting health and fitness gains. For a caffeine free protein shake, check out our Naked Shake range.
See All Faq
Protein and Coffee in One? Yes, Please!
The first time I tried this product, it took me some time to get used to the flavor at first. However, after I had it for the second time, I definitely enjoyed it. I've been looking for a way to add protein to my coffee, but I was iffy about adding protein powder. I'm glad I chose this product.
Love the product idea not the taste
I am a huge lover of the NAKED Nutrition products until this one. The taste isn't great which is disappointing. Concept is brilliant if the taste can be tweaked it's a winner!