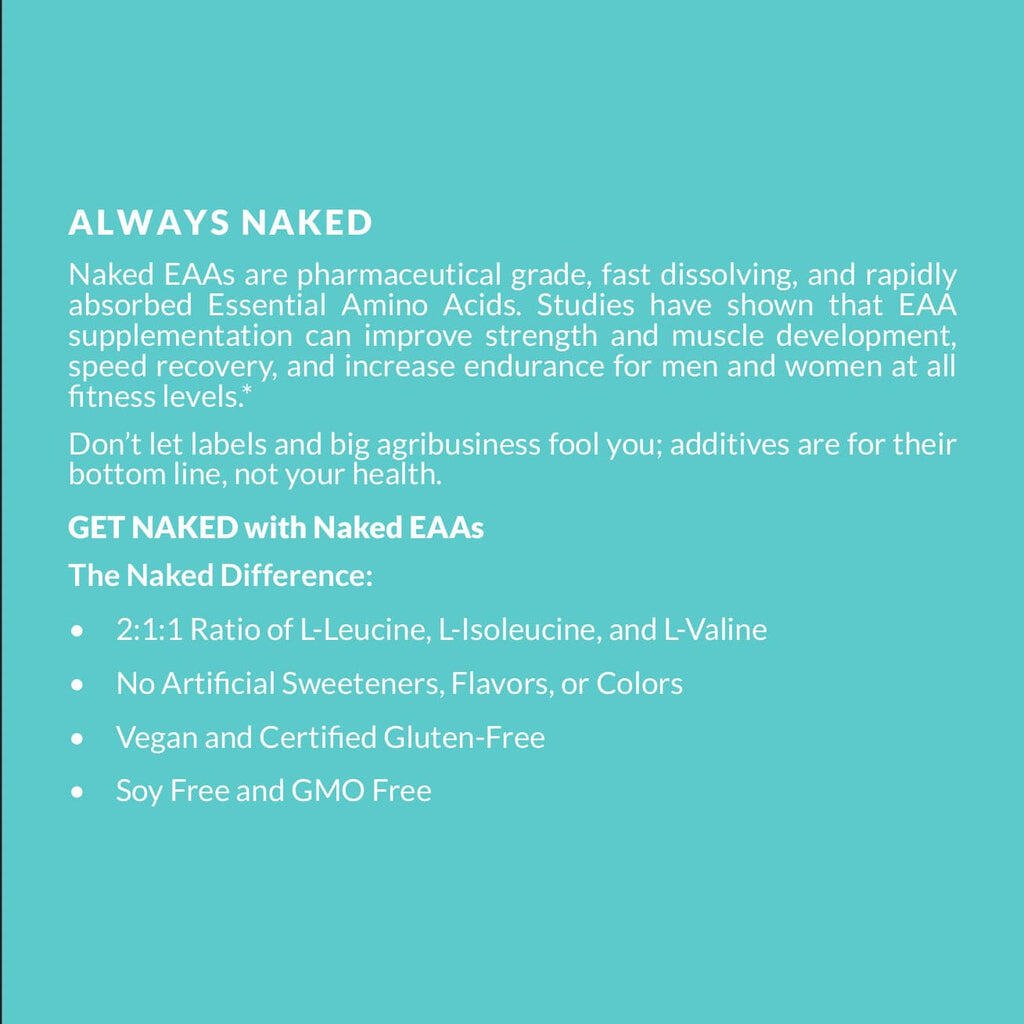 Essential Amino Acids Supplement
Naked EAAS is a pharmaceutical-grade, fast-absorbing, leucine-enhanced blend of essential amino acids. Add 2 scoops of fast-dissolving Naked EAAS to 10-12 oz of your favorite drink before or during a workout to enjoy a clean boost in strength and endurance. Supplementing with essential amino acids supports muscle development and faster post-workout recovery, as well as an active lifestyle regardless of your fitness level.
We are committed to shortening the steps between our farms and you.
Free Shipping over $99. Estimated Delivery: Dec 10 - 12
Quality
Dairy Free

GMO Free

Soy Free

Vegan
Benefits
Why Take Amino Acids
If you live an active lifestyle, lift weights multiple times a week, or train athletically, then you can benefit from supplementing with essential amino acids. A fast-acting essential amino acids supplement like Naked EAAS will provide you with added fuel and stamina to get through grueling workouts. It will also provide extra support for faster recovery so you can stick to your training schedule.
Leucine-Enhanced EAAS
Leucine is a key amino acid playing a vital role in muscle-protein synthesis, muscle repair after training, and athletic training performance. Naked EAAS is Leucine-enhanced with the scientifically-backed ratio of 2:1:1 of L-Leucine, L-Isoleucine, and L-Valine, which has been proven to be most effective for an extra boost in endurance, strength, and recovery.
Mix With Your Favorite Drink
Naked EAAS is flavorless and it dissolves quickly, which means you can add it to any of your favorite drinks before or during the workout. As with all of our products, you can be confident about what goes in your body when you take Naked EAAS. No artificial sweeteners or colors. Only premium vegan essential amino acids and sunflower lecithin.
Nutrition Info
Serving Size
2 Scoops (10g)
Number of Servings
Approx. 50
The Naked Difference
2:1:1 L-Leucine, L-Isoleucine, L-Valine for optimal muscle-protein synthesis
Sub-optimal ratios of BCAAs
Mixes easily with your favorite drink
Fast absorbing so you hit the weights right away
How To Use
When: Add our EAAs powder to sports drinks or juice drinks. Best used shortly before exercise or just after a workout.
Blend: Mix two scoops into 10-12oz of your favorite sports drink or a low-acid juice drink for flavor.
Pair With: Use with Naked Creatine to increase your workout performance, aid lean muscle building and promote protein synthesis.
Frequently Asked Questions
No, both supplements contain different amino acids and are designed for different needs. Naked EAAs is an amino acids formula which contains all nine essential amino acids in varying amounts. Naked BCAAs is a branched chain amino acids blend which contains a ratio of three core amino acids (leucine, isoleucine and valine).
No, Naked EAAs does not contain caffeine. It only contains nine essential amino acids and sunflower lecithin to aid solubility.
This product contains nine amino acids, which are the compounds that combine to form proteins. Naked EAAs is effectively powdered protein, it's just broken down into the specific amino acids.
Naked EAAs is perfect for anybody looking to improve endurance, muscle development, and workout recovery. Alongside boosting your performance in the gym, Naked EAAs is also ideal for adding in some much needed nutrition to fuel your muscles post exercise. If you're looking for a pre-workout to provide a healthy, clean boost to power through your workouts, check out Naked Energy.
See All Faq