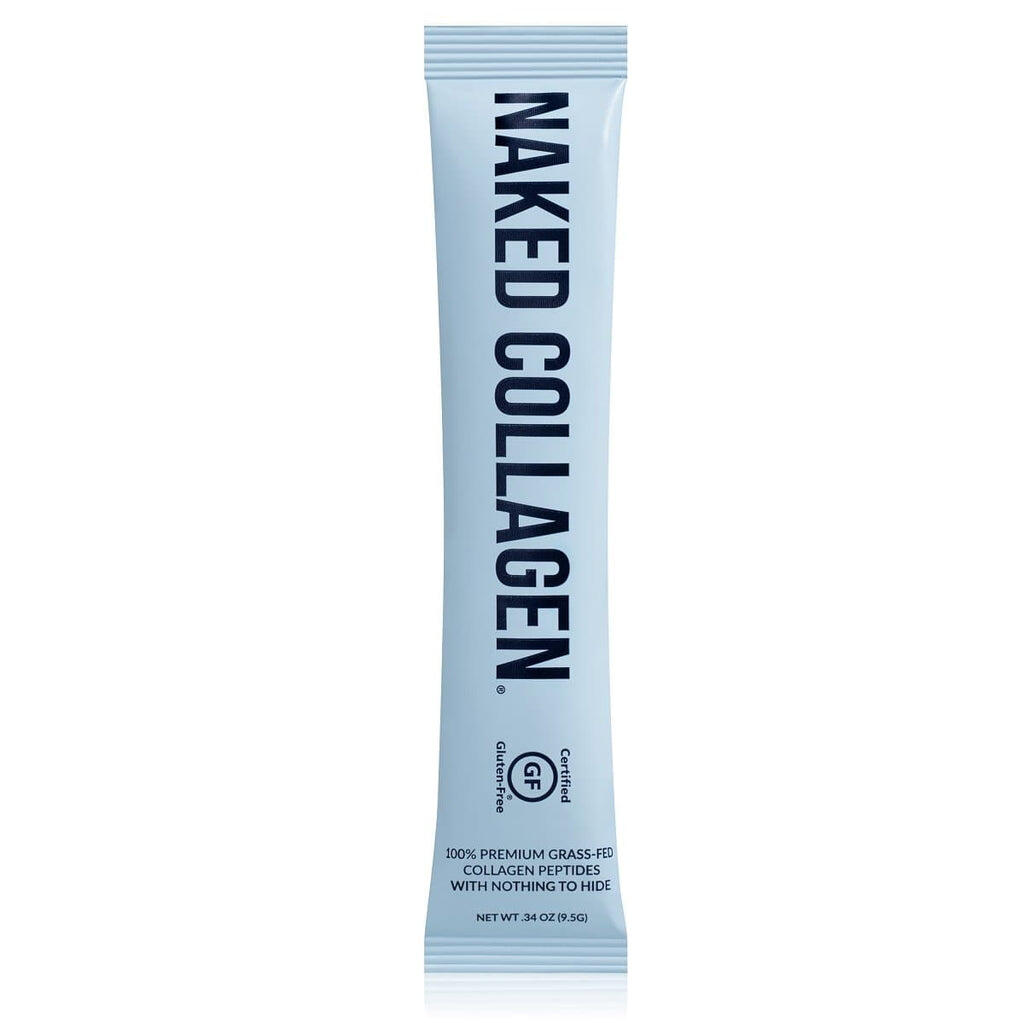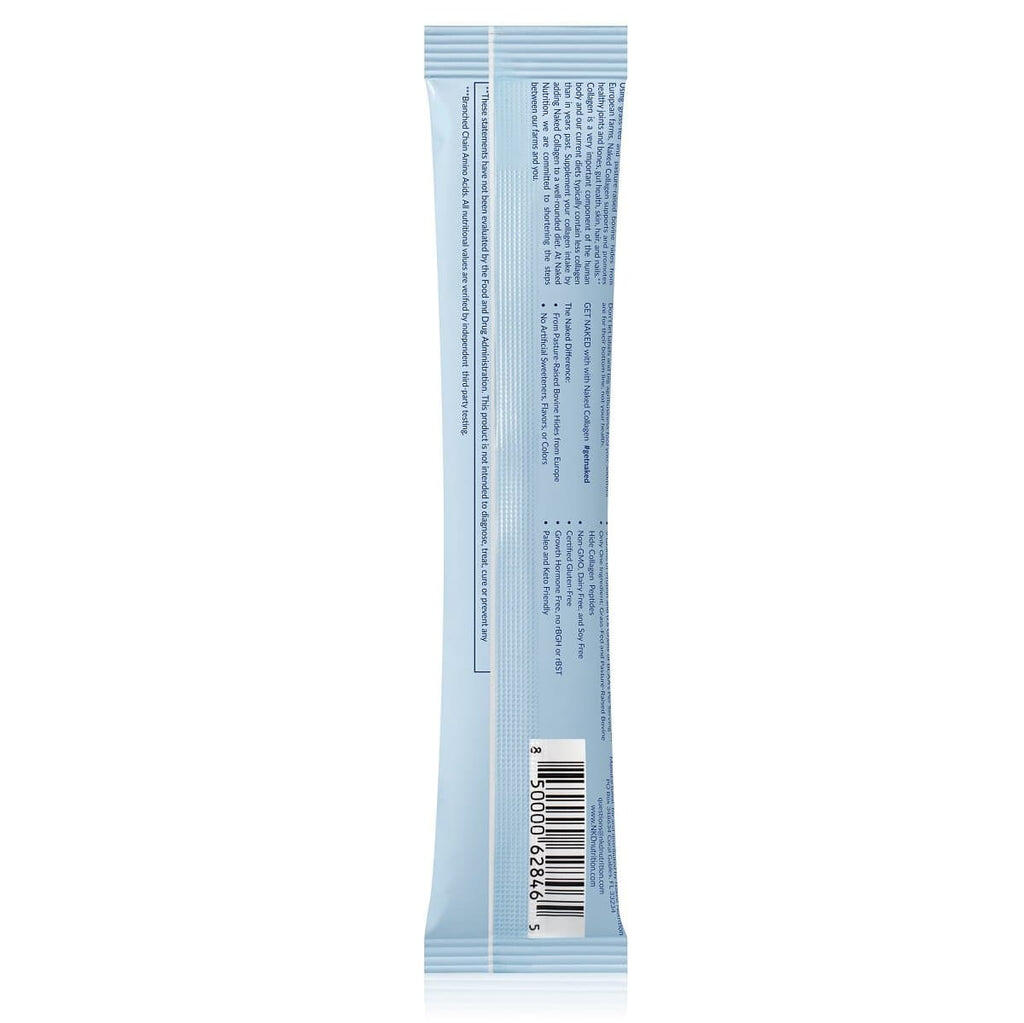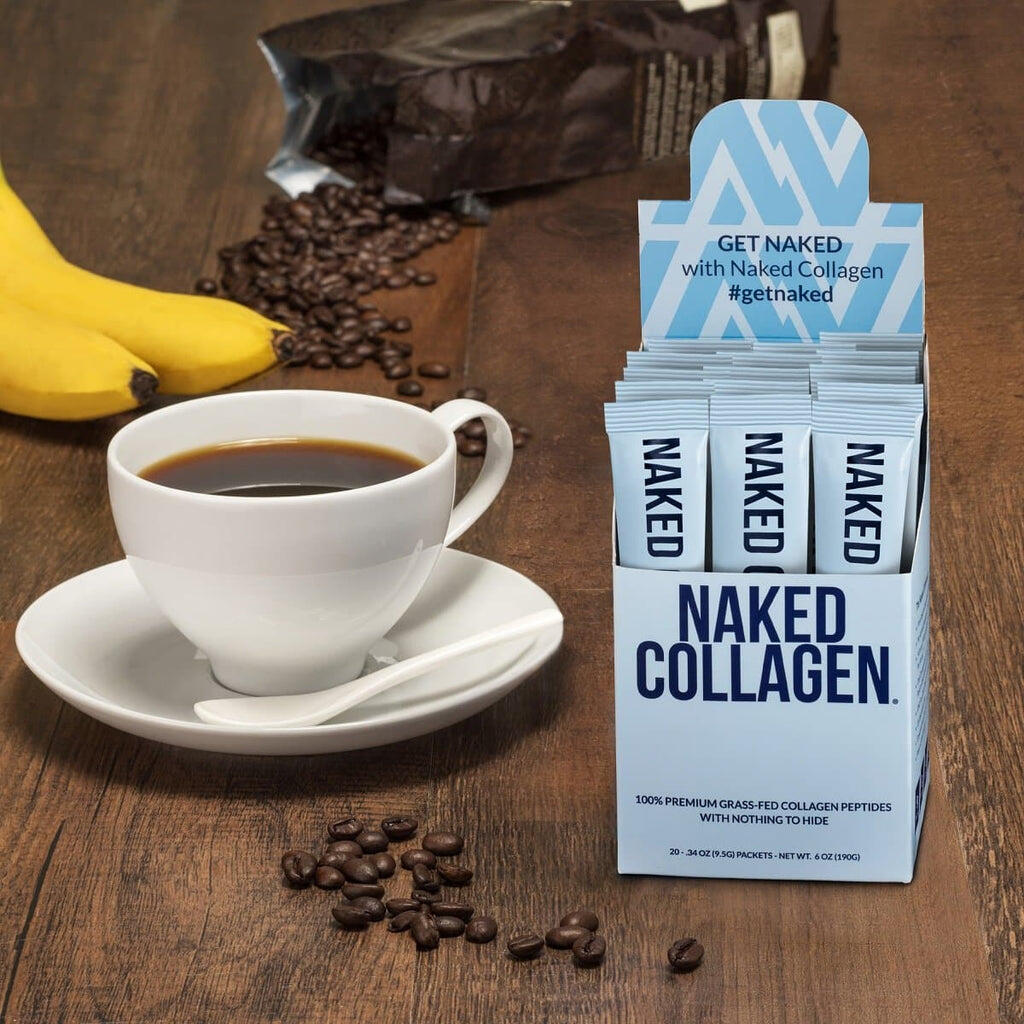 Collagen Peptides Packets
20 Naked Collagen Packets
Naked Collagen stick packs are perfect for an on-the-go lifestyle and each packet only contains our hydrolyzed collagen powder sourced from pasture raised European cows. Highly soluble and tasteless, easily add Naked Collagen packets in hot beverages such as your morning coffee, cold sports drinks, tea before sleep or as an unflavored protein base in pre and post-workout smoothies.

Naked Collagen is free of additives and artificial sweeteners. We are committed to shortening the steps between our farms and you. Don't let the supplement industry fool you; additives are for their bottom line, not your health.
Estimated Delivery: Dec 07 - 09
Free Shipping over $49
Quality
GMO Free

Keto Friendly

Only 1 Ingredient

Soy Free
Benefits
Collagen Benefits
Collagen is one of the most abundant proteins found in the human body. It is responsible for providing strength, structure, and elasticity to skin, bones, tendons, ligaments, and connective tissue¹. As we age, our bodies produce less collagen, and supplementing with collagen peptides can help you maintain optimal levels².
Boost Joint Health
One of collagen's functions is to help maintain your cartilage and protect the joints. Decreased collagen production can increase the risk of joint health conditions. Optimal collagen levels can promote strong and healthy joints.
Nutrition Info
Number of Servings
20 Packets
The Naked Difference
Regular Collagen Supplements
Happy, healthy, pasture-raised cows
Feedlot cows raised with growth hormones
Added sugars, fructose and more
Unpleasant taste and smell
Clumpy when mixed with drinks
How To Use
When: Add a Naked Collagen packet to coffee, smoothies, or baking. Best used first thing in the morning or before bed.
Blend: Mix one packet into 4-8oz of coffee or your favorite hot beverage. Add your own flavorings to enhance the taste.
Pair With: Use with Naked Whey to create the ultimate, nutrition-packed protein shake to support muscle recovery and overall health.
Frequently Asked Questions
Collagen is the most abundant protein in the human body which is found in bones, muscles, skin, and tendons. Our bodies naturally produce collagen by breaking down dietary protein, but this production decreases with age, which can lead to collagen deficiency. This type of deficiency can lead to skin wrinkles, stiff joints, and aching muscles. By taking a collagen supplement, you can make sure that your body is maintaining healthy levels of collagen to support your overall health.
Collagen powder is a lot more versatile than collagen capsules, which is why it's generally preferred. With a collagen powder supplement, you can control exactly how much collagen you add to your beverages. You can also add collagen powder into various baking recipes to increase the nutrition, which you're unable to do with capsules.
We have carried out a full nutritional analysis of Naked Collagen so that you know the exact nutritional facts for the product. It's very likely that other companies do not carry out this kind of extensive nutritional analysis, so they do not show this on their nutrition labels.
Naked Collagen is ideal for anybody who is suffering from symptoms of collagen deficiency or simply wants to increase their collagen intake. Whether you're looking to decrease workout recovery time, or you just want to achieve healthier skin and hair, Naked Collagen provides the premium nutrition you need. Naked Collagen is also suitable for those on a paleo or keto diet. If you're looking for a protein powder instead, check out Naked Whey or Naked Pea.
See All Faq
Great
I add these to my shakes, and they add another boost of protein, and you cant taste them. Great product!
Truly delicious
This Naked Collagen is some of the best collagen peptides Ive ever tasted. Its truly delicious! I definitely believe that this company cuts no corners in how they source their collagen, because the collagen packet mixes well in liquid - both water and milk - and it doesnt have any of the questionable aftertaste that some other collagen peptides do. Plus, I like that these are in individual sticks, so I can put a couple in my workout bag and take them on the go with me. Im on the road a lot, so its nice to have what I need with me without having to lug a big tub of collagen around. Highly recommend Naked Collagen!
Totally satisfied
The packets are nice if you need to grab and go after hitting snooze too many times on the morning alarm. It mixes really well with just about anything. I really can't taste it. Easy on the stomach. Seeing improvement in my skin. Also seeing some improvement in my joints. Will be continuing with this brand, whether it is the individuals or a bulk tub.
An Excellent Collagen Product
These convenient packets make it easy to supplement with collagen! I can keep a few packs in my office to mix in my coffee or tea. The powder dissolves almost instantly without clumping in hot liquids. It dissolves well in cooler liquids, too, but I prefer it in hot. It's completely flavorless, so I don't even notice it's there, even when I don't add cream. The price point is a bit high, but considering the lack of additives, it's worth the extra to know I'm getting high quality.
Convenient with the packets if you need something for travel; 9g vs 10 or 11 in others
With this collagen, you get 20 individually packaged servings, which makes it useful for travel and for ease of use. On the one hand, I suppose it could be considered wasteful, but on the other hand, it doesnt come in a plastic tub with a scoop, so maybe its actually less wasteful in regard to packaging. This contains a little bit less collagen, 9g, than other products Ive used, and there are only 20 servings, but it apparently has a good bit of calcium in it. Im not sure why this one has so much calcium whereas others Ive used have very little. Theres only the one ingredient, so maybe bovine collagen has a lot more calcium in it than marine collagen? Like with other supplements Ive tried, I have no idea if this is actually doing anything or not. Ive had no negative effects, but I havent had any with any other collagen Ive tried either. I also dont notice any particular positive benefits either, but maybe its slow and gradual so I never really notice. I mix up a drink the night before, so clumping is never an issue. Also, I mix into flavored drinks, so even if this had a slight flavor to it, Id never notice. Seems fine to me.