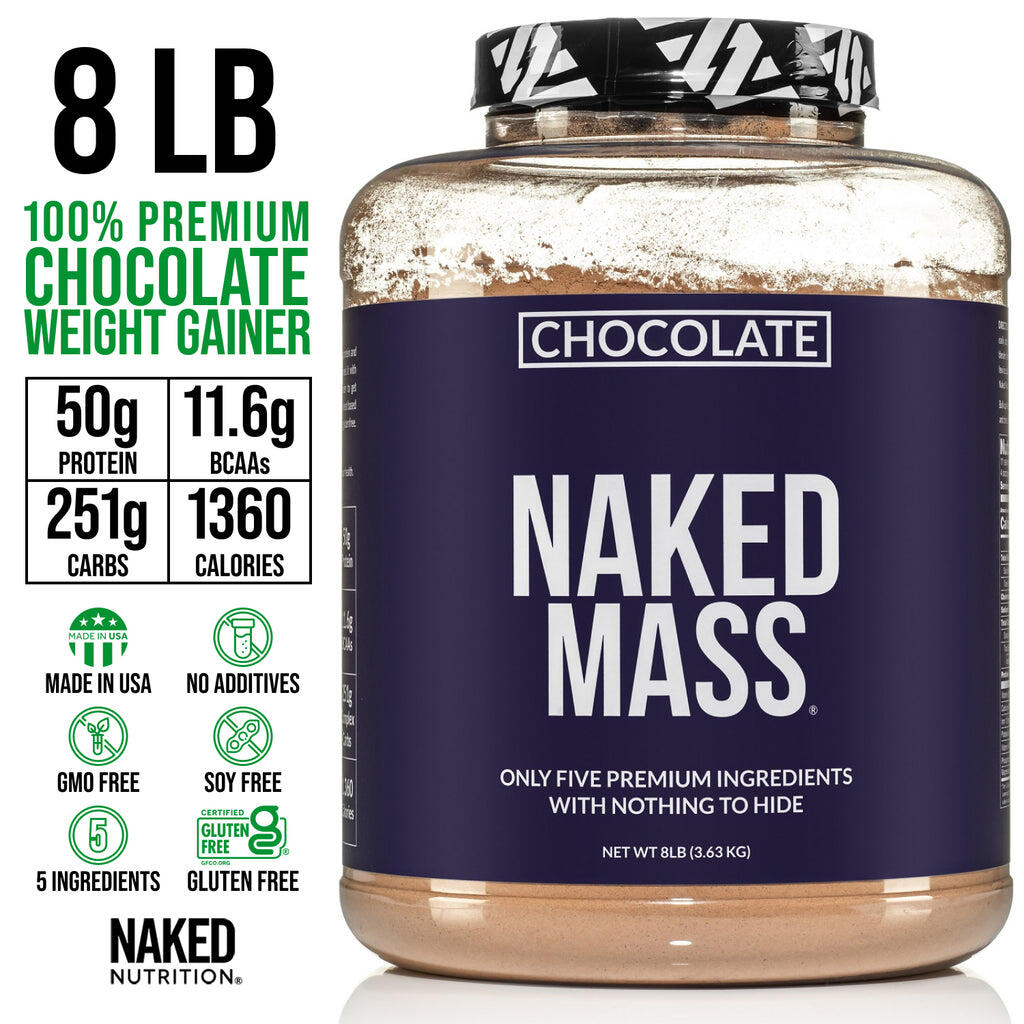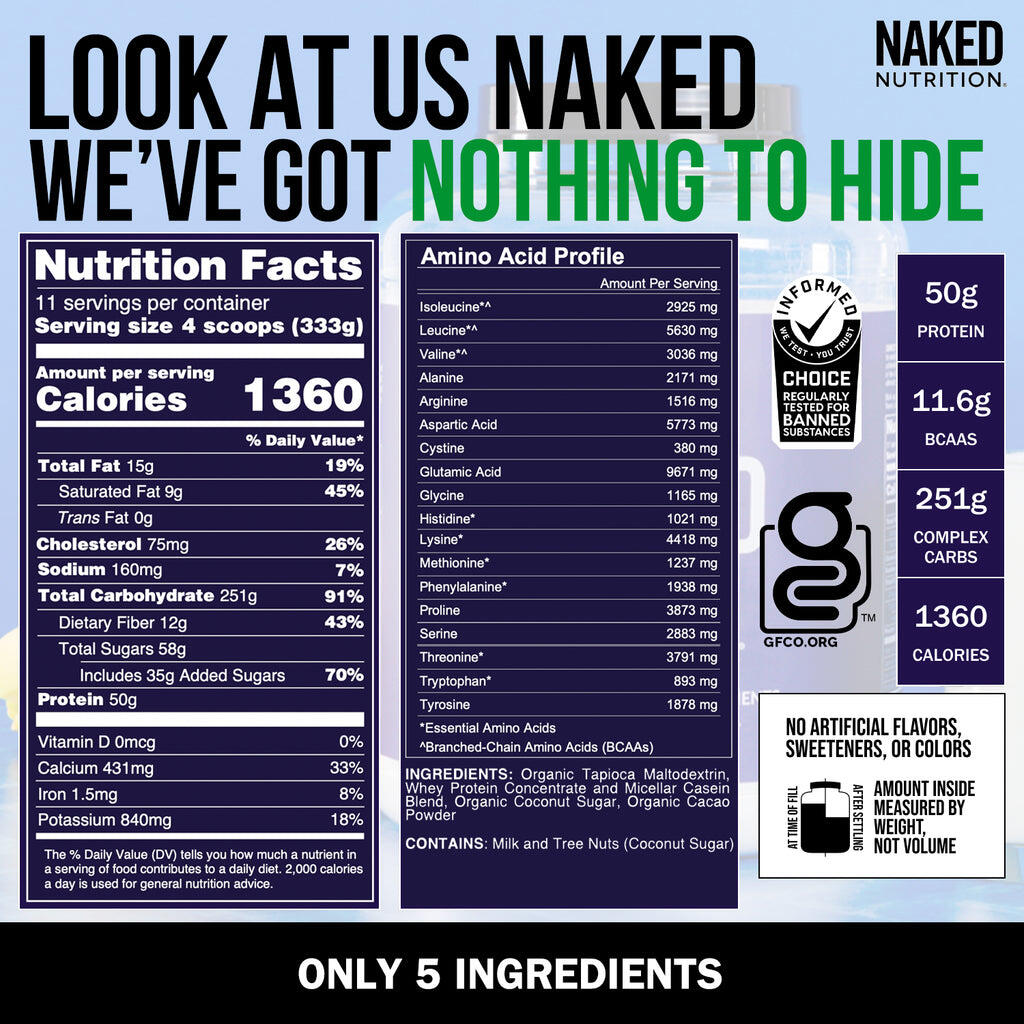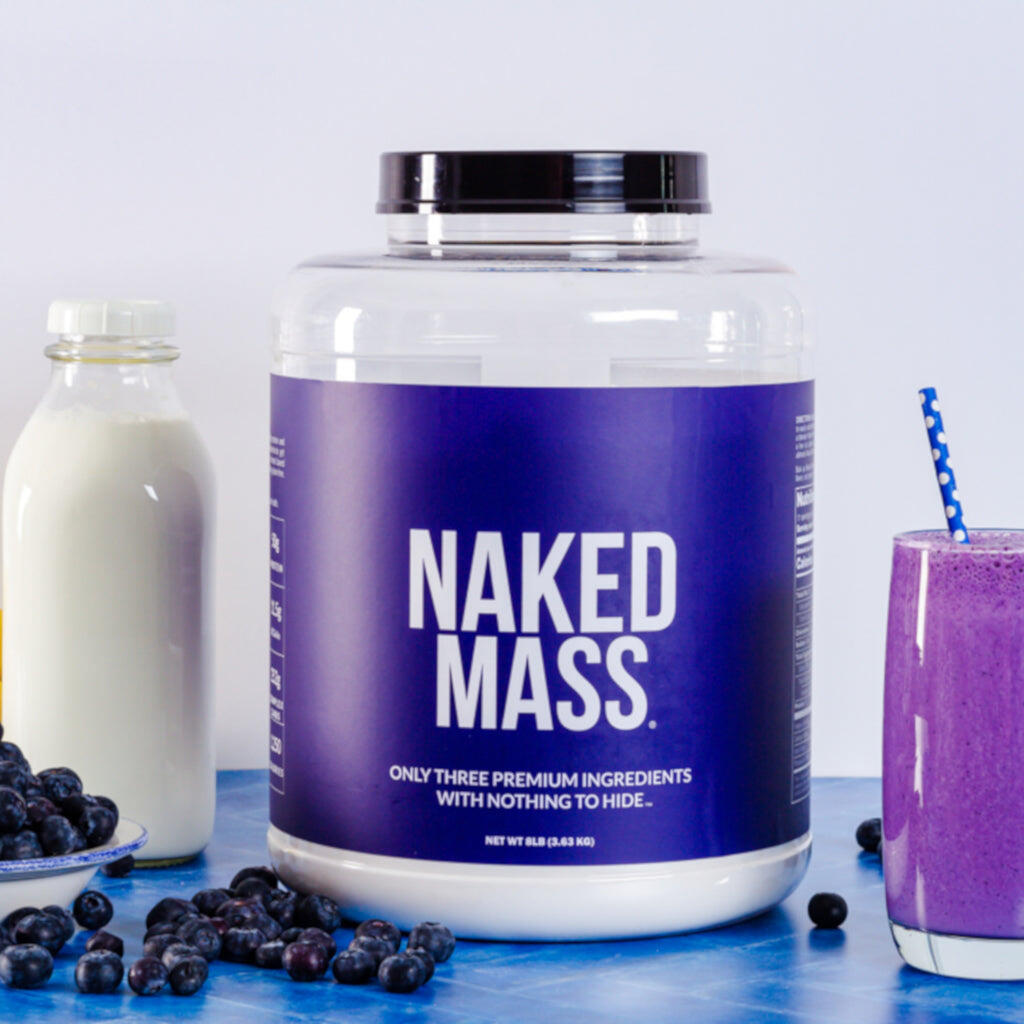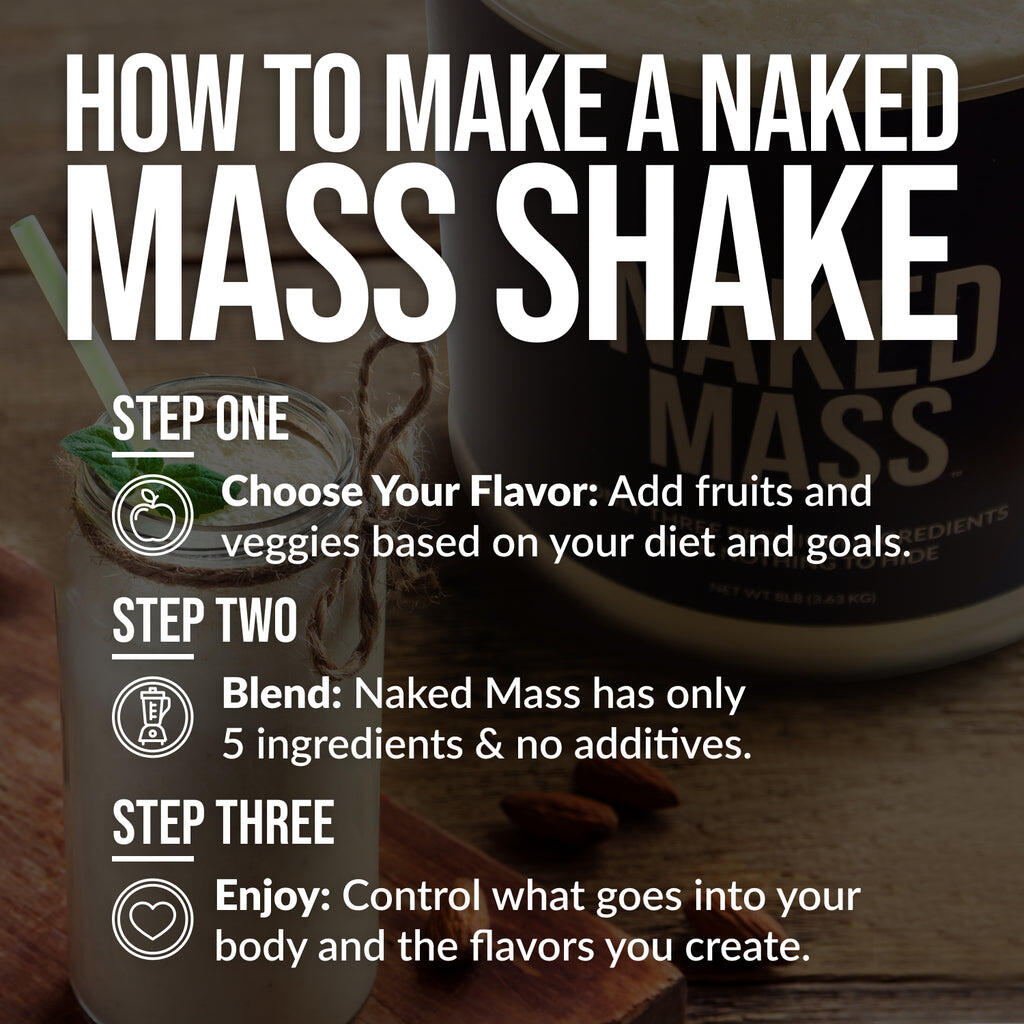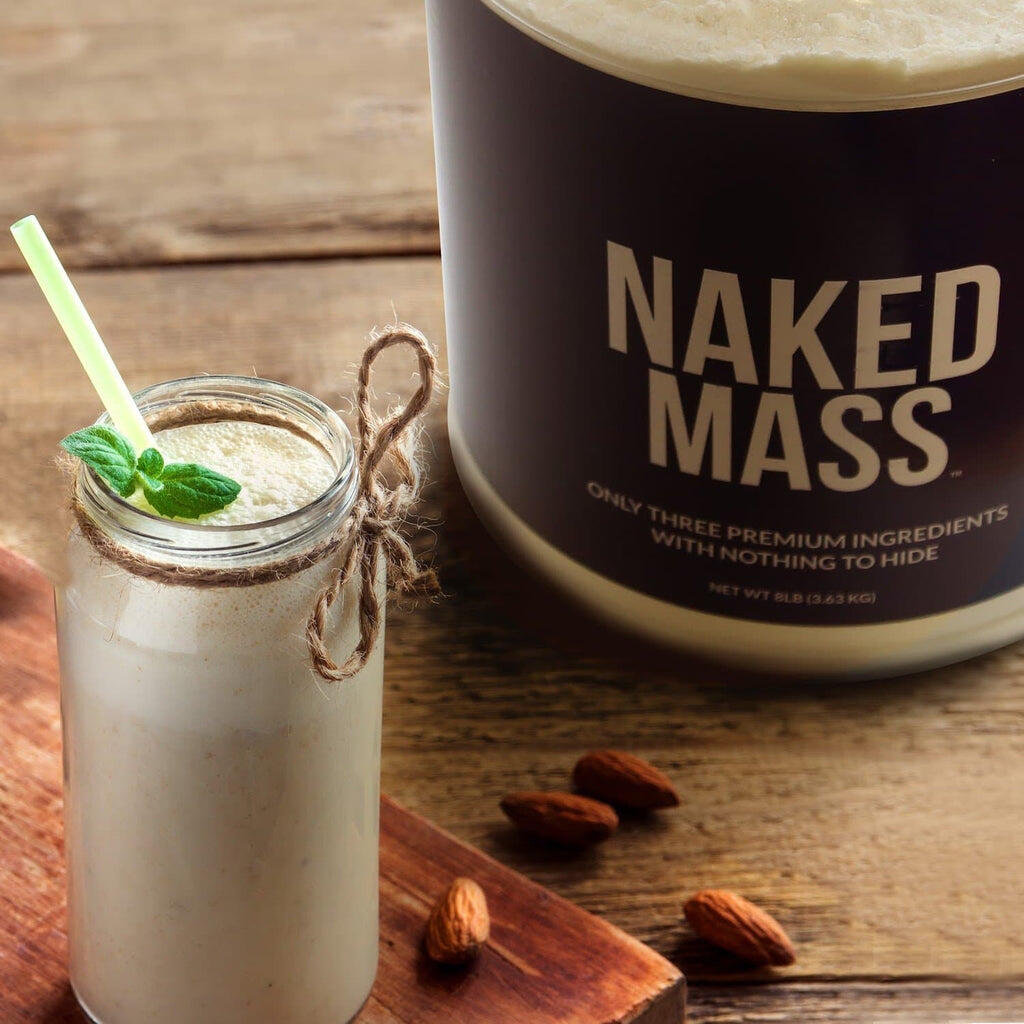 Chocolate Weight Gainer Protein Supplement
Chocolate Naked Mass is the ultimate muscle building and weight gaining supplement. Combining Naked Whey, Naked Casein and... Read More
The Naked Difference

Naked Mass
Naked Mass
Ingredients
Only 5 ingredients: whey, casein, and organic maltodextrin, organic coconut sugar and raw organic cacao powder
10+: unnatural additives to aid mixing, color and artificial sweeteners
Protein
Multi-phase protein digestion for sustained recovery
Single-phase protein digestion
Macronutrients
Ideal blend of carbs and protein to promote growth
Not optimized for muscle growth
Carbohydrates
Natural and complex carbohydrates
Unhealthy processed carbohydrates
Growth Hormones
No growth hormones
Growth hormones present
Benefits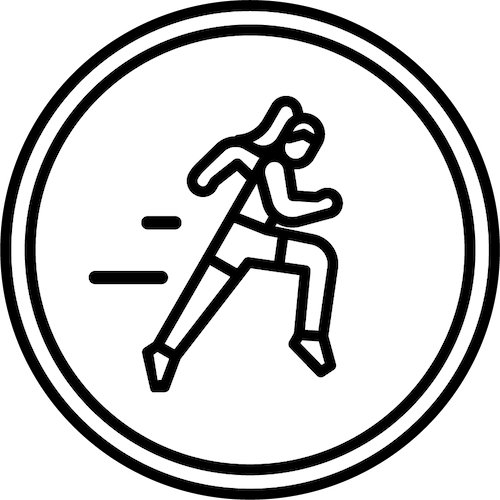 Fuel Your Workouts
Organic maltodextrin is a complex carbohydrate that will give you a boost in calories and energy¹. A pre-workout shake with Naked Mass can provide that extra fuel to power you through an intense workout. Evidence has shown that supplements with maltodextrin can help maintain anaerobic power to promote strength and exercise performance².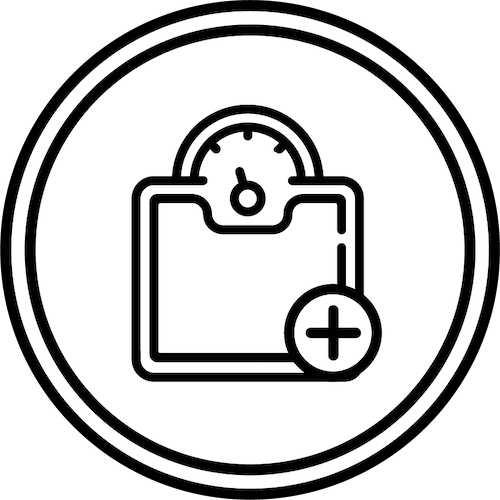 Meet Daily Calorie Requirements to Gain Weight
If you're someone that's considered a "hard-gainer", it can be quite a challenge for you to eat a surplus of calories to gain weight. Chocolate Naked Mass contains 1360 calories in each serving, making it much easier for you to get the additional calories you need.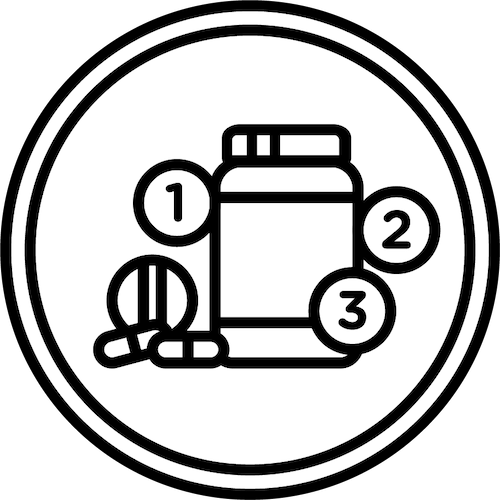 Build and Sustain Muscle Mass
If you want your weight gain to be mostly lean muscle mass, then it's not just about a calorie surplus. You also need to pay attention to protein intake to promote muscle growth. Naked Mass includes Naked Whey, a fast-absorbing protein to aid quick muscle recovery after exercise. Naked Casein, a slow absorbing protein that takes several hours to digest, keeps your muscles nourished throughout the day³. WARNING: This product can expose you to chemicals including lead, which is known to the State of California to cause cancer and birth defects or other reproductive harm. For more information go to www.P65Warnings.ca.gov.
Nutrition Info
Serving Size
4 Scoops (333g)
Number of Servings
Approx. 11
Total Carbohydrates:
251g

How To Use
When: Add our chocolate mass gainer to protein shakes, smoothie bowls and baking. Best used between meals, after a workout, or before bed.
Blend: Mix four scoops into 24oz of milk or your favorite beverage. Add other calorie-dense, flavorful ingredients to enhance the taste.
Pair With: If you want to enhance your workout performance, add a scoop of Naked Creatine to your daily shake to boost maximal strength.
Frequently Asked Questions
Maltodextrin helps thicken the product and bind the ingredients together. Most manufacturers will choose to use wheat-derived maltodextrin which may pose health concerns due to containing gluten. Naked Mass only includes Organic Tapioca Maltodextrin that is gluten-free and does not pose the same concerns. We also ensure that our ingredients are never treated with pesticides.
The only difference between Chocolate Naked Mass and Naked Mass is that the chocolate flavor contains two more ingredients; organic cacao powder and organic coconut sugar. Chocolate Naked Mass does contain 110 more calories per serving, but both products aid weight gain equally. How soon you see results is also dependent on your overall diet and activity level.
Chocolate Naked Mass is for anybody who's looking to gain weight or gain muscle, regardless of whether you regularly go to the gym or not. This mass gainer is also great for those who need to restore their weight, struggle to put on weight, or struggle to maintain a higher weight.
The amount of calories per serving on the label represents the powder itself before it is mixed with milk. Chocolate Naked Mass contains more calories per serving than Naked Mass due to the cacao powder and coconut sugar.
If you're regularly consuming Chocolate Naked Mass, results can become noticeable in as soon as 2 weeks, but this depends on your overall diet and activity level. Weight gain is a direct result of consuming more calories than you're burning off, so you need to ensure that you're maintaining a calorie surplus to see results.
Chocolate Naked Mass is an ideal weight gainer for anybody without a lactose or dairy sensitivity who's trying to gain weight or maintain their weight. Whether you go to the gym or not, Chocolate Naked Mass is going to provide the necessary nutrition to help you gain weight in a healthy, safe way.
See All Faq
Favorite protein shake!!
I love this product! I have tried many different protein shakes over the last year, this one tastes amazing and actually gives me the calories I need to help me reach my goals each day. The other shakes that I have tried were detrimental to my nutritional goals, they ruined my appetite and hindered my food intake. This shake is an easy addition to an already nutritional meal plan and a great way to add 2000 cal depending on what you mix it with. The only thing I could say that is even remotely negative would be that it does not blend well in a shaker, you have to put it in a blender to get a smooth consistency when using all 4 scoops. I am part of a community of women that are hard gainers, I have told every single person I've come across about this shake. 100% will continue to buy it. I think I'm gonna try one of the other flavors next time just to see if there as good as the chocolate.
Chocolate Weight Gainer Protein Supplement | Naked Chocolate Mass - 8LB
Allergic lol
I ended up being allergic to this product (did not know I was allergic to whey, I assumed it was the eggs I was reacting to in the other mass gainers). But before I got anaphylaxis it was the best tasting mass gainer I've ever had. It didn't leave a heavy feel on my stomach either. My brother ended up loving it when I gave it to him so he will be ordering from you guys.
Not for us
We did not like this product. Please note when you purchase that Naked Nutrition will not allow returns if you do not like it. There are other companies out there that stand behind their products with their return polocy.. note this is not one of them.
Great Taste
Love the chocolate taste… this is now my default whey powder