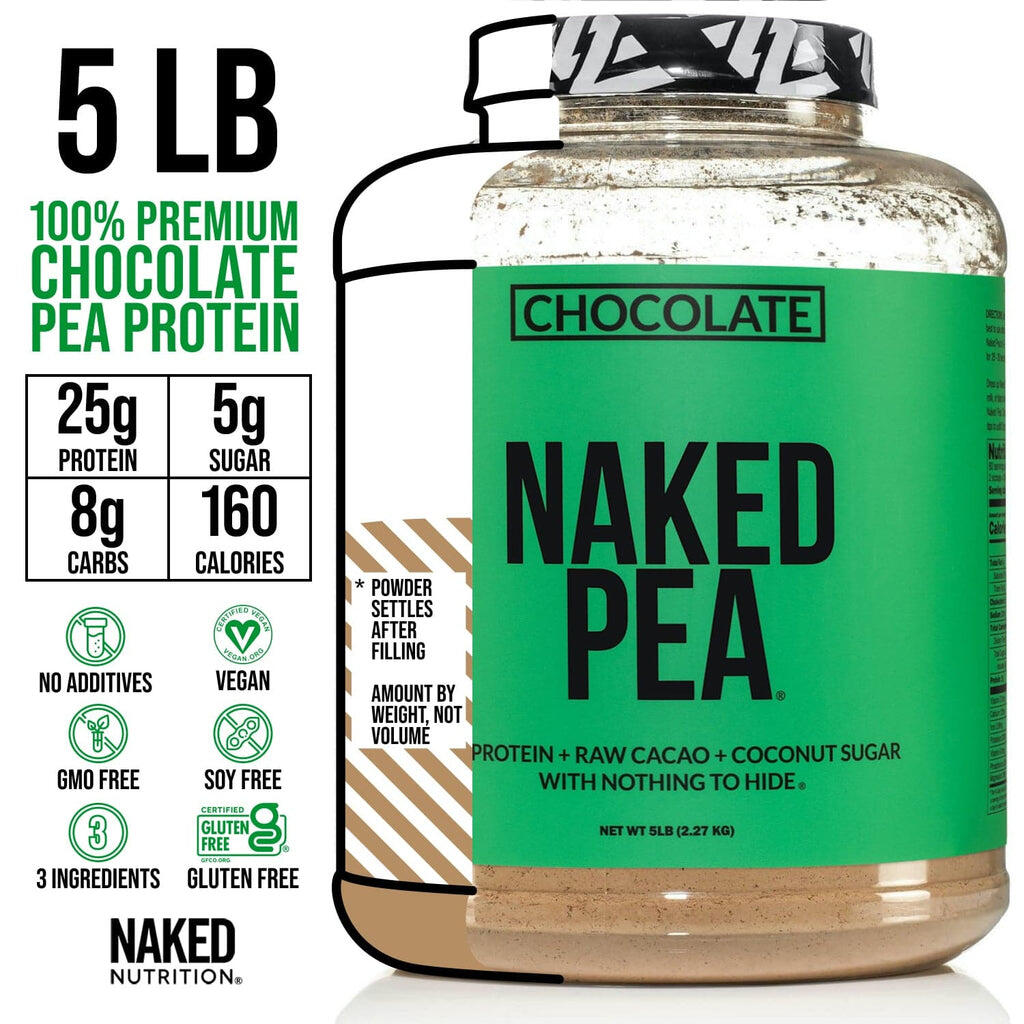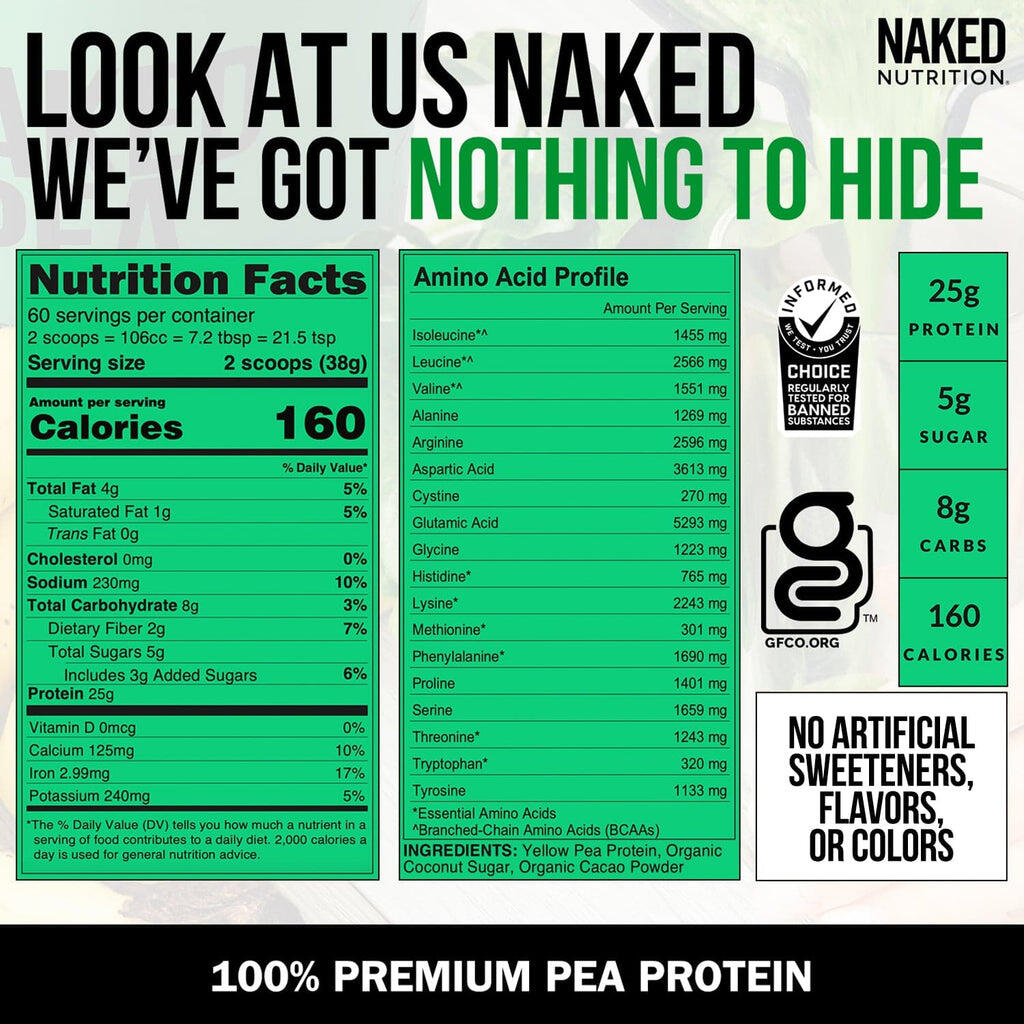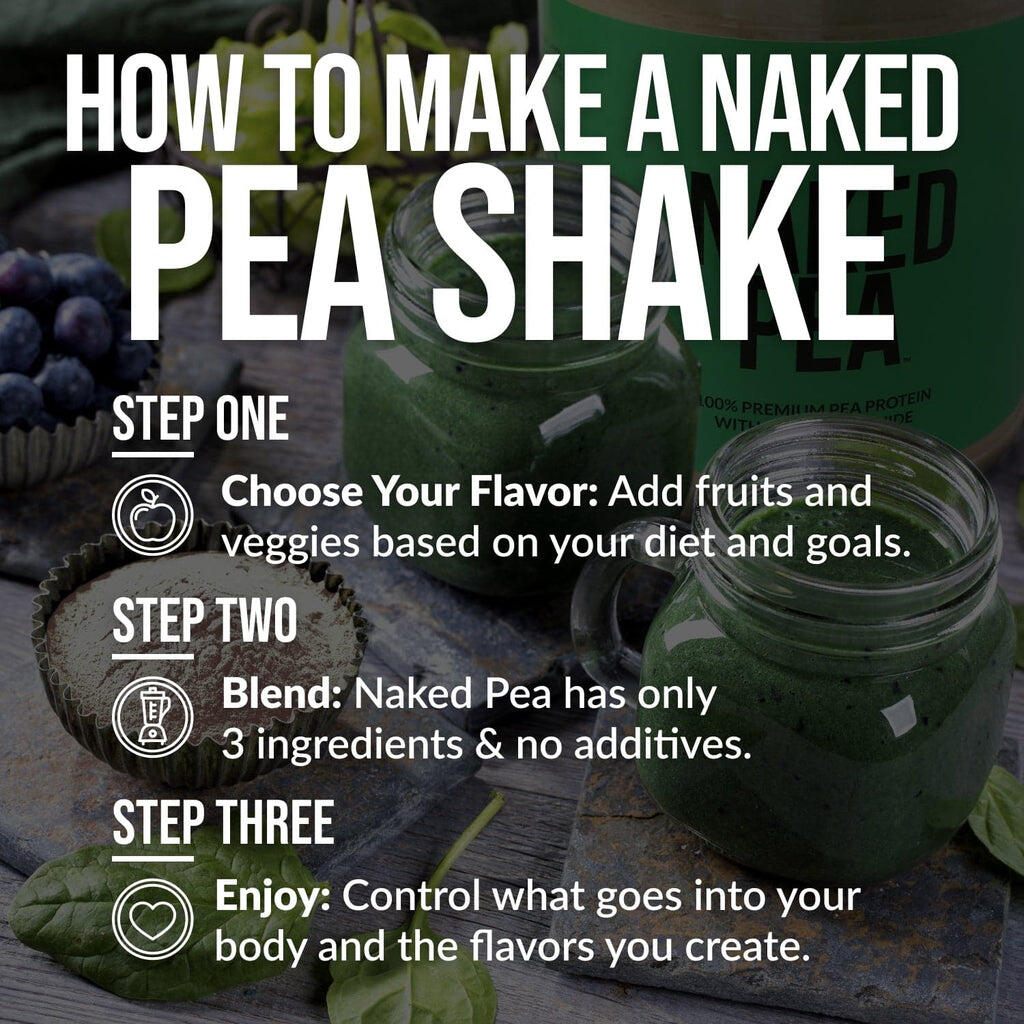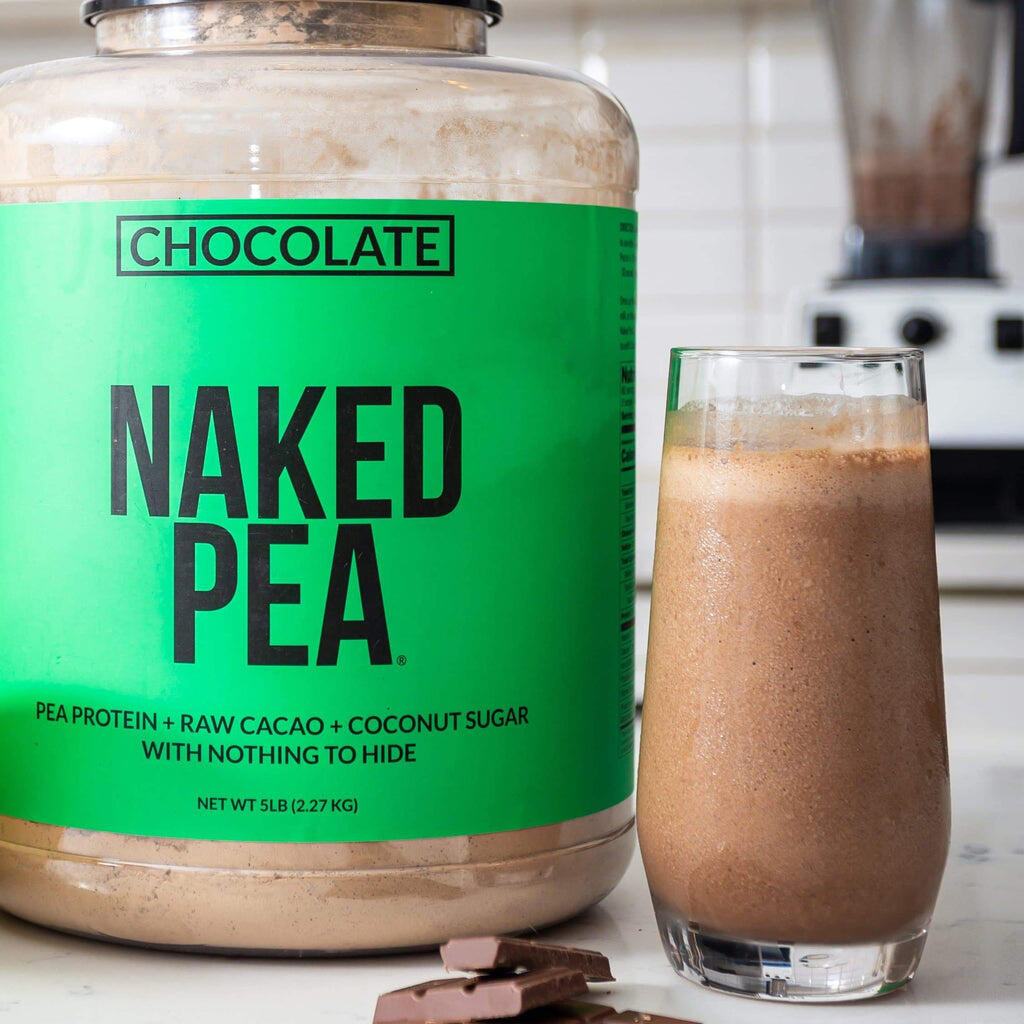 Chocolate Pea Protein Powder
Naked Chocolate Pea - 5LB
Chocolate Naked Pea has only three ingredients: cacao powder, coconut sugar and pea protein extracted from yellow split... Read More
Free Shipping over $99. Estimated Delivery: Dec 09 - 11
The Naked Difference
Only 3 ingredients: yellow pea protein, raw organic cacao, organic coconut sugar
5+: unnatural additives to aid mixing, color and artificial sweeteners
Mechanical processing with no chemicals to retain superior amino acid profile
Independent third-party tested
Quality
Dairy Free

GMO Free

Soy Free

Vegan
Benefits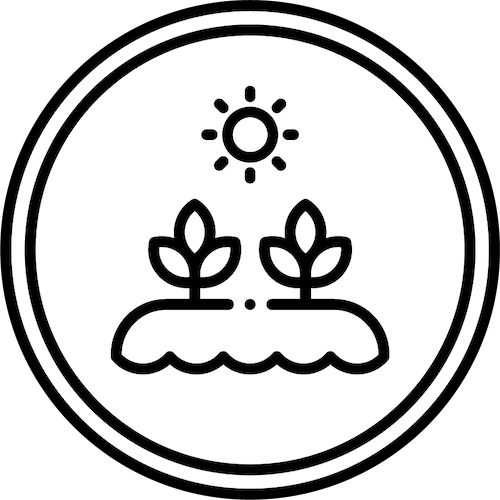 Sustainable Farming Practices
Naked Pea is made exclusively from yellow split peas grown in the US and Canada to ensure the highest quality, as well as to promote farming practices that are sustainable and earth-friendly. Switching to plant-based products like pea protein can significantly reduce your carbon footprint¹.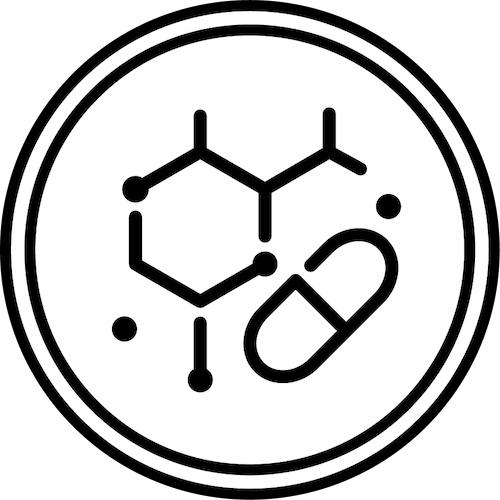 Superior Amino Acid Profile
Naked Pea is mechanically extracted from yellow split peas without the use of chemicals. This results in a superior amino acid profile, which is beneficial for muscle growth and post workout recovery. Combine with Naked Rice, which is higher in the amino acid methionine⁵, to make the perfect complete vegan protein shake.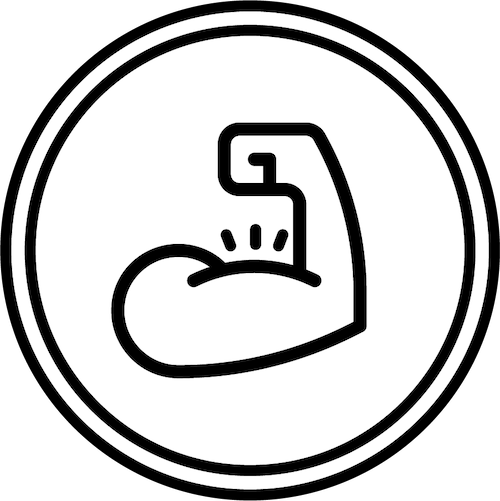 Promote Muscle Gain
Along with a superior amino acid profile, pea protein is easily digested, making it an excellent alternative to whey protein for those looking to gain muscle on a plant-based diet². Evidence suggests that pea protein might be equally effective as whey for building muscle thickness³.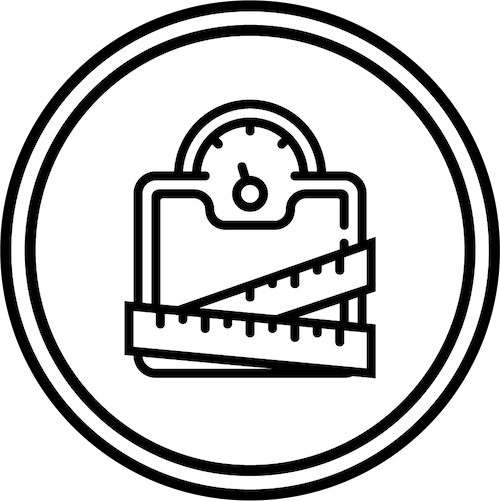 Lose Weight
Similar to whey, pea protein can support muscle maintenance and increase satiety⁴. By helping you stay full for longer, Naked Pea can reduce cravings and support your body composition goals.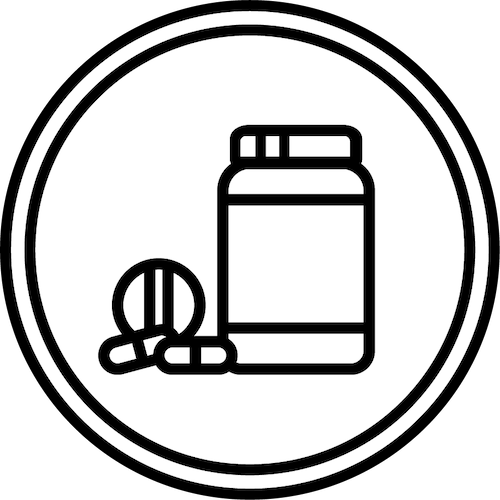 Boost Protein Intake
Adequate protein intake is vital to boost metabolism, promote fat burning, and overall health. Each serving of Naked Pea contains 25 grams of protein and only 160 calories. Adding pea protein to your diet is an excellent way to boost protein intake on a plant-based diet.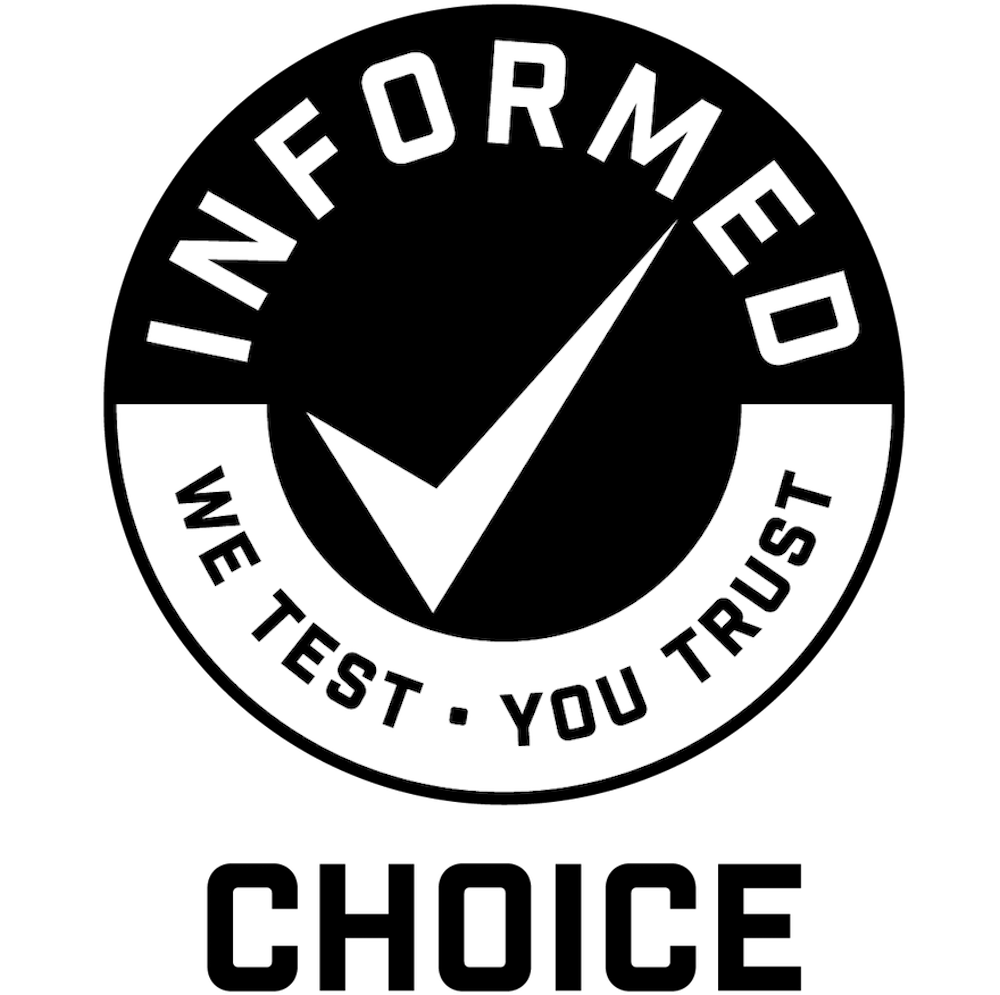 Informed Choice Trusted By Sport
Informed Choice Trusted by Sport is a monitoring program that certifies that a supplement has been tested on a monthly basis for banned substances. This certification ensures the purity of our products, and helps athletes make easy purchasing decisions. WARNING: This product can expose you to chemicals including lead, which is known to the State of California to cause cancer and birth defects or other reproductive harm. For more information go to www.P65Warnings.ca.gov.
Nutrition Info
Serving Size
2 Scoops (38g)
Number of Servings
Approx. 60

How To Use
When: Add our chocolate pea protein to protein shakes, smoothie bowls and baking. Best used in the morning, before a workout, or after a workout
Blend: Mix two scoops into 6-10oz of non-dairy milk, water or your favorite beverage. Add fruits, vegetables, or other ingredients to enhance the taste.
Pair With: Add Naked PB and Naked Rice for flavor, extra protein and for a protein shake that has a diversified, complete amino acid profile.
Frequently Asked Questions
The peas are exclusively sourced from environmentally friendly farms in the USA and Canada. The peas are GMO-free, and Naked Pea undergoes mechanical water-extraction for processing to maintain a superior amino acid profile.
Lead is naturally occurring in soil. However, Naked Pea undergoes independent testing to ensure that the product adheres to the safety standards set by the FDA.
Caffeine is naturally found in cacao powder. We only subtly flavor our flavored products to ensure that we can maintain a high level of protein per serving and to keep the product as pure as possible. Since Chocolate Naked Pea is only lightly flavored, the only caffeine in the product would be the very minimal amount found in the cacao powder.
Pea protein powder is actually very heat stable, which means it maintains the same nutrients even after being heated to a high temperature. If the protein is exposed to extremely high temperatures for a long time, this may result in the pea protein taking longer to absorb into the body, but the nutrition remains intact. It's easy to cook and bake with Naked Pea, so feel free to experiment and check out the recipes on our blog!
Chocolate Naked Pea is an excellent protein powder option for vegans, vegetarians, people with lactose sensitivities, or for those who simply just prefer plant-based protein. With its superior amino acid profile, this product will support your health and immune system while also providing the necessary protein for muscle gain, weight maintenance, or weight loss.
See All Faq
Chocolate Pea Protein
EXCELLENT MIXING PROTEIN, ZERO CLUMPING. I HAVE EXPERIENCED NO DISCOMFORT OR IRRITABILITY. USUALLY MIX WITH A SERVING OF THE PEANUT BUTTER 👌🏿
Good Quality but pretty bad flavor.
It tastes really gross but I still use it because I know that the quality is good.
This protein clearly backs up its claims in terms of clean nutrition. I was taking whey protein and it destroyed my skin. Within a week this protein has totally recovered my skin and it is back to normal and being pristine. However the only draw back i have is the lack of mixing. No matter how much i blend or shake. The drink feels like drinking sand. I will put up with it for the health benefits but if anyone knows how to mix it better PLEASE LET ME KNOW!!
Barely any chocolate taste in it.
Very disappointed with the chocolate flavor, i have had the regular pea flavor expecting to have the chocolate Be better tasting it is not. It still taste like unflavored pea protein which sucks because there is no chocolate. Im very unsatisfied with the chocolate smh.
Never Received; Awful Customer Service response
I have been ordering the same product for over 1 year now. I never had an issue until this month's order. I never received tracking and when I reached out about the status, 2 weeks after payment, customer service told me it was delivered and that I need to dispute any issues myself with the distributor… Why is the burden on the customer to resolve this issue? I didn't choose your method of distribution. The lack of empathy and desire to help truly caught me off guard. I have been promoting this brand and product for so long. This experience is still unresolved and leaving a bitter taste in my mouth.