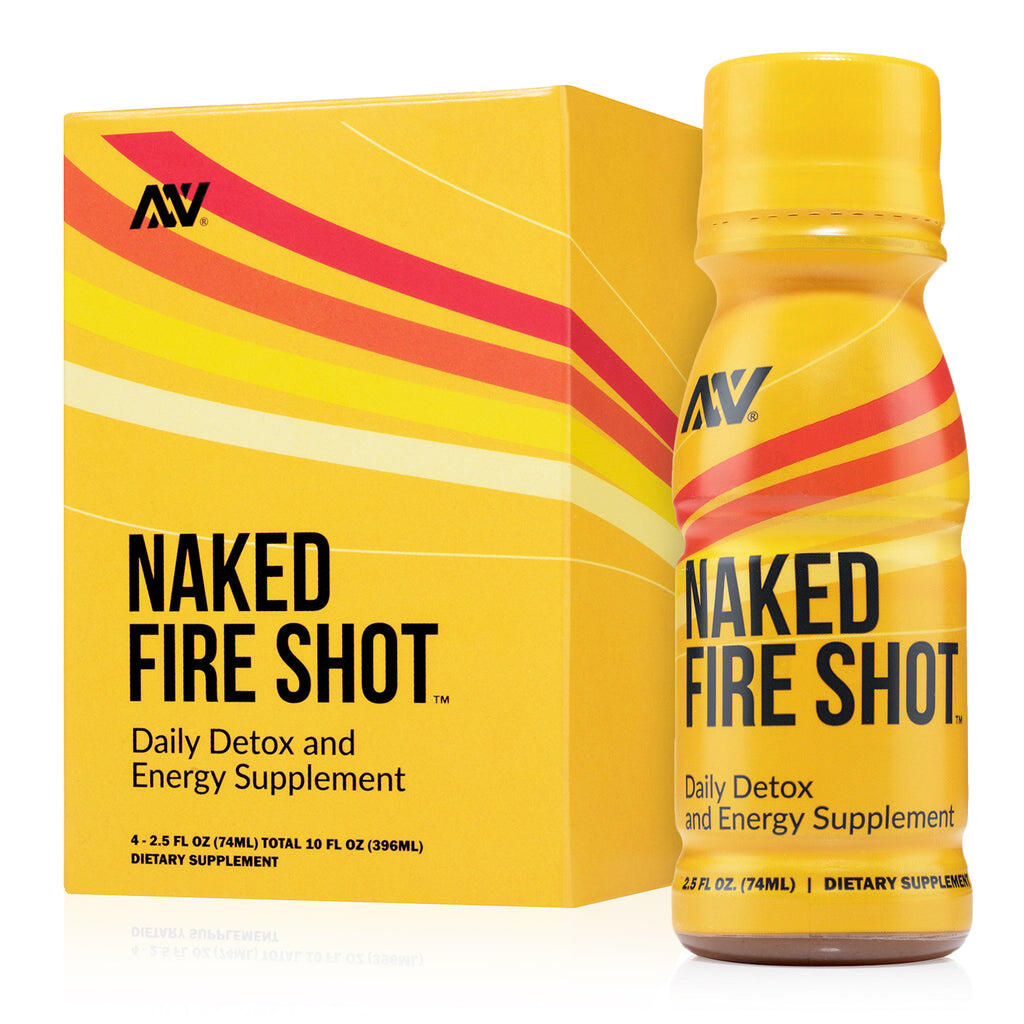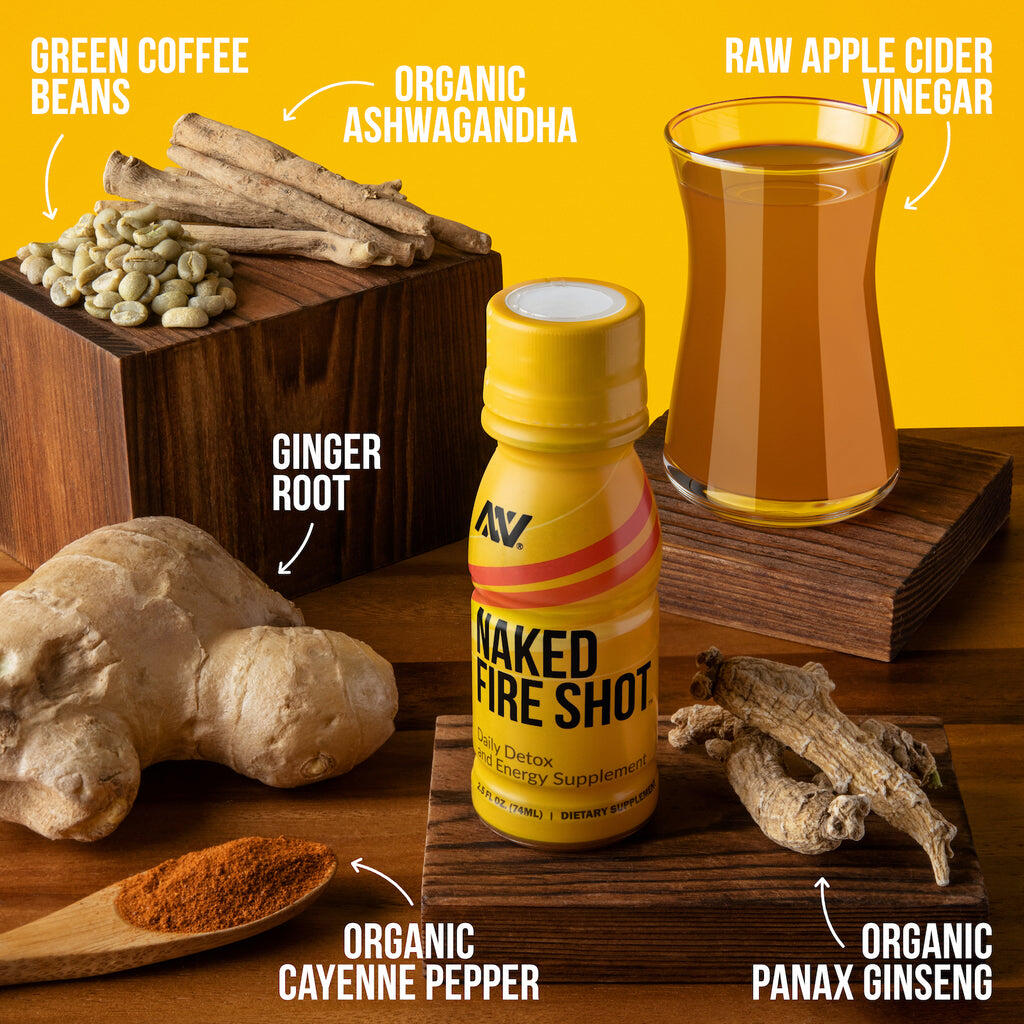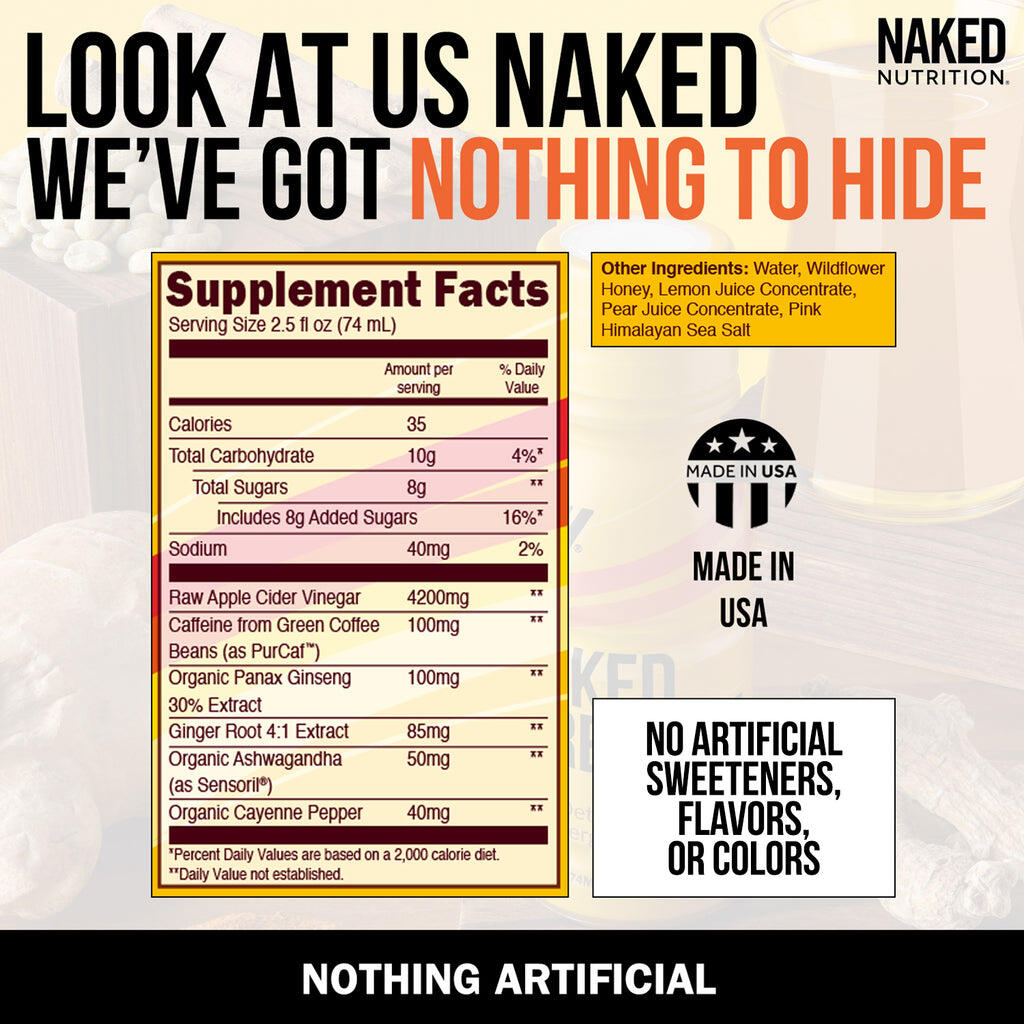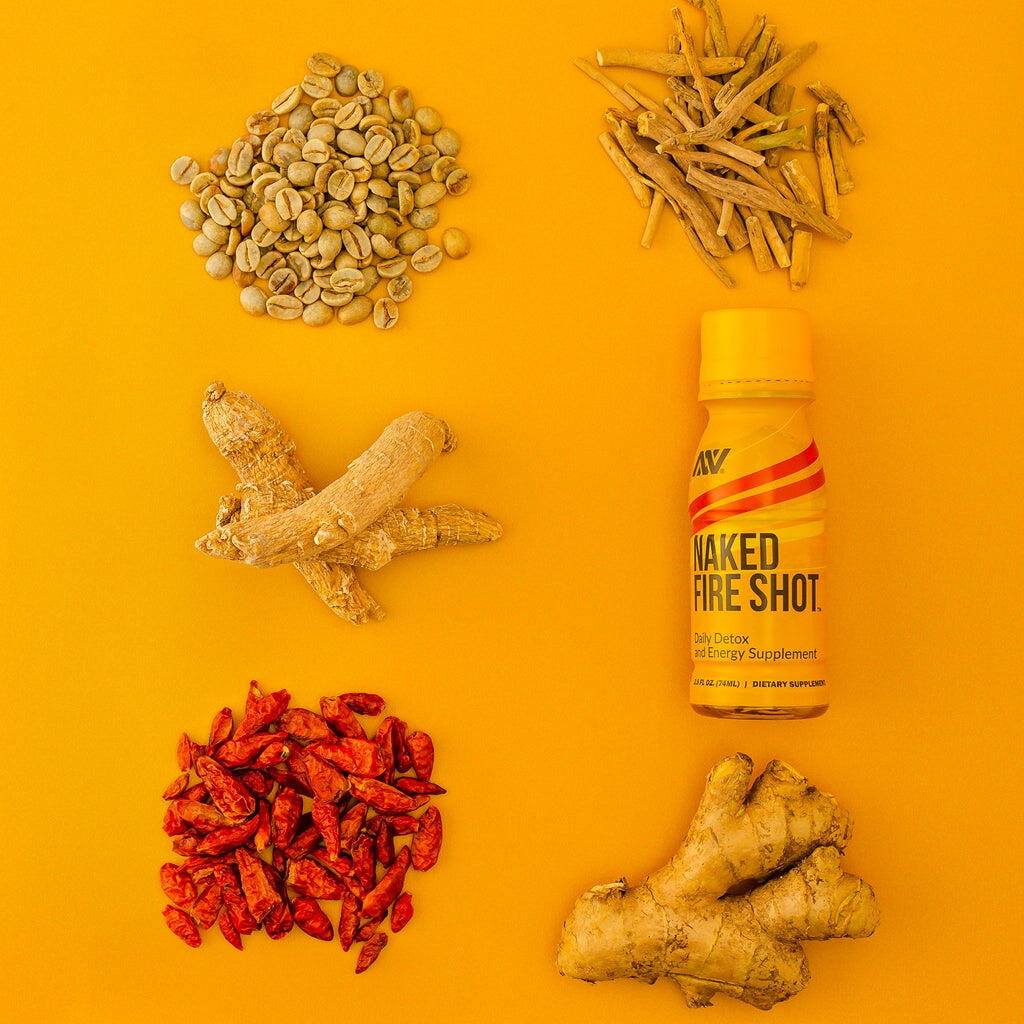 Energy Wellness Shot
A daily shot of cleansing wellness. Energize your mind and body with premium ingredients for improved health, digestion, and cognitive function.* Contains superfood ingredients: raw apple cider vinegar, ginger root extract, and organic cayenne pepper.
Caffeine from green coffee beans provides a steady boost in energy, alertness, and focus without the jitters or crash afterward. Organic Panax ginseng and organic ashwagandha are added for improved short-term memory, and more clarity and calmness when stressed.*
*These statements have not been evaluated by the Food and Drug Administration. This product is not intended to diagnose, treat, cure, or prevent any disease.
Free Shipping over $99. Estimated Delivery: Mar 29 - 31
#getnaked
with Naked Fire Shot
Healthy Shot of Energy

A quick, clean boost in energy and focus for better productivity.

Daily Cleansing Wellness

Powerful antioxidants to feel on top of your game.

A State of Flow

Achieve a state of relaxed alertness for optimal performance.
ONLY PREMIUM INGREDIENTS
Ginger root extract improves digestion, protects the brain against age-related decline, and helps you process information more quickly.
A powerful ingredient to aid digestion, health, and promote stable blood sugar for optimal energy and appetite regulation.
Green coffee beans contain chlorogenic acid which exerts less pressure on blood vessels than regular coffee.
Used in traditional medicine to boost energy and health, organic Panax ginseng is a potent antioxidant that controls inflammation and improves cognitive function, especially short term memory.
An adaptogen that promotes a sense of relaxed alertness. It helps manage stress and improves information processing and mental focus.
Boosts metabolism and helps increase stomach enzymes to break down food and promote better nutrient absorption.
Benefits
Enjoy a Clean Boost
Naked Fire Shot combines powerful ingredients like organic Panax ginseng, organic ashwagandha, and ginger root extract to awaken your mind and body so you have all the energy you need to take on the day. You'll enjoy cognitive benefits like thinking more clearly when stressed, improved short-term memory, better focus, and faster information processing. Caffeine from green coffee beans provides a cleaner and steadier boost than regular coffee, without the jitters and crash later on.
A Daily Shot of Detox
Naked Fire Shot provides cleansing wellness with powerful antioxidants and anti-inflammatory ingredients. Ginger root extract and organic Panax ginseng give you a daily shot to reduce oxidative stress, support healthy aging, and keep your body functioning at its peak. Apple cider vinegar promotes stable blood sugar levels to maintain steady energy throughout the day.
Better Digestion, More Energy
Optimal digestion is one of the foundations of natural and healthy energy. Organic cayenne pepper, ginger root extract, and apple cider vinegar in Naked Fire Shot support optimal digestion by increasing digestive enzymes that help break down food and improve nutrient absorption. Get the most out of your healthy diet and enjoy a stable appetite so you can focus on performing your best, whether at the gym or the office.
Nutrition Info
Serving Size
1 Shot (2.5oz)
Number of Servings
4 Per Box
Organic Cayenne Pepper:
40mg
Raw Apple Cider Vinegar:
4200mg
Caffeine (from Green Coffee Beans):
100mg
Organic Panax Ginseng:
100mg
Ginger Root Extract:
85mg
Organic Ashwagandha:
50mg
The Naked Difference
Premium, clean ingredients
Includes artificial additives
Caffeine from green coffee beans for a clean and steady boost without jitters
Caffeine from regular roasted coffee
Energy from clean superfood ingredients. No crash later on.
Energy from excessive caffeine and sugar that leads to a crash later.
Includes adaptogens for balanced mood and stress.
No adaptogens to balance the effects of caffeine and sugar.
HOW
TO USE
01

WHEN:

Enjoy a shot of alertness and wellness wherever the day takes you. Best used in the morning or early afternoon as to not disturb sleep.

02

HOW:

Use half a bottle for moderate energy or a full bottle for maximum energy. Drink Naked Fire Shot directly from the bottle, or dilute with water or a sports drink for a milder taste.

03

PAIR WITH:

Use with Nakedade for sustained energy levels and healthy hydration, or use alongside Naked Recovery to aid post-workout recovery, balance stress, and promote rejuvenation.
Frequently Asked Questions
Our natural energy shots have been formulated with safe, effective, superfood ingredients to enhance energy levels, encourage cleansing, and promote general wellness. Apple Cider Vingear, Ginger, and Ashwaganda have been shown to reduce stress, reduce fatigue, and enhance cognitive health, whereas Caffeine and Ginseng improve focus and boost energy.
Yes, Naked Fire Shots have been designed as a daily wellness and energy supplement, making them perfect for everyday use. However, we recommend tracking your caffeine intake so that you do not exceed the safe daily intake (roughly 400mg a day).
While Naked Fire Shot can be enjoyed cold, refrigeration is not required. We recommend storing the product in a cool place out of direct sunlight. Once opened, discard the bottle after 72 hours.
Naked Fire Shots are perfect for anybody looking to enhance daily energy, upgrade productivity, and nourish general wellness. Whether you're a workplace professional, an athlete, or you just generally need an energy boost, Naked Fire Shots provide healthy energy without the mid-day crashes. Please check with your physician before consuming if you're sensitive to caffeine, if you're on any type of medication, or have a medical condition. Do not consume if pregnant or nursing.
See All Faq
Tastes horrific
Definitely not worth even taking a shot of it for energy benefits. You would certainly not be drinking it for the taste either. So better off not buying it!
Good stuff
I like this one. I used to make an ACV, lemon juice and cayenne pepper elixir for the mornings. That was rough but I got used to it. This, while spicy, in my opinion is completely tolerable and the honey was a pleasant surprise. I only take half the bottle some mornings and think it's helpful. Side note: I would not sip this…I think it's called a shot with good reason.
Energy Wellness Shot | Naked Fire Shot - 4 Pack
Naked Fire Shot
I like the flavor of these. It helps give me a boost in my clarity. It does not seem to affect my blood pressure like some energy/ detox products.
Energy Wellness Shot | Naked Fire Shot - 4 Pack